Smart Products
Top 30 Reclining Ergonomic Office Chairs with Footrest in 2023
35,177 Views
A chair that's primarily used in a home office is seen as a completely different animal to that of a chair used in an office environment. This is mainly since you are going to be sitting in this chair for more extended periods while studying, working, or gaming. You aren't likely to encounter any of the ordinary distractions common in office atmospheres, such as water-cooler chats with other employees or face-to-face meetings.
For this reason, the office chair that is used in a home office needs to be extremely ergonomic, as well as adaptable and adjustable. Ergonomic office chairs that are equipped with a retractable footrest and reclining feature provide the user with adaptability. This allows the user to remain in the office desk for more extended periods while experiencing complete comfort.
With all the information mentioned above, purchasing a reclining office chair with footrest features is a genius addition to any home office. However, there are a vast amount of options available on the market, which can make choosing a reclining ergonomic chair with footrest features challenging. Nonetheless, we have searched far and wide to help you find the best reclining office chair for your home office.
Top 30 Reclining Ergonomic Office Chairs with Footrest?
There are so many reclining office chairs with footrest features on the market today. That's why we have searched for some of the most high-quality ergonomic home office chairs. Here are our picks to help you choose the best office chair recliner with footrest features.
1. Autonomous ErgoChair Recline - Best Office Chair Recliner with Footrest
The ErgoChair Recline offered by Autonomous is seen as a best friend to any user in a working space. The design of this ergonomic home office chair provides support to your back, as well as offers toe-to-top comfort with its fantastic reclining feature. Not to mention, it's completely adjustable and is one of the best office chairs under $500 for everyone to purchase.
2. Autonomous ErgoChair Pro Reclining Office Chair
This best ergonomic chair - ErgoChair Pro is designed with the highest-quality materials and is equipped with the most versatile system. The foam seats are designed to be incredibly soft to provide the user with more support and help reduce back pain and improve sitting posture. Reclining your chair is made straightforward and effortless with the Flexible Lumbar System. You can adjust the chair to give you the right amount of pressure by using the handle.
3. Duramont Reclining Leather Office Chair: Ergonomic Adjustable Seat
4. FinerCrafts The Office Chair: Headrest & Legrest
5. KERDOM Ergonomic Chair Pro: Additional Footrest
6. Skyline Decor High Back LeatherSoft Executive : Swivel Office Chair
7. Northread Game Chair: Lumbar Support
8. Homall PU Leather Reclining Office Chair with Footrest
This reclining home office chair provides you with the ability to recline position between 90 and 180 degrees. The chair is also equipped with a 360-degree swivel function. This allows you comfort while you move around. Moreover, a lumbar cushion and headrest pillow is included in the design to offer the user an office chair that's hugely supportive. You should shop one of this desk chair with footrest now!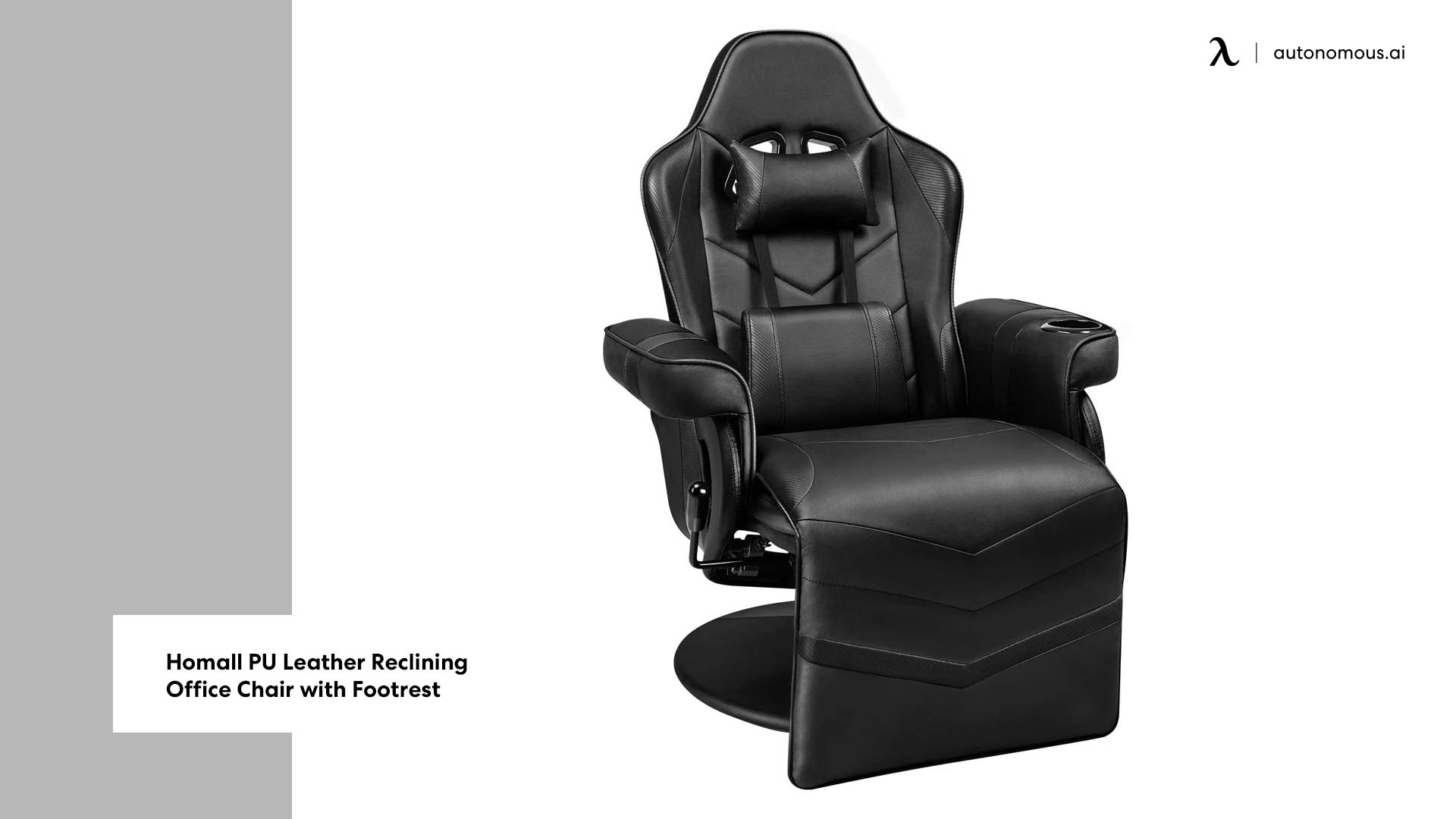 9. BestOffice Reclining Office Chair with Footrest and Lumbar Support
The BestOffice office chair recliner makes use of a vibrator in the design to massage your whole body. This feature is controlled through a remote and allows the user to decrease any signs of fatigue while aiding in productivity. The headrest, reclining position of between 90 and 155 degrees, and lumbar support offer a comfortable sitting position.
10. Killabee Reclining Office Chair with Footrest
The Killabee is one unique office chair recliner that provides the user with incredible ergonomics. It uses massaging technology to help relieve the user of fatigue. The home office chair also offers comfortable seating with an adjustable height. Added to this, the piece of furniture can recline to 155 degrees while providing an adjustable armrest. Additional support and relaxation are granted with the incorporation of a lumbar cushion and a headrest.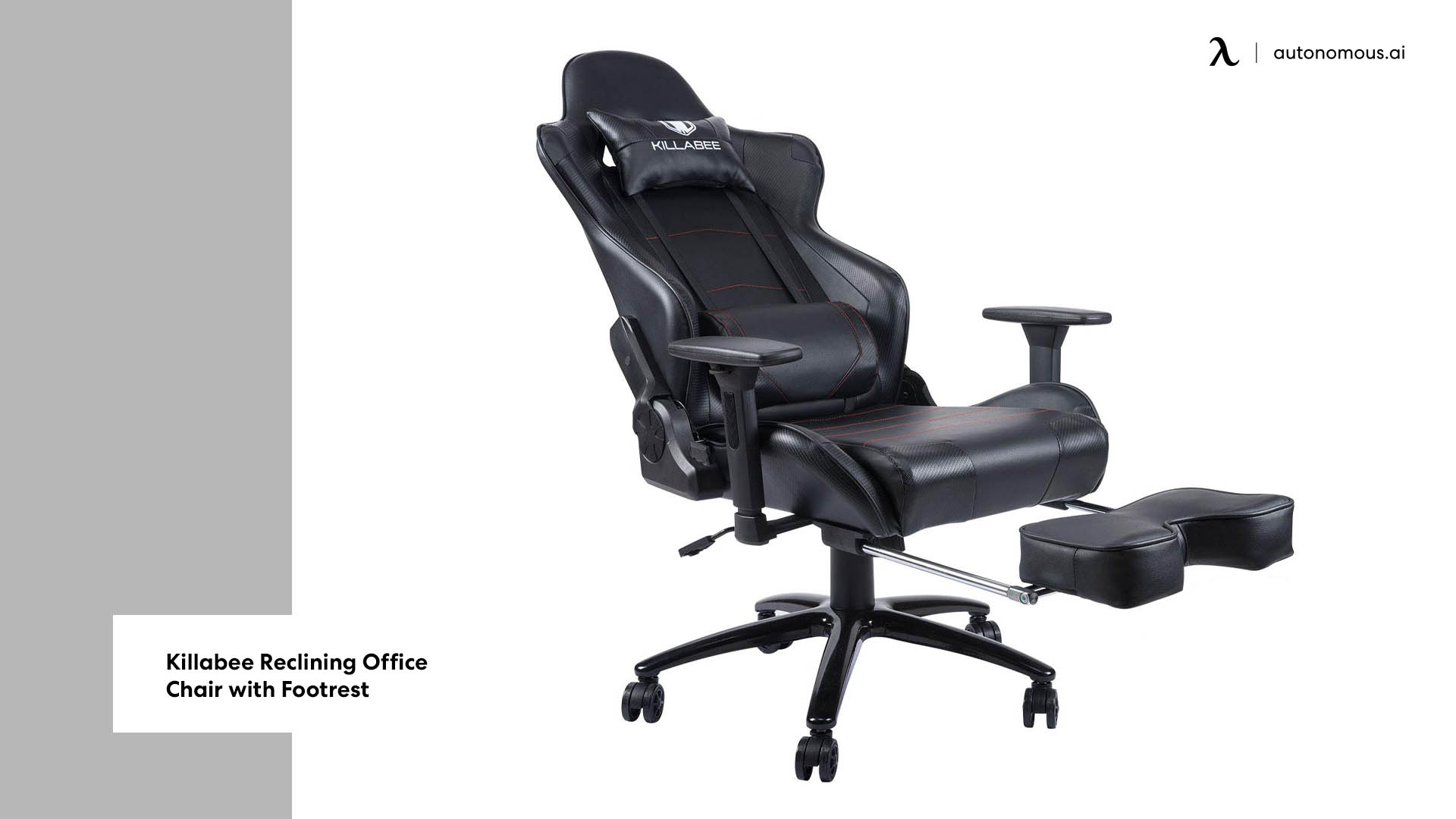 11. Healgen PU Leather Reclining Office Chair with Footrest
The Healgen home office chair is an investment that's long-lasting. It is an incredible desk chair with footrest. The chair is specifically designed to accommodate long working days. A lumbar pillow, a reclining feature of between 90 and 155 degrees, and an adjustable footrest provide the user with exceptional comfort. The reliable quality and incredible durability are offered due to the ergonomic office chair being manufactured with PU leather and PVC.
12. Duramount Reclining Office Chair with Footrest
Your comfort and convenience are taken into account in the design of the Duramount reclining office chair. The entire ergonomic reclining office chair is made with incredibly soft padding and offers lumbar support. The footrest also allows little pressure to be experienced by the user. Thus, you're able to comfortably remain in the chair for more extended periods.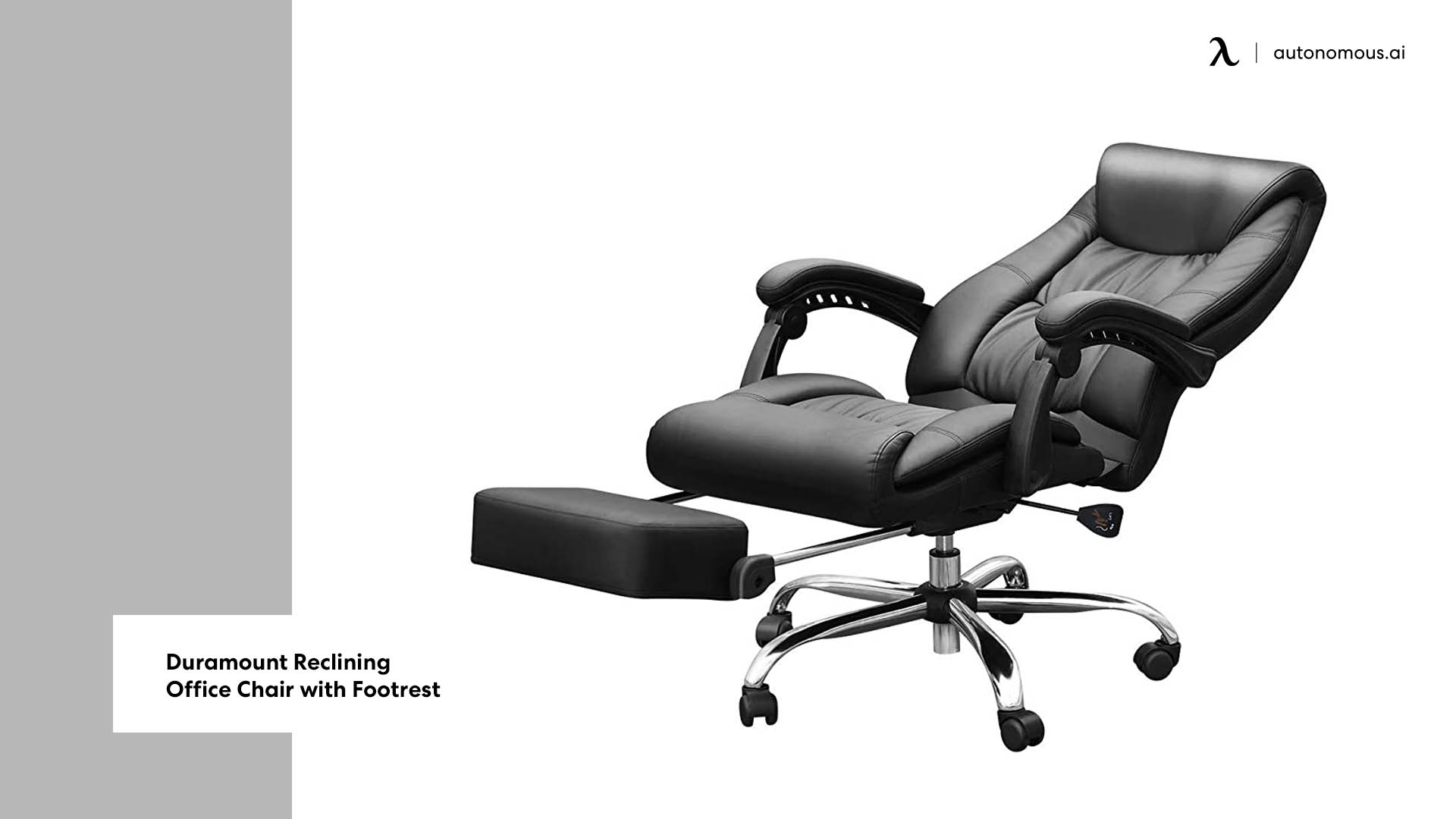 13. IntimaTe Reclining Office Chair with Footrest
This is a great ergonomic reclining office chair that's perfect for any home office. The design provides the user with a reclining feature and a retractable footrest. These features, along with high-density padding, offer the user with incredible comfort. The ergonomic reclining chair with footrest features also has a backrest and integrated headrest to relieve back stress while working for more extended periods.
14. HOMO Reclining Office Chair with Retractable Footrest
Some of the key features that this ergonomic reclining chair with footrest features include a reclining position that can be adjusted between 90 and 145 degrees, a 360-degree swivel function, and an adjustable seat height—all of this aids in providing the user with personalized comfort. Extra padding is applied to the footrest, seat, back, head, and lumbar for better ergonomics.
15. Cherry Tree Furniture Office Chair with Footrest Retraction and Reclining Features
This luxury ergonomic office chair with footrest retraction is designed with extra padding and a high back for more lumbar support. The reclining and lock system allows the user to recline to a position of up to 170 degrees. Added to this, the device offers height adjustability and a 360-degree swivel.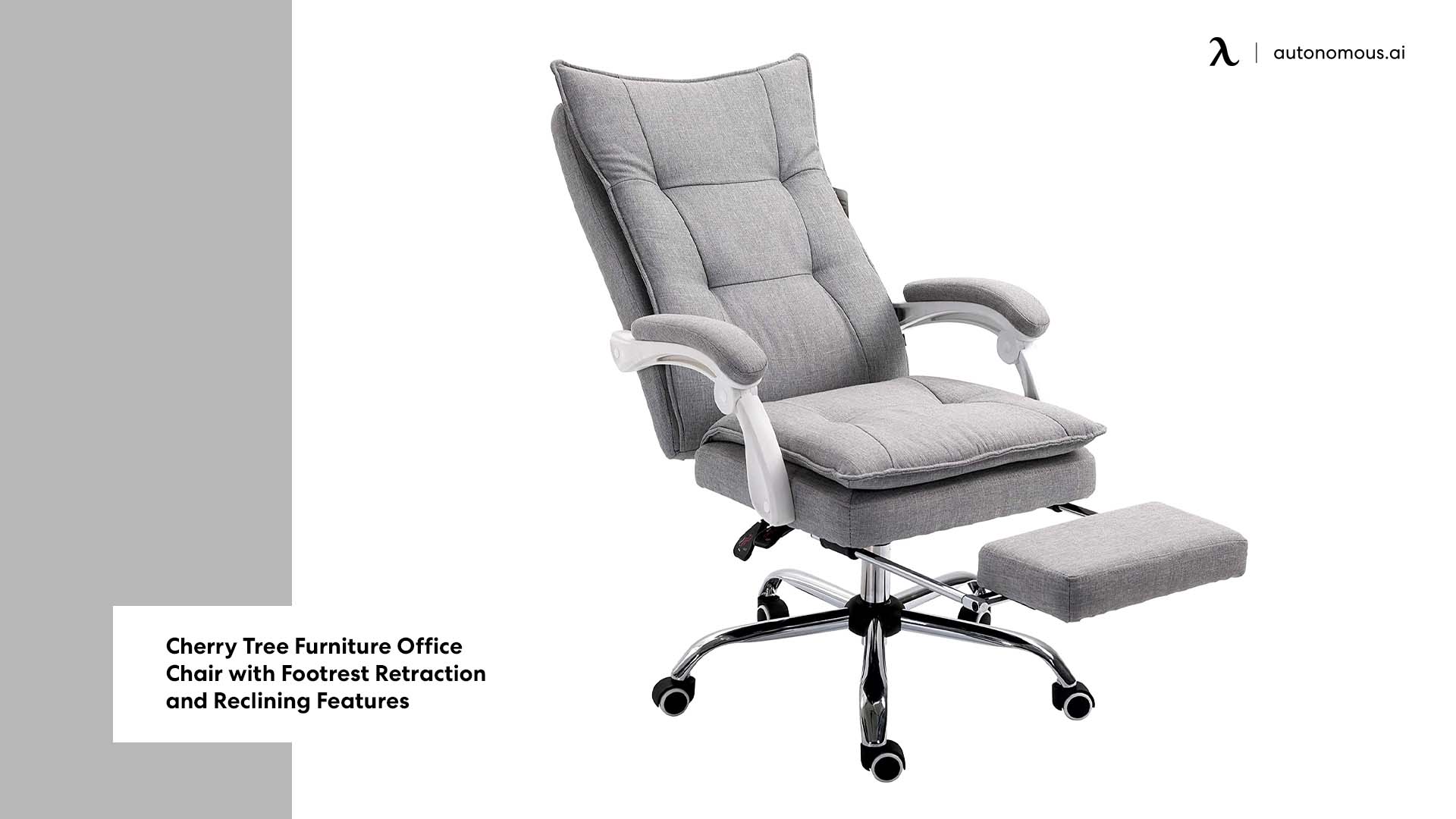 16. JL Comfurni Home Office Chair with Ergonomic Recliner and Padded Footrest
This home office chair is equipped with an incredible reclining function and padded footrest that's retractable. These additions to the chair's design provide the user with fantastic ergonomics that aid in working for more extended periods. The ergonomic reclining chair with footrest features is designed to recline to a 135-degree position.
17. PULUOMIS Reclining Ergonomic Home Office Chair with Footrest
The PULUOMIS office chair offers home office workers with the ability to work for longer hours without sacrificing comfort. The padded, retractable footrest and reclining feature provide the user with excellent ergonomics to relieve pressure on the hips and back while sitting. The inclusion of a lumbar and headrest pillow aids in offering the user exceptional comfort while working.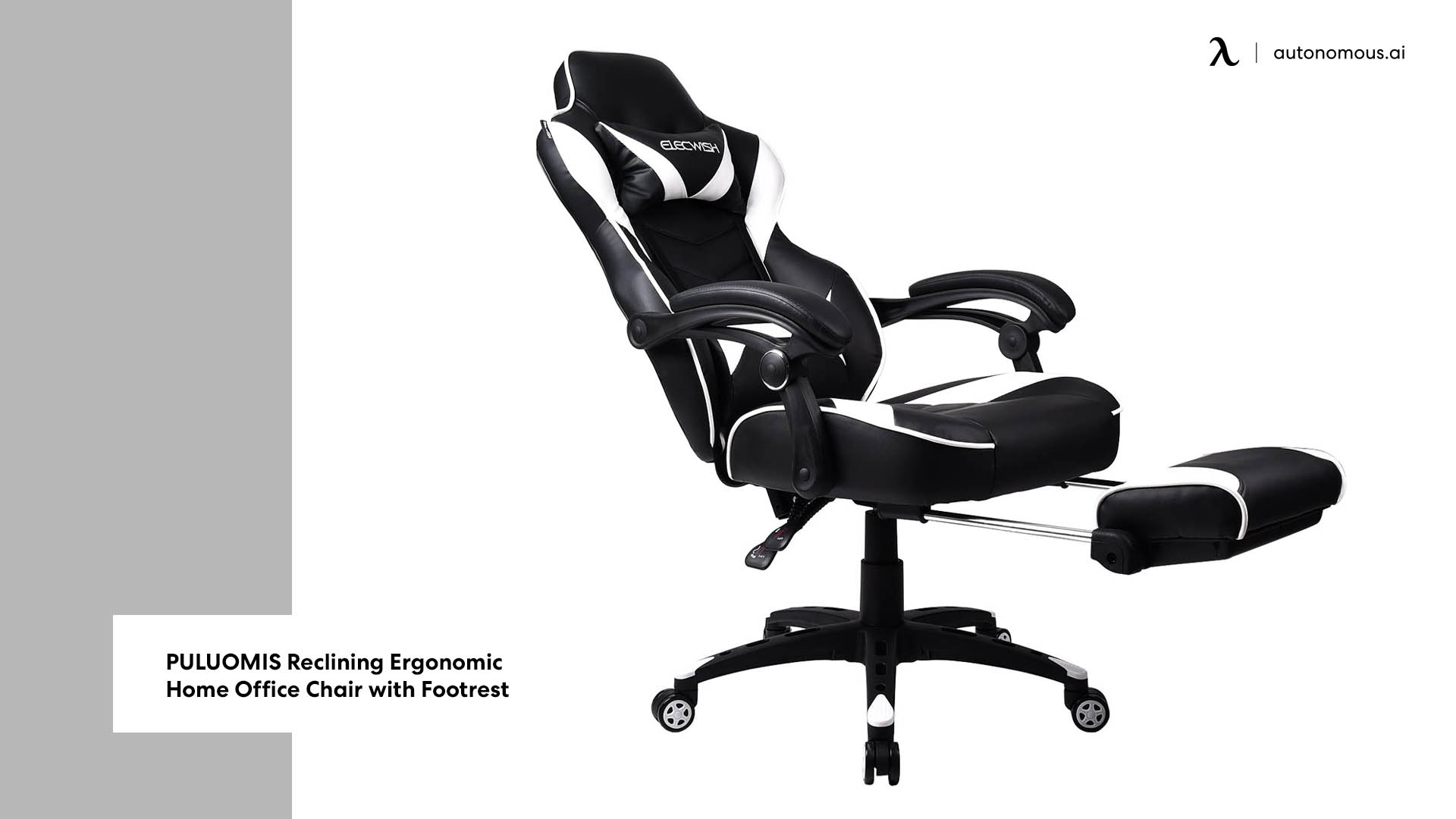 18. Ticova Reclining Ergonomic Chair
The design of the Ticova home office chair is manufactured to offer a reclining position of up to 140 degrees. The high-density foam and thick padding used throughout the entire chair encourages comfort and allows home office workers to sit for long periods. It's designed as a three-segment chair that supports the user's neck, back, and lumbar spine.
19. Hbada Reclining Ergonomic Office Chair
This ergonomic office chair recliner is designed with mesh. This material is more breathable than leather, which allows you to sit more comfortably without feeling sweaty. The reclining mechanism incorporated in the chair's design provides a reclining position of up to 150 degrees. The design also includes a retractable footrest for more comfort.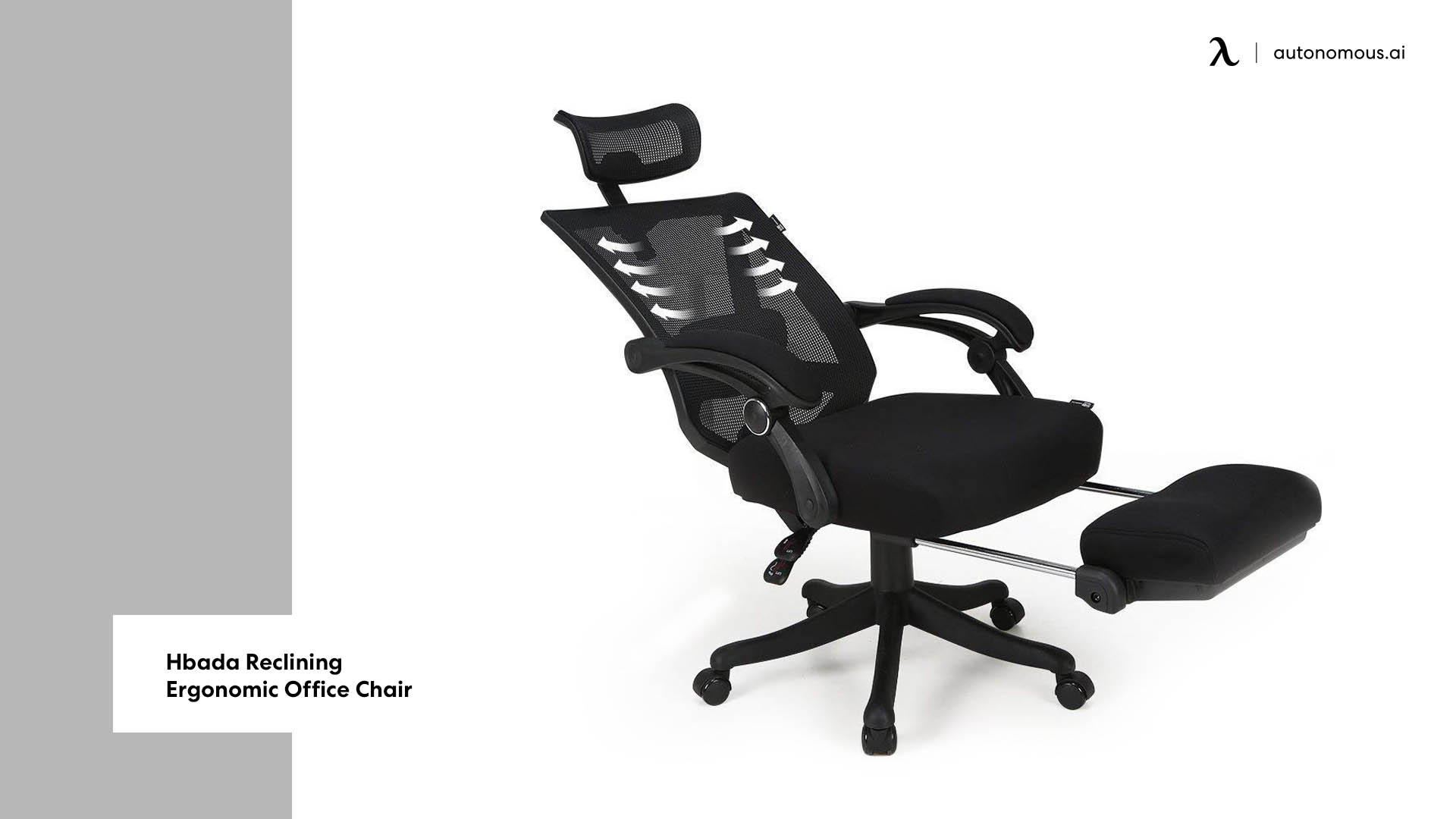 20. Smugdesk Office Chair with a Retracting Footrest
Those who suffer from cervical pain can benefit from the fully adjustable headrest incorporated in the home office chair's design. The retractable footrest can be used when the chair is fully reclined for added comfort. Moreover, the height and armrest are adjustable to provide the user with better ergonomics. This is one of must-have ergonomic reclining office chairs you should notice.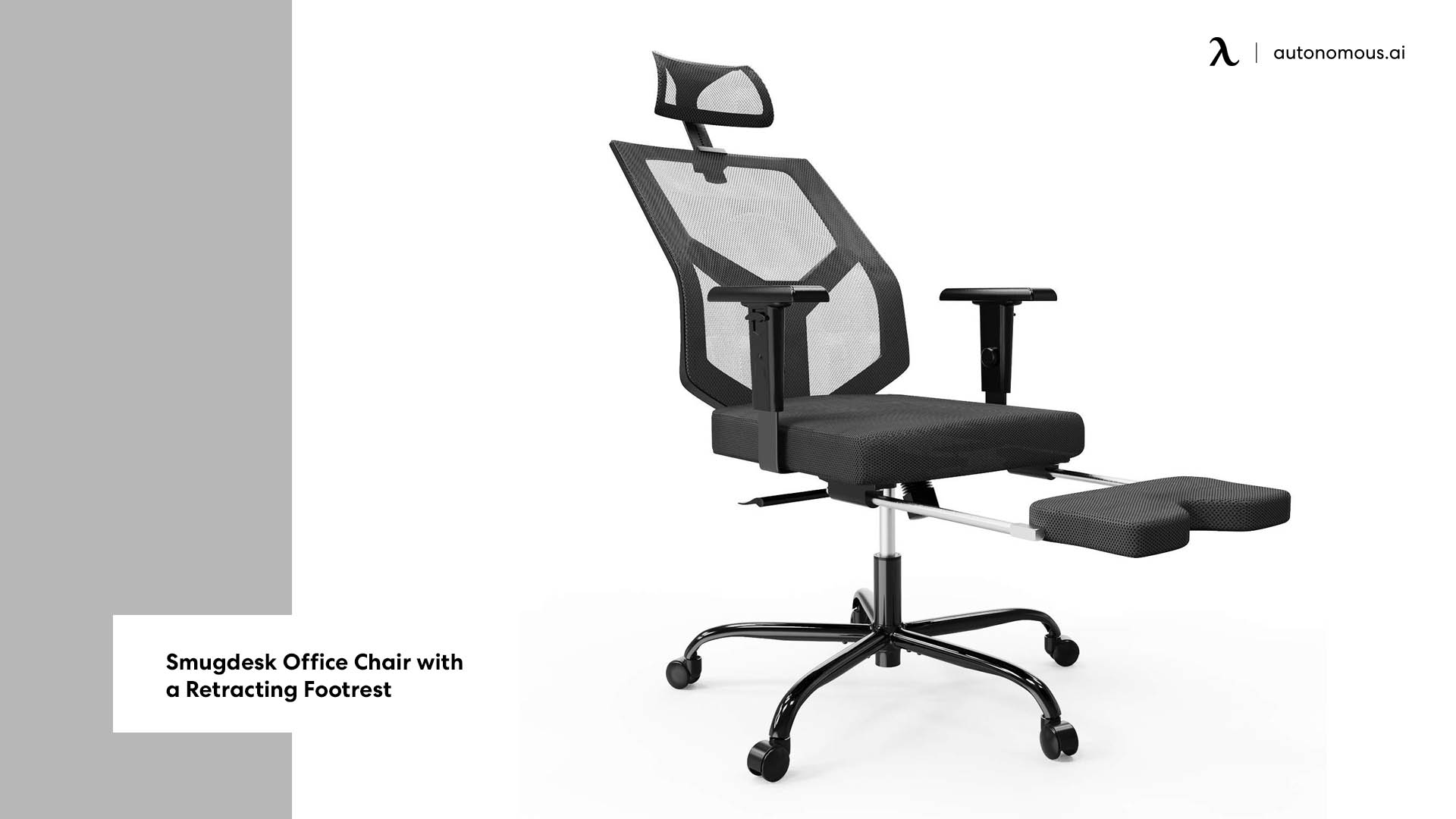 21. B2C2B Ergonomic Reclining Office Chair with Footrest
The office chair recliner is one of the most important features of an ergonomic chair. That's why B2C2B primarily focused on such a feature for this chair.
This fully reclining office chair will help you be as comfortable as possible throughout the duration of your work session. You will be able to sit back and take a break from your responsibilities with this chair. It's possible to adjust the recliner from 90 to 135 degrees, depending on what you need at the moment. Plus, it can support up to 300lbs.
It is one of the best heavy-duty office chairs you can find in the market. However, it may appear "big" and "bulky" to some people.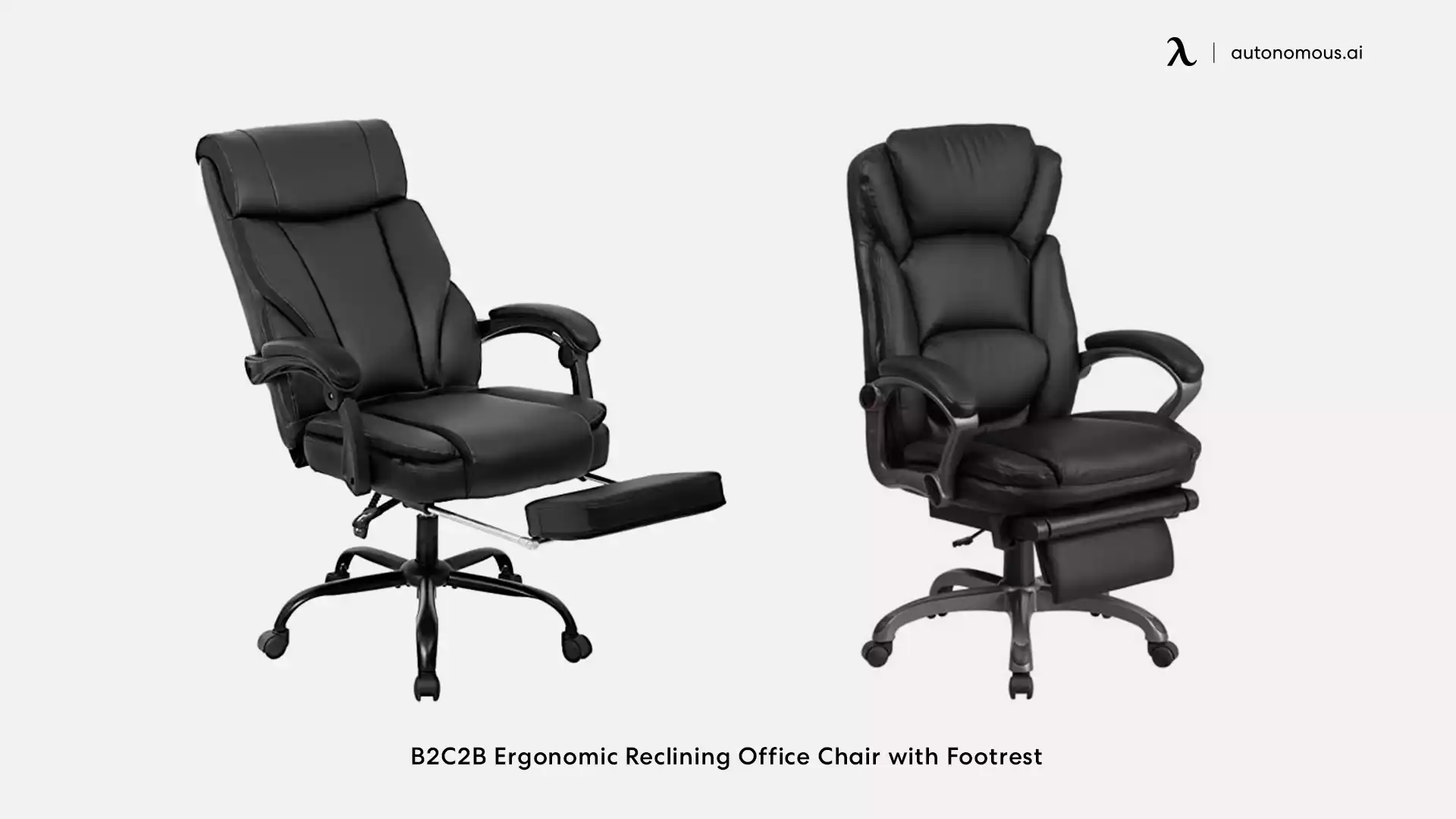 22. Inno Series Executive by Merax
If you're looking for a good chair that can last for a long time, perhaps you should take a look at this chair with footrest by Merax. The Inno series Executive is a leather chair that has an impressive aesthetic and is an excellent office chair recliner compared to similar chairs – you can adjust it within a 180º angle so you can take a break or perhaps take a nap.
Sitting in a recliner couldn't be more comfortable and secure: the Inno Series Executive chair comes with a Safeguard tilt lock, which will allow you to remain at a determined angle without worries. Perhaps the main drawback of this chair is the manual footrest or the "firm" padding, but the rest of the structure is quite sturdy and stable enough for the ergonomic reclining chair to last for a few years.
23. SIHOO Ergonomic Recliner Office Chair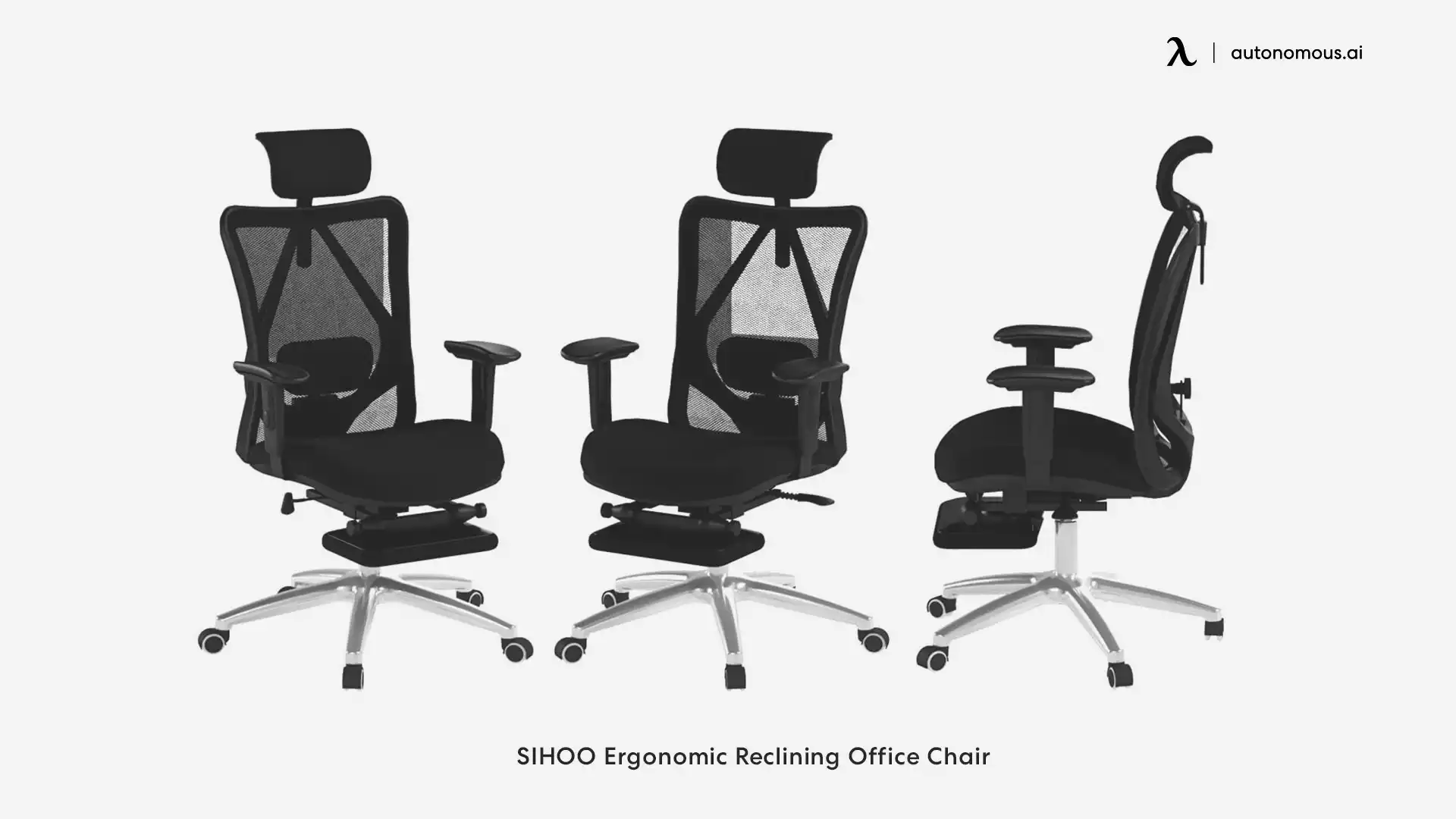 Mesh office chairs are quite trendy at the moment. Hence, if that's what you're looking forward to, perhaps this option by SIHOO is for you.
You can adjust the recline angle of this chair between 110º and 170º. Plus, it has been equipped with an ergonomic mechanism that will adapt to your spine and will keep it as healthy as possible throughout the duration of your work sessions.
This office chair recliner has several magnificent features, but it may not be the best option for shorter individuals. As an extra note, the company offers full part coverage during the three warranty years.
24. REFICCER Reclining Leather Office Chair
This office chair recliner is a better option for big and tall individuals. Still, most users can easily take advantage of this chair due to the excellent features it has.
Since this reclining desk chair is directed toward big and tall people, you can be sure it is made of high-quality and sturdy materials. It has been built using a metal base and very durable rolling casters. It has a total weight capacity of 400 pounds, allowing you to keep your whole body profoundly supported.
It also includes a lumbar support knob that can help you adjust the lower back support to whatever you feel it's best for your body. Plus, the high-density foam used for the padding will keep your body thoroughly comfortable at all times. The only drawback we've found for this office chair recliner is the high price.
25. KILLABEE Massage Gaming Office Chair with Footrest
This gaming chair can be a good alternative if you're looking for a reclining office chair with a footrest that provides you with plenty of reclining range.
You can adjust and lock the recline within 90º and 175º. Furthermore, the chair includes a lumbar massage cushion that will help you keep your muscles relaxed and in the best shape while you're sitting on your chair. It is equipped with thick padding (including the armrests) so every part of your body can be as comfortable as possible.
26. Respawn Reclining Office Chair with Footrest
The Respawn is an excellent option as a reclining ergonomic chair. It's equipped with segmented padding that's located in the places where you need contouring support most. Moreover, the home office chair has the ability to recline anywhere between 90 and 155 degrees. Not to mention, the extended footrest allows for position reinforcement.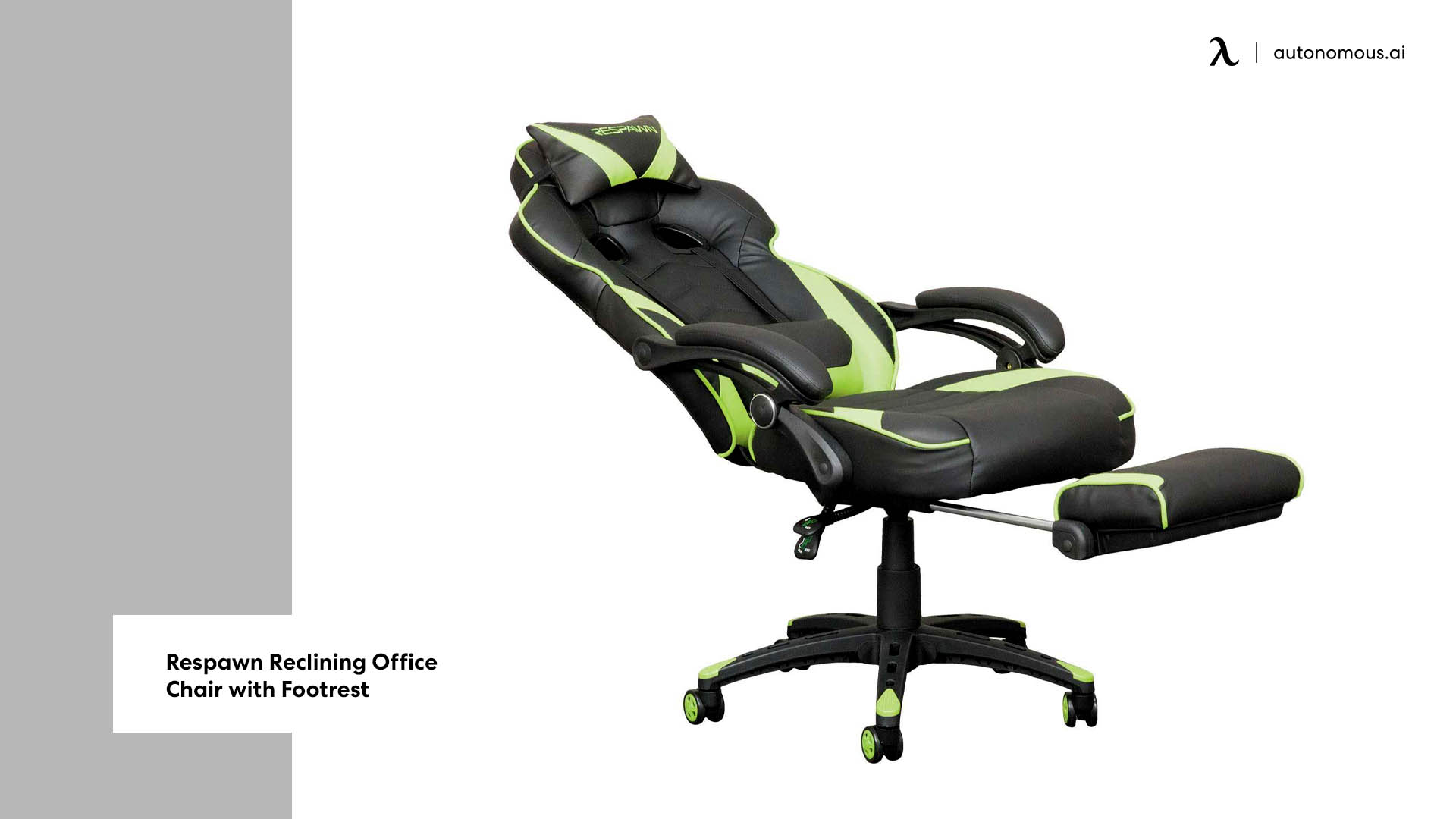 27. Killabee Reclining Office Chair with Footrest and Massager
The retractable footrest feature provides the office chair with an ergonomic design. The product's function boasts undoubt comfort, as you can make adjustments to different parts of the entire chair. The thickened armrests and high backrest only add to the comfortability offered by the home office chair. Moreover, the incorporation of an electric massager helps to relieve fatigue.
28. Flash Furniture Reclining Office Chair with Footrest
Comfort is maximized when using the Flash Furniture Reclining Office Chair due to the incorporation of LeatherSoft Upholstery. The ergonomic design is provided by the chair's ability to make adjustments to the reclining position. The chair is heavily padded, which only adds to the comfort offered by the office recliner chair. Moreover, the swivel feature allows the user to move with complete control and ease. It is one of the best desk chairs with footrest.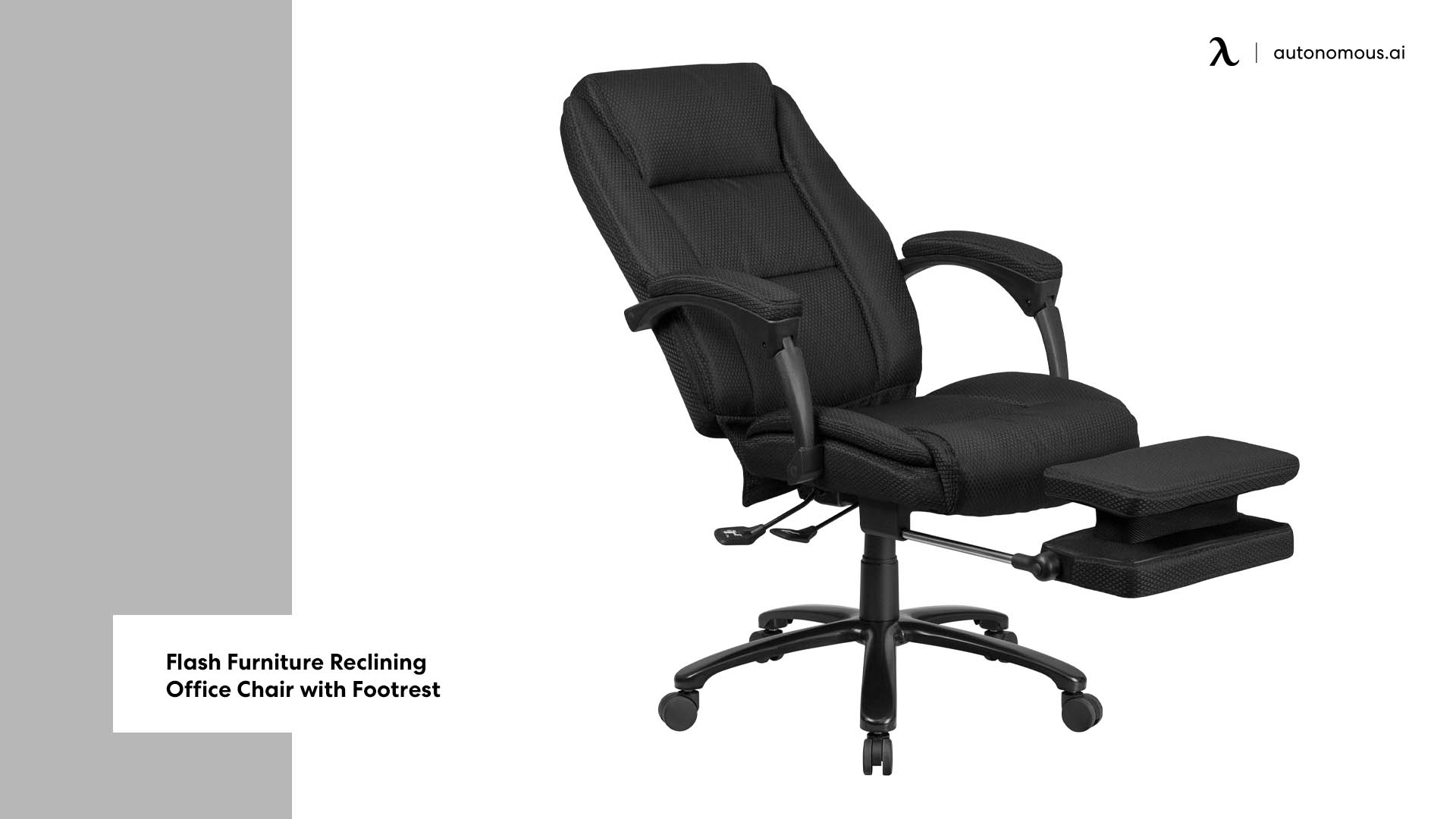 29. Von Racer 360-degree Reclining Office Chair with Footrest
This is another reclining office chair with footrest features that's user-friendly and super comfortable. The design includes an electric massager to provide even more comfort to the user. This also aids in decreasing fatigue. Moreover, the chair comes with a reclining position and a locking system of 135 degrees. More ergonomics and comfort is given by the footrest incorporating thick padding.
30. Bossin Reclining Office Chair with Footrest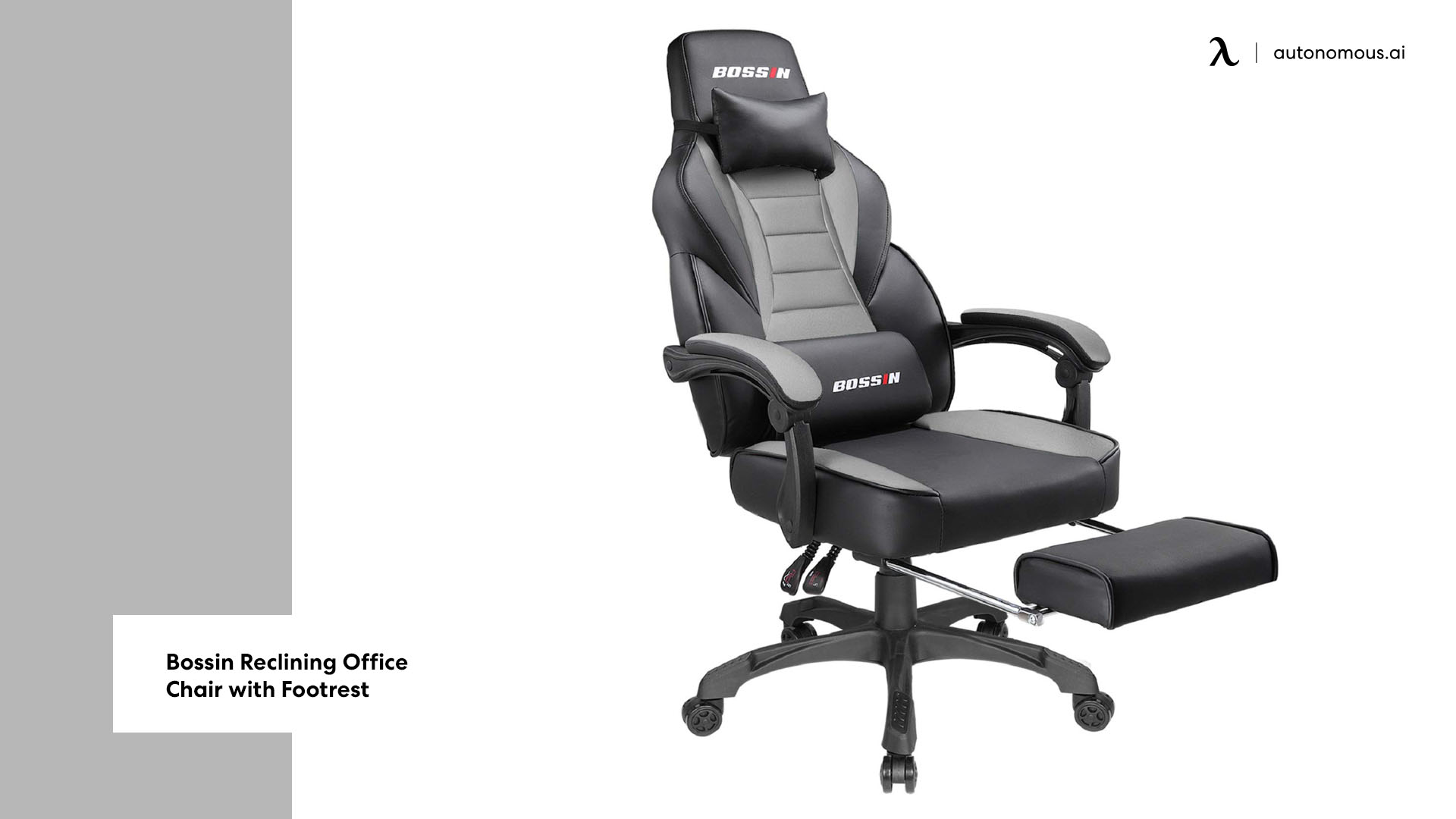 The Bossin reclining office chair is equipped with a large cushion and extendable footrest. The design of the ergonomic reclining chair with footrest features is skin-friendly and water-resistant due to the inclusion of PU leather. Comfort for the user is increased with the thick padding quality of the cushion. This aids in users being able to use the home office chair for long periods. Added to this, the reclining feature can recline to between 90 and 155 degrees.
What Are The Benefits of Using A Reclining Office Chair?
There are a variety of benefits available to the users of a reclining ergonomic chair with footrest. Some of these benefits include:
Your Posture Is Supported
Traditional office chairs are one of the leading reasons people exhibit incorrect posture while sitting on a chair in front of their desk. However, a reclining ergonomic chair is equipped with these problems in mind. The design of the reclining ergonomic chair provides necessary features, such as a backrest and headrest, to aid in supporting posture while the user is placed in a sitting position.
Added to this, an ergonomic desk chair gives you the ability to adjust the height of the chair. You are able to sit with your knees at a 90-degree angle and parallel to the user's hips, while the feet are placed flat on the ground. This feature immediately aids in the improvement of your posture while sitting at your home office standing desk.
It Provides More Comfort
A reclining ergonomic chair provides a lot more comfort than that of traditional office chairs. This is due to an ergonomic reclining desk chair being more user-friendly. This style of chair grants you the ability to adjust all of the chair's features to fit your individual needs. Thus, allowing you to be entirely comfortable.
The Risk of Neck Problems Is Reduced
Stiffness developing in your shoulder and neck region is highly likely to occur when no neck support is used while sitting for long periods. Not having this neck support can even lead to more severe complications such as cervical spondylosis later down the line. Nonetheless, a reclining ergonomic chair with footrest features is designed with a headrest to eliminate this risk.
The inclusion of a headrest offers support to your neck and head when you choose to stretch out. This feature is especially useful for those required to answer more phone calls while in their home office.
The Risk of Back Pain is Reduced
A backrest is incorporated in the design of an office recliner chair. This backrest supports the spine's natural curve.
An ergonomic office chair with footrest provides enough height to support the entire back. This is unlike the features offered when using a traditional office chair.
Moreover, using a reclining desk chair allows the user to rest at an angle that's greater than 90 degrees. As a result, the chair's ability to reduce back pain is increased.
Pressure on the Hips is Reduced
Unlike a reclining office chair with footrest features, traditional home office chairs are designed with a hard surface. Thus, sitting on this hard surface exerts extra pressure onto the hip region. An ergonomic office recliner chair is able to support the buttocks and hips by providing an excellent seat depth that measures between two and four inches from the back of the knees.
Working Is Made Easier
The advantage of a reclining office chair with footrest features is that it's equipped to be adjustable. Thus, the home office chair is made to accommodate different activities you're likely to perform during your working day.
The reclining ergonomic chair is also designed with a swivel feature. This allows the user to move around effortlessly without extending and straining or getting up from their seat.
Office Chair Buying Guide – How to Find the Perfect Office Chair for You
If this is the first time you're shopping for an office chair, it can be a bit overwhelming to find the best option for you with so many chairs available in the market. Here are the essential aspects to take into account while buying a reclining office chair:
Lumbar support

: It is important for the chair you choose to have enough lumbar support features for you to keep your spine in a comfortable position as you sit on the chair. Some chairs come with adjustable lumbar support, allowing you to adapt them to your preferences.

Seat

: Some office chairs allow you to modify the seat tilt and depth to accommodate users of different heights. The most common adjustment for the seat is the height, which is included in most chair options at the moment.

Tension and tilt

: Most ergonomic chairs include a tilt tension knob that will allow you to modify how much strength you need to recline the chair. This can make your chair more or less comfortable, depending on your preferences.

Armrests

: Some chairs come with padded and adjustable armrests. 4D armrests (they move in four different directions) have become quite popular nowadays. Essentially, you should be able to modify the height and position (width and angle) of them.

Recline

: Most chairs include reclining to a certain level. Hence, this is a subjective feature as some people may consider a certain angle more comfortable than others.

Material

: Some chairs are made of mesh, while others are made of leather. Leather can be comfortable, but it can be very complicated to clean and may not be the best option for people who live in a hot environment. Mesh chairs are quite durable and can help you maintain your body as fresh as possible, but they may not provide you with as much comfort as other padding options would.
These are some of the main features you must take into account while trying to purchase a new ergonomic chair. Some extra elements can be a headrest or a footrest. You can buy each of these options separately, such as the ErgoFoam Adjustable Foot Rest or an adjustable footrest under desk.
If you consider these features while buying a new office chair, it'll be easier for you to find the right chair for your needs.
FAQs
When you're searching for the best reclining office chair, there are many considerations to make. Though we've discussed them at length, you may still have a few questions. We've come up with a few questions that can help you decide if and when to use a reclining chair. It is possible to reduce back pain on office chair products, which can help you feel more relaxed and not in pain!
Is Reclining Good for Back Pain?
Yes, reclining can be good for back pain. However, you must find the right chair for your body type. With that, it can relieve back pain and improve comfort overall. As you lie back in the recliner and elevate the feet, your back feels lighter and can stretch out and relax more.
However, you shouldn't sit all day long. If you must sit for longer periods than recommended, these chair exercises for lower back pain can help you feel better. Do them while you're on the phone talking to a client or taking a small break to prevent eyestrain!
Can You Sleep in a Recliner?
Typically, it is safe to sleep in a recliner chair. If you are comfortable doing that, you aren't going to hurt yourself while doing it. In fact, some people with GERD, back pain, and sleep apnea find it's better to sleep in the recliner.
You are more upright, which can put less stress on your body. If you're sitting in a reclining desk chair, the same benefits are there if you sleep in it. However, just make sure that it offers leg rests so that your legs don't dangle all night long.
For some, though, it's hard to get comfortable in a seated, albeit reclined, position. If you're uncomfortable, it could lead to a stiff neck or back, arm pain, and other problems. Sit comfortably in the chair, recline back, and see how it feels. You may have to take some time to get used to sleeping in it.
Is Your Lower Back Pain Supported with a Reclining Office Chair?
Studies have shown that an office chair in a reclined position can relieve pressure and more evenly distribute it. However, this requires more lumbar and thoracic (upper back) support.
If your goal is to reduce back pain and sit in a reclining desk chair, make sure that it offers plenty of support in the lumbar region. Adjustable support ensures that you can change it throughout the day. For example, if you're sitting up straight, you may not need as much, but that changes when you're leaning back.
Fixed lumbar support systems aren't often good here because your body is different from anyone else's. Therefore, you can't use a one-size-fits-all solution. In fact, fixed support options could be worse than none. Luckily, Autonomous has many reclining desk chairs with adjustable lumbar support.
Should I Choose Mesh or Leather Reclining Chair?
For most people, the thought of a leather chair makes them cringe, but others enjoy them. Therefore, this is a valid question and often comes down to personal preference. Still, if your goal is to be comfortable and ergonomic, mesh might be best.
Mesh offers:
More ventilation

– The chairs have an open structure to allow more airflow. This reduces the risk of sweating through your shirt.

Easy to maintain

– Mesh chairs are often lighter and easy to maintain. The minimalistic design ensures that you can move them around easily. Plus, they don't stain as much because you can just wipe them off.

Availability

– Mesh chairs are accessible and almost everywhere. Therefore, you can buy them quickly and have them in your home soon.

Cost

– Generally, mesh costs less than leather, though this depends on the materials used.
On the other hand, leather gives you the image of being important and can be durable. Plus, they are easy to maintain, though they can suffer from cracking without proper care.
Generally, leather costs a lot more, and animals are used to create the chair. If you're an environmentalist or just concerned about animal treatment, this may not be a viable option for you.
With that, leather is easily scratched. Therefore, you can't use them in rough areas. For example, if you're working from home in the kitchen, people are walking by all the time to scuff up the chair.
Likewise, leather can easily fade, so if your room is brightly lit, you may find that it looks dull after a while. Most remote workers want natural light flooding into the workspace, so a leather chair isn't the best choice here.
Hey, you have special pricing through your company.
Get exclusive rewards
for your first Autonomous blog subscription.
WRITTEN BYAutonomous
We build office products to help you work smarter.