Desk mats have become very popular while working from home. That's no surprise with all of the benefits they give us. In the case of some people, it's a great accessory on their desk and completes the overall look they're going for. Others use their desk mat mouse pad for protection, so their desk stays in pristine condition. 
With so many desk mats in the market, you are sure to find the right one for you and your needs. One of the most important things to keep in mind is making sure your mat can protect your desk. Many people do not want any blemishes, scratches, or stains on their desks because they've just purchased a nice piece of modern office furniture. Understandably, everyone wants to protect their furniture. 
Also, it can help you with the organization. When you place a desk mat down, you start to plan out and think about the essentials you need on it. You have your keyboard, mouse, and then people think about their planners or drinks. Either way, the large keyboard pad allows you to prioritize everything that you need to complete your job right. 
No matter what your reason is for purchasing a desk mat for keyboard and mouse, researching and picking the right one for your space is key. Keep reading to find out about some of the best desk pads available.
The 25 Best Desk Mats for Your Keyboard & Mouse
1. Autonomous Sustainable Cork Desk Pad
Sustainability is a topic that many speak about now when they're purchasing new products. The Autonomous Cork Desk Pad is great if that is what you want to do. It is made from responsibly-harvested oak cork tree shavings, so you can relax knowing that you have made a purchase that is good and safe for the environment. This is because harvesting cork can promote and extend a tree's life.
If you prefer something more eco-friendly, perhaps you can choose this sustainable desk mat. It is made from responsibly-harvested oak cork tree shavings. The process does not contribute to deforestation and actually helps the trees live for prolonged periods.
This desk blotter can help you maintain your workstation to appear more organized. Furthermore, it can help you protect your desk against potential accidents, such as spillages or scratches. It is only available in one color, beige.
Overall, this is a great piece, especially if you have a standing desk, because it can keep your belongings from any movement while it is placed on the mat. 
2. Autonomous Microfiber Vegan Leather Desk Pad
Another great way to have a desk mat for keyboard and mouse that is safe and good for the environment is Autonomous' Microfiber Vegan Leather Desk Pad. Here's another eco-friendly desk protector you can choose for your setup. It is available in two colors, brown and black, so you can match it with many different themes. Either option has a minimalistic aesthetic that combines with any gaming setup you may have at home.
With a smooth surface, your mouse can glide over the material. Also, everyone likes the fact that it is made from vegan leather. Leather always brings a very rich and soft vibe to any room, but people do not want to buy real leather very much anymore. That's why opting for this vegan substitute is a great idea, because it can give you that feeling without harming an animal.
As the name suggests, this Microfiber Vegan Leather Desk Pad is made from vegan leather. It has an extremely soft touch but is also quite resistant, allowing you to keep your desk protected at all times. This desk mat has been designed to help you improve your mouse performance, too.
3. Minimalist Deskpad by DeltaHub
This DeltaHub Minimalist Deskpad can be the perfect option if you're tired of using keyboard pads that move all the time. This one will stay where you put it, allowing you to enjoy your preferred settings at all times and helping you with the organization of your desk.
The DeltaHub Deskpad is a desk cover that is designed to align with a minimalistic office setup. Since this desk pad is available in three different sizes, choosing a suitable desk pad won't be a difficult choice here. Overall, its anti-slip bottom and unmatched anti-fray sewn edges make it a unique and durable choice.
It has a minimalistic design that also has a unique charm. It's soft to the touch and includes anti-fray sewn edges. It will add a cozy vibe to your desk, allowing you to feel more comfortable in your workspace during your active hours. Plus, it will keep your desk protected against potential spills and other accidents that may occur on a daily basis.
4. Topographic Desk Pad by Deskr
Another option you can choose is the Deskr Topograph Deskpad. If you'd like something that draws more attention, you can include this desk protector in your setup instead. It has a unique look that combines with any aesthetic you may have in your computer setup.
If art inspires you, you would love to have the Deskr Topographic Deskpad. The Deskr Topographic Deskpad is a Grand Canyon-inspired desk pad that has a unique monochromatic topographic pattern on its ultrawide surface. Being 0.1" thick, this desk pad is known for improving your mouse performance. Overall, this mouse pad acts as a desk protector too.
This desk cover is made from polyester and eco-friendly rubber. It can be the perfect option for a gaming setup or perhaps for those who look forward to a more comfortable workstation. It has a monochromatic topographic design and includes an anti-slip rubber base, keeping it in the same place at all times.
5. Black Microfiber Vegan Leather Desk Pad
The last option on the list is a black desk mat, this time only available in black. Again, it has been designed to provide the user with an improved mouse performance, although it is also intended to keep your desk protected against scratches, spillages, and many other accidents.
It is soft, good-looking, and smooth. It will remain in the same place at all times, no matter how much motion it goes through. Hence, it can be the perfect addition to any gaming setup or workstation.
6.  burotic Leather Desk Pad
The burotic Leather Desk Pad is one of the premium desk mats that you can think of going for. The unique thing about this desk mat is that it is intricately handmade using premium quality full-grain authentic leather to provide a comfortable surface to run your mouse and keyboard. Since this is a wide desk pad, it will cover your entire desk and give you room for placing other accessories too. 
7.  burotic Leather Mouse Pad
The burotic Leather Mouse Pad is a smaller version of the Burotic desk pad. This mouse pad is also handmade using authentic full-grain leather, so it has a promising look as well. Overall, the stylish and sleek look of this comfortable mouse pad can improve your work experience in its own unique ways.
8. IKEA Rissla Desk Pad
The IKEA Rissla Desk Pad is one of the most elegant desk mats you can get. Designed using a heavy-polyurethane material having a water-resistant coating, this desk mat is resistant to stains and scratches. In addition to that, the anti-slip bottom makes this desk mat a desirable option for your office use. 
9.  Harber London Leather Desk Mat
The Harber London Leather Desk Mat is for those office workers who are inspired by the brown-colored desk mats. Being one of the most luxurious desk pads that you can buy, this desk mat is available in three different sizes. The interesting thing is that this desk mat is available in three other exciting colors too. So, you can choose whether you need a navy blue, tan, brown, or black desk mat. 
10.  AOTHIA Leather Desk Pad Protector
The AOTHIA Leather Desk Pad Protector is one of the cheapest options on our list that would easily fit anyone's budget. The interesting thing about this desk pad is that it has a lot to offer in this price range. From anti-slip bottom to wrinkle and waterproof surface, this desk protector has everything that you wish to get from a desk mat. Overall, its sleet looks and easy-to-clean surface are more like a cherry on top. 
11.  YSAGi Multifunctional Desk Pad
The YSAGi Multifunctional Desk Pad is a handmade, durable desk pad that you can use for placing your mouse and keyboard. Since the company has made this desk mat using suede material, it will not slip on your desk. Overall, this desk pad is water and oil-proof, so it will not catch any stains. Thus, you will be able to clean it pretty easily. 
12.  Corsair MM350 Desk Pad
The Corsair MM350 is an ultra-long desk pad that would be ideal for executive desks. Having a unique graphic design on its surface, this desk cover will add to the aesthetic beauty of your room as well. Its durable non-slip rubber base ensures that the desk pad stays in place while you work. Overall, this desk pad can be a great choice for your office space, but it comes with a smell that some office workers may find unpleasant. 
13.  Towwi Dual Sided Desk Pad
The Towwi Dual-Sided Desk Pad is also an option that you can think of considering if you wish to choose a PU leather desk mat. The good thing about this desk mat is that it is available in eleven different shades, so you can pick the one that goes well with your office theme. Since this desk pad is made using a waterproof material, you can maintain its look pretty easily.
14. Razer Goliathus Extended Chroma
In the case of gamers, it's important to have the right desk mat for keyboard and mouse, because you're at your desk for very long periods. You also want an accessory that can help your performance, not hinder it. That is why Razer has made it onto this list. This extended mat is made of the same material as their top-selling mouse mat. 
It is engineered to enhance your performance, no matter which gaming mouse you use. Also, to set the mood, use the Chroma RGB lighting system, so you can focus on what matters. 
15. Orbitkey Desk Mat
Many of us think that having a large desk blotter that looks good is the priority, but have you ever thought about a desk mat for keyboard and mouse that can also help you organize at the same time? Well, Orbitkey is known for its organizers, so it's no surprise that it's now looking at how to tidy up your desk with this pad. 
There is a hidden storage space for your notes and documents. It's perfect for those who want a minimalist desk mat that fits their minimalist space. There is also a minimalist bar for your pencils and pens. With so many different positives with this desk mat, it's no wonder why people are talking about it. 
8. Keysmart Taskpad
Everything has become wireless over the past couple of years. There are wireless keyboards, mice, and even chargers. That is why Keysmart has brought out a desk mat that might suit you and your charging needs. Say goodbye to your batteries and charging wires, because this desk mat for keyboard and mouse can protect your desk while charging your belongings. 
Yes, Keysmart can charge your belongings while they are sitting on it. Plug your charging wire into the mat, and sit your keyboard, mouse, and phone on it. All of your technology can charge while you're working, so you no longer need those wires cluttering up your workspace. 
16. Killspencer Desk Mat
Some people enjoy all the latest fabrics and futuristic technology, but others might want a simple mat for office desks that does the job. The Killspencer desk mat for keyboard and mouse is a classic leather mat that can be used for your space. It is premium leather, so if that's what you want, then you now have the option to have it. 
Killspencer also stamps their mat with its logo, but it is subtle. 
17. CB2 Rein Saddle Leather Desk Blotter
If a classic look is what you're going for, then try out this mat for office desks by CB2. This design can bring back memories of a blotter like the ones your grandfather might have used. CB2 makes their leather desk mats by hand, so you know that each one is always unique and not just turned out from a machine. 
Every mat has its unique color, distress, and graining, so you know that no one else has the same mat as you. Also, the quality and color of the leather that has been used means it can age beautifully. 
18. Hard Graft Rest Station Large Classi
If a brown desk mat is what you're looking for, then this might be the option for you. The Hard Graft says that its desk mat is the 'rest station,' because it built this pad with the idea of it being a chair for your laptop. That's pretty thoughtful since laptops are very expensive to buy. 
This desk cover is also Italian made. All of the materials are sourced in Italy and Europe, so you can receive a keyboard pad that has some character to it. With its felted wool base and lovely leather top, this desk mat brings elegance and comfortability to your desk. 
19. Montblanc Leather Desk Pad
Many people want a desk mat that screams opulent, and if that's you, then Montblanc might be right for you. This is a German luxury brand, so you know that it is going to be made of high-quality materials. The top is made of flexible leather and the backing is suede, so it is not going to move on your desk. 
Also, you can feel proud to know that one of the finest pen makers in the world has worked on your desk mat. Whether you need this desk mat for your keyboard, mouse, or even to write, the Montblanc is a great office desk accessory to have. 
20. Nordik Leather Desk Mat
Those of you who want a colorful keyboard pad may consider this as the right option. Nordik has designed desk mats that come in many different colors. This can allow you to be bold with your color choice and pick something completely different from what you normally go for. 
Also, it has a clever cable organizer, so your cables are neat and tidy while you work. The desk mat for keyboard and mouse itself is made of premium vegan leather, so you can also be happy to know that. As for the colors, you can have black, brown, blue, gray, beige, or orange. With a faux-suede bottom, you know that it is going to stay put on your desk while you work. 
21. Artistic Clear Antimicrobial Desk Pad
This desk pad is great for those who want to see their desk under their pad. With keyboard pad being made of solid colors, you cannot see any interesting design on your desk when you have it on. The Artistic desk pad is great because it has a clear finish. You can see your beautiful desk under it. 
There are multiple options for sizing, so you are sure to find one that best suits you and your needs. Also, this desk mat for keyboard and mouse has been made with permanent antimicrobial tech, so there is no chance of any odor or stain-causing germs appearing while using this mat. 
22. Pad & Quill Large Leather Desk Pad
The Pen & Quill keyboard pad is very large, sitting at 26x18 inches. However, it is made with a full-grain leather surface and a high-quality suede bottom. You know that what you're buying is worth the money because it has been made and handled with care. 
Also, it comes with a duo of pen slots, a discreet signature of the artists, hand-pounded copper accents, and a 25-year warranty. That is one amazing deal because this has been made by a specific artist, and there is not another one like it. You should feel proud to have it on your desk, because it was made just for you. 
23. Adir Professional Self Reversible Healing Cutting Mat
If you have a job where you need to cut materials, then this mat just be the one for you. It's durable and self-healing, so you do not need to worry about damaging it while working. With its vinyl composition, it can close up any cuts after you finish your work. Also, it has a non-slip and anti-glare surface, so when you need to use it, you do not need to worry about something getting in your eye. 
24. Satechi Eco-Leather Deskmate
Satechi is based in San Diego, and it makes a lot of beautiful and high-quality office accessories. The Deskmate is one of those products. It has been constructed out of eco-friendly leather, and it is water-resistant. Having a desk mat for keyboard and mouse that keeps all spillage off of your desk is great because your desk can remain in good condition for many years. Also, it comes in a lot of colors. 
25. Grovemade Wool Felt Desk Mat
Grovemade might be a name that you have already heard about if you're on Instagram. It's become quite popular with its posts. Moreover, it makes its desk mats sizes diverse and with a lot of materials, so you can find the right size and material for you. It allows you to be picky with your choice. 
However, a fan favorite is the Wool Felt option. It has a unique and attractive marbled look that brings a new vibe to any desk. If you want something soft, then this is also soft to the touch while also being able to regulate heat through its merino wool.
What to Consider Before Buying a Desk Pad
We've described some top-notch desk pads that you can add to your workstation. However, if you want to consider other options, it's highly recommendable to keep in mind certain aspects that can help you be sure that you're choosing a high-quality desk mat that will help your desk stay protected against potential accidents.
1. Materials
Not all desk mats are built equally. Therefore, you need to consider the material before purchasing. You can find desk pads made of linoleum, and vinyl, among many other materials that are easy to maintain. However, leather or felt has a higher quality and often provides the accessory with a better appearance.
The first most important aspect is the material that is used for designing the desk. If you look into the market, there is a wide range of materials that are used for designing desk covers. Among them, leather, vinyl, plastic, and felt are the most popular types. People like going for the desk mat that feels good and is easier to maintain.
The material will also define how resistant the desk mat is. Some leather types are quite vulnerable to hot and cold beverages, while other desk pads have been designed to be as resistant as possible to any spillage or scratch.
As an extra note, please keep in mind that all the keyboard pads available here are part of the Autonomous employee purchase program.
2. Size
How big do you want your desk cover to be? There are small, mid-sized, and even large desk pads that you can use for the whole desk. Although they all comply with the same function, it may be possible for them to become slightly more expensive depending on the size.
Size is the second thing that you should check for your desk mat. Your desk mat should neither be too small nor too large for your office desk. It should have a size that makes it accommodate most of your modern desk accessories, so you should look for a desk mat that has a standard size. The good thing is that most of the desk mats that we shared above are available in various sizes, so you can choose the one you find suitable.
For instance, if you want to use the desk mat only for your keyboard, it is highly recommendable for you to choose a small desk pad. However, mid-sized and large desk covers are more appropriate for those looking forward to using them with their mouse and keyboard.
3. Design
Last but not least, please consider the design that you'll be choosing. There are tons of good-looking desk mats available out there, including some with drawings or perhaps images printed, while others come in a monochromatic and minimalistic design that may appear more attractive to some people.
It's possible to find different desk pads for everyone's tastes. Some of the options listed here include some of the most unique-looking desk blotters you can find on the web, although there are tons of other options that you can consider for your workstation.
The desk cover design is a very subjective aspect. The only recommendation we can give you is to choose a desk pad that is in sync with the rest of the colors of your computer setup.
Autonomous Employee Purchase Program

Are you looking forward to improving your current workstation? The employee purchase program has the desk pads listed in this article, as well as many other accessories available at special pricing.
Chairs, desks, and office accessories are available as part of the employee purchase program. Not only will you be able to obtain special pricing, but you will also get to charge the object you buy to your company – your manager will take care of the rest.
This is a great opportunity for people that would like to improve their home office. What are you waiting for? Start upgrading your computer setup along with the Autonomous Employee Purchase Program!
Conclusion
Coming towards the end, we hope that you have gained some useful insights about the right mat for the office desk in this article. With so many desk mats for keyboard and mouse available, you are sure to find the right one for you. Go for the more classic look with browns and black, or grab one that is futuristic and can charge all of your belongings while you work. You also have the option of buying a desktop mouse pad that is made of vegan and sustainable materials or a mat that is made of real premium leather. 
Remember, the mat you choose is there to help you keep your desk safe by having it protect the surface area of your desk. That means no marks, dings, or water damage. On top of that, your desk cover can also look great and complete your overall look. 
Double-check the dimensions and the quality of your desk mat, because you should use one that is perfect for you. Working at your desk for long hours means that it needs to be a nice and welcoming space. Picking the desk mat that makes you happy is a great way to do this.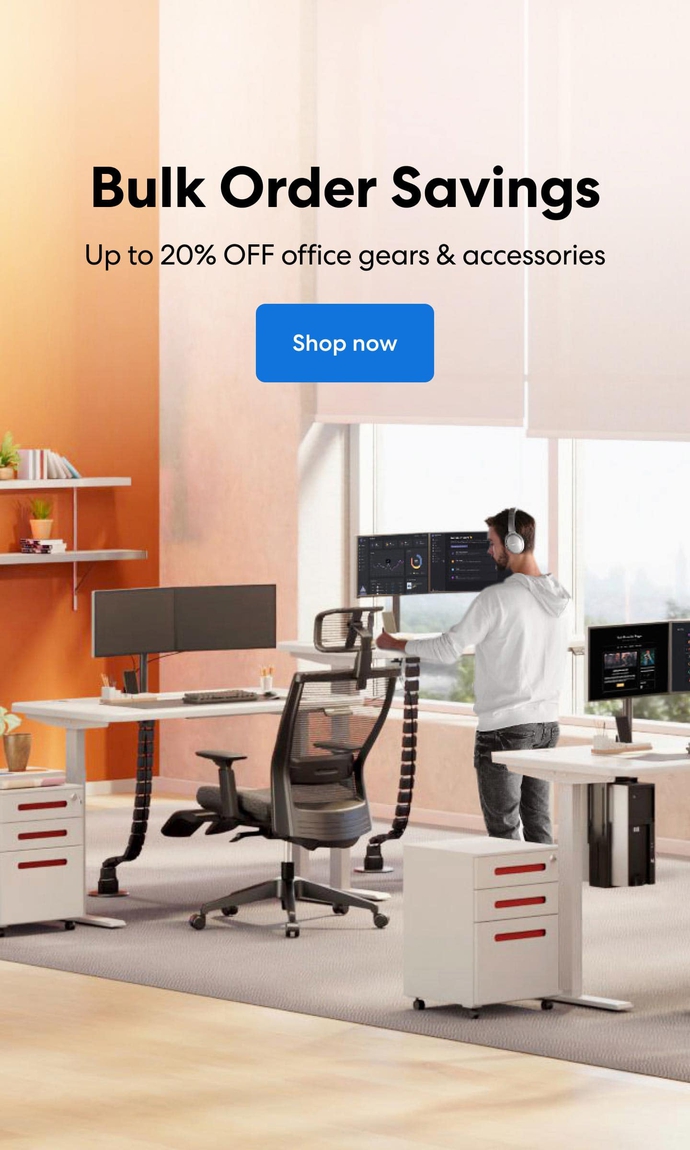 Subcribe newsletter and get $100 OFF.
Receive product updates, special offers, ergo tips, and inspiration form our team.