Workplace Inspiration
15 DIY Modern Office Desk Ideas to Build
6,646 Views
A desk is more than just a place to work, it's also where you spend a lot of time, and as such, some thought should go into your workspace. Choosing the best desk for you can frequently prove to be quite a complicated process. There are so many options for you to choose from, ranging in styles and standing desk designs. With all the available desks, a DIY modern office desk is undoubtedly one that you have considered. These desks house modern features and designs that seamlessly fit into any home office while also being DIY, adding that extra excitement of putting it together.
Listed below are 15 of the best DIY modern desk plans to consider in 2021. However, first, we have compiled a pros and cons list for any reader wondering about the benefits to a DIY modern office desk.
DIY Office Desk
A DIY desk can help tap into any carpentry skills that may not have known that you had
DIY desks can help you express your creative traits
Most DIY desks can help you save money in the long run
Some people do not like the idea of hands-on work
Depending on the materials, a DIY standing desk may end up being more costly than a person may have anticipated
Best Modern DIY Desks
With so many options to choose from, let's dive straight into the best DIY modern work desks that you incorporate into your home office.
1. DIY SmartDesk
This DIY desk frame is one of the best available DIY modern office desk options to you. It has a very sleek and modern aesthetic, which allows it to fit into any office easily. It is a standing desk, which means that its height can be adjusted to change between sitting and standing positions. Its motorized frame is also very sturdy and durable, meaning that it should last a long time without you having to worry about any problems. The DIY SmartDesk Frame kit is definitely an office desk base idea for all to consider.
2. SmartDesk 2 - Premium
Like the previously mentioned desk, SmartDesk 2 - Premium  is a standing desk that you have to assemble upon completion of purchase. The desk is extremely modern, and its motorized foundation is silent and allows it to change its height settings easily. The glass top also adds some elegance to the design, with an LED touchpad that controls the height settings incorporated into the design.
3. L-Shaped SmartDesk
This DIY modern work desk is for anyone who needs a little extra space. You can choose to change which side of the desk is on which side as they are interchangeable. The L-Shape Desk allows you to have extra room for anything you need, whether it is an additional monitor or even just more workspace. A triple motor system is incorporated into its design for the most seamless changes between standing and sitting positions.
4. SmartDesk Art Desk
Incorporated into this desk's design is a very creative and unique design. Art Desk is the perfect option for any creatives who are looking for a DIY modern office desk. The desk's design allows you to have plenty of space to do anything you need to do. It uses a powerful dual-motor system, allowing you to adjust its height seamlessly. The top is also made from high-quality MDF wood, meaning that it is incredibly durable. This is an excellent DIY modern desk.
5. SmartDesk Double Desk
If you have another person who works with or around you, this option caters to your needs. This Double Desk has two workstations that can be adjusted independently of one another. It incorporates a dual-motor system to allow for its adjustments, and the tops are made from durable MDF wood. It is an economical option for anyone who needs more than one workspace.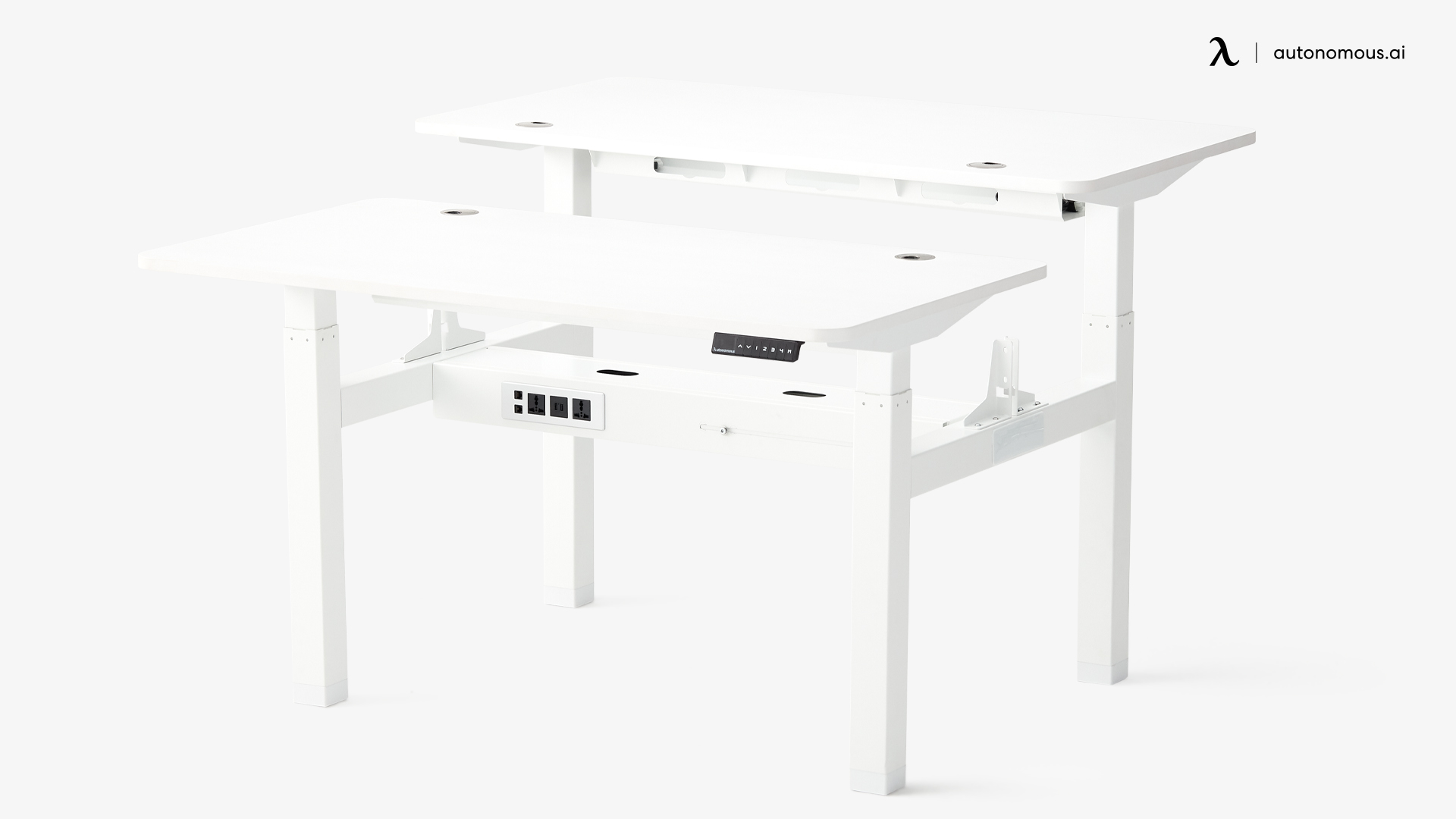 6. Steel Pipe Industrial Desk
This is a good office desk idea if you are looking to build a DIY modern office desk and have some industrial pipes lying around. You can use the pipes to build a standing desk base frame and subsequently add a top of your choosing. This desk adds a really unique modern design to any workspace.
7. Cross Counterweight Desk
The majority of counterweight desks make use of a crank or motorized foundation to lift them. These can sometimes be noisy and annoying; however, you can make use of wood to build one of your own, which makes use of wooden blocks as counterweights to adjust the desk seamlessly. You can also incorporate a simple locking mechanism for ease of use.
8. "Spaceship" DIY Computer Desk
If you are looking for a DIY modern office desk but do not have any carpentry skills, this is the perfect fit. This computer desk can be easily put together by combining some Ikea Expedit cabinets. The desk also has a lot of storage space and being this easy to assemble; it is a no-brainer.
9. Floating Corner Desk
If you are looking for a modern, elegant design that saves a ton of space, this is one to consider. It is easy to build modern office desk. This desk makes use of two Ikea butcher block countertops and an L-bracket for support. It can be easily mounted to any wall, and the height can be adjusted to accommodate a sitting or standing position. This idea does have the drawback of minimal amounts of space.
10. Bookcase Standing Desk
This idea is as simple as it sounds and involves no assembly. It consists of using a bookcase as a desk. You may have to remove some of the shelves in order to make some extra space, but once this is done, you have a working standing desk.
11. Treadmill Standing Desk
This idea involves you manufacturing a top that can fit onto your home treadmill. By doing so, you are able to keep moving while you work, allowing you to burn some extra calories and keep active.
12. Wooden Pallet Desk
Should you be after a modern, wooden look, then you might want to consider this option. It involves using pallets to create a sleek looking desk. It is straightforward to put together and fits into any office.
14. Standing Dresser
If you want a standing desk but do not want to bother with any assembly processes, you can use your dresser as a standing desk. Most dressers are already the perfect height for a desk and, as such, can be easily used as one. The pros of this are that you have a lot of storage space; however, the working area is limited.
15. DIY Cubicle Desk
You can make use of three Ponderosa panels to construct a DIY desk with a cubicle. This works especially well if you are looking for a bit of privacy while you work in a small environment. You can also add some paint to liven it up.
16. Standing Sawhorse Desk
Using this style of desk adds a homemade, elegant look to your workspace and makes it become a more modern office. The desk is relatively easy to make and can be made from some extra wood you have lying around. This desk also has the pro of some added storage.
Keep up with Autonomous news
Stay informed, stay inspired with our new blogs.
WRITTEN BYAutonomous
We build office products to help you work smarter.