Smart Products
16 Best Affordable Standing Desk Options of 2023
4,556 Views
One of the most undeniably helpful elements of a remote workspace is an affordable standing desk. If traditional offices are increasingly noticing the benefits of taking the plunge with sit-stand sessions, then you need to acknowledge these benefits too. You are at home and things may feel a bit more on the casual side, but that doesn't mean your health and productivity while working are any less important.
Whether you're working from a remote workspace or in a traditional office, some targets and goals need to be met. The office equipment that you have at your side often goes a long way in determining your ability to meet company targets.
Why Get off a Cheap Standing Desk?
You probably swear by your traditional office desk setup with a standard desk and chair. You sit and you work until the workday is done, and you repeat the same course of action the next day, and every other day that work is on the agenda. Why should you think about getting an adjustable standing desk now? Here are the benefits you're missing out on:
If you only sit as you work, that physical sedentary choice can spill over into your mental capacity and alertness in both a work and personal context. You can think of it as typical human nature when relaxation and comfort come into the mix. It's essential to give your mind a healthy "jolt" by throwing a bit of difference into the mix.

Numerous health implications exist for those who are almost always sitting as they work. The first example is the matter of

low back pain. While most people experience some form of low back pain throughout their lives, that number significantly increases when you look at office workers. The spine has a natural curvature, and while there are ergonomic chairs that can support it, the human body is meant for motion as opposed to remaining seated. Incorporating sit-stand sessions with an affordable height adjustable desk allows you to bring that kind of motion into the mix. 

Though the difference is not so astronomical that you're going to see the results right away, incorporating standing into your work routine yields a greater calorie burn than remaining seated the whole time. 

Standing desk users have reported that since they've made the switch, they have noticed consistently better energy levels and their mood is better. There are even studies that would confirm this experience. 
1) Autonomous DIY SmartDesk
The first one on the affordable standing desk list is the DIY SmartDesk kit from Autonomous. While this may come as a surprise considering the expensive features and designs of the previous two options, this model wins based on context. Not only is it the most affordable of the three Autonomous options presented here, but it allows you to exercise your creative muscles over its design.
Imagine getting the frame that an Autonomous desk uses and the freedom to choose and add whatever tabletop you see fit. Even the L-shaped frame design is available, for those who want to take advantage of a corner and small workspace that they may have without losing desktop real estate at the crevice. 
There is no beating a partially designed desk with a great price tag by any pre-built design when affordability sits at the center of whatever choices may be made. Autonomous did a tremendous job with this one.  
2) Autonomous SmartDesk 2 Home Office
This home standing desk from Autonomous is the remote workspace counterpart to the Autonomous SmartDesk 2 Premium. While you can use it in a traditional office, the aesthetic options and adjustability range make it more suited to the comfortable home environment. Additionally, the price tag is more attractive, so you get even greater affordability by opting for one.
The same kind of durable materials used in the premium version make a return here. Assembly is unbelievably easy, the unit is well-reviewed, and you can even try it for 30 days before committing to any purchase. Even if you do decide to buy it, you get a one-year warranty on your desktop and up to five years on your frame.  
3) Autonomous SmartDesk 2 Premium
While this SmartDesk 2 Premium is superior to its home office version from an objective standpoint, the focus is on the kind of desks that fit best in a remote workspace. Therefore, this is the perfect place for the premium version of the SmartDesk 2. 
The build quality is incredible, the aesthetic choices are beautiful, it's spacious, has tremendous weight capacity, offers programmable memory settings, and is even silent during adjustment.  
4) Airlift Tempered Glass Electric Standing Desk
You are likely going to take one look at this affordable standing desk and not believe that it's categorized as a cheap standing desk. That comes from an aesthetic and a functionality perspective. The tempered glass design automatically makes it look expensive, and its feature set is fantastic.
There's a large space, a hidden drawer, a USB charger, adjustability, memory presets, and a touch screen controller to help you make any required changes. 
5) Safco MUV Standing Desk
This option from Safco is not height-adjustable, so you're going to have to get comfortable using it at its preset height from the get-go. It's a desk on wheels, which means it can always move around to accommodate your changing workspace needs. There are multiple shelves, creating an element of storage for accessories and whatever else you may see fit. 
The form factor is excellent too, so it comes highly recommended for small office spaces.  
6) IKEA Norberg Mounted Standing Desk
Note that you're going to be compromising on adjustability here. It has a low-price tag that is synonymous with the IKEA name. Since it's a mounted disk, the fixed height is going to be one that you choose. So, it's very likely to end up with the desk in a position that is consistently conducive to your work requirements.
it has a minimalist design if you've ever seen one, so keeping your workspace looking neat and tidy is that much easier.  
7) DIY Standing Desk
This standing desk idea is exactly what it sounds like. If you want an affordable standing desk for your home workspace, why not make one or use some of the items you already have at home to bring one together?
If you have woodworking experience, you can make yourself a whole desk. If not, considering using items such as your treadmill or your ironing board to make your standing desk. Either way, you would have your workspace and get to save some money while you're at it.  
8) Flexispot EC9 Standing Desk
The EC9 standing desk is a budget and affordable standing desk model in every sense of the word. As is the case with a couple of other entries, there isn't an expensive feature set for you to go crazy about. So, if you wanted to return to positions that you enjoyed while adjusting the unit, you must remember them and do it manually.
Still, the height range is very nice, and the desk has a great look. Note that the maximum weight capacity here is 110 pounds, so you may run into similar problems as the Symple Stuff adjustable desk. 
9) Symple Stuff Adjustable Standing Desk
While it's not typical to start with what may be a glaring limitation, this Symple Stuff desk cannot accommodate more than 100 pounds safely. With that out of the way, like the Rebel Up standing desk, this one also has an unbelievably expensive look for an inexpensive design. 
The adjustment works incredibly well, it slides into almost any workspace, and it can work as effectively as some ergonomic chair designs to help you maintain proper posture. 
10) Rebel Up Standing Desk
Many affordable standing desk options reveal their price tags with the aesthetic that they offer. That's not the case here, as the beautiful glass top and premium-looking base give it an elegant and expensive feel. 
There is quite a bit of desktop real estate for you to take advantage of, as well as USB ports and outlets, allowing it to power devices. The color choices also quite impressive, which gives you some level of agency over your workspace customization. 
11) IKEA Bekant Sit-stand Desk
The IKEA brand name is almost synonymous with affordability, and this cheap standing desk hits home with that point. Note that its incredibly low price reflects in the features that it offers (or lacks). Apart from being adjustable and offering some measure of durability, there is not much else to say about this one. It makes the list because it gets the job done consistently as it was intended to.
However, if you want some fancier features of this affordable height adjustable desk, you may want to opt for one of the other desks on this list. 
12) Eureka i1 Standing Desk
Eureka's i1 is another solid option in the line of affordable standing desk choices that are on the market for you. Space is a recurring theme here, and this standing desk is not short of it. You can use your dual monitor setup, your accessories, and your peripherals. You could even recapture some of the desk's real estate by throwing a monitor arm into the mix. 
As is the case with the previous entry, Eureka included cable management in the design to help things look even neater in your remote workspace. With a great price and a tremendous feature set including items such as memory presets and adjustability, this desk is a solid buy. 
13) Fezibo Height Adjustable Electric Standing Desk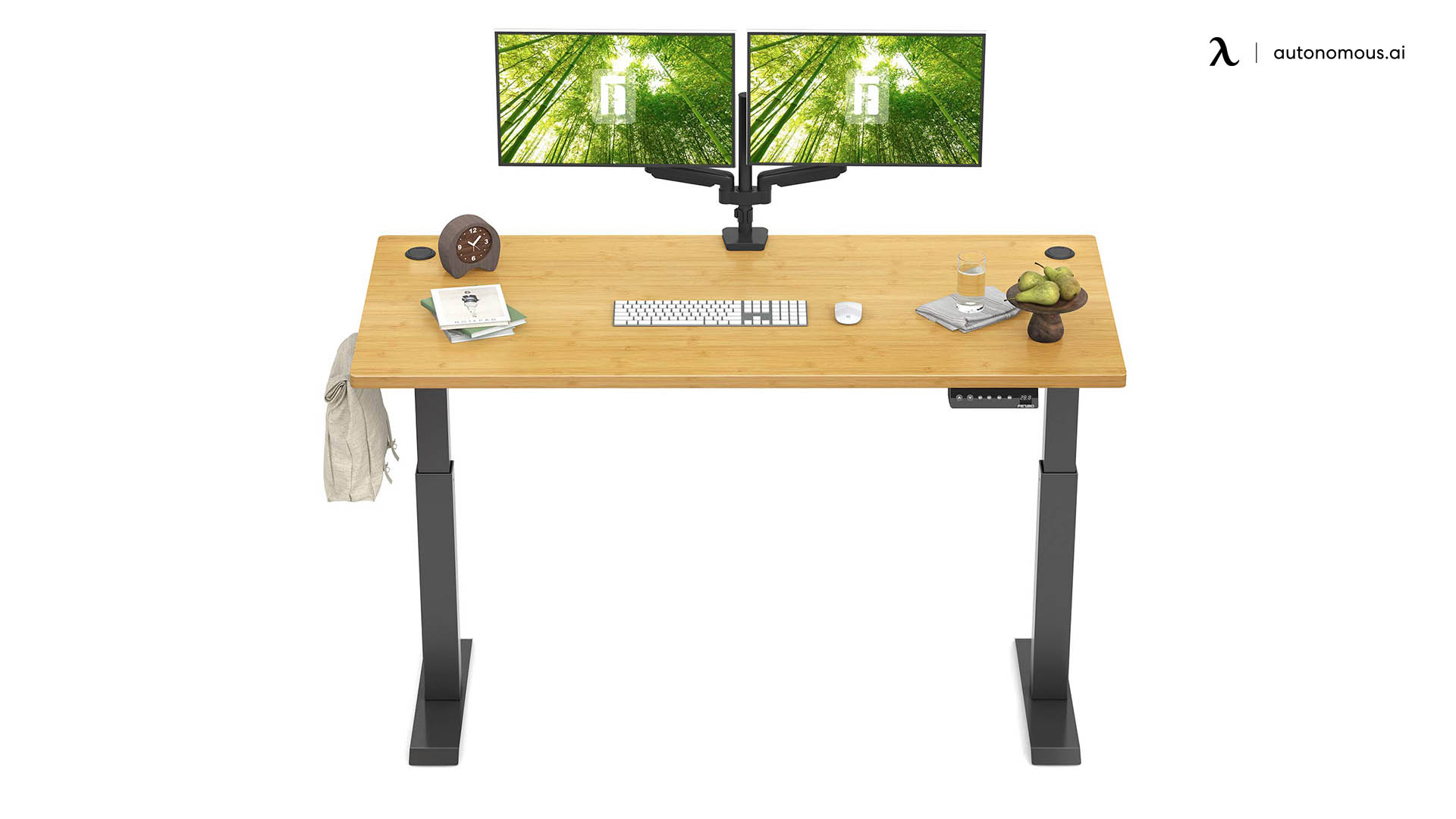 Fezibo did a tremendous job with this affordable sit to stand desk. The cloth drawer is likely the most unusual thing that this model presents. The manufacturer conveniently placed it, and it's large enough to hold your accessories until you need them. In keeping with paying attention to storage needs, the desk features a series of side hooks and grommets for cable management. 
The top of it is spacious too, meaning that your equipment can be comfortably placed based on preference. Finally, take advantage of the included memory presets to keep track of your favorite height positions. 
14) Stand Steady Joy Desk
Sometimes, when you want an inexpensive standing desk, you must compromise on some of the features you have likely become accustomed to or have heard of. A recurring theme here has been adjustability. Unfortunately, if you opt for a Stand Steady Joy Desk, you're not going to be doing much adjusting.
Even so, the desktop surface area is incredible, as it allows you to fit your screens, peripherals, and various accessories. Additionally, the aesthetic is nothing over the top, meaning it can fit into a variety of remote workspace designs.
15) SHW Electric Height Adjustable Standing Desk
If you sat and thought about the feature set that any affordable adjustable standing desk would come with, this model from SHW would likely match your imagination. The point is it has no innovative standout features that are going to shock you, but it does what the manufacturer intended very well.
By all accounts, it's intended to be your garden variety affordable standing desk with an electrical adjustable mechanism. It's wide, has four memory presets to keep those positions you love, and it's sturdy enough to stick around your remote workspace for a while. 
16) Vari Desk Pro Plus 36
The final inexpensive standing desk option on the list is not the traditional type that you are used to. Instead, it's a standing desk converter. If you're not familiar with this concept, imagine it as the budget option when you already have a traditional desk, and you want the benefits of a standing one without having to replace yours completely. The adjustable converter sits atop your traditional desk and has height ranges that go as low as a flat position atop the desk it's placed on. 
At its high point, it reaches 17.5 inches. As you likely expect, the space provided is not the largest. Still, you can fit the peripherals you need, as well as a monitor and even a laptop on it. If you have a dual monitor setup, it may be a bit challenging to use this one.
Subcribe newsletter and get $100 OFF.
Receive product updates, special offers, ergo tips, and inspiration form our team.
WRITTEN BYAutonomous
We build office products to help you work smarter.