Workplace Inspiration
Shop 20+ Best Office Decor Items & Accessories 2023

Autonomous
|
Nov 26, 2022
5,107 Views
Newyear is coming! That means new trends are almost here, and you need to see what to get if you don't want to stay outdated. Many people think it's a waste of time, but looking for new decorations for your office and workspace is essential to boost your productivity and make you feel better while working. 
That's because getting to see different things and decorations gives you a sense of freshness that you need from time to time. There are many things you can do to improve your office's aesthetic. The good thing about that is that you can do them while getting items that are useful for you. 
We understand it's not easy to look for all those things by yourself. However, if you need office decor ideas, you've landed on the right page. Dive into this article to see the best home décor ideas and office decorations for 2023!
Shop Office Decor and Accessories with Best Prices
What Can I Get for My Office for All Seasons?
As mentioned before, you need to get the right decorations for your office to feel better while working. However, that doesn't mean you have to spend all your money on things you can't use later. The optimal thing to do is buy office items that make your office look better while making work easier for you. Here are the best office décor ideas of all time: 
1. Ergonomic Desks
Ergonomic products are an office workers' best friend. They help you reduce anxiety, back pain, and stress. These products do that by making you adopt a decent posture and therefore improving comfort. 
Ergonomic dsks are excellent for that task. Tons of designs could fit your office aesthetic while giving you all the ergonomic features you need. Whether you get a black office desk or a white electric standing desk, take all the time you need to check all the alternatives available for you.
2. Ergonomic Chairs
You can always buy ergonomic office chairs online. These products offer tons of benefits to office workers. If you need to sit for extended hours, using a standard chair can bring you tons of health problems. Ergonomic chairs help you stay focused and comfortable at all times.
3. Plants
Getting plants is always an excellent idea to add decorations to your office. Doing it helps you stay connected to nature and makes the environment fresher. However, keep in mind that you have to take care of them if you want them to live for a long time. 
4. Paintings
Art is with you wherever you go. There are also different art expressions you can enjoy daily. Paintings are often used at offices to make them look better and more sophisticated. Try getting one that fits your workspace's aesthetic.
5. Dual Monitors
Dual monitors can make your setup look way more professional. Apart from that, using them lets you multitask and considerably increase your productivity. Using them allows you to do your work faster and check different things without needing to open and close other tabs. 
6. Music 
If you make sure it doesn't distract you, music can lighten up your work environment. Choosing the right playlist makes you feel inspired and more active while working. Consider getting speakers that allow you to connect your smartphone through a plug or Bluetooth connection. 
7. Lamps 
It's essential to have a well-illuminated office if you want to work better and improve your work performance. Fortunately, getting lamps can be an excellent plus for your office. Take all the time you need to get the lamp the best suits you and your office. 
8.Desk Organizer
Disorganized workspaces decrease productivity and creativity. It's normal to have a disorganized office desktop if you don't have any other place to put your working gear. However, there's a solution to that problem. Invest in a desk organizer to avoid organization issues. 
9.Mirror 
Many people put mirrors in their offices. Sometimes you have an emergency and need to get out of your office. Having a mirror allows you to always keep track of how you look and ad value to your office's aesthetic. Whether it's a big, small, or medium-sized mirror, getting one for your office is an excellent idea. 
10. Dehumidifier
Depending on where you live or work, humidity can represent a serious issue. That's because it can damage your walls and make them look worse. Apart from that, they can give you a hard time if you suffer from allergies. 
Humidity can make you feel uncomfortable at your office. Try getting a dehumidifier to keep those issues away. The only setback about it is the noise it makes, but you can solve that by playing some music.
Other Items 
Those were the 10 main ideas and the most important things you can use to decorate your office. Regardless of that, other things can help you make work easier and make your workspace look better for years. Some of them are: 
Cable organizer. 

Portable phone charger.

Pets.

Custom mouse pads, keywords, and laptops. 

Wall art. 

A sofa, puff, or other furniture items. 

A carpet. 

Curtains. 

RGB lights.
Interesting Office Decor Ideas for You
1. Declutter Your Office Space
Believe it or not, simplicity is truly the epitome of class. Therefore, decluttering your workspace is one of the best professional office décor ideas. Although we live in a digital era where adding extra file storage to cloud services is straightforward, removing clutter from the actual world is more difficult.
Even though it is inevitable, you'll be doing yourself (along with your productivity) a major favor by making a tidy workspace that motivates you to begin the workday. Make room for electronic storage devices and, of course, for all necessary tools (notepads, pencils, printing paper, pens, easels, dry-erase boards, or important files).
2. Pink It Up!
Regardless of your gender, pink never goes out of style through its variety of shades. If you prefer a rather subtle decorative space in your office, you may go for a salmon pink office décor. However, if you're more of a loud and opinionated personality and wish to showcase that to gain further motivation as you take on the world, a shocking shade of pink may be a wonderful pick!
There are numerous methods of incorporating pink into your office décor for work. For example, you may create a personalized vision board and add it to motivate yourself. Another method could be to experiment with various wallpaper designs. However, a personal favorite is pink velvet chairs. These add a major pop of color to your office and make for an incredibly comfortable sitting space.
3. Incorporate Plants!
Whether you're looking for ideas for desk décor or overall office decoration, plants are an example of a foolproof plan to make your office feel fresh, inviting, and stylish. Therefore, these office décor items will add life to your workspace while giving you a fresh supply of oxygen. Living plants are truly a wonder as they can make the space cozier while also bringing the perks of an outside space inside.
This negates the common side effect of suffocation from sitting in one space for too long. If you want cute desk décor, you may get small-sized plants for your desk and enjoy the green they emit amidst your mundane stationery and work files. Otherwise, large plants will also totally do the trick of adding an aesthetic and calming feel to the space.
4. Revamp Your Lighting
Lighting is among the most important aspects of office décor ideas for work. Therefore, why not dedicate an entire section to the lighting itself? Believe it or not, lighting plays a major role in contributing to your productivity. Low or bad lighting can often lead to drowsiness and exhaustion.
Therefore, the sense of being exhausted and sleepy results from poor lighting. Introduce fresh lighting for an extra boost if your office's conventional fluorescent lamps feel drabber than welcoming. For a great sensation of relaxation, sprinkle lamps (large or tiny, stand or desk) across your workspace. Table lamps, rather than lighting fixtures, are a fantastic way to add warmth to a desk. A stunning table light might also be the ideal focal point for a simple yet classy desk.
5. Go For Vintage!
The stark, angular professionalism of mid century contemporary style readily offers itself a fusion with the familiar home comforts. "The items are timeless, which is the charm of midcentury contemporary design. Therefore, according to Hobbs, you won't need to update your workplace furniture since they may be timeless mainstays.
Use cushioned side chairs with walnut and oak furniture to recreate the appearance in your room. Olive, butterscotch, white, and black suede colors are frequently seen on mid century furnishings.
6. Keep Your Breaks Stylish!
The most crucial aspect of labor is doing the task properly, although regular breaks should be taken. Every hour or so, spend a few minutes unwinding and refreshing to keep your thoughts clear and active.
By creating a space for pauses, you'll effortlessly stop by if you're feeling drained and return to your work feeling revitalized. This office décor for work is one of the best for your mental health, development, and growth. Therefore, we recommend prioritizing this idea when looking for chic men's office décor ideas.
7. White Is The Classiest!
White and black are undervalued hues, claims Hobbs. "Think about white and black or white-on-white artwork if you want a sleek and basic aesthetic." This ageless, traditional color combination is constantly in style.
Experiment with contrasting hues or style the area in dazzling whites for a unified look. According to Mazzarini, "white-and-black photography feels wonderful." Manzannari advises attempting a group of layered paintings with the same colored frames if you decide to go with a picture frame wall.
8. Add Calendars!
If you're looking for a classy cubicle décor, adding calendars is one of your best options. A pleasant workplace is organized if we focus on the most basic requirement. To keep things organized, place your calendar prominently and choose an enormous model with a fun print. To help you recall key events, add colored notecards. Alternatively, please keep it simple with a white-and-black layout.
9. Go For A Larger Space
Similar to considering each person's demands individually, consider including sizable surfaces that can serve multiple purposes. Create various workstations to accommodate your employees' individual personalities and daily logistical requirements. Maybe all that is needed is a simple assessment, or you could try asking your team what they think the ideal environment looks like from their perspective through an assessment. The same holds for creating your own home office: Which setting best supports your preferred working style?
10. Incorporate Ergonomics
You should first set up a practical workstation before focusing on the details of the office design. Alison Davin advises, "Start with outstanding working ergonomics," taking into consideration various working habits and workplace needs.
"A height-adjustable workstation allows for standing while functioning, which is something that certain people prefer to do, the expert explains. Others prefer to stretch out and have plenty of space to avoid being surrounded by stacks of items. Another person could want an L-shaped workstation that allows them to switch among several workstations or display two windows simultaneously".
Conclusion 
As you could see, there are many things you can get for your office to make it look better. Each one of them has a special value that can make your workspace look unique and fresher. However, you need to choose wisely which objects to invest in and how they can help you. 
It's always good to get seasonal decorations to make your office a better place to work. Working at a place that looks appealing to you gives excellent benefits to office workers. From increasing your productivity to preventing mental health issues such as stress, anxiety, and mental exhaustion. 
Don't hesitate to get the items that can make your workplace a comfortable and warm place to work. Buying those things represents a positive investment in the long run. However, the ones in this article are not the only decorations you can get for your place. You can always look for other things you like and buy them for your workstation.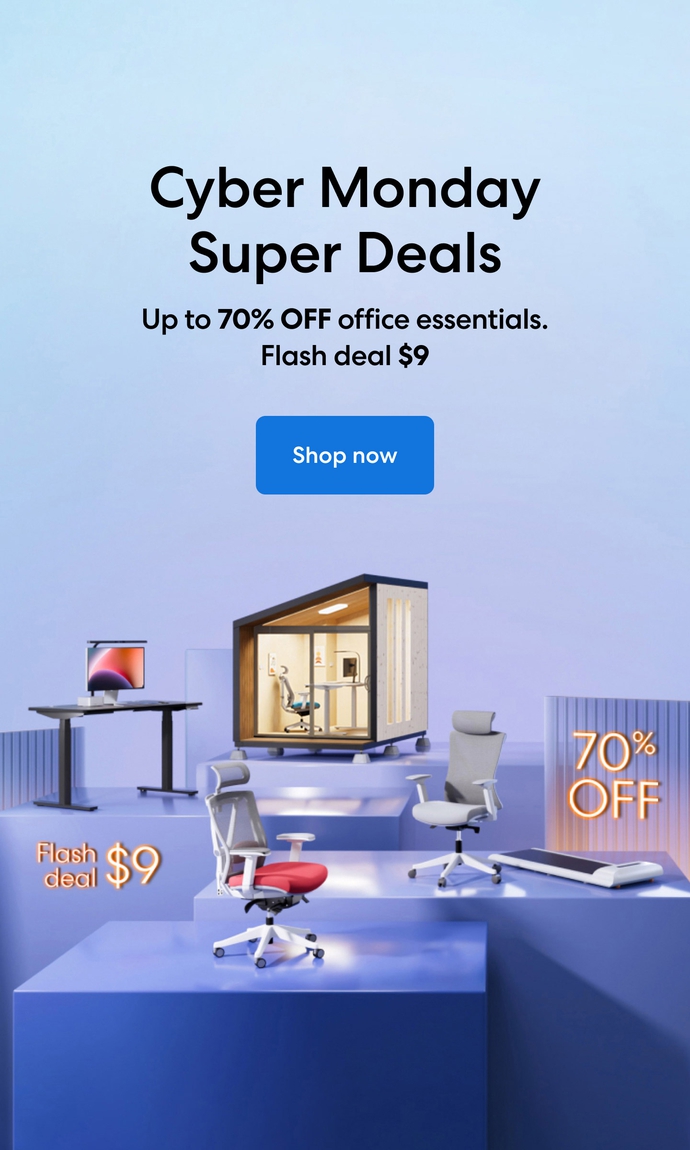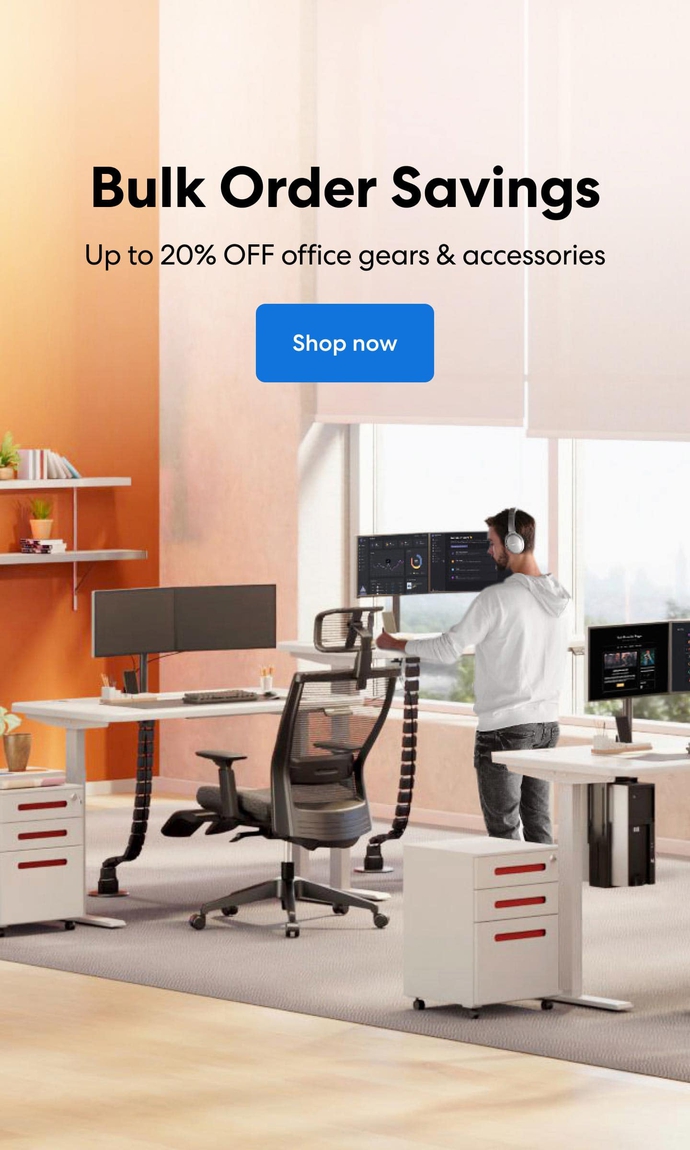 Subcribe newsletter and get $100 OFF.
Receive product updates, special offers, ergo tips, and inspiration form our team.