Traditionally, people remain seated in a work environment. Thanks to compounding research, however, the light got shed on the fact that staying seated for long hours can do a lot of damage to the human body. To facilitate healthy change, a inexpensive adjustable standing desk may be an important part of the equation.
Whether you're in a traditional office or a home alternative, it's very important for you to remain comfortable and to protect your body from consistent damage. Thankfully, standing desks help people to do that to a great degree. 
What Is a Standing Desk?
A standing desk is one that allows you to work while you stand. There are many variations available, but the most common is the adjustable type. This variation lends itself to the ability to switch between standing and seated positions for maximum comfort and efficiency.
There are many different manufacturers that have thrown their hats into the standing desk arena. However, your best bet is to seek out an inexpensive standing desk that can function effectively and handle your equipment workload.
How do you know which ones meet that objective? Thankfully, there is a listing below that discusses 22 of the best alternatives for those looking to buy a new desk or to upgrade from a traditional office one. Of course, this definition covers the surface, but you can access a lot more information about the standing desk concept if you want to learn more. 
Why Getting a Standing Desk Is a Good Idea
What makes getting a standing desk is a good idea? There is no single answer to this, as research continues to reveal the benefits of a standing desk over a traditional office desk.
First, standing from time to time lowers your risk of health concerns, such as weight gain and obesity, which are both much more likely in people who have a sedentary lifestyle.
Back pain is another immense concern, and there are many inexpensive standing desk options that can play a part in reducing this. Many office workers who sit all day complain about various intensities of back pain. Getting an inexpensive standing desk seems to reduce particularly lower back pain.
By all accounts, standing desks even seem to improve energy levels and mood. While people who have used standing desks already reported that they experienced this, studies have confirmed it. The conclusion came based on evaluating vigor and energy after comparing those who use standing desks to those who use traditional ones.
There is even evidence that standing desks can boost productivity, which is one of the main reasons why organizations are looking into getting them for their employees.
Top 22 Inexpensive Standing Desks for Tight Budget
While it's never advised to get inferior equipment, getting an inexpensive office desk that is effective is not hard. However, finding the best budget standing desk requires proper evaluation and understanding of the factors that come together to make a good one. 
How do you identify stellar inexpensive standing desk options? The good news is that you don't have to do so, as all the testing and evaluation is already done for you. All you need to do now is look at the 22 alternatives below and consider which ones you want to implement in your home or office environment.
Don't worry about making a bad choice after looking at the inexpensive standing desk choices provided. While each of them has its own merits, they're all feasible alternatives. However, if you are unable to get through the first option on your own, it may be best to go with one of the others. 
1. DIY Standing Desk - Best Choice for Inexpensive Standing Desk
The first best budget standing desk option is for those who truly want precise customization and have the wherewithal to build a desk on their own. If you are not the DIY type and the idea of getting through this process sounds a bit difficult, you may be better off going for a pre-built, inexpensive standing desk.
If you have the ability and you want to put your own artistic twist on the equation, then the DIY standing desk is right for you. Not only do you get control over the dimensions and components, but you could save a lot of money since you are just going to be paying for the materials used in the build.
2. Autonomous SmartDesk Core (Home Office)
As far as standing desks that lie on the inexpensive end of the spectrum go, it's hard to get more optimal than the Autonomous SmartDesk Core (Home Office). The composition combines a heavy-duty steel frame with a high-quality MDF wooden or natural bamboo top. Note that this standing desk supports up to 300 pounds of weight.
It's super easy to assemble, comes in two spacious desktop sizes, and has a height range that makes it suitable for people who are short, average, or tall. The dual-motor design makes for a quiet and super quick position shift in this adjustable standing desk option.
The best part is that you can try the desk for 30 days, after which you can choose to buy it once you've inevitably fallen in love with it.
3. Autonomous SmartDesk Pro (Premium)
Imagine taking the unbeatable combination built into the Home Office alternative and adding an even better height range. That's where the Autonomous SmartDesk Pro (Premium) comes into the equation. It's just as sturdy, uses the same high-quality materials, provides the same two spacious desktop options, and uses the same dual motor functionality.
It supports the same weight capacity, and even with a better height range, it's still just as easy to assemble as ever. You can also try this one free for 30 days to experience the upper echelon of standing desk quality.
4. Autonomous SmartDesk Corner
The final inexpensive option on this list completes the Autonomous trio and improves on the previous entries. It's the Autonomous SmartDesk Corner (L-Shaped Desk), and there is no better choice provided you have space for it. It uses a triple motor system for even speedier silent adjustments, and this inexpensive standing desk supports up to 330 pounds of weight.
There are three size options, which all provide an unbelievable amount of tabletop space for all your equipment and accessories. Additionally, the long and short pieces are interchangeable, which means you can move the desk to any corner you want and still maintain your comfort.
There is an included cable tray to take care of your aesthetic needs, and the design features high-quality MDF wood and SPCC steel. Could this desk possibly get any better?
5. Stand Steady Joy Desk
This inexpensive standing desk embraces function more than it does aesthetic. The desk isn't visually displeasing by any means, but it has an incredibly simplistic look when compared to many of its contemporaries. Its height is 42 inches, which allows it to be effectively used by most people who have around average height.
There is no adjustable functionality present, which means that you must ensure that the desk's standard height is good enough for you before you purchase it. The tabletop has a wealth of space, and there are even separated compartments to help you store your equipment. 
The base of the desk features a riser, which is suitable for things like your computer monitor. As you can imagine, the desk is easily assembled. Note that you must anchor this desk against something substantial, as it does get wobbly if left to stand on its own.
6. SHW Electric Height Adjustable Standing Desk
If you're looking for an inexpensive adjustable standing desk, SHW has you covered with this design. It's the fundamental blueprint of an adjustable desk, and it gives you just about what you expect from one.
It doesn't have all the bells and whistles of the more advanced and expensive types, but it's suitable for the job it was intended to do. It does include memory presets to help you save your favorite configurations.
The form factor is great, there is plenty of room for your items, and it uses a button-based adjustment system, so you can alternate between your standing and seated positions. If you choose to buy this desk, you have different size options based on your needs.
Note that the desk is not easy to move and it has no wheels, so try to place it somewhere you plan to keep it for a while. 
7. IKEA Norberg Wall-mounted Desk
This IKEA offering is the embodiment of the term inexpensive standing risk. It's wall-mounted with no adjustable mechanism, but it does its job once you get the height right. Unlike other fixed-height options that may be inconvenient, you get to choose where this one is mounted, so it's almost impossible to get the height wrong.
It's a minimalist design as you can expect, and the pricing is more than competitive. Additionally, it looks great and even doubles as a shelf.
8. Safco Muv Stand Up Desk with Keyboard Shelf
Safco designed one of the best budget standing desk alternatives out there. While it's not adjustable, you can get around that with the right ergonomic chair at your disposal. If your chair can go high enough, you could use it seated, though you'd be a bit high off the ground. Of course, when you're ready to stand, you can just move the chair away and use the desk as is.
The unit sits on wheels, so moving it is effortless. It also boasts an incredibly fancy aesthetic, which is likely to complement whatever other furniture you may have in your office space. The multi-shelf design is very convenient since there is one for your computer, one for your keyboard, and one for the other accessories you may want to store.
The desk is not the largest, which means you can't fit a wealth of equipment on top of it. However, if you have a small office space, this is a very appropriate inexpensive standing desk.
9. Rebel Up Standing Desk
Here is yet another inexpensive standing desk that comes with the benefit of being adjustable. It boasts a glass top, which gives it a premium look many other standing desks lack. It's a powered desk that you should have preferably next to an electrical outlet. The unit is built with two USB ports and two outlets to make things even more convenient.
The top of the desk has a wide area, which means you can fit a lot of equipment on it. Cable management is also not too bad, as the design helps with that. When you are buying one, you get to choose the color, which allows you to add your personal flair and coordinate things with the rest of your furniture.
Whether you are in a traditional or a home office space, this desk is not going to look out of place 
10. Eureka i1 Standing Desk
Here is another great choice for those who want a competitively priced standing desk with enough space for a moderate amount of equipment. The desktop area has enough space to fit two monitors along with your traditional peripherals, and a few office desk accessories that you may use. There are two areas to the rear left and right corners of the disk to facilitate cable management. 
It's incredibly durable, has memory features, and it stands as an incredible value for money. The design lends itself to ergonomic principles, and it serves as an all-round desk with no significant shortcomings. The base is sturdy, and the wooden top is both secure and pleasing to the eyes. 
You can't go wrong with this desk if you are on a budget and you want something functional. 
11. IKEA Bekant Sit-stand Desk
While it's not priced as slowly as the previous IKEA entry on the list, it certainly counts as an inexpensive standing desk. The upside is that this one comes with the adjustability, which allows you to alternate your work positions as you see fit.
While the desk looks great and can fit well in both home office and traditional office spaces, it's only suited to those who want basic functionality in such a piece of furniture. Note that the desktop workspace is not the largest, which means you can't place much equipment on it. Additionally, it has an average level of sturdiness.
If you're on a budget and you don't have too much equipment to put on your standing desk, this build works as a solid option.
12.  Airlift Tempered Glass Electric Standing Desk
It's hard to believe that this Airlift desk falls into the budget category. It's a dream to look at, and its functionality is also top-tier. You can place it in any office setting and it would contribute to heightened efficiency. Naturally, the tempered glass look contributes to a premium aesthetic.
Additionally, there is a hidden drawer that looks like a natural part of the desk when closed. However, there is enough space in it to store several of your favorite accessories so you can pull on them at will. Note that the desk is large enough for you to fit small electronics, laptops, cell phones, etc. 
There is even a USB charger, so you can conveniently use and charge your devices as you work. The desk is adjustable, and it goes as high as 47 inches, which means there is support for people on the taller side. Even at such heights, it still manages to maintain its sturdy footing. 
The touch screen controller offers various programmable settings to help you find and retain your best configurations. On top of everything else, the form factor means it won't require too much space.
13. The SmartDesk – Art Desk
If you're looking for a great inexpensive standing desk, then the SmartDesk – Art Desk is a fantastic choice. Offering great functionality in a beautiful, minimalistic package, the Art Desk is the perfect way for you to work functionally. With a powerful, quiet motor and great lift capacity, the Art Desk features an elegant shape and a desktop made from quality MDF wood. Self-assembly is quick and easy and the Art Desk comes standard with a five-year warranty period.
14. The Sabine Height Adjustable Standing Desk by Upper Square
This offering by Upper Square features good functionality, is well-made, and should be suitable for most budgets. The Sabine is height-adjustable and comes with soft-close drawers which are nearly silent. A built-in USB port allows you to charge your devices without needing a separate charger, and the cable management accessory makes keeping your worksurface neat and tidy almost effortless. In addition, the Sabine is reversible, meaning you can fit it into just about any space in your office or home workspace.
15. The Xpressions Standing Desk by Safco Products Company
As the name suggests, the Xpressions is a bold and striking option for those looking for an inexpensive standing desk. The frame is truly eye-catching and certainly makes an impression. It's also ergonomic, though. The Xpressions' frame actually features a handy footrest, which is perfect for when you're feeling fatigued after long periods of standing. The desktop is made of tempered glass which looks fantastic and is very easy to clean. If you're in the market for an inexpensive standing desk that really sets you apart from the others, then the Xpressions is a great choice!
16. Cayuga Height Adjustable Standing Desk
Inexpensive standing desk options don't have to look cheap. The Cayuga is a minimalistic and elegant standing desk by William Forge that offers a surprising amount of storage space. Adjustment is made possible thanks to the slots in the frame, and you can also use the frame for shelving. Reversible orientation means that this desk fits in just about anywhere, too.
17. Hassen Adjustable Standing Desk
The Hassen is one of the more spartan options on this list. It's easy to move around thanks to its wheels, and it offers a few levels of shelving space. Available in three different colors, the Hassen is a good choice if you're looking for a standing desk that is accessible and that doesn't break the bank.
18. Reversible Electric Standing Desk by Inbox Zero
This model by Inbox Zero is one of the best electric standing desks out there. The fact that it is an electric model means that you can easily adjust and program the desk via its control panel. Choose your favorite height and save it, and you can return to this height whenever you want to with the touch of a button. Supporting a lift capacity of 180 lbs, the Reversible Electric's motor is quiet and quick. Though it might be an inexpensive standing desk, the Reversible Electric feels like something far more sophisticated. The fact that it is reversible means that you can use this desk facing both ways, making it even easier to find a place for it in your workspace.
19. Height Adjustable Standing Desk by Inbox Zero
The Height Adjustable Standing Desk by Inbox Zero features an expansive desktop and easy adjustment thanks to its control panel. While this is an inexpensive standing desk, it looks fantastic and is almost effortless to use. Available in three different colors, this model by Inbox Zero is clearly made from quality materials and has a great, minimalistic design.
20. The Albin by Upper Square
Sometimes, having lots of space to spread out isn't that practical. The Albin is a small, portable standing desk that is height-adjustable and may give some users as much space as they need. If your office requires that you move around constantly, then the Albin might be perfect for you.
21. Ailith Height Adjustable Standing Desk by Joss & Main
Beautiful and serene, the Ailith is arguably one of the most aesthetically pleasing inexpensive standing desk options. It's also height-adjustable, meaning you can use it sitting down if you would prefer to. With a refined, natural wood finish and distressed metal frame, the Ailith should fit into just about any office setting. No matter the atmosphere, the Ailith makes for a great visual addition to any space.
22. Grattan Height Adjustable Standing Desk by Symple Stuff
As this list shows, finding an inexpensive standing desk is easier than it might seem. While some of these desks don't have the most sophisticated features or functionality, they are all well-made products that get the job done. You don't need to spend an arm and a leg to find a standing desk that fits into your budget and helps you live a more ergonomic lifestyle.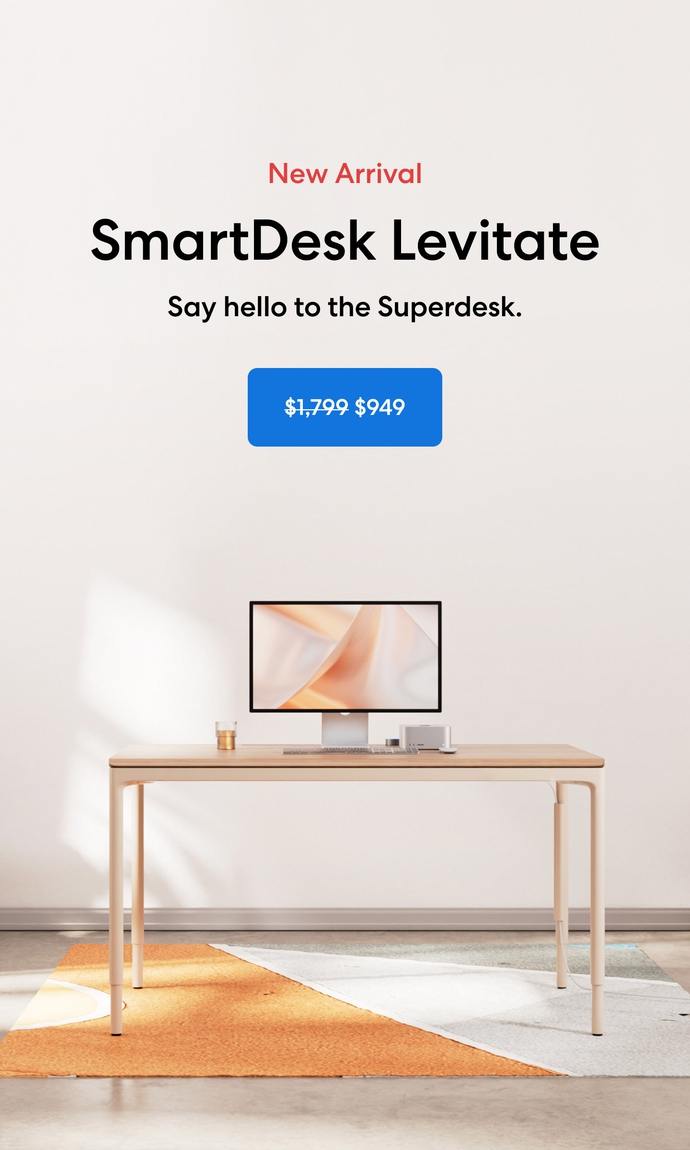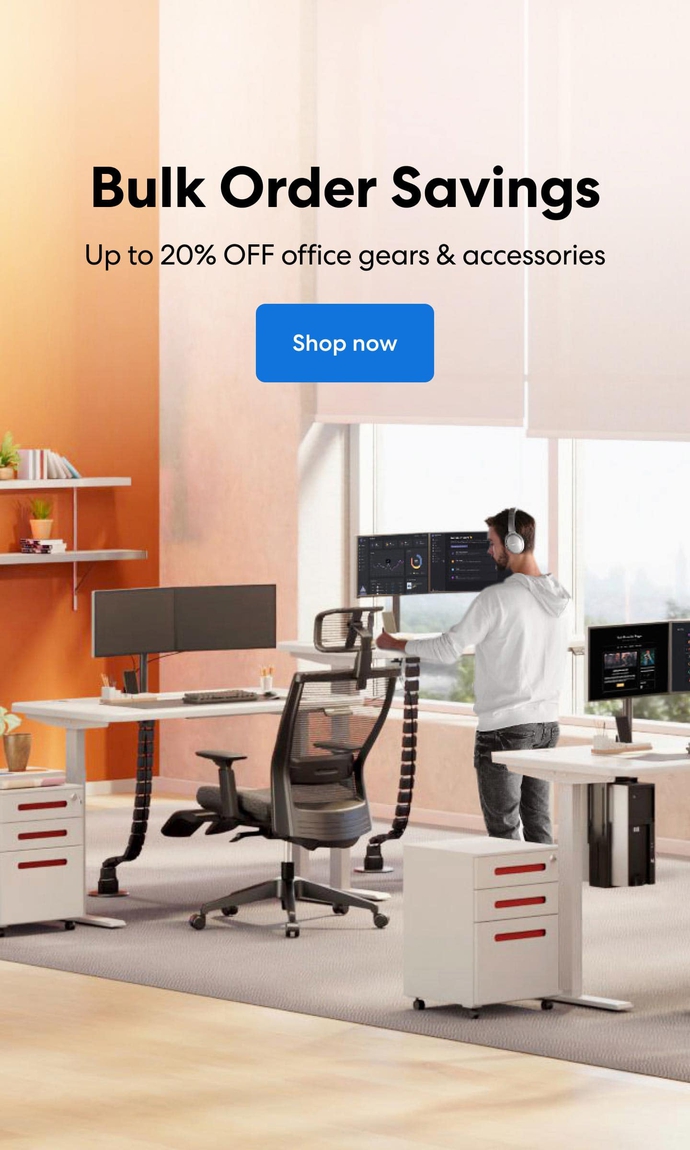 Subcribe newsletter and get $100 OFF.
Receive product updates, special offers, ergo tips, and inspiration form our team.