Smart Products
30+ DIY Desk Ideas with Creative & Clever Design for 2023

Autonomous
|
Nov 22, 2021
2,835 Views
Choosing a desk is hard enough when you decide to purchase the whole thing pre-built. However, what about those who want to take a more hands-on approach to their office spaces? These people often try to find DIY desk ideas for the greatest level of inspiration possible. 
"Hands-on" does not necessarily mean that you're going to be building the desk yourself, though doing so does not lie right beyond the scope of possibility. Instead, it means that you simply wish to break out of the traditional space, potentially with a homemade desk. You wouldn't be the first person to have this idea, and it's an excellent thought! 
That's probably why you are here though, as you seek inspiration on setting up your own space from ideas that are already out there. You may be wondering how to build a gaming desk, or you may just want to get some perspective to see what you have lying around your home that could make your remote workspace more attractive and convenient to use. 
Not all the ideas below require zero spending. It's a great balance, as there is a mesh between things you may already have and things you may need to acquire. Regardless of which side of the spectrum each of these home office desk ideas falls on, they all require you to get a bit creative, which is likely the objective you are trying to achieve. 
You have a total of 35 thought starters to enjoy here, so there is no way you should get to the end and not have any idea where to go next. Let's find out how to make a desk!
30+ DIY Desk Ideas with Creative & Clever Design
1. DIY Standing Desk from Autonomous SmartDesk Frame
Autonomous offers you a custom standing desk kit that you can use to get as creative as you like. You can have it in a standard or L-shaped design, offering you stability and electric adjustability. How is that for a DIY standing desk? 
2. Floating Desk
A floating desk is a mounted unit suspended in the air by your wall, as opposed to sitting atop a traditional set of legs. You could make this one a square or rectangle, or you could turn it into a DIY L-shaped desk if that is what you desire. 
3. All-purpose Desk
Going all-purpose doesn't require any additional hardware. Instead, it's a desk that already serves multiple purposes, which you are now making a workspace tool. This could be your coffee table, workshop desk, or just any other table that is conveniently located. 
4. Storage Cabinet DIY Desk
Are you using your storage cabinet space for your home office desk ideas effectively? If yours has empty or mostly empty shelves, why not make it a workspace? This is especially true if the height of the shelves contributes to your having a makeshift standing desk to preserve your health. 
5. The Longest Yard
This aptly named idea is for those who may want a bit more horizontal space. It can be a handcrafted desk or even one that takes advantage of the floating desk style. The number one identifying factor of this kind of desk is that it's extremely long. 
6. Standing Desk Converter
You could buy one of these or make one. Whichever you do, you are going to be accessorizing your traditional office desk to make it a standing model. Simply place the converter atop it and position your computer hardware as needed. 
7. Laundry Basket Desk
Most readers are already going to have the setup for this home office desk idea. Depending on where you're sitting, turning your laundry basket upside down could make for a traditional or standing desk design. Just make sure that finding somewhere to put your laundry doesn't become too much of a challenge. 
8. Pipe Desk
This one is going to require you to have at least a bit of building experience to pull off. If not, you're going to need to hire someone. This homemade desk is a traditional wooden top sitting atop PVC or steel pipes that serve as the legs. 
9. Custom Plywood Bookcase Desk
Another custom design, it requires a bookcase that is built at the perfect height to be a desk. If you already have one, then just make the top of it your office space. If not, then have one built, and you should have the perfect storage space and office desk combination. 
10. Standing Modification
This is another of those creative DIY desk ideas that requires a bit of hands-on work. Your traditional office desk is going to be converted to a standing one by removing the legs and essentially building and affixing longer legs to yield a standing desk frame. 
11. Laptop Chair Desk
As the name implies, you can use a second chair or stack two chairs to create a small surface space to work with. Of course, based on the kind of real estate that a chair is going to give you, this kind of homemade desk is only suited to those using laptops. 
12. Glass Top DIY Desk
Implementing this kind of DIY office desk is going to require a glass top and a frame. If you already have either, then the only concern is getting the other and affixing the two. Try to use tempered glass, if possible, to increase the durability of the unit. 
13. Double Duty Modern Desk
Your best bet would be to look at this one and build it if you can or find someone to do so if you can't. However, the idea is an all-purpose design that makes for both a work surface and a serving platform. The best part is the builder only needs some basic hardware and tools to get it done. 
14. Double DIY Desk
This homemade desk is best suited to people who need multiple workspaces to function. Some couples, for example, may do remote work together. In this case, the length or width accommodates two persons and all their hardware. 
15. Let the Colors Shine
This DIY office desk idea is less about the physical design of the desk and more about the visual that you create in your office space. You can be as subtle or as wild with the colors as you want, probably even opting for painted patterns and stickers to let your personality shine through. 
16. Farmhouse Desk
The idea of the farmhouse desk is to present a tabletop space long enough to accommodate your work hardware and other items, while being high enough to accommodate the storage of various elements under it. If you need a little more on real estate in your workspace, this one may be for you. 
17. Budget Option
The budget DIY office desk option is exactly what it sounds like. How creative can you get on a budget? To pull this one off, simply set a figure, and get some guidance in choosing components that can give you a complete design. By the end, you are likely even going to surprise yourself! 
18. Dresser Standing Desk
Here's another of those DIY desk ideas that should cost nothing to set up. Why not use your dresser as a workspace? It works best if you already have an empty space on it, but shifting some stuff around and making one works too! 
19. Double Duty Dining Table
Based on the trend already established here, you probably already know where this one is going. Your dining table doesn't only have to be a dining table, especially considering its actual purpose only comes to light at eating time. The rest can be dedicated to your job. 
20. Full Makeover
This homemade desk idea assumes you already have a table but are not satisfied with the way it has been looking recently. If so, you may wish to give it a bit of a makeover. A desk pad, some paint, or maybe even some stickers could suffice here. 
21. Narrow Desk
You could opt for a "narrow desk" because you want to be different or because you are trying to work with limited space. Either way, it tends to be either a standing or floating design that rests against the wall and allows you to optimize the rest of the space in a room for other reasons. 
22. IKEA Designs
There is not much that needs to be said about IKEA designs. They're affordable, mostly sturdy, and allow you to go wild with the stylistic choices. 
23. Transformable Hairpin Leg Desk
The visual of this one can differ based on your idea of "transformable." It could be built as a DIY adjustable standing desk or one that opens to allow for storage space. For maximum creativity, consider how you want it to transform, and get it built. 
24. Treadmill Desk
You can go about the treadmill desk in two ways. There are a couple of manufacturers already selling units that are meant to be office desks with a treadmill. Alternatively, if you already have a treadmill and your workspace hardware isn't much, you can get in a workout as you work. 
25. "Broken Leg" Desk
Of course, this doesn't literally mean the legs of the desk are left broken. However, while the top of the legs may feature traditional material, the base is made of pure resin. The transparency gives the illusion that the legs are broken, and the desk is suspended in the air. 
26. Closet Desk
This DIY desk idea hearkens back to the storage cabinet desk earlier on the list, as the concept is the same. If you have shelf space in your closet that can be used as a workspace, why not use it? If nothing else, you get to save space in your home that way. 
27. Old School Student Desk
This is one of the interesting DIY desk ideas you should try. The design here is based on school desks with that small open storage space under the top. Of course, it's not suited to a lot of hardware, unless you have a bigger version built with the same inspiration. 
28. Door Recycling
Don't throw out that door when it's time to install a new one period instead, an old door can become a new desktop. How is that for recycling and being efficient? 
29. Concrete Desk
If you want to bring DIY and durability into one incredible package, then the concrete desk is for you. The tabletop is incredibly solid, but ensure you get smoothening done to the top, as you don't want scrapes on your computer and office equipment. 
30. Bob the Builder
Can you build it? This DIY desk idea entry is purely dedicated to those who have a passion for woodwork, metalwork, or the like. Put your skills to the test by drawing whatever design may come to mind and building it. Just make sure it's practical.
31. On File
As weird as this may sound, if you have a couple of filing cabinets of similar height, you could get a piece of wood and use it as a desktop by placing it across them. Of course, this only works for cabinets that are not as tall as you are. 
32. Sawhorse Desk
This alternative DIY desk idea to the previous entry supports those who may have one or even no filing cabinets. Sawhorse legs are not too hard to come by or build. You can place your single cabinet or one set of sawhorses legs in the middle, while placing the other two at the ends. 
33. Tilted Art Desk
This office desk style is inspired by artists who use desks that are tilted down towards them. You can use the same form factor for yours. Note, however, that these are most suited to laptop users. 
34. Minimalist Hairpin Leg Desk
Again, this DIY desk idea is exactly what it sounds like. If the goal is a minimalist desk setup, then make it small, simple, and use a couple of hairpin legs with a neutral color. 
35. Vanity Desk
A vanity desk creates a workspace that doubles as one that you can use to put yourself together when it's time to go out. To this end, it has a large mirror embedded that may or may not have a fold-away design. 
Conclusion
After a long trip through 35 creative DIY desk ideas, you have come to the end. At this point, whether you want a traditional desk sale or are into more of a standing desk, you should have found something that meets your need to great effect. 
Remember that these are thought starters though, so while you can use them as-is, you can also incorporate them as a springboard of inspiration to bring forth your own DIY desk ideas. What are you going to materialize when it's all over?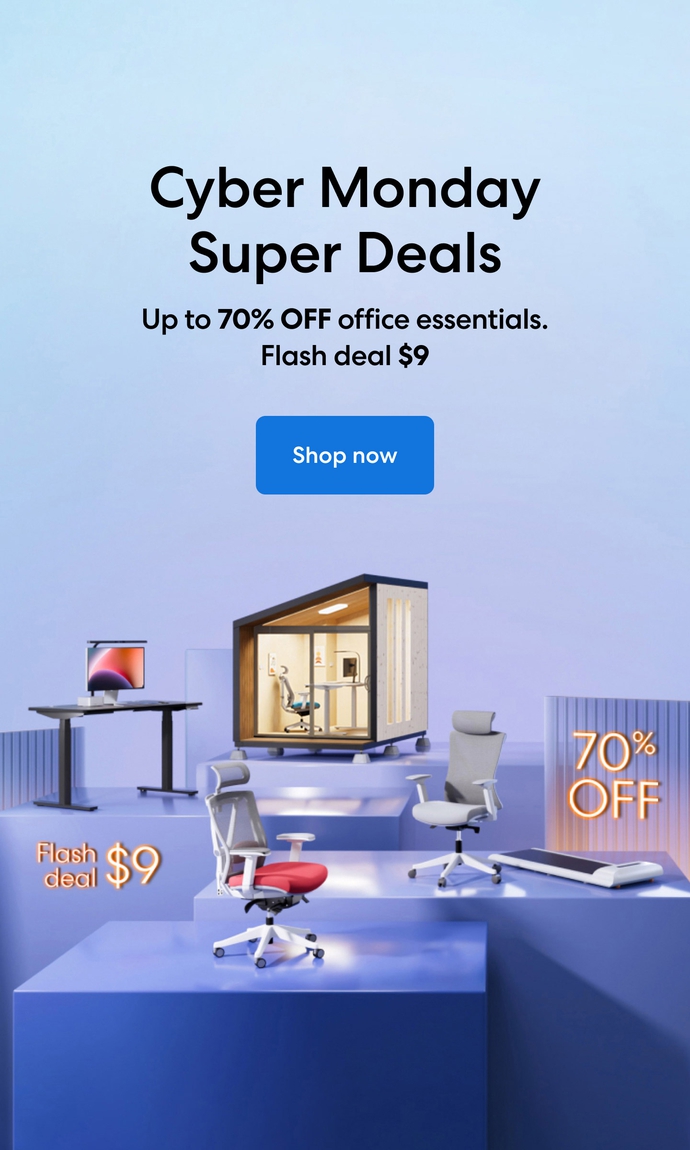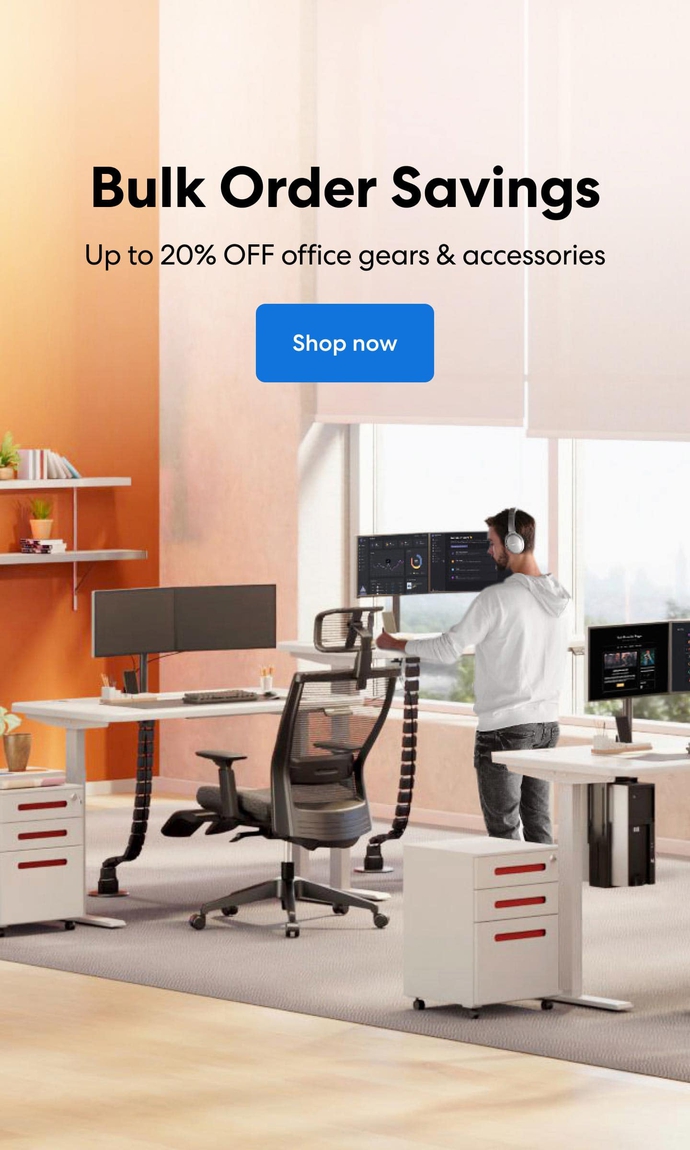 Subcribe newsletter and get $100 OFF.
Receive product updates, special offers, ergo tips, and inspiration form our team.