Workplace Inspiration
Bedroom Office Combo Ideas for a Small House

Lily Parker
|
May 17, 2023
4,497 Views
Working from home can be as productive as working from the office. While it has its own perks, working from home requires making informed decisions in working efficiently and making the most of your home space.  For small houses, you can convert your bedroom to a small bedroom office combo idea.
While options are unlimited, you will need to have a budget to restrict overspends and any frivolous use.  Do consider ideas that enable you to easily restore the new settings to the original bedroom, as needed.
What is a bedroom office combo?
A bedroom that has a work desk that provides a home office is a  bedroom and office combo.  In short, it's a bedroom and office that's combined .  For many, it's a preference of just adding a work desk and using a chair from the existing set at home or buying a new one.  Some prefer to have a home office standing desk which gives them a choice between sitting and standing while working.  The sit-stand-sit desk gives you a break from the monotony of sitting constantly and keeps you healthy.
Benefits of a home office in bedroom
With your office in your bedroom, you have zero commute time, instant connection with your office, little time from getting ready to get to work, savings on fuel and time, additional time with your family, and more. 
On the other side, be careful not to be lured into taking a nap too often with the beds beside you. This could affect your productivity.  Having a bedroom office prevents some folks from breaking away from either the home or the office, nudging them to look at one last piece of work.
What are the bare minimum needs for a home office combo?
As you explore having a bedroom and office combination, here are some ideas for an office desk in the bedroom.  You will notice that the following things are bare minimum requirements to manage an efficient bedroom office.
A work desk
Based on your needs, you may opt for a work desk using an existing desk that you have.  Working from your bedroom office can take its toll on your health due to constantly sitting.  Consider an office standing desk that gives you the choice of working either in a sitting or a standing position. You can easily convert the sitting desk into a standing desk with the press of a button. The electric motor moves the desk up or down, based on your choice.   This desk can also serve as a multi-purpose desk to hold various things, should you decide to do away with a bedroom office. 
One of the best options for your office or home office is the SmartDesk Pro operated by a noiseless motor (at less than 40 dB). This sturdy desk with strong metallic frames can be lowered or raised to a height between 26.2 inches to 52 inches for your convenience.  It has an attractive natural wood classic top to blend into your home décor. Wonderful, isn't it?
A chair
The chair you use impacts your productivity and efficiency at work. Consider adjustable armrests and height so that the chair can be stored under the work desk when not in use, retaining your bedroom space.  With multiple choices available, consider an ergonomic chair. With an adjustable armrest, backrest, and seat tilt, the ErgoChair Pro is ergonomically designed for your health and work needs.
Other equipment
Based on your needs, you may wish to add a table lamp, a desk phone, and other stationary or accessories to make your working easier.
Some ideas for a home office combo
Transitioning to a bedroom office combo has unlimited options.  Creating a workspace in the bedroom depends upon your choices and preferences. Here are some things to consider about your bedroom to office ideas.
Demarcate spaces
To efficiently and productively manage your work, consider demarcating both areas.  You can achieve this with minimal changes for bedroom office combos. The use of curtains, closets, or a Murphy bed, and more are some thoughts to obtain more space. A separate space helps you turn on/off from the 'office' mode, mentally and physically.
Desk facing outside
Given a choice, face your work desk to open spaces like a window or an empty wall.  This gives you a lot of 'space' to deliberate and keeps you away from the lure of a 'quick nap.'   You could use empty walls for various purposes, including office reminders, photographs, inspirational quotes or pictures of scenic beauty, and more.
Using spaces
You can use empty spaces to store multiple things with rollaway drawers or plastic boxes that are multi-purpose. Using the 3-D spaces includes using walls to install bookshelves that can hold mementos.  Some folks prefer to use a room with low furniture or foldable beds to give you more space for work.  Not a bad idea, is it?
Multi-use furniture
When you have limited space, creating a home office in the bedroom requires some creativity and imagination. Opt for furniture that can double up at work and home. For example, using a standing desk can be lowered to be used as a bedside table; the chair could be used at the dining table and more.  Do consider furniture that can be folded and put away when not in use.
In conclusion, a bedroom office combo is a great way to use available space to maximize your work productivity efficiently.  So go ahead, and get yourself a comfortable and efficient bedroom office combo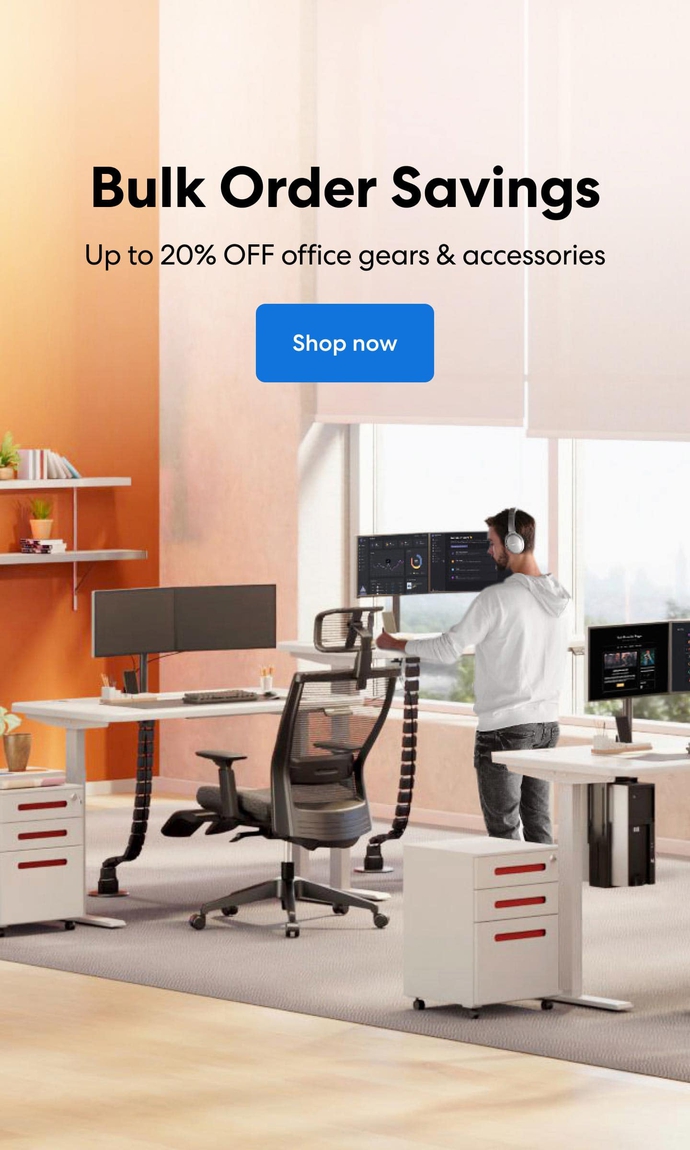 Subcribe newsletter and get $100 OFF.
Receive product updates, special offers, ergo tips, and inspiration form our team.