Workplace Inspiration
Top 10+ Gaming Chairs With Footrest for Ultimate Gaming Setup

Autonomous
|
Jan 19, 2023
2,761 Views
Using a gaming chair with a footrest can bring multiple benefits to your daily life. Not only will it be possible to feel more comfortable during your sessions, but it also will make you feel more comfortable and healthier in the long term.
But how useful can a gaming chair be with leg rest?
Although it is optional, many ergonomic chairs tend to overlook this part of a chair's design. Although it is not a strictly necessary element, it enhances the ergonomics of the chair. Therefore, including a gaming chair with a footrest in your gaming setup is not a bad idea, and here we explain why.
Best Gaming Chair with Footrest – Top Picks
To fully enjoy an entertaining activity, one must feel both pleased and at ease within their surroundings. If you spend long hours in front of a TV, computer, or video game console, then you need a gaming chair.
These ultimate gaming chairs have many adjustable features for your convenience, such as a footrest, armrests, many height settings, and a swivel base that allows you to move in any direction.
Therefore, this section will find some of the best gaming chairs with footrests available in the market. Although some of their features can be similar, they all have something different to offer.
We have listed top gaming chairs with footrests to provide you with the most comfortable gaming experience. We also include options for different budgets. So, there is something for everyone here.
1. Autonomous ErgoChair Recline
The ErgoChair Recline is a cost-effective option that will help you find comfort easily during those long nights. Most features of this reclining computer chair are adjustable, including the seat tilt and height. Other adjustable features are the headrest and leg rest.
The backrest is made of mesh, ensuring excellent breathability. It is also equipped with lumbar support, so you can trust that you won't feel uncomfortable and that your back will be well-supported even if you spend long hours sitting in the same position.
This chair is suitable for most people. It is capable of supporting up to 250 lbs, making sure every user finds comfort on it easily.
2. Skyline Decor X40 Gaming Chair: Slide-Out Footrest
The SkylineDecor X40 gaming chair is a high-quality and comfortable chair designed for gamers. It features a sleek and modern design with a durable metal frame and soft, breathable upholstery. The chair has a reclining back and adjustable armrests for customizable comfort, and a slide-out footrest for added relaxation. The chair also has a built-in lumbar support and headrest pillow for extra comfort during long gaming sessions. Overall, the SkylineDecor X40 gaming chair is a great choice for anyone looking for a comfortable and stylish gaming chair.
3. KERDOM FelixKing Ergonomic Chair: Additional Footrest
With its ergonomic design and focus on the user's comfort, this KERDOM Ergonomic gaming chair with leg rest will allow you to maintain a natural, unstrained gaming posture.
The high-density mesh back of this office chair allows air to circulate while providing lumbar support. The plush cushioning ensures you'll be sitting in the most relaxed position possible while gaming.
Lastly, this black and white gaming chair provides additional protection and comfort from the thicker explosion-proof seat and backrest.
4. Skyline Decor X30 Gaming Chair: Slide-Out Footrest
The SkylineDecor X30 gaming chair is a comfortable and functional chair designed for gamers. It has a sleek and modern design with a durable metal frame and soft, breathable upholstery. The chair features a reclining back for customizable comfort, and a slide-out footrest for added relaxation. The chair also has adjustable armrests and a built-in lumbar support to help reduce back strain during long gaming sessions. With its combination of comfort and functionality, the SkylineDecor X30 gaming chair is a great choice for anyone looking for a comfortable and stylish gaming chair.
5. Finercrafts The Office Chair: Headrest & Legrest
FInercrafts The Office Chair: Headrest & Legrest can be considered an ideal gaming chair with footrest. The company has designed this reclining office chair in a way that you can conveniently use it for your gaming sessions too. Since it comes with an adjustable headrest and footrest, you can define your comfort level and enjoy an ergonomic experience.
Apart from an adjustable headrest and leg rest, there are other adjustable features like an adjustable tilt mechanism, 4D armrests, and adjustable height. With all these exciting ergonomic features, a 5-year warranty is more like a cherry on top. If you are concerned about your budget, this gaming chair is one of those few reclining gaming chairs with a footrest that is under $300. So, overall, it's a great choice. 
6. KERDOM Ergonomic Chair Pro: Additional Footrest
Gamers love to experience an ergonomic gaming experience; that's why we bring the KERDOM Ergonomic Chair Pro: Additional Footrest into the spotlight. If you love having an extremely comfortable, breathable gaming experience, you should consider this gaming chair with leg rest. Since this gaming chair is entirely designed using mesh fabric, it delivers what it promises.
Being a high-back chair, this gaming chair is also ideal for tall people. The chair has five support points, entailing the head, back, buttocks, hands, and feet. Therefore, its design is efficient enough to provide the ergonomic support that any gamer desires. All of that, with multiple adjustment mechanisms under $300, can be a great deal for you. So, you may choose it to create the best gaming setup.
7. Skyline Decor High Back LeatherSoft Executive: Swivel Office Chair
With its high back and headrest, comfortable leg rest, and smooth black leather upholstery, this reclining gaming chair with footrest chair has a sleek, modern look that will look great in your gaming area.
You may go from a comfortable seated position to a fully reclined one with the push of a lever. This Skyline Decor ergonomic gaming chair features a pneumatic seat height adjustment, a reclining back, and easy-to-use touch controls.
8. EUREKA ERGONOMIC GX5 Series Gaming Chair
This is another best gaming chair with a footrest you cannot miss for your gaming station. It comes with cool colors - black and blue. It will make you feel comfortable with full adjustability at every angle. What's more? It also provides a new sitting experience with high density foam.
9. Northread Gaming Chair: Lumbar Support
The Northread Gaming Chair: Lumbar Support is yet another ergonomic gaming chair with footrest. The chair is primarily designed to provide gamers with the desirable ergonomic lumbar support. However, it even has a comfortable retractable, cushioned footrest that ensures you get immense comfort.
This comfy gaming chair is padded with high-density foam to ensure you can play for extended hours without any stress. Its ideal black-and-white color combination makes it blend in any gaming setup. All of that, with a cushioned lumbar support and headrest, makes this racer car seat-style gaming chair an ideal choice for your gaming sessions.
10. KILLABEE Gaming Chair with Footrest
KILLABEE is not a new name in the market, in fact, their gaming chair is one of the premium options out there. Their gaming chair with footrest is an ideal choice for gamers who are looking for a super comfortable gaming experience. This chair is designed to have some of the softest seats and back cushions.
An additional feature here is that the chair even has a USB electric massager to massage your muscles after a tiring gaming session. So, you can expect a highly relaxing experience with this gaming chair. However, the armrests are not adjustable armrests in this variant. Still, the KILLABEE gaming chair's footrest is adjustable, and you can set its height to provide you comfort. So, you can count on this gaming chair option.
11. GTRacing Reclining Gaming Chair with Footrest
GTRacing is one of the best gaming chair brands in the market, so it deserves to be included in our list. This gaming chair is designed to offer a comfortable gaming experience like any other ergonomic gaming chair. You will find features like a cushioned headrest and lumbar support in this variant.
In addition, the cushioned leg rest is more like a cherry on top in this case. It is considered great for gaming, so it defines the value it promises to add to your gaming station. You will find all the common adjustable features in this gaming chair that you find in any other premium options in the market. Overall, this chair offers a comfortable gaming experience with a heavy-duty base.
12. Dowinx Gaming Chair
This ultimate gaming chair from Dowinx is as good as it gets. This chair is a delight to play video games in for extended periods because of its high-density memory foam and long-wearing PU leather construction.
You can adjust the seat and armrests of this gaming chair with leg rest according to your preferred height.
Lastly, you can fold the chair's footrest and store it away neatly under the seat when you're not using it.
13. Homall Gaming Recliner Chair Racing Style
If you're more of a console gamer than a PC gamer, this Homall recliner is the ultimate gaming chair for you.
This reclining gaming chair with footrest reclines to an impressive 180 degrees and is upholstered in high-quality PU leather. Naturally, there is also a huge, plush footrest that folds up into the chair itself. Homall's gaming recliner has extra features, including a massage feature for the waist.
14. GTRACING GT890MF Gaming Chair
The convenient lever lets you quickly and easily modify the chair's height from 90 to 170 degrees, making it appropriate for a wide range of users. The high-density foam is permeable so you won't sweat too much on hot days.
Additionally, this gaming chair with leg rest provides the highest level of lumbar support and comfort, you can sit on it for longer periods, and the footrest can be retracted if you feel any discomfort in your legs.
15. OHAHO Gaming Chair
This OHAHO chair has an integrated USB massage mechanism, making it ideal for long gaming sessions where your body can become fatigued. It's the ultimate gaming chair for working, gaming, or for your small bedroom gaming room due to the PU leather upholstery.
The five wheels at the base make moving the chair a breeze and protect your hardwood floors from damage.
This reclining chair with footrest may be adjusted in height and width, and the footrest can be retracted for a more personalized fit.
16. RESPAWN 110 Racing Style Gaming Chair
The RESPAWN gaming chair combines sturdy construction with a relaxing environment to create the perfect gaming chair. It's a race car-inspired gaming chair with a detachable headrest and movable lumbar support pillows, making it ideal for long gaming sessions.
The chair's base is made from robust materials and features fold-out supports as well as chic rubber wheels. It's a great investment because it can be reclined nearly 180 degrees and has convenient footrests.
17. Gtplayer Gaming Chair with Footrest
The Gtplayer gaming chair is often regarded as the best option for serious gamers because it was made with their needs in mind. This ultimate gaming chair is renowned for its ergonomic design and comes with a retractable footrest at no extra cost.
High-quality PU leather was used in its construction, and additional features include a reclining and height-adjustable seat, a 360-degree swivel, and a rotating base with five sturdy legs. Since the footrest may be adjusted in height, this chair can double as a desk chair, a computer seat, a racing seat, etc.
Why Are Footrests Essential in Ergonomics?
Desk footrests are often overlooked when it comes to an office's ergonomics, so you can guess how used they are in gaming setups. Still, if we take into account that "ergonomics" is a discipline that emphasizes the relationship between the user and their working environment. Nowadays, gaming rooms are one of the most remarkable parts of this category.
Footrests are used to help the user sit in the correct position by allowing the feet to remain flat. It can be a simple accessory, but it can also be the main reason you don't suffer from ailments like back and neck pain.
Although footrests are excellent tools for enhancing the ergonomics of a room, they are not to be used by anyone. Footrests are often recommended for people who struggle to remain in the same position for prolonged periods, especially for those who cannot reach the floor due to the chair's height.
It is also known that using a gaming chair with a footrest can lead to improvements in the blood circulation of our legs, which is greatly affected by a sedentary lifestyle.
Why Should You Use a Reclining Gaming Chair with a Footrest?
As was mentioned above, an ergonomic gaming chair can bring several health benefits to your life, including the following:
1. It'll be Easier for You to Maintain a Correct Posture.
As you may know, sitting for long hours can cause chronic back pain. In fact, it is one of the most common ailments among office workers, and we can say that a great part of the gaming community is also suffering from it.
However, using a gaming chair with a footrest can help you maintain a correct posture and reduce the pressure in certain areas of your body – such as the lower back.
2. You Can Prevent Slouching.
Slouching can become a huge problem if we use a chair with poor ergonomics. If we don't feel comfortable, we will be constantly moving until we reach a position we feel at ease, but this isn't the healthiest thing.
Slouching will also cause you to move your head forward, which will add more pressure to your back. Thus, using an ergonomic chair may help you find a comfortable position easily and will also help you maintain a proper one while you're at it.
3. They're More Comfortable.
A reclining gaming chair with a footrest has excellent ergonomics. Not only is it easier for them to adapt to your spine's natural curve, but they also will provide as much lower back support as possible, so you don't have to suffer from chronic back pain in the long term.
What to Consider When Buying a Gaming Chair with Footrest
Support for The Neck and Lower Back
Lumber and neck support improve the aesthetics and functionality of gaming seats. Do not purchase a device that lacks these two necessities. When you sit incorrectly, you increase your risk of developing chronic pain in your back and neck.
Therefore, even if you're looking for a cheap gaming setup, buy a chair with proper back and neck support, as it'll help you avoid serious health problems.
You can also consider a pillow for a gaming chair while buying a chair for yourself.
Adjustments
Thanks to the convenient height-adjusting mechanism, you'll get your money's worth out of these seats. Make sure an item can be adjusted to your liking before you buy it. It's important to consider a reclining chair with a footrest that can be adjusted according to your height and body.
Easy Mobility
Casters for effortless mobility and a stable base are standard features on gaming chairs, which tend to be heavier than non-specialty chairs. The chair's weight makes it impractical for the user to hold it while transporting it. To facilitate this, casters have been installed at the base. These rollers allow you to roll the chair around without leaving your seat.
Additional Features
How you like to customize your gaming chair depends on the games you play. As your primary goal is to have fun, finding a comfortable chair with some fun extras is always preferable. Certain gaming seats come equipped with high-quality sound or Bluetooth systems or massage options perfect for immersing yourself in action.
However, you couldn't find these additional functionalities in cheap gaming chairs.
Upholstery
Most gaming chairs' upholstery is made of synthetic leather. Real leather can be purchased, but it comes with a hefty price.
Upholstery's breathability should be taken into account as well. Chairs with permeable mesh covering are better at dissipating body heat. If it's crucial to you that you stay dry and comfortable while working, search for a chair that has mesh material.
FAQs
Here are the answers to some of the most frequently asked questions about a gaming chair with footrest. 
Does a high chair need a footrest?
It is better to have a footrest in the high chair because it provides the support that your legs need. Your feet do not touch the floor when you are sitting on a high chair. Such a chair is bad for your posture and muscle health and doesn't align well with the ergonomics. So, it is essential to have a footrest that provides support to your legs and ensures you have a comfortable experience while sitting in your chair. 
How to add a footrest to an office chair?
Although some chairs come with a footrest, you can conveniently add a footrest to any office chair if it doesn't have one. If it is a DIY project, you will have to measure how high your feet are from the ground to evaluate the height of the footrest.
You will then have to get a box or something that is firm and high enough to ensure your feet lay flat on them. You may add cushions to them for additional comfort. However, if your chair comes with a footrest, you may then use its guide to align the footrest to the chair properly. 
Are footrests good for posture?
Yes, footrests help you have a better posture by ensuring there is a lesser strain on your back. Since you get support for your leg, it becomes easier to have a neutral spine. And thus, you can easily change positions and maintain a good posture.
Are gaming chairs good for office work?
Yes, gaming chairs are great for office work. This is because they are designed to have a top-notch ergonomic design. In addition, you get more adjustable features in gaming chairs than you get in office chairs. So, it won't be wrong if you use a gaming chair for office work. 
Are gaming chairs ergonomic?
Yes, gaming chairs are aligned with high-end ergonomics in mind. Thus, they are ergonomic. Their multiple adjustable features, such as adjustable height, tilt, headrest, backrest, lumbar support, armrests, and the locking casters technology, ensure you have a highly ergonomic and customizable gaming experience.
Conclusion
Getting yourself an ultimate gaming chair is necessary for those who enjoy playing video games for extended periods. Therefore, spending a small amount of money to keep your body safe is always a good idea.
So, get yourself a reclining gaming chair with a footrest, as you still have time to spare your back.
Video ads for product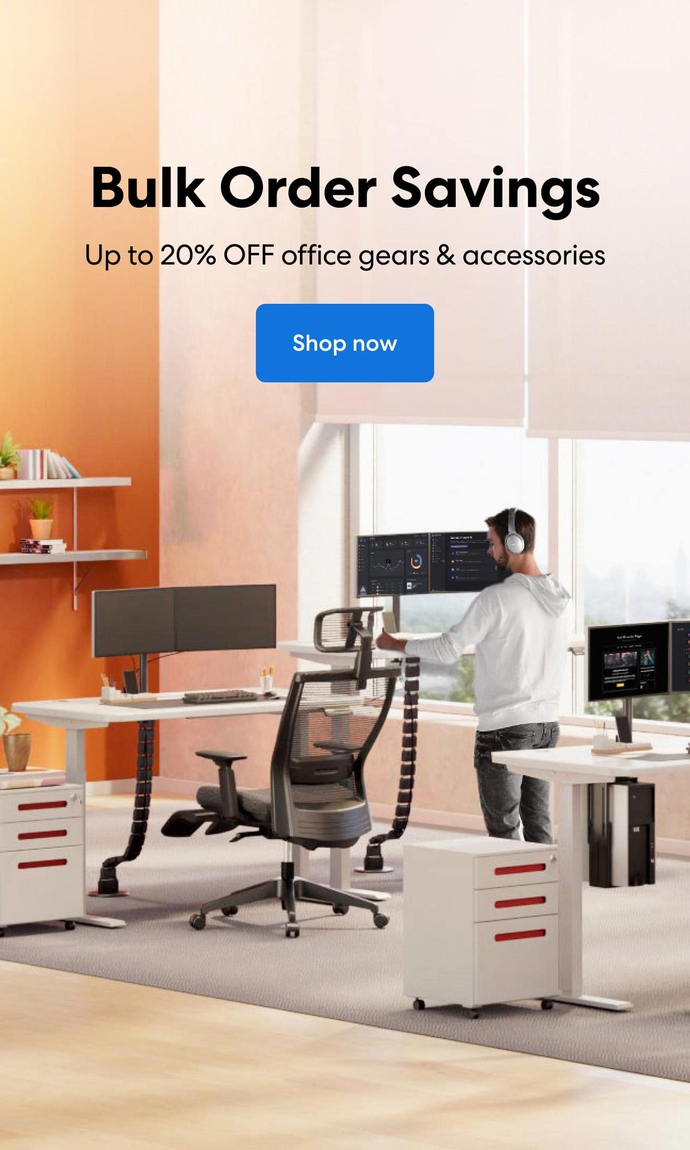 Subcribe newsletter and get $100 OFF.
Receive product updates, special offers, ergo tips, and inspiration form our team.