There has been an unprecedented rush for having a desk and a chair as a part of your office set-up at home or remotely during the pandemic. Not only you, but even children at home are looking for quiet space as schools turned to an online mode.
As you consider selecting a desk, the most overlooked feature is the office desk dimensions. Most folks are attracted to the looks, designs, aesthetics, colors, and various features like cable management systems, hidden drawers, raised shelves, and more. Well, these are important to consider but of little use, if you do not have ample working space. Or if the desk chosen doesn't fit into space, you have at the home office or the office, it is of little use. Any desk is a waste if you don't have a minimum working space. This would, of course, depend upon the nature of work and your comfort level.
What Then Are the Standard Desk Sizes?
Writing Desk Measurements
1. Width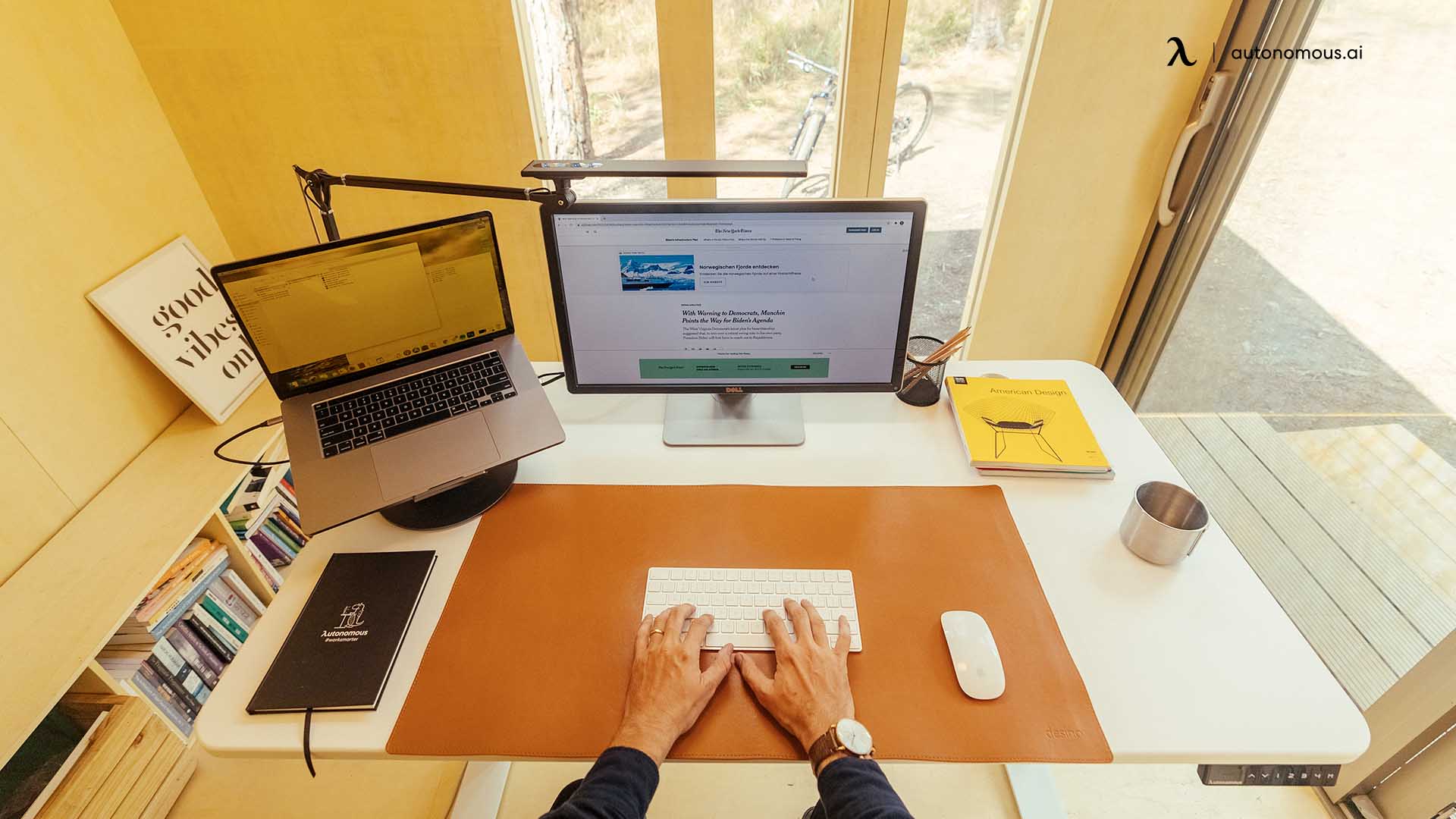 Here is one of the most popular office desk dimensions. As for the dining space, average desk dimensions start with a two and a half feet wide space to place their arms at the desk in a writing position. While two and a half feet may be narrow for some folks, a three-foot-wide space allows you minimum comfort to place a laptop or a computer keyboard with an external mouse. Most ergonomic computer keyboards are between twenty-four to twenty-six inches wide.
A little more space may be welcome for students using the desktop to keep school books and make notes. It is not uncommon to see desk widths of two feet, two and a half feet, three feet, or even four feet wide desks. Some offices may even have a five feet wide or six feet wide desk for executives to give a sense of power.
2. Height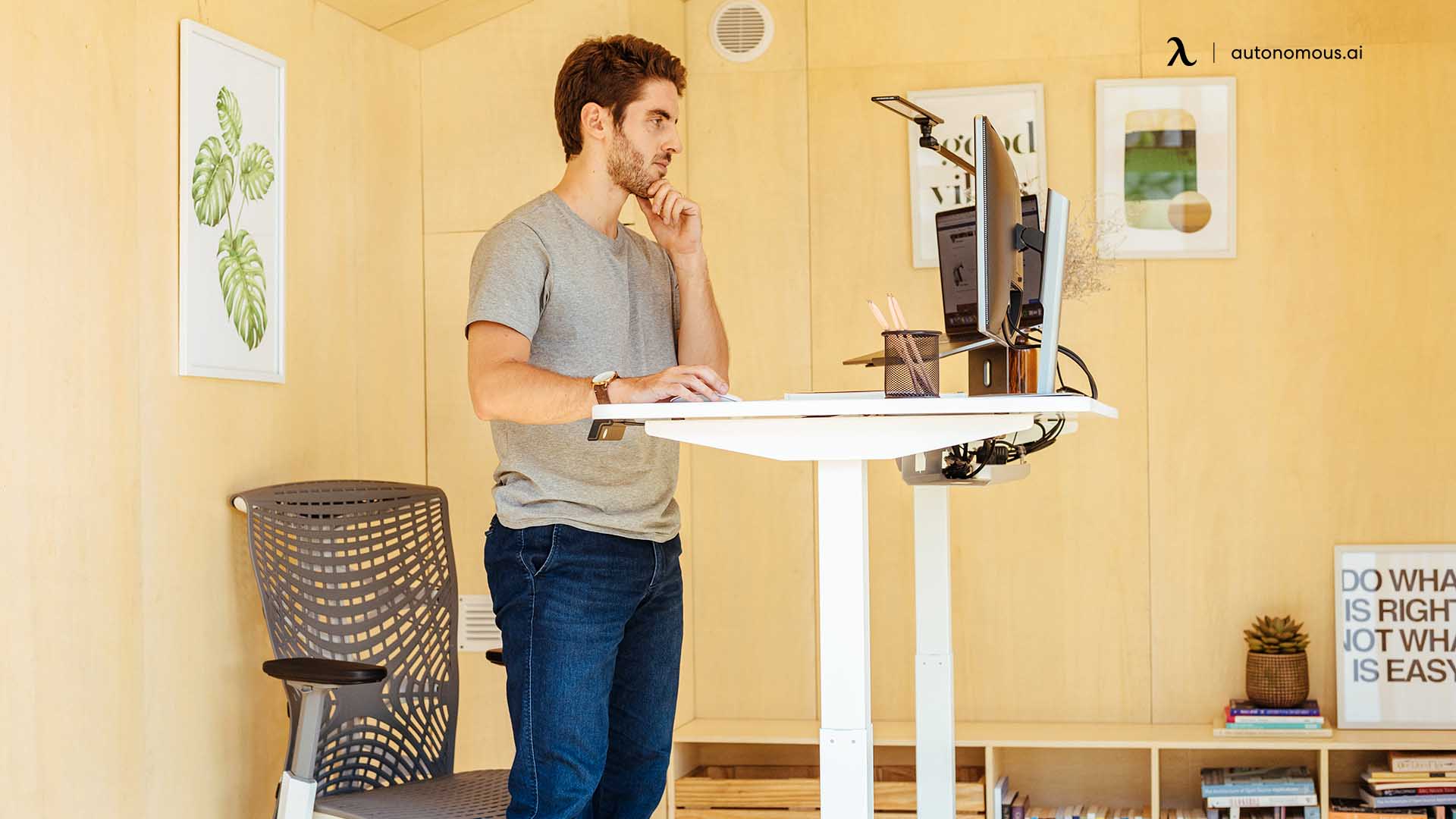 While most desks have a common office desk dimensions as height of twenty-nine inches, it is not uncommon to see folks looking for a thirty-two inches or thirty-four inches height. This is to accommodate their eye level to match their computer screen, according to their height.
For tall folks, you may like to consider an adjustable height desk. With an adjustable height desk, you can easily sit or stand as you work. What is the difference between sitting vs standing at a desk?
3. Depth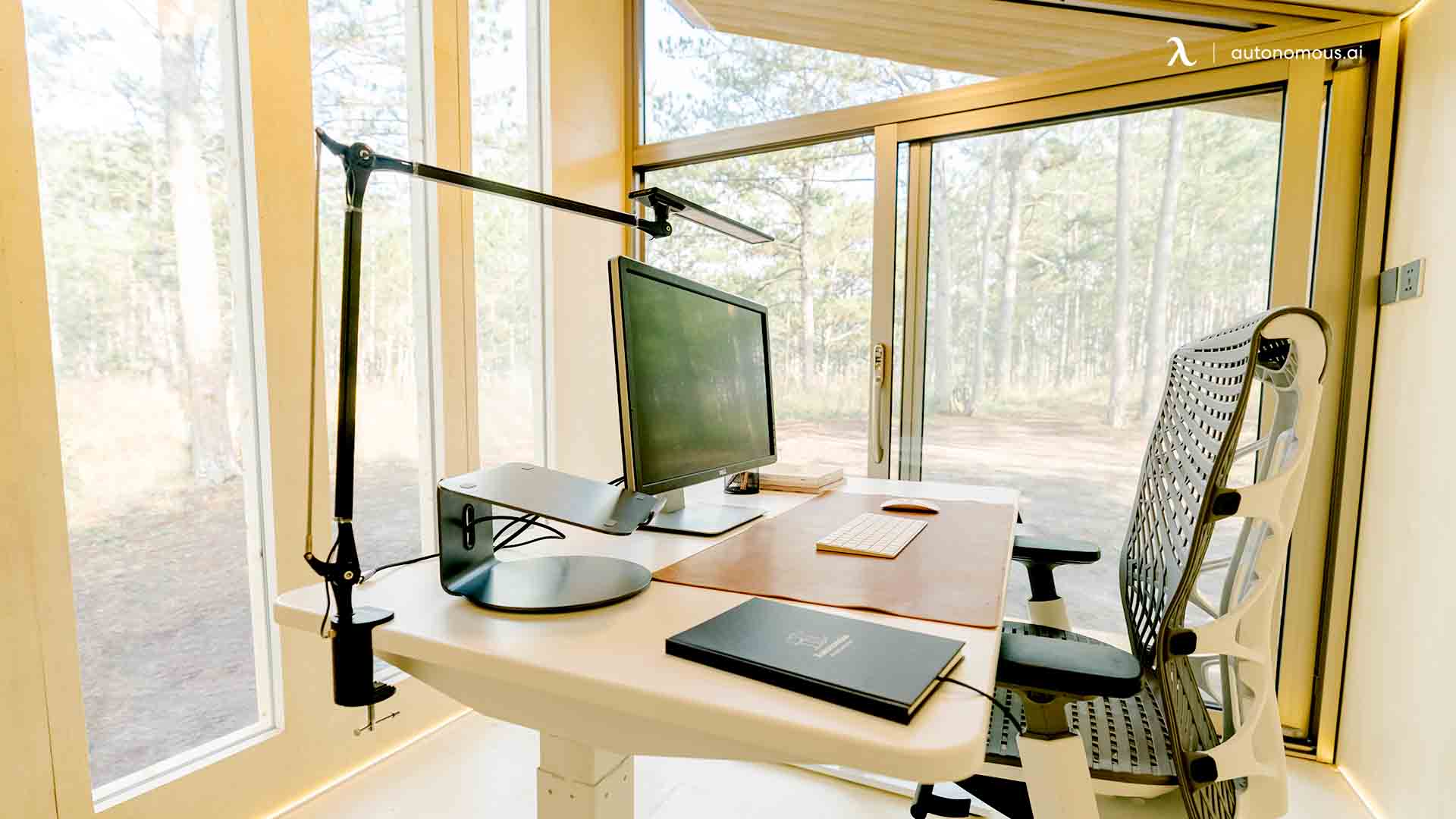 Most computer systems take up about eighteen to twenty inches of depth. Unless you have a very tiny computer system like a tab, no keyboards, you may be able to squeeze in with feet and half of depth. We strongly recommend considering a minimum of twenty-four inches depth for standard office desk size.
Some folks prefer an extra space to place wrist pads for easier typing and managing to avoid symptoms like carpal tunnel syndrome.
Standing Desk Measurements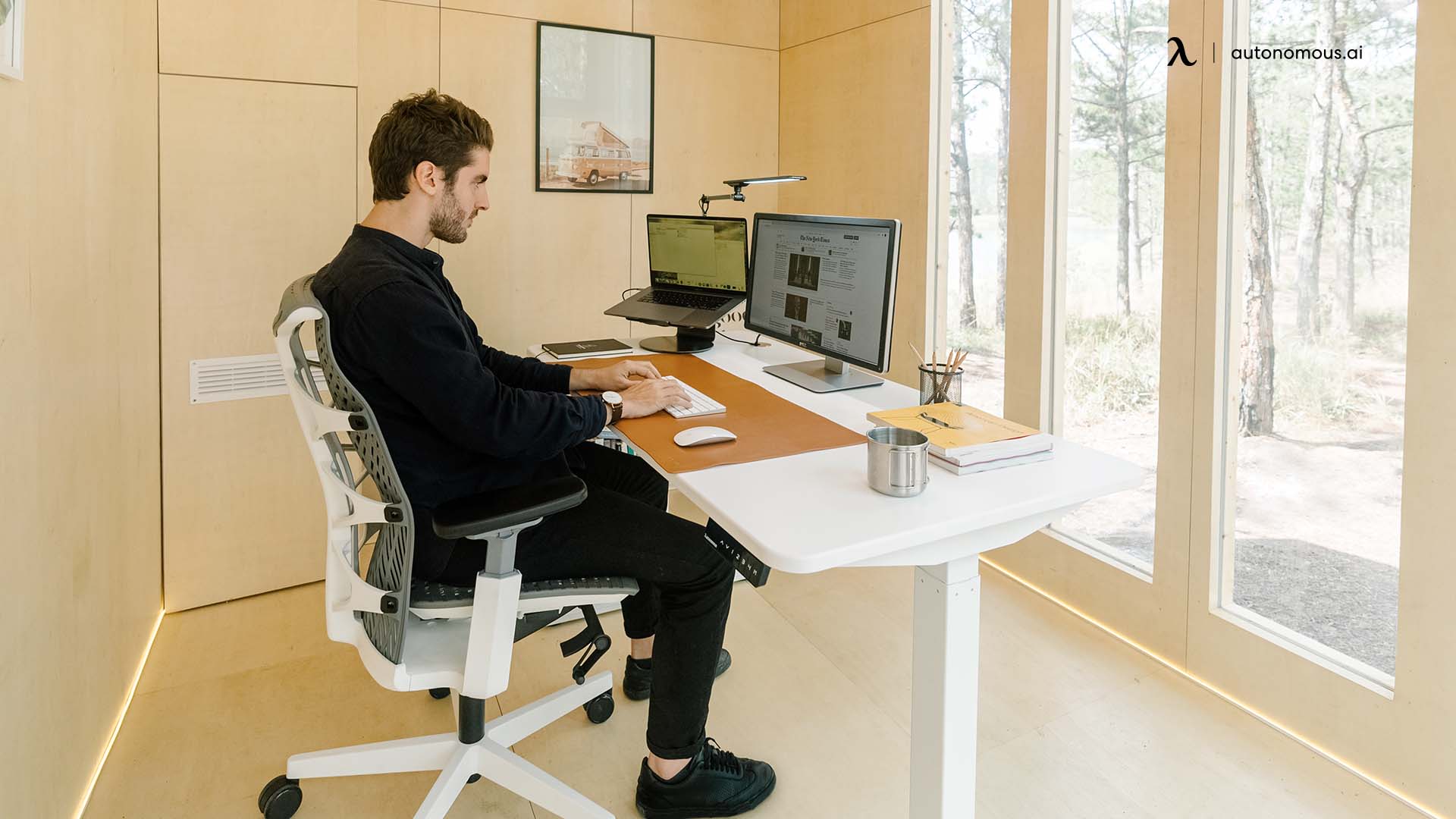 If you are considering a standing desk, you could look at office desk dimensions or measurement slightly differently. Surely the height would differ, but does your need for the width of the desktop also differ? For most folks, it does. Why? Because as you stand, your forearms are closer to your body for better balance, and you need less space. Hence, the standard desk measurements reduce to twenty inches wide for standing desks.
It still depends on the type of computer system you are using and the number of desk accessories on your desktop. For example, professionals like architects, town planners, and more may need extra space to manage large charts and maps.
Best Ergonomic Desks and Their Measurements
Here are some desk and their measurements:
1. Autonomous Smart Desk Core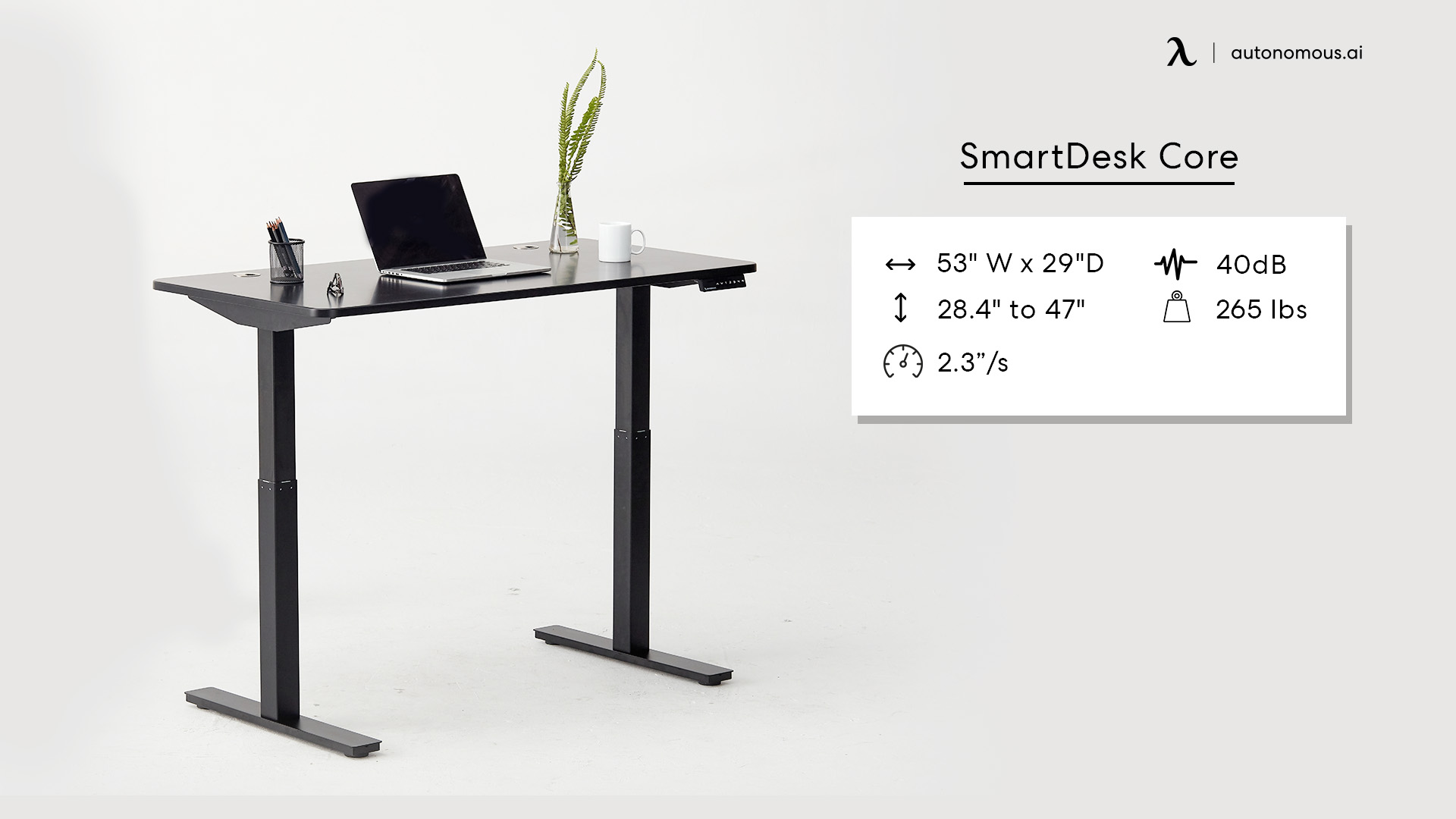 A simple, sleek, and filled with features, SmartDesk Core, is your much-needed desk. This desk is available in a regular size of 53" W x 29" D. Find it small? How about the XL size with a dimension of 70.5" W x 30" D? You can always opt for a height range of 28.4" to 47" without a top. Add an extra inch for the wooden desktop. You can easily increase the desk's height with the dual motors that operate at 2.3" per second at a sound level of 40dB. You have a choice of six different colors for the desktop and three different ones for the sturdy steel frames that can take a weight of up to 265 lbs.
2. Autonomous SmartDesk Pro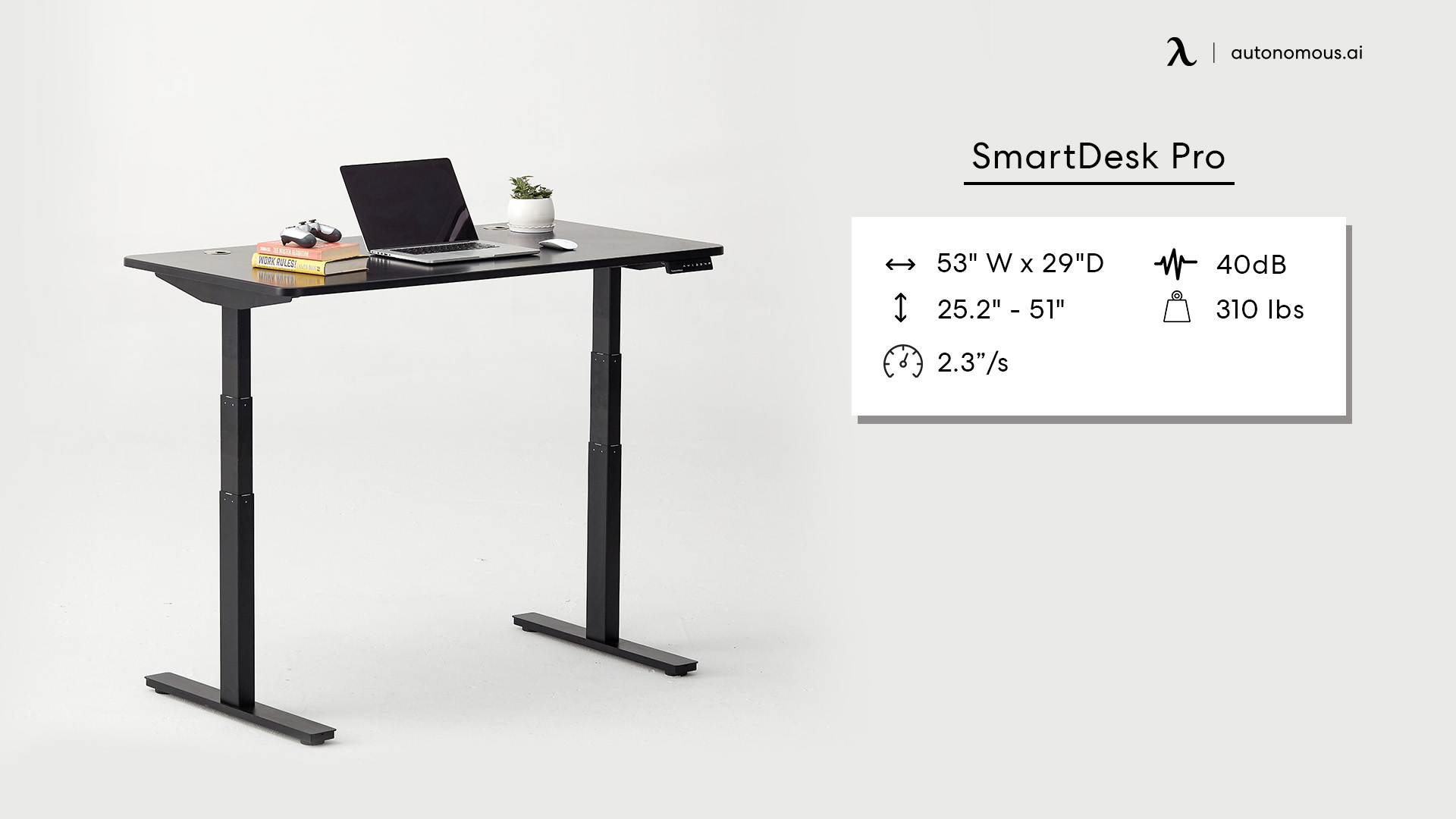 Now, get the freedom to adjust the desk's height with the flick of a button. Increase the desk to 48" or lower it to 29.4" to 48". The desktop dimensions of a classic size are 53" W x 29" D and for an XL size are 70.5" W x 30" D. You can raise this desk height from a low of 2.6" height to a high of 52" for your comfort. The Autonomous SmartDesk Pro is available in six different colors. You have a choice of three colors for the sturdy steel frames. Yes, it too has dual motors to power it and a choice of four convenient height settings.
3. SmartDesk Corner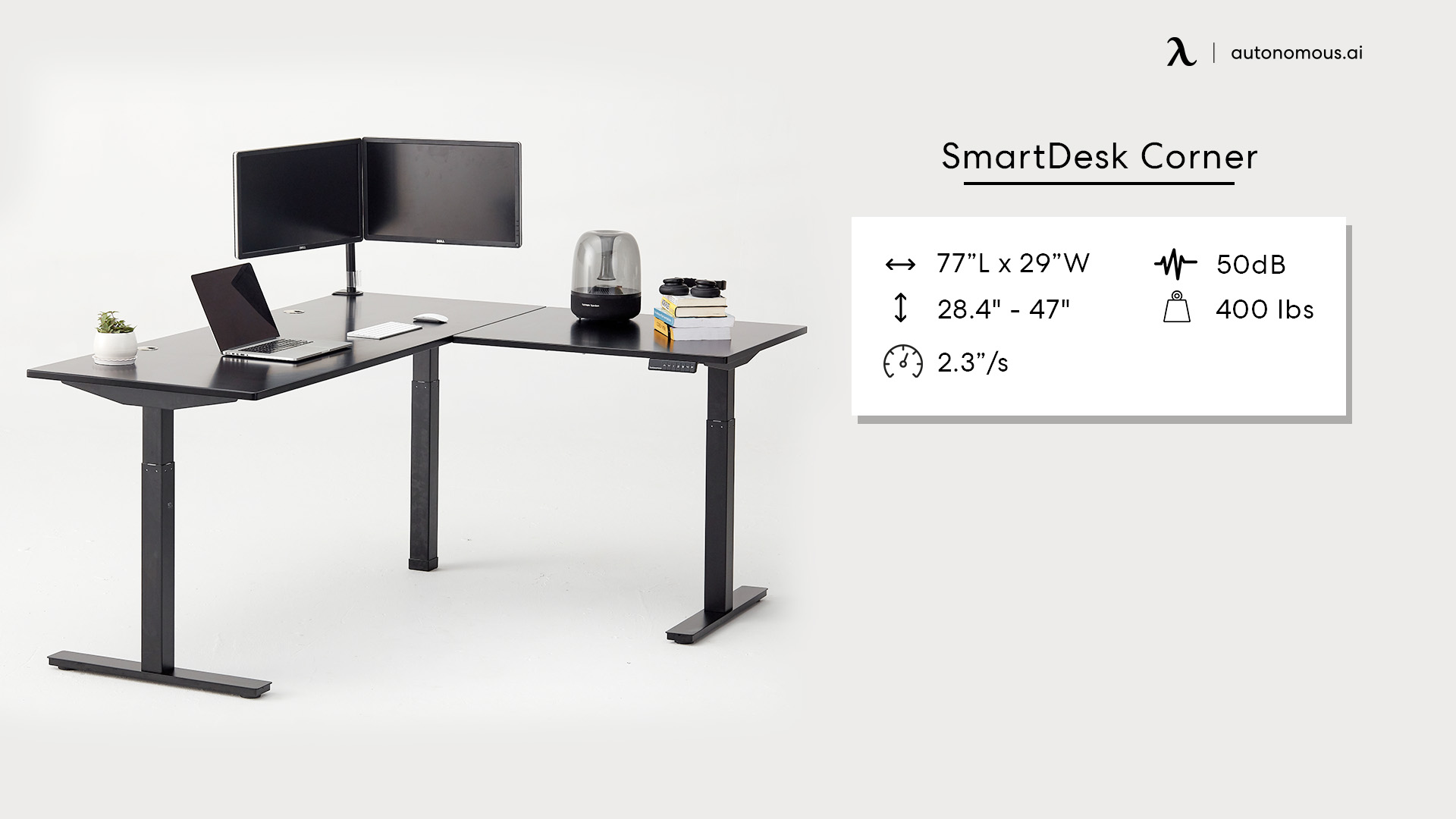 This L-shaped SmartDesk is your best choice for extra space. Its office desk dimensions are best suitable for your corner office. The unique corner design gives you ample space to work on two or more screens on either side of the desk. Add a cable management tray for your ease. You can adjust the height of this motorized standing desk between 29.4 to 48 inches. The strong steel frames can take a payload of 440 lbs. Don't miss the large storage space on the underside of the desk. The unique finish reflects lights and enhances your user experience.
Here are some more desk setup ideas for the home office.
Final Thoughts
As you ponder over the right size of a desk, consider the top three desks, which are the best in their own range with perfect office desk dimensions. Offering you classic and extra-large desktop size, these standing desks are the future.
Get exclusive rewards
for your first Autonomous blog subscription.

WRITTEN BYAutonomous
We build office products to help you work smarter.
Coming at You Live from Autonomous' Social Media!
Please fill the information below.
Thank you!