Latest Updates
15 Affordable Standing Desk for Home Office (2023 Choice)
12,023 Views
A home standing desk could be the right choice and improve poor posture. You may also notice chronic body pain goes away because you're not sitting all day. However, it can be hard to buy a standing desk for home office, especially if you're not sure which ones are the best.
We offer various home office standing desk ideas to help you select the right option. These 15 products are all designed to help you, and there doesn't have to be a single best home standing desk. Find out more below:
1. Autonomous SmartDesk Core
The SmartDesk Core is an excellent adjustable home standing deskdesk. It utilizes a steel frame, making it heavy-duty. Plus, the dual-motor ensures that it lifts the tabletop and whatever is on it safely and quickly.
You're going to find the motor is quiet and smooth, allowing you to boost your productivity and energy with a single touch of the button. There are many color options, including black with black and a bamboo top with a gray frame. Of course, you can customize it to meet your specific décor options, as well. These features make it the most affordable standing desk you should buy.
Pros and Cons of Autonomous SmartDesk Core
Easy to assemble
BIFM/ANSI certification
Two sizes for the top
Top can scratch easily
Hard to follow directions
Could go down lower
2. Autonomous SmartDesk Corner
Many people find that a traditional standing desk for home office just isn't enough room. With the L-shaped standing desk from Autonomous, you get extra space for another monitor or paperwork. Plus, it fits easily in the corner so that it's not in the way while you're standing or doing other things.
This corner standing desk features a triple motor system and can hold about 330 pounds. Of course, it glides up and down in silence, so you can work early or late, depending on your needs.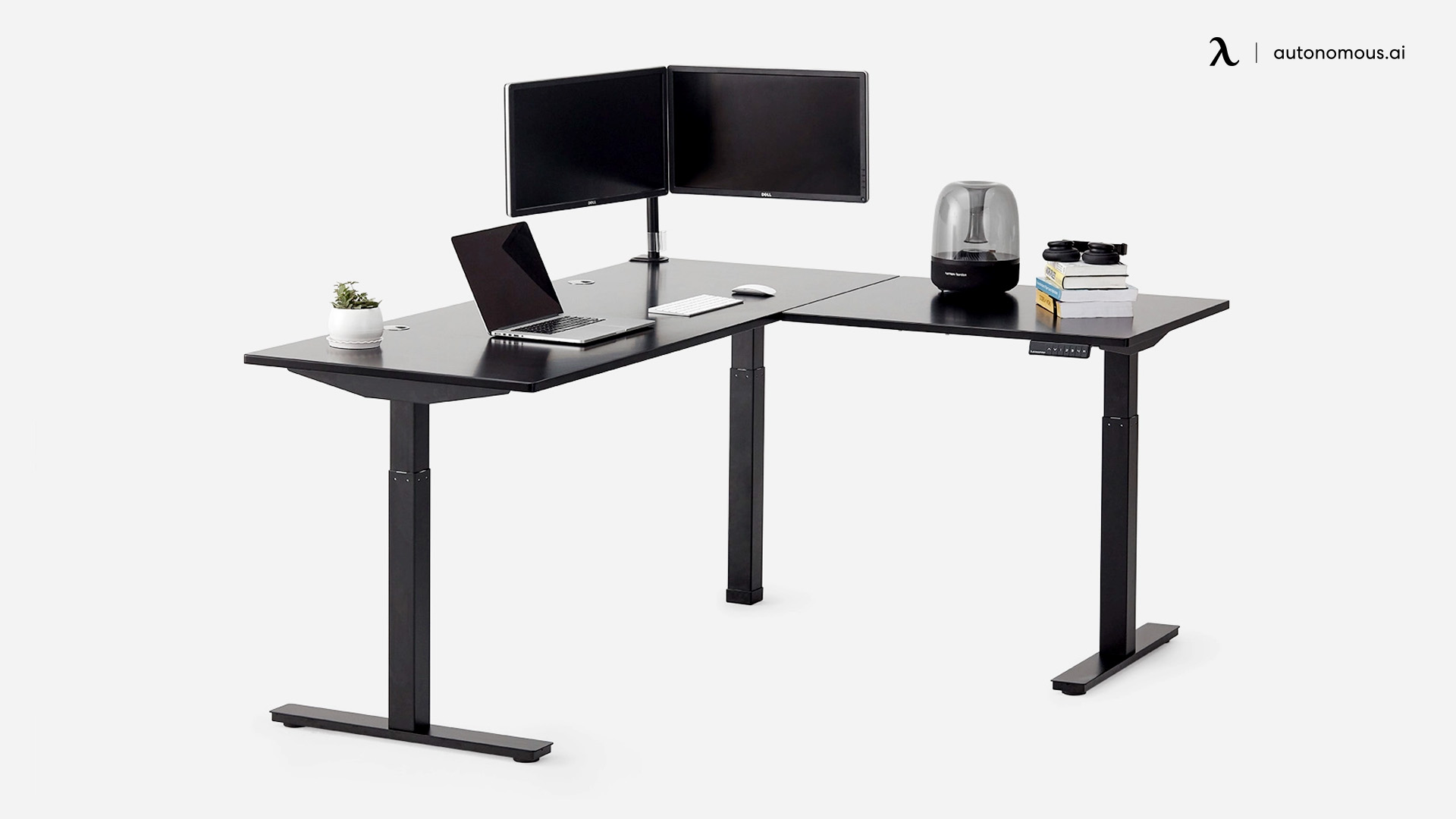 Pros and Cons of L-Shaped Home Adjustable Desk
L-shape for more room
Lifts 330 pounds
Features a triple motor system
Better color quality needed
Could have a locking mechanism for the presets
Must plan ahead to put it where you want
3. Autonomous Art Desk
This is another excellent home adjustable desk. It is made of MDF wood, making it high-quality and durable. With a curved inner edge, you can get closer to the work at hand. Plus, it raises and lowers as other standing desks do, making it perfect for almost any task. Even those who require an office desk can find a use for this one!
Pros and Cons of Autonomous Art Desk
Fully adjustable
Curved inner portion
Lifts 300 pounds
Only comes in white
Can't 'hook' multiple desks together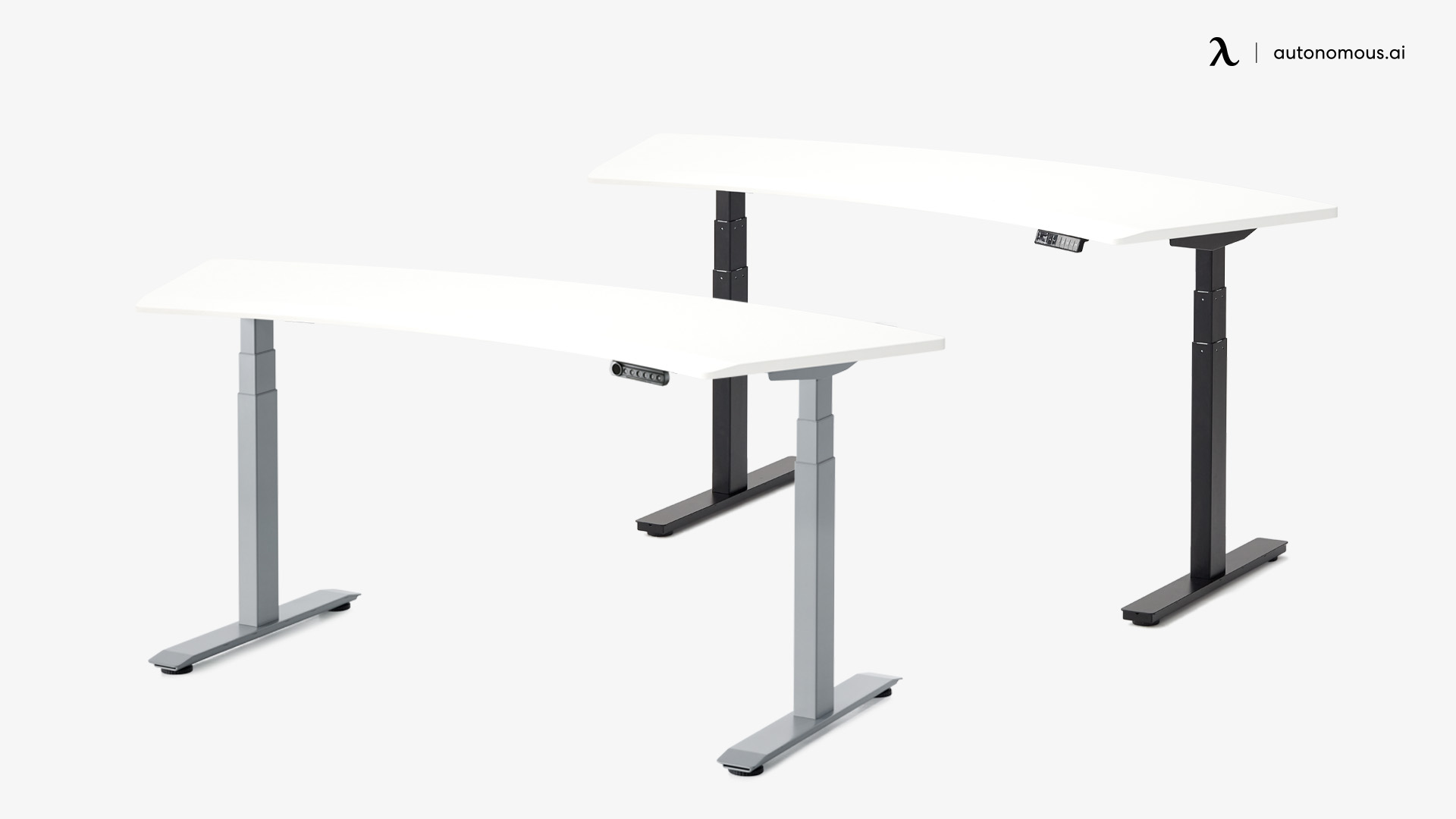 4. Airlift Glass Standing Desk for Home Office
The Airlift electronic desk looks gorgeous with its tempered glass tabletop. It's also versatile. Though it doesn't have a lot of tabletop space, there is a hidden drawer and a built-in USB charging port. It comes with three programmable settings and dual motors. Plus, the height controller is a touchscreen and works with dry-erase markers.
Pros:
·  Dry-erase ready
·  Touchscreen controls
·  Two USB charging ports
Cons:
·  Loud motor
·  Can get stuck in a single position
5. Uplift Standing Desk for Home Use
If you're looking for quaint and classic, the Uplift brand has you covered. This standing desk for home office features electronic keypads to adjust the height to meet your needs. Couples who often work different hours at home may find this to be an exceptional choice. You can choose from 19 different finishes, and the desk doesn't move, regardless of how hard you type.
Pros:
·  Solid components
·  Four frame styles and 19 finishes
·  Plain-looking
Cons:
·  Sensitive controls
·  Catches the dirt and smudges easily
·  Hard to set-up
6. VariDesk Pro Plus Home Adjustable Desk
The VariDesk Pro Plus is not electronic and is designed to sit on a traditional desk. We include it for reference, but it's not likely something you want. Though it can screw into any desk, you can't raise or lower it to meet your needs. Ultimately, it might not be tall enough for you to stand correctly.
Pros:
·  Easily converts tables/desks into standing desks
·  Designed for quality
·  Simple and easy to use
Cons:
·  Not electronic
·  Can't adjust height as easily
·  Doesn't lock into place
7. Flexispot Electric Height-Adjustable Desk
The Flexispot brand is low-cost and features a solid choice. The desktop is 48 inches wide, so it's not going to take up too much space, but you still get what you require. Consider making the underside storage. There are three height presets, and the desk holds about 150 pounds of weight. It also goes up to 48 inches tall.
Pros:
·  Large work surface
·  Industrial-grade steel construction
·  Variety of colors
Cons:
·  Hard-to-follow instructions
·  Requires extra tools for set-up
·  Paint job leaves something to be desired
8. VariDesk Laptop 30 Standing Desk for Home Office
If you're just testing the waters for standing desks and their benefits, you may choose the VariDesk Laptop 30. This sits on top of your regular desk and converts it to a standing desk. Those who are tight on space are sure to like it because of the nine height settings and the ability to lift the laptop 15 inches off your desktop.
Pros:
·  Space-saving design
·  Simple to use
·  Lightweight frame
Cons:
·  Not electronic
·  Must have a standard desk
·  Looks odd
9. VariElectric Standing Desk for Home Use
The VariElectric standing desk assembles in about five minutes. You also get four memory settings with an LED display. It comes with steel legs and a T-style set-up for more stability. Also, you are going to find it supports about 220 pounds.
Pros:
·  Quick assembly
·  Desk moves quickly through positions
·  Solid build
Cons:
·  Blurry butcher-block finish
·  Odd construction
·  Small defects noted
10. XDesk Terra 2 Home Adjustable Desk
If you want a sleep design in your adjustable desk, the XDesk Terra 2 might be ideal. The electronic presets allow you to push a button and raise or lower it to your preferred height. However, you don't get any storage options. There are multiple colors available to choose from, and you get smart cable management.
Pros:
·  Quiet movement
·  Stable and smooth
·  Digital memory controller
Cons:
·  Simple design
·  Might move too quickly
·  Confusing to set-up
11. Jarvis L-Shaped Standing Desk for Home Use
The L-shaped desk is highly popular, and Jarvis doesn't disappoint. If you've got more room in the office, you can easily choose this one to give you more space while it sits along the wall, out of the way. It rises up to 50.75 inches tall and goes down to 25 inches. You can also choose the dimensions of the desk to give you more customization.
Pros:
·  Modern
·  Adjustable
·  Customizable
Cons:
·  Non-smooth edging
·  Hard to assemble
·  Can arrive damaged
12. SHW Electric Height Standing Desk for Home Use
If you're looking for value and a low price-tag, SHW has what you need. Its model features the traditional T-style legs and is quite sturdy. You don't get many with this product, but that's probably not your goal. There are four preset memory options, and it rises from 28 to 46 inches quickly and effortlessly.
Pros:
·  High-grade steel
·  Grommets in the tabletop for cords
·  Telescopic height adjustments
Cons:
·  Issues with shipping
·  Not large enough for many workstations
·  Doesn't sit perfectly flush
13. Fezibo Height-adjusting Standing Desk for Home Use
People who want plenty of storage space are sure to like the Fezibo brand. It has a pull-out drawer (in a different color scheme than the rest), as well as a cable tray underneath. You also get a bag to the side to hold almost anything you require.
Pros:
·  Four preset height options
·  Elegant bamboo color
·  Solid construction
Cons:
·  Doesn't go as low as claimed
·  Poor instructions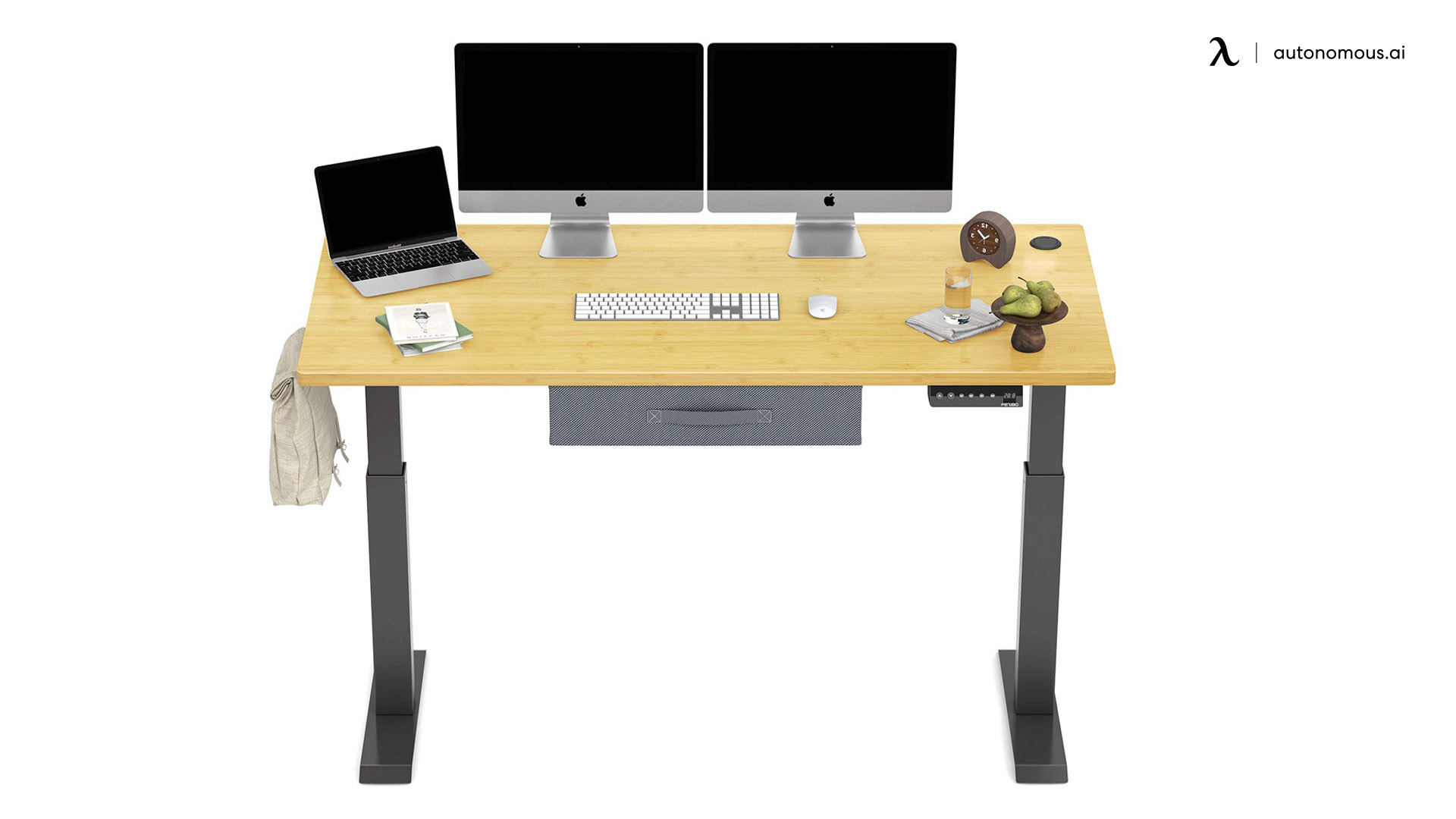 14. Mr. Ironstone Home Standing Desk
Those who want something with wheels are sure to like the Mr. Ironstone brand. While the design leaves a little to be desired, it is sturdy and spacious enough to meet most people's needs. Plus, you can choose between white or black, making it suitable for almost any décor.
Pros:
·  Five height presets
·  Ergonomic design
·  Wheels included
Cons:
·  Hard to adjust height with one person
·  Stability bar is in the way
·  No locking mechanisms for the wheels
15. Autonomous DIY Home SmartDesk Frame
While most people prefer to purchase a home adjustable desk and just set it up, you may be the DIY type. Autonomous has a DIY kit to help you make your own desk that meets all of your needs. Choose from a variety of frame designs and colors to fit your lifestyle and décor.
Of course, you get the motorized desk frame, which is solid, durable, and designed to last. Choose from three frame colors, including white, black, and gray. You also get to pick the home office, L-shape, or premium design.
The motor is silent, so you're not going to hear it as you adjust it. If others are sleeping while you're working, you don't have to disturb them. There are four programmable height adjustments available to help you feel comfortable while standing and working. Plus, the frame lifts 300 pounds with the touch of a button.
Please note that the tabletop isn't included and must be purchased separately. This standing desk DIY kit works well if you already have a tabletop and want to make it adjustable.
Pros and Cons of DIY Home Standing Desk Kit
Four programmable settings for height
Lifts 300 pounds
Choose what meets your needs
No tabletop included
Hard-to-follow instructions at times
Could go a little lower
FAQs for Buying Home Standing Desk
1. How Long Should You Stand or Sit at a Standing Desk for Home Office?
The best home standing desk can help you reduce the amount of time you sit throughout the day. However, most people find it challenging to stand for long periods, too. There needs to be a balance between both standing and sitting.
To reap the health benefits, the standing desk tip recommended standing for between 15 and 30 minutes each hour. While most health experts say 15 minutes is enough, new research has shown that standing/sitting for 30 minutes each hour is the best way to get the health benefits you crave.
2. Is a Home Adjustable Desk Healthy for You?
We know that the best home standing desk is one that helps with your health. Of course, standing ensures that you're burning more calories than just sitting. If you notice a few extra pounds since you started working from home or have been sitting more, consider home office standing desk ideas to get you up and a little more active.
Though the calorie burn isn't significant, standing also helps you stretch the legs and keep them in good condition. You may also avoid the afternoon slump because you're slightly more active when standing.
3. Can a Standing Desk for Home Use Help with Back Pain?
Don't think that the best home standing desk can cure back pain. While it can improve your posture and reduce the low back and neck pressure, standing doesn't fix everything. Those who know they have poor posture may find that their back pain is reduced because they stand and sit throughout their day. Besides that, an ergonomic chair for back pain is also an addition to your home office.
4. What Are Some Home Office Standing Desk Ideas?
We think that the best home standing desk is whatever meets your specific needs. There are plenty of home office standing desk ideas out there, but most of them focus on appropriate desk set-up and tips on how to place everything. These are important, but the first step is to choose the most suitable product for your needs. Whether you need an L-shaped standing desk for home use or a more traditional one, we have what you require.
5. Do I Need an Ergonomic Office? How to Achieve This?
Everyone requires an ergonomic office because it helps you stay productive and be comfortable while working. Ergonomics focuses on how your body is positioned throughout the day. While sitting, you can use various tools to get the job done. Of course, these home office standing desk ideas include ergonomic chairs and many other pieces of equipment.
Conclusion
Choosing the best home standing desk is easy with Autonomous. You've got many options available. Though we think that our brand is the best, we wanted to offer other products to compare them easily. Of course, when you're ready to choose, we provide various home office standing desk ideas, which you can read about from our site. Many people enjoy the guide on working from home because it has plenty of ideas to help you stay productive.
Therefore, the best home standing desk can include any of the ones we offer, such as the popular Art Desk or even the brand new SmartDesk Pro. Any of the products we provide can be the star of your home office standing desk ideas.
Subcribe newsletter and get $100 OFF.
Receive product updates, special offers, ergo tips, and inspiration form our team.
WRITTEN BYAutonomous
We build office products to help you work smarter.