Latest Updates
30+ Best Christmas Gift Ideas for Gamers & Streamers
3,792 Views
With the Christmas season approaching fast, you may be struggling to find that perfect gift for the family's gamer or streamer and may need help finding the best gamer gifts. There is a wide array of gaming furniture, gaming chairs, and accessories, such as gaming keyboards, that can be incorporated into a gamer's work setup. However, those who aren't involved in gaming and streaming may find navigating these different options difficult. That's why we have designed this list consisting of the best gift ideas for PC gamers.
Every gamer requires special gaming equipment to be available in front of them all the time. Along with that, as Christmas is already approaching, you may be thinking about out-of-the-box home and office Christmas decoration ideas. Read on to find out Christmas décor essentials.
The Ps5 and X - box Version X/S have been released for just a year, and the market has started churning out console games and peripherals to shepherd gamers into another era of gameplay.
It can be not easy to choose a gift for a tech-savvy gamer and satisfy their gaming aesthetic, but we've previously put up a list of ideas that will make any gamer pleased, which included a bunch of gaming computer chair ideas like the Vertagear gaming chair and gaming monitors such as PX277 Prime Gaming Monitor.
Best Christmas Gift Ideas for Streamers & Gamers
1. Monitor Arm Mounts
2. Desk Pad
3. Gaming Headset
4. Ultra Wide LED Desk Lamp
5. LED Desk Lamp
6. TREBLAB Turonic GM5 Massage Gun - Deep Tissue Massager
7. Lumicharge Magnetic Wireless Charger & LED Light
8. Lamp Depot 3D Wifi Holographic Projector: LED Display
9. Airthereal Light Therapy Lamp: UV-free LED
10. ErgoFoam Adjustable Foot Rest
11. Treblab HD77 Wireless Bluetooth Speaker with TWS Dual Pairing
12. Lamp Depot Handmade Austin Rose Scented Candle
13. Lamp Depot Mini Strawberry Cake Candle Dessert Scented Candle
14. Lamp Depot Natural Soy Wax Real Coconut Bowl Scented Candle
15. Artistscent The Elizabeth Karlson Collection Scented Candle
16. Corner Gaming Desk
This standing gaming desk is specially built for the modern gamer. The sturdy legs can hold up to 220 lbs and can adjust to the specific height that you want during your gaming time. Moreover, this desk combines well with the Autonomous ergonomic chairs to bring you the best gaming experience.
17. Gaming Standing Desk
The adjustable standing desk has been proven to improve focus and engagement, hence improve in-game performance. Autonomous SmartDesk Core is a good in-budget option to start with.
18. Pipeline Subscription
Many streamers have a hard time getting their channel up and running and growing an audience. Why don't give them a push via Pipeline - the leading training and mentorship platform for aspiring streamers, in which users can foster meaningful connections and gain the skills needed to attain proficiency in gaming content creation. Holiday deals are available!
19. BRINCH Laptop Backpack
Here is another idea of gifts for streamers. This particular laptop backpack makes it easier to carry any sort of laptop. It isn't uncommon for gaming laptops to be larger than 18.4 inches. This backpack accommodates these differing sizes.
20. Nintendo Entertainment System Classic Edition
This is one of the best Christmas presents for gamers who were born in the late 1970s or who enjoy older gaming periods. This is an iconic replica of the Nintendo Entertainment System, bound to bring back great memories.
21. Copper Joint Arthritis Gloves
This is a handy product for all gamers, as not taking care of your joints and wrists from an early age is going to result in more severe problems later down the line. For this reason, this is possibly the best gift idea for all gamers.
22. KontrolFreek FPS Thumbsticks
The contoured design of these offers gamers a more competitive edge over their opponents. These can be used for any console and are one of the best gifts for streamers.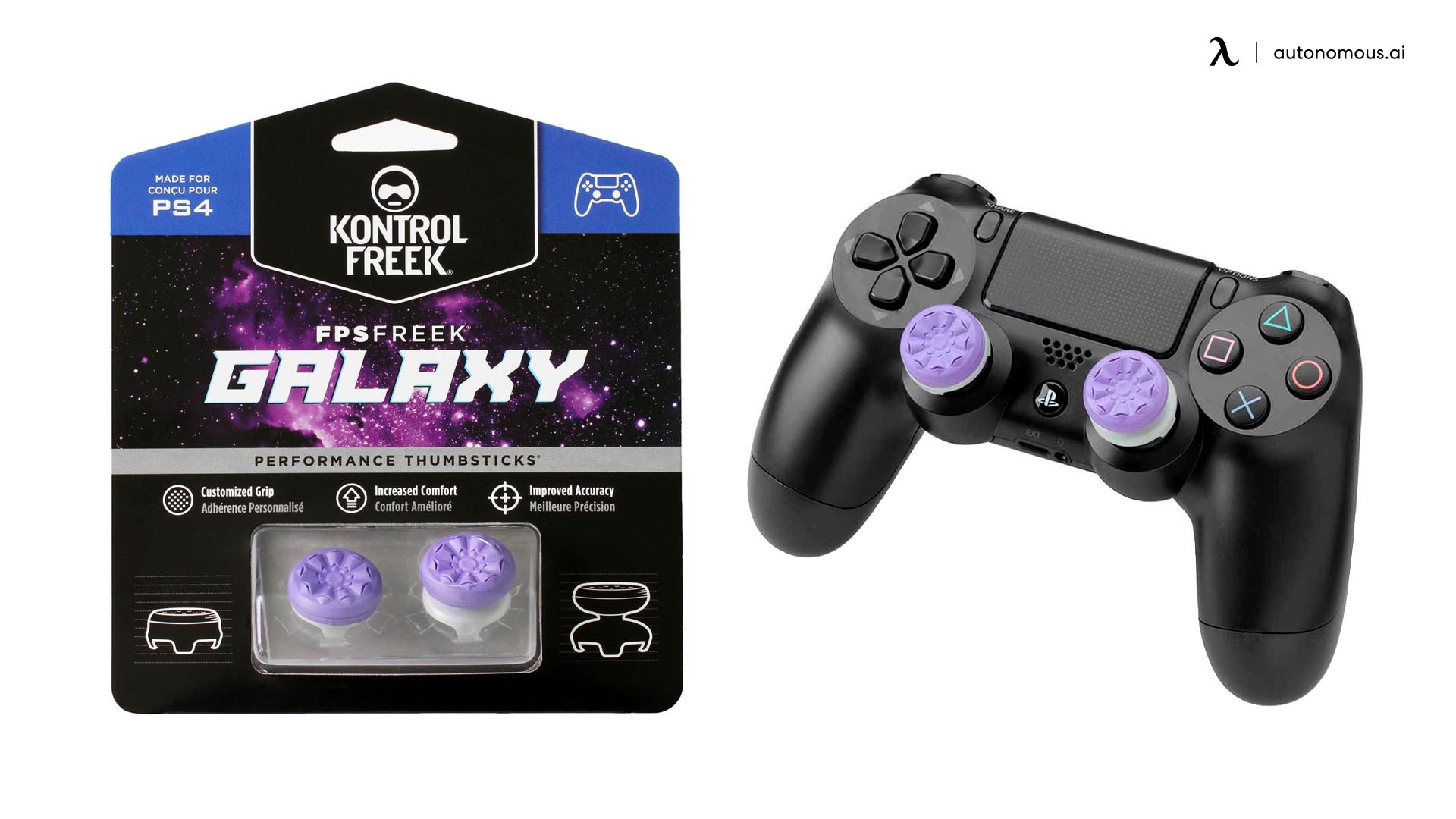 23. Ann Arbor T-Shirt Co
Being a gamer isn't just a hobby. It's a way of life, and serious gamers want to showcase this way of life. What better way to do this than with a gaming-inspired t-shirt. This Ann Arbor t-shirt is especially cool.
24. PowerA MOGA XP5-A Plus Bluetooth Controller
Here is another idea of gifts for streamers. Smartphone gaming is becoming more and more popular. However, you need the right equipment to conduct gaming on a smartphone effectively. That's why the PowerA MOGA XP5-A Plus Bluetooth Controller is one of the best gamer ideas.
25. Redragon S101 Wired Gaming Keyboard and Mouse Combo
A standard mouse and keyboard aren't going to cut it when seriously gaming on a PC. For this reason, the Redragon S101 wired gaming keyboard and mouse combo are the best Christmas presents for gamers.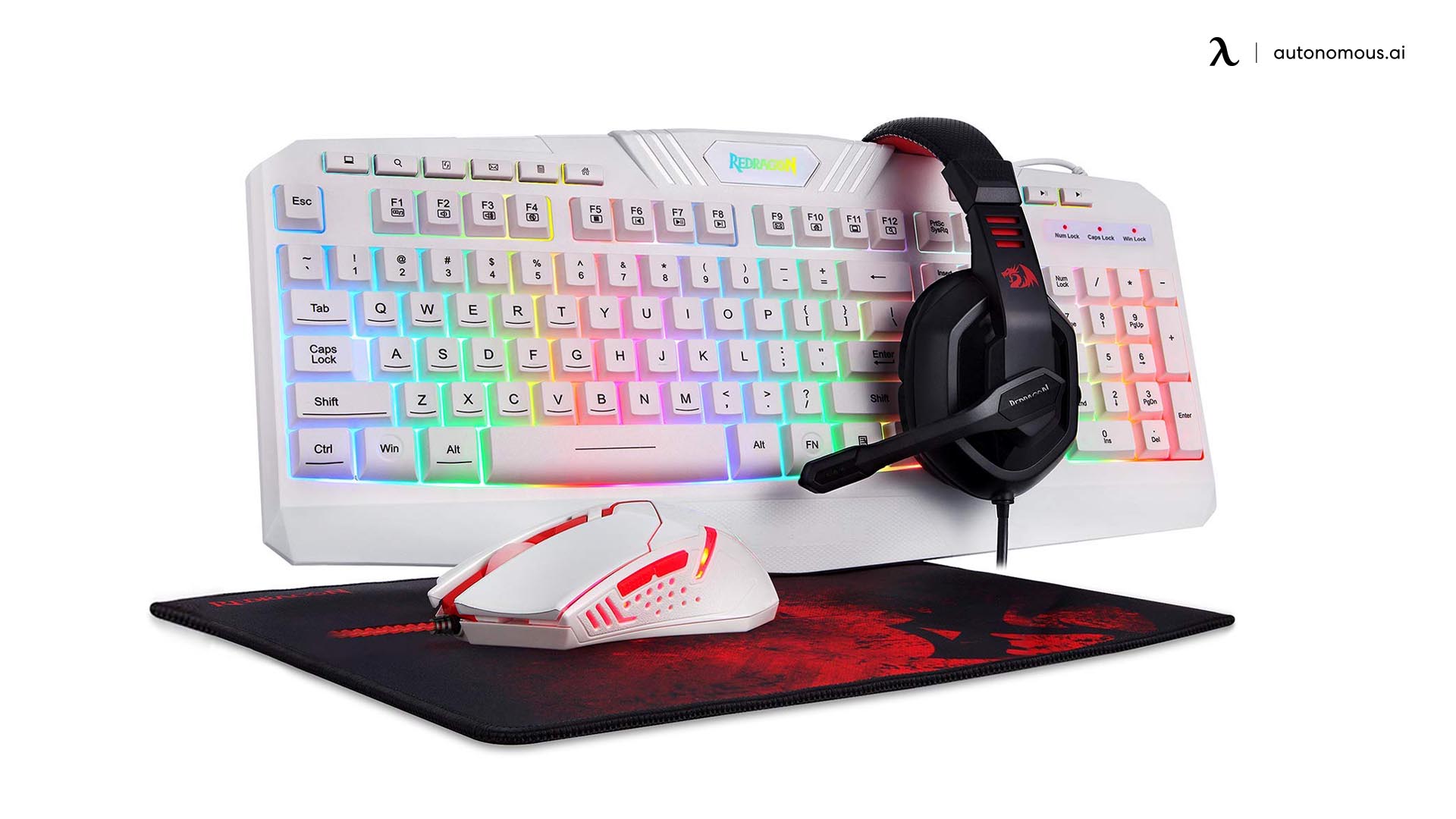 26. A Gym Membership
An excellent gift for any gamer or streamer is a gym membership. This is largely because they spend a good amount of their day sitting and playing games. This gym membership can promote physical activity.
27. Board Games
Board games are gift you can never go wrong with. Consider childhood board games that can be enjoyed in the present.
28. Wireless Charger
Gamers and streamers tend to have loads of wires taking up most of their working space. A wireless charger can help to solve these wire problems and make charging more convenient.
29. Books
A popular gift to give to gamers and streamers is a book. Printed books give these individuals something to do away from technological devices.
30. A Speed Cube or Rubik Cube
Playing with a small cube is an excellent way for gamers and streamers to give their eyes and mind a break from playing and being forced to watch a bright screen. These small cubes also fit on any desk.
31. Oculus Rift + Touch Virtual Reality System
This VR headset and Oculus Rift is one of the best gift ideas for streamers, as it holds the ability to travel into a virtual world. In addition to this, the gift idea is also designed to trigger your senses with a barrage of stimuli from various features.
32. Gunnar Optiks Intercept Computer
Here is one of the interesting gifts for streamers. A major issue faced by many gamers is the eye-damaging effects of high blue light. This comes from spending too much time in front of screens while gaming. Thus, purchasing these spectacles can help prevent eye damage.
33. My Arcade Handheld Gaming System
It's common for most people to want an arcade gaming machine in the comfort of your home. Make your or your family member's dreams come true this Christmas with My Arcade Handheld Gaming System.
34. Corsair Gaming Mouse Pad
Standard gaming mouse pads won't work for serious gamers. For this reason, only Corsair is going to do it. Thus, it's the best Christmas gifts for gamers that are serious about their gaming.
35. ASTRO A50 Gaming Headset
An ergonomic headset is essential for any gamer. The ASTRO isn't like any typical headset as it's equipped with various features specially designed for enhancing your gaming experience. This makes it one of the best gift ideas for streamers.
36. Razer Naga Chroma
An ordinary mouse isn't going to provide gamers with the best experience. That's why the Razer Naga Chroma should be on the top of your Christmas lists as it's one of the cool Christmas gifts for gamers.
37. X Rocker Gaming Chair
This X Rocker Gaming Chair is designed to be fully integrated with four robust speakers to provide gamers with a sensational gaming experience, thus, making an excellent Christmas gift.
38. Nintendo Switch Joy-Con Charging Dock
This charging dock is one of the best gifts for streamers if you already own a Nintendo Switch. It can handle 4 Switch Joy-Con controllers simultaneously and alerts you when a controller is fully charged.
39. Razer DeathAdder Elite
The Razer DeathAdder Elite is equipped with mechanics that provide serious precision to gamers. It features an effective optical sensor and rapid mouse speeds of 450 inches each second, making it one of the best gift ideas for streamers.
40. PDP Gears of War 4 Prop Replica
If you or a family member is a fan of Gears of War 4, then this is one of the cool Christmas gifts for gamers. It's known to be one of the most iconic automatic weapons ever featured in this Microsoft computer game. Thus, a replica is an incredibly desirable Christmas gift for gamers.

41. SteelSeries QcK+ Gaming Mouse Pad
This gaming mouse pad doesn't look like much. However, this perception completely changes once your fingers run across the surface. The rubber base is exceptionally smooth and thick. Thus, it holds the ability to stabilize and steady the gaming mouse, which prevents unnecessary movements and slips.
42. SOLLED Bias Lighting
These lighting accessories provide you with the ability to turn your LED TV into a fascinating, entertaining system. It's 3.28 feet of flexible LED strip lighting aids in creating a mood-setting atmosphere while gaming.
43. Ficmax Swivel Gaming Chair
This gaming chair's racing seat design provides a greater gaming experience, as the user can sit more comfortably. This allows you to game for longer periods and is one of the best Christmas presents for gamers.
44. NETGEAR Nighthawk S8000
Here is another idea of gifts for streamers. This is an Ethernet switch that's engineered for streaming and gaming. It allows you the ability to conduct uninterrupted gaming with a unique system of network traffic prioritization.
45. Laser X Gaming Set
This Laser X Gaming Set takes advantage of modern technologies to offer users an interesting method of conducting simulated shooting games. Moreover, it's a lot safer, and no projectiles come out of the handguns.
What Are the Pros and Cons of Buying Gifts For Streamers and Famers Related to Hobbies?
Pros:
It's a more personalized and thoughtful gift.
The receiver of the gift is more likely going to use the gift and enjoy it.
Cons:
Gifts that are centered around a particular hobby, especially gaming and streaming, can be expensive.
Where to Buy Christmas Gifts for Streamers and Gamers
Twitch
For those who are just starting out, acquiring a Twitch Starter Bundle is a good first step. You only get the basics with one of these, so getting started shouldn't be too difficult. Twitch Starter Bundle includes the following features and comes at a reasonable price.
Soundcraft Notepad Podcasting Interface with 5 Channels

RMC-XLR High-End Metal DJ Handheld Mic for Wired Microphones from Rockville

Headphones from Rockville, the PRO-M50, with detachable coil cables,

The Rockville RTMS21 Desktop Tripod Microphone Stand
Best in Headphones
Headphones are always one of the best gift ideas for streamers. When gaming without headphones, you will have difficulty. On the other hand, good headphones allow you to enjoy a stream more. Streaming isn't entirely dependent on them, but they are the most beneficial. Putting on some of the best headphones in 2020 is a good way to see how far streaming channels have progressed. To illustrate this, let's consider the best streaming headphones.
The HyperX Cloud Mix Gaming Headset

The JBL Quantum One Gaming Headset

Razer's Nari Ultimate, and

GSP 601 EPOS from Sennheiser
Stream Decks and Capture cards
There's nothing better than a stream deck. Streamers can use this Christmas gift for gamers to communicate with their audience, send emotes, and connect to social media. There are quite a few cool Christmas gifts for gamers out there, but the Elgato Stream Deck is hard to beat for ease of use, making it a great gift for someone who wants to do more streaming.
There is no better Christmas present for gamers or for a streamer than an Elgato capture card when it comes down to it. Designed to record 4K60 HDR10 footage, boot straight to an SD card, record unlimited footage, minimize file size, and benefit from zero-lag passthrough, you can purchase Elgato's 4K60 S+ Capture Card for $399.99. Those not quite ready for that leap can purchase an Elgato 4K60 Pro Mk.2 for $249.99, which comes with fewer features and bells and whistles.
Desk and Chairs for Gaming
Having an organized and spacious office desk makes a winning Gamestation. An ergonomically designed, high-quality desk can help your work habits and health. Your first gift idea for a PC gamer's choice should be an ergonomic office desk. SmartDesk Core and SmartDesk Corner from Autonomous offer you the option of adjusting the height to suit your needs. This flexible and well-built desk increases productivity.
Think about buying a smart desk as the gifts for streamers when you're ready to remodel your home office vibes. You can choose from smart desk products like SmartDesk Pro, Connect, Corner, or Core Duo. It's great to be able to be creative with a home office makeover, and it is possible, for example, to build a DIY standing desk based on your needs.
Consider the case of a gaming setup that is well laid out, but the chair is old and outdated. What do you do in that case? If you want to sit comfortably, an ergonomic chair like ErgoChair Pro+, Pro, or Core is a must-have for your home office ideas.
Stream Deck Covers
A custom colorful cover is available for the Elgato Stream Deck (see later in this post), which many streamers use. Super affordable AND thought-provoking!
Echo Lighting Green Screen
In addition to being useful for streamers, green screens typically take up a lot of space and enhance your home office lighting. It can be stored when not in use if you don't stream, making it an ideal streamer gift!
Streaming Selfie Stand with Light from Uncommon Goods
The gift would be ideal for someone who vlogs on the go or streams video games via Twitch or YouTube, but not everyone uses Twitch or YouTube to stream.
Tips to Choose Suitable Christmas Gifts for Streamers
Preferences
Gifts for streamers tend to be those that fit easily into their equipment, including decor. Ensure that all specifications, colors, sizes, cables, and tools are intended for your intended recipients. Check with them about their preferences for boom handles, microphones, or even headphones. Then you won't have to worry about them returning or exchanging gifts.
Function
Don't give streamers gifts that detract from their gaming experience. You must offer your creative customer gifts in a way that pleases the eye as well. The gifts must also be useful in everyday life.
Budget
You should take into account the spending budget for a holiday gift. Setting a budget helps you to avoid overspending or underspending, and it provides direction on what you want to achieve. The quality of the gifts is just as important as the price, even if you want to get inexpensive gifts. When you give a gift that demonstrates quality, you prove your commitment to it.
Personalization
Consider giving a streamer a personalized gift that satisfies the need and fits the occasion while still keeping their preferences in mind. Custom gifts make a bigger impression and add more meaning, and during the winter gaming season, they make Steamers feel extra special. You can give handwritten cards to give your appreciation.
Themes
This is also one of the important things you need to notice when choosing Christmas presents for gamers. If you know what kind of games they play, consider choosing accessories or other fun equipment based on that game theme. There are plenty of WoW, and CoD themed gear, equipment, and other gaming toys that streamers and gamers will love. The only bad news is that they might fetch a pretty price!
Hey, you have special pricing through your company.
Get exclusive rewards
for your first Autonomous blog subscription.
WRITTEN BYAutonomous
We build office products to help you work smarter.