Express your gratitude and love for your Father this year with some unique gifts. A gift for work from home dad.  As your dad works long hours, intermittently, fill his cup of health with cheer and joy minimizing any health issues due to his home office.
Let us learn more as you read on to get more ideas about home office gift for dad.
Ill-effects of traditional desk and chair
Research has proven that folks who use regular office chairs and regular desks are susceptible to health concerns like hypertension, aches and pains, issues with the cervical and more. Why? As you work long hours sitting down, your body has fewer movements giving rise to such health issues. 
As you work under stress, perhaps you do not realize the incorrect postures you adopt. 
Add long hours and incorrect body postures, and you have a bad cocktail for health. With repetitive incorrect body posture, symptoms like stiff back & shoulders, backaches, neck sprains, Carpal Tunnel Syndrome, Repetitive Syndrome Injuries, and more develop over time.
We wouldn't want this for your dad! Would you?
What is the solution?
Ergonomically designed chairs and desks are the best office gift for dad. Why? They offer a high degree of comfort and convenience. Both the ergonomically designed table and an ergonomic office chair are based on the principle that each human being has a different body and may need different levels of support.
Benefits? Results show that with the cramped body muscles being relaxed, blood flow increases; with a firm backrest, shoulder aches and back pains are minimalized.  Do not miss the OSHA, USA, guidelines that use correct body posture while sitting on an ergonomic chair for work or using a standing office desk.
Best five gift ideas for Work from Home Dad
Gone are the days of regular gifting.  Here are five practical and usable gifts for stay at home dads that are the best options.
1. ErgoChair Pro
The chair that offers you the freedom to adjust the seat features for your body's best comfort is the ErgoChair Pro. This is an awesome gift for work from home dad. You rest your legs with knees at ninety degrees and feet resting comfortably with the seat adjustment; adjust the seat armrests so that your elbows are not dropping off the surface and adding strain to your shoulder and upper back.  
Recline the seat in any one of the five positions up to twenty-five degrees! The natural S shape of the chair hugs your dad's back, taking away the stress and strain of sitting upright, giving him comfort. Add the adjustable lumbar support for the lower back, and you see your dad making maximum use of his gift.
Priced at $349-$449 (instead of $499), the ErgoChair Pro is one of the best gifts for stay-at-home dads.
Priced at $349 (instead of $499) for the EverGreen version and $449 for Red Apple and Baby Blue colors, the ErgoChair Pro could be your best gift for stay-at-home dad ever! 
2. SmartDesk Core
A standing office desk offers you comfort and convenience when you want it. Yes!  Switch to a standing position if you are tired of sitting down as you work. Comfortably, raise the desk height between 29.4 to 48 inches at the flick of a button. No manual work! 
Built for regular office work, it accommodates up to 265 pounds. The strong, sturdy solid steel frames don't rust and are available in three different colors. Be ready to get lots of storage space under the table with a minimalistic design.
The sleek, elegant, classy wooden top finish is much to be desired as one connects to nature. Choose a SmartDesk Core that your dad would prefer for his health! Why don't you collect one as a gift for work from home dad now?
Here's an irresistible offer for Autonomous Father's Day Promotion – only $699 for the bundled SmartDesk Core + ErgoChair Pro (EverGreen) instead of the regular price of $998 – 30% off! If you want to pick Baby Blue ErgoChair Pro, it only costs $799.
3. LED desk lamp
This LED desk lamp sparkles up your room like none other.  Powered by electricity, it offers you 1200 lumens for illuminating your workspace when placed on the work desk. Bright yet not disturbing to any other person in the room, it allows you to focus on your workspace.
Don't miss the fact that your dad can choose the color of the light he prefers – some like yellow lights; some prefer white light. No heavy weight lifting with the die-cast aluminum base and stand. You even get a month's trial period to try it. Priced fairly, it's a steal deal.
4. Anti-Fatigue Mat
Standing at your office desk for a long time? Get rid of fatigue if you are standing to work; if you sit for too long for work, place this anti-fatigue mat under your feet to rest them. The mat, a perfect gift for work from home dad, is raised by two inches from the bottom of the mat towards the toes. As you rest your feet, sitting down, you get refreshed as in-soles get to rest and reduce stress. Wiggle your toes while sitting down to increase your blood flow. It is made from SBR [Styrene-butadiene Rubber], which is for your safety to prevent you from slipping. When standing on it, this mat can take up to 330 pounds of weight. Amazing, isn't it? 
5. Flow Board
No time for exercises before or after work? Worried about gaining weight or not staying healthy? Get a flow board and use it at work for a few minutes as many times as you can.
Yes, that's right, as you take short breaks at work, practice light exercises to ensure your body stays healthy.  The flow board is designed using Yoga and Tai Chi principles to bring your tired mind and body a good balance and awareness of self. It is the most meaningful Father's day office gift ever.  Minor exercises bring in alertness, keep away stiff body postures, and freshen you up! 
Summary
With a host of options of gifts for work from home dad designed for your dad's good health and well-being, you can express your love, affection, and gratitude. Choose one that best suits your needs on this special day, Father's Day 2021!
Video ads for product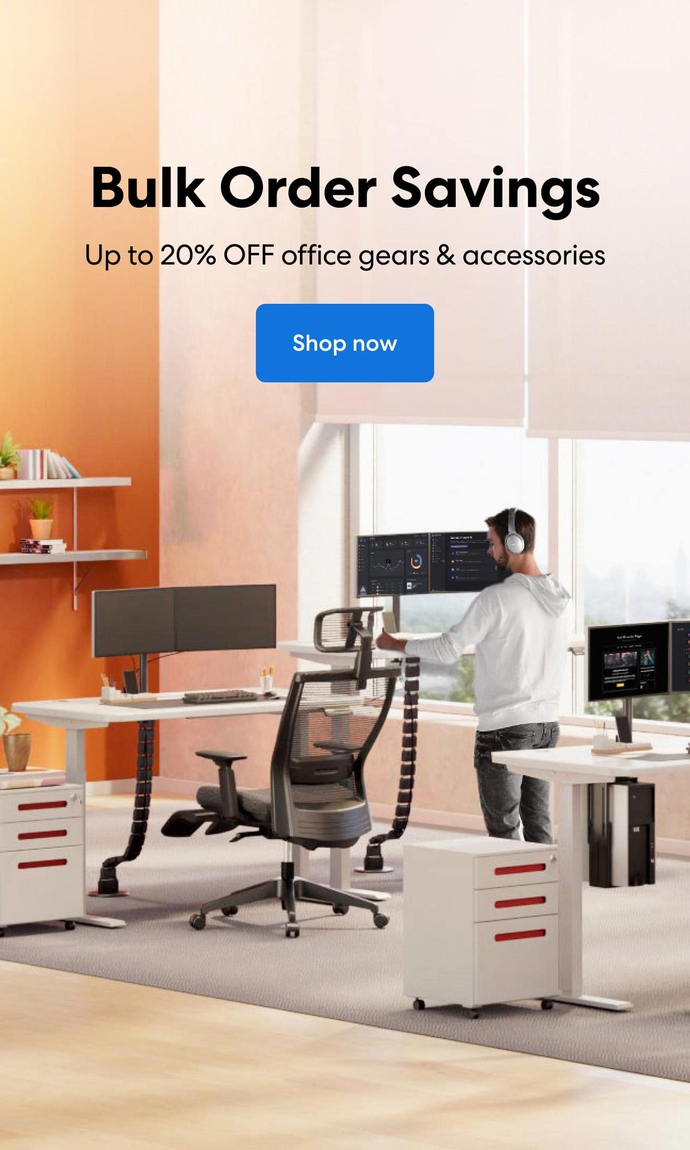 Subcribe newsletter and get $100 OFF.
Receive product updates, special offers, ergo tips, and inspiration form our team.