Latest Updates
The 5 Best Office Desk Gifts for Dad on Father's Day

Autonomous
|
May 26, 2022
1,882 Views
Summer time and it is time when most children, young or elder, search for a perfect gift for their dad!  Choosing perfect Father's Day office gifts is a challenging task for most folks with the choice of gifts available. 
A week that sees a flurry of movement with buying gifts, booking tables for a family meal, or travel plans to visit your dad.  Your father figure, your dad, or a guardian, or anyone else that you admire as a father figure is on the top of your mind.  Many children are looking for personalized office gifts for dad, for which you may be a wee bit short on time at this juncture.
5 Best Office Desk Gifts For Dad
Here is our review of the five best Father's day office gifts that you can gift your dad!
1. ErgoChair Pro
Give comfort to your dad and get rid of backaches and stiff body postures with an ergonomic office chair. This chair offers you high adjustability and works to reduce probable chances of stiff body postures leading to associated health issues like Carpal Tunnel Syndrome, Repetitive Syndrome Injury and spinal or cervical pains, and more.   
The ErgoChair Pro is the best in its class on adjustability for your dad!  As each user has a different body structure than the nest, this chair gives freedom to users to manage the seat height, armrests, the seat tilt towards forward / backward, footrests, or the headrest and seat recline! With adjustments suiting your dad's needs, he is sure to get high comfort. This is one of the best office desk gifts for dad.
The twenty-two degrees recline on the backrest is amazingly comfortable for your back. If you are sitting erect, this high back chair reduces the stress on your shoulders. The upholstery of fine mesh encourages fresh air to reach your skin, and your dad can spend long hours on the chair easily.  The easily adjustable lumbar support for the back discards backaches unless your posture is incorrect. You can easily roll over to various parts of the room to access your workspace and back; no need to get out of the chair!  Surely one of the best gifts for dad's office desk.
2. A Standing Office Desk
Research shows that folks who work at a desk for a few hours or more land up with obesity, cardiovascular issues, aches and sprains of the back and neck, cervical issues, and more as they sit incorrectly at their desks or because the desk misses the basic ergonomic principles. Solution? A standing office desk allows each user to adjust the desk height as per their comfort. Offering you an alternative to sit or stand and work, you can easily adjust the desk's height. Nope! You don't need to clear out your desk before raising the height. So why should you stand and work? Standing up makes you change your position, lets the blood flow better than when sitting down, and reduces stiff postures due to movement of the body. Of course, you can always sit down once again when you feel tired or when needed.
The SmartDesk Core offers you a completely new level of comfort.  You have the freedom to manage the desk height between 29.4 to 48 inches, as per your comfort. The SmartDesk Core is your answer to all solutions – yes, it can take heavy weights up to 265 pounds with sturdy steel frames. No rusting, no staining of the frames! The sleek and elegant finish of this office desk gift for dad is classy. Finished with a natural wooden finish, it's a delight to connect to nature. Opt for one that your dad would like!
3. Ultra-wide LED desk light
As dads age, perhaps they require powerful ambient light.  An office desk accessory like an Ultra-wide LED desk lamp that will give your dad's eyes some rest is one of the best gifts. They are awesome office desk gifts for dad you must consider. It is electric powered and offers 1200 lumens for easy working. You can choose from four different light colors as per your dad's likes – some prefer yellow, other white light! Die casted from aluminum; it's lightweight to be moved around.  You have a trial period of a month to try this.
4. Monitor Arm
Some folks prefer to adjust their screens for better vision instead of raising or lowering their head which can cause cervical issues and neck pain. The monitor arm offered is strong to manage screens with a weight of up to 26 pounds. You get the monitor arms for a single screen or dual screens. Each arm gives you an extension of up to 18 inches. The monitor arms can easily be mounted on a desk and require minimal assembly. Benefits? No straining of the neck works best for small desks or large desks to meet your office goals. 
5. Anti-Fatigue Mat
Get rid of any fatigue as you stand and work at a standing office desk.  Get your energy back with this anti-fatigue mat as your in-sole gets to rest, reducing the stress on your feet. Constructed using SBR or Styrene-butadiene Rubber, this anti-fatigue mat prevents any slippages while you are standing on it.  You can also wiggle your feet while sitting down to reduce fatigue. Amazingly, this mat takes a weight of up to 330 pounds.
Browse through our selection of office accessories as office desk gifts for dad this Father's Day!
Summary
As you chose an office desk gift for dad, you just cannot go wrong.  Express your gratitude, affection, and support for your father this Father's Day! Make it an occasion to remember.
Video ads for product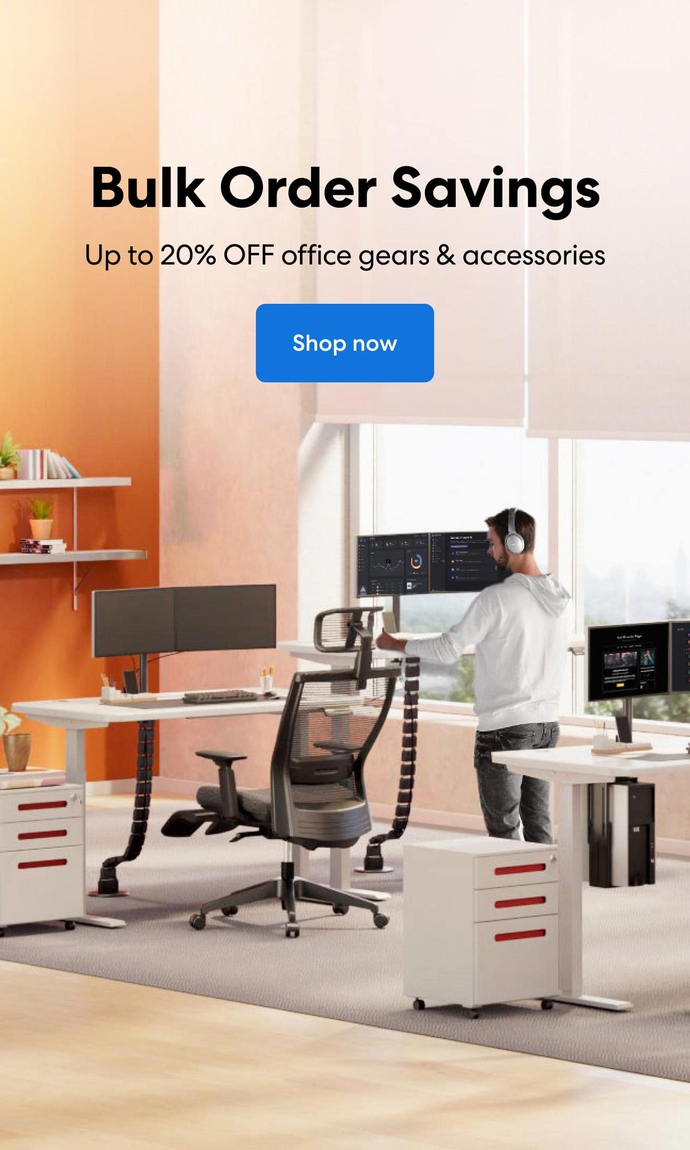 Subcribe newsletter and get $100 OFF.
Receive product updates, special offers, ergo tips, and inspiration form our team.