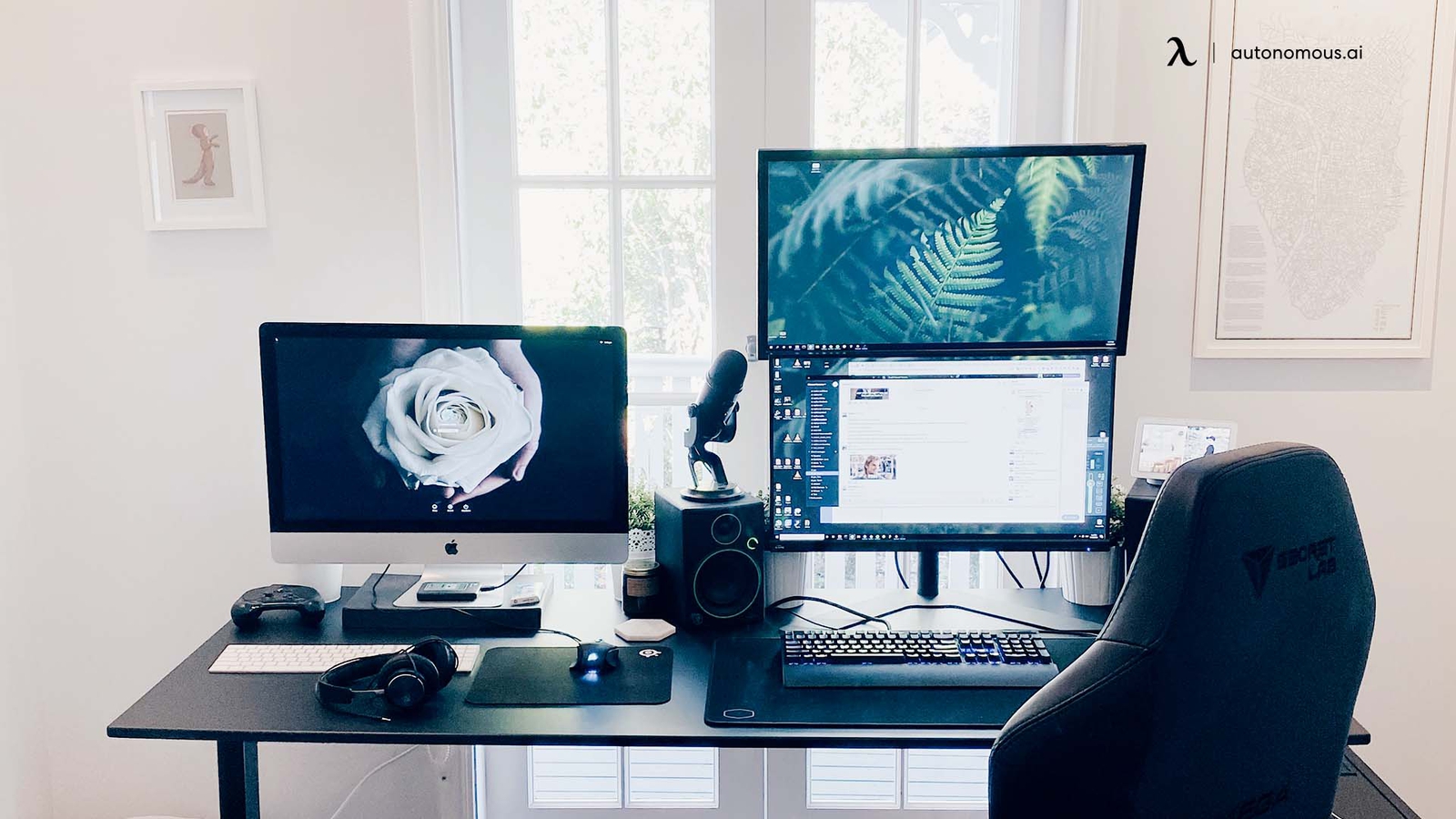 Smart Products
Top 20 Desks for Your Elegant Triple Monitors Setup in 2023

Autonomous
|
Jun 4, 2021
16,143 Views
A triple monitor setup is a common practice for gamers and people who work on complex tasks. With the help of a dual or triple monitor system, you can use multiple screens at once and eliminate the delay because of browser switching. Although having multiple monitors offer many benefits, they are also very expensive to keep and maintain.
For starters, you need a suitable and strong desk to hold up the weight of three monitors. A triple desk monitor is made with the right material and a strong frame to support the weight and vibrations in a gamer's case. If you are looking for a desk setup with multi-monitors, then you have come to the right place.
The Best Desks for Triple Monitor Setup
Without the right furniture and accessories, a triple monitor desk setup is hard to achieve. You must be aware of the space that a triple monitor setup needs and the type of desk required to bear the weight. Whether you are using triple monitors for work purposes or gaming, the desk plays an important role in your health and comfort. And without the right desk, no matter how fun a game is or how easy a task is, it becomes a painful job for the mind and the body.
1. SmartDesk Core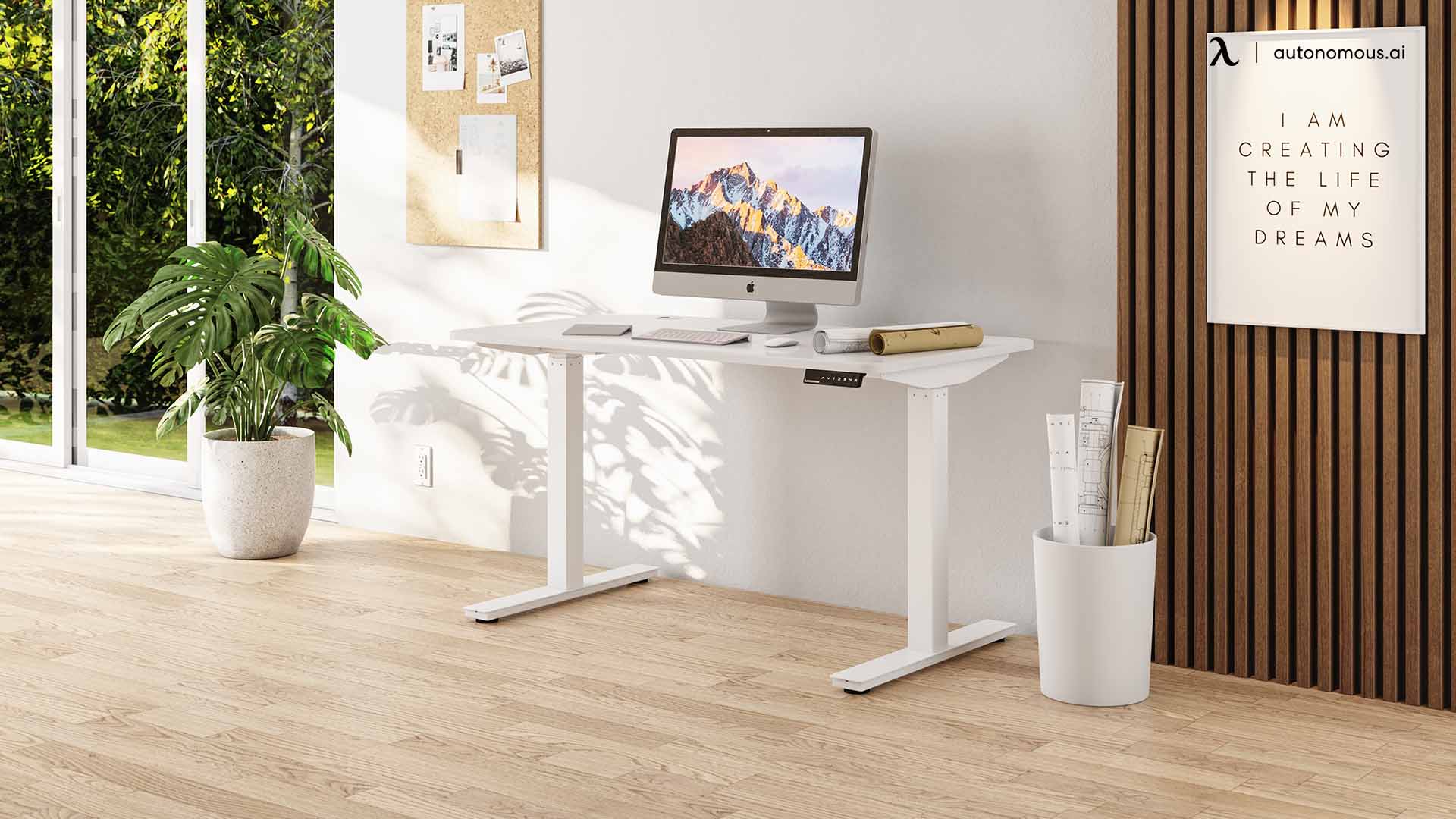 SmartDesk Core is a modern height adjustable desk made with a sturdy frame and a strong tabletop. It has a height-adjustable system from 29 to 48 inches with over four programmable settings. SmartDesk Core offers a weight capacity of 290 pounds, making it suitable for a triple monitor desk setup. Moreover, the system is powered by an electric dual-motor system, so the whole mechanism is automatic.
2. SmartDesk Pro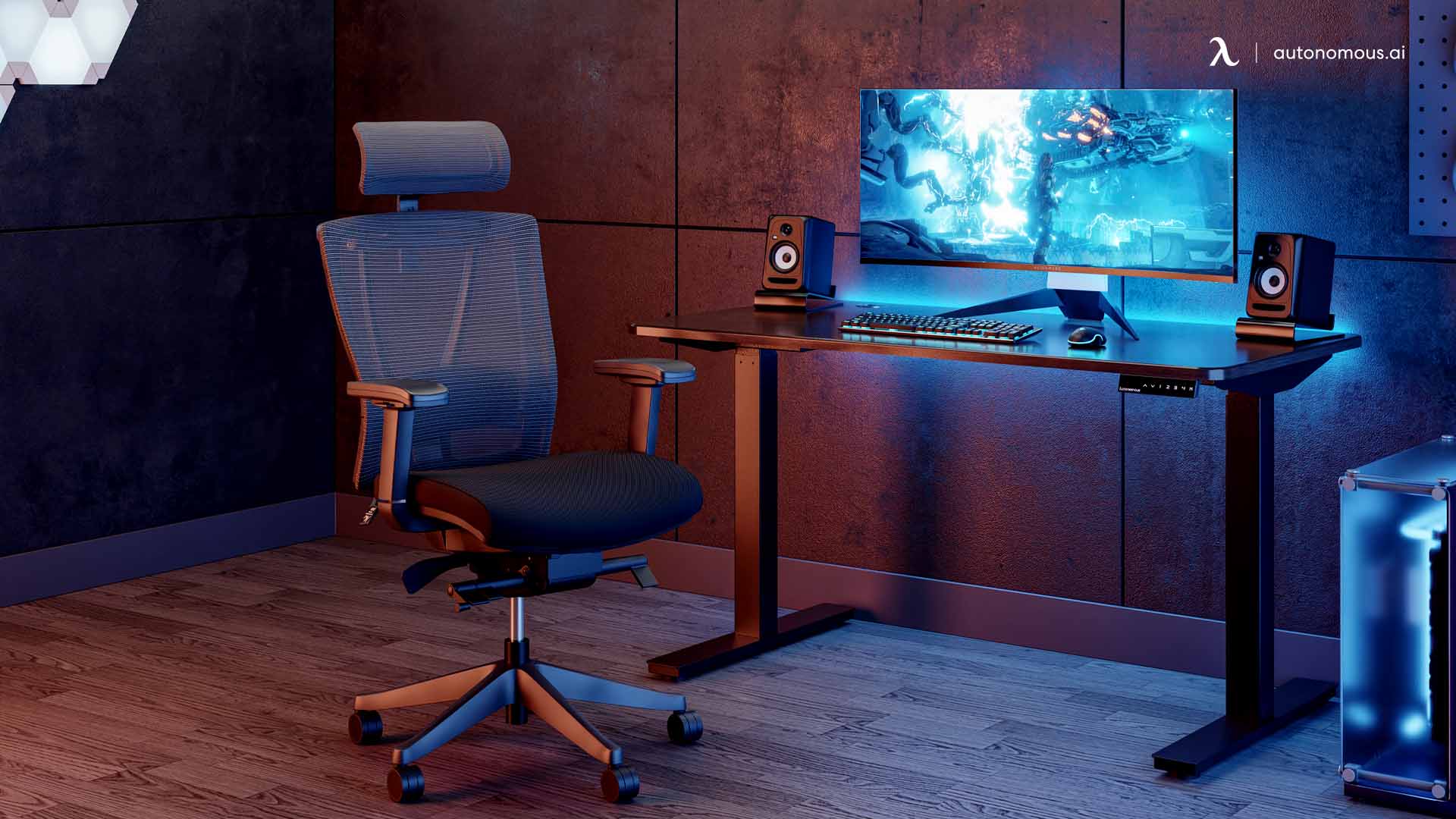 SmartDesk Pro is similar to the previous option and our list, but it offers a greater load capacity. If you own a larger triple monitor system, then this desk would be ideal for you. It offers enough space for an XL desktops system with a load capacity of 350 pounds.
The motor power system is quiet and powered by strong electric motors. It has four programmable settings to manage height with just a push of a button. SmartDesk Pro is the talk of ergonomically suitable furniture for workplaces and gaming in 2022.
3. SmartDesk Corner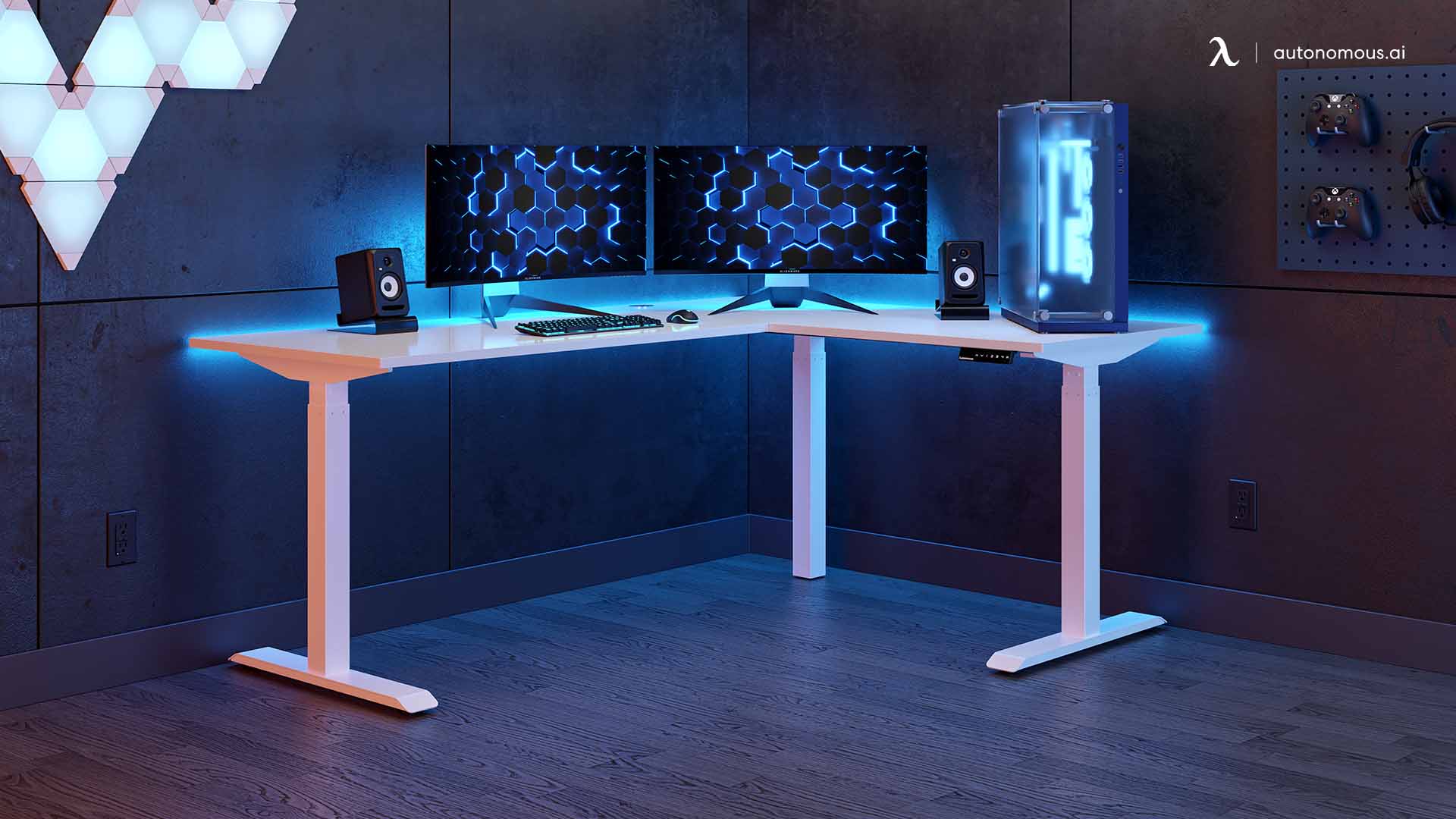 A SmartDesk Corner, also known as an L-shaped standing desk, offers dual advantages. It combines the benefits of a height-adjustable desk with a corner desk that results in minimum strain. The SmartDesk Corner is a commonly known L-shaped desk.
L-shaped desks are the best desk for triple monitor setup because they give minimum turning angles if you are looking from screen to screen. For the gamer who uses multiple screens to play, the continuous change of view angle from one desk to another can result in a jerk on the neck, which with a SmartDesk Corner is eliminated.
4. EUREKA ERGONOMIC 60-inch W L-shaped carbon fiber texture Top Desk
5. EUREKA ERGONOMIC EUREKA L60 L-shaped Standing Desk: Programmable Keypad
6. EUREKA L-shaped TechDesk: Monitor Stand and Dual Headphone Hook
7. EUREKA ERGONOMIC L60 Computer Desk: Left Side, Pink
8. EUREKA ERGONOMIC 60-inch L-Shaped Glass Gaming Desk: Music Sync RGB
9. EUREKA ERGONOMIC Gaming Desk with Hutch: Keyboard Tray
10. Techni Mobili Warrior L-Shaped Desk
11. Techni Mobili L-Shape Desk with Hutch and Storage
12. Techni Mobili L-Shaped Glass Top Computer Desk
13. Techni Mobili Computer Desk
14. Techni Mobili L-Shaped Glass Computer Desk
15. Techni Mobili Rotating Multi-Positional Modern Desk
16. Triple Monitor Computer Desk
A Triple monitor computer desk is just like a single monitor computer desk, but rather it offers more surface area. A triple monitor desk has all the accessories such as cabinets, a bottom space for your CPU, a keyboard tray for keyboards, or a separate area for a mousepad. Some advanced computer desks come with a tabletop that can act as a mousepad. They are ideal for gamers as the mouse movements are not restricted.
17. L-shaped Computer Workstation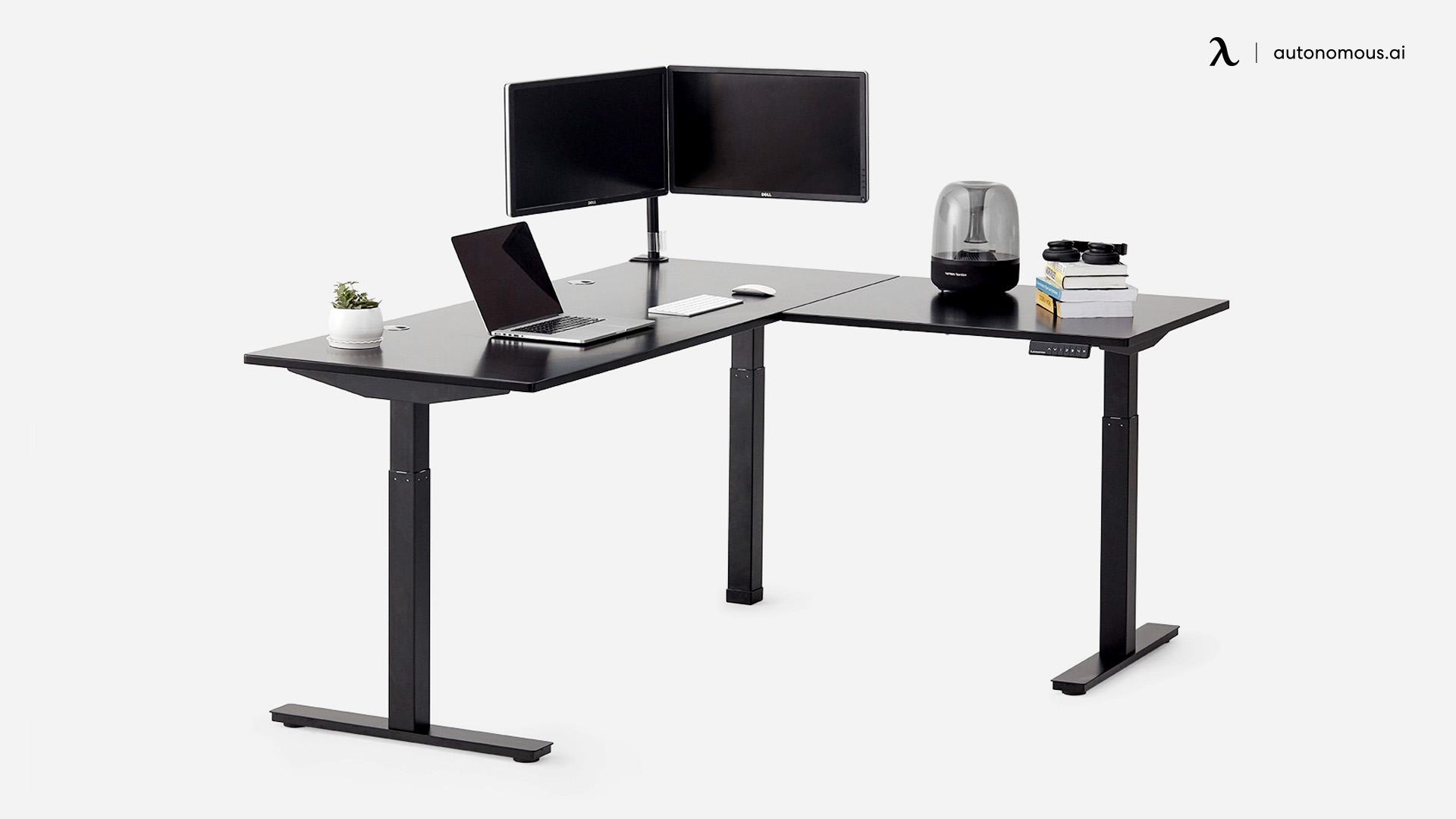 Best Massage's contemporary computer table is made of sturdy materials and has an elegant appearance of a triple monitor desk. Because of the corner wedge in its L-shape design, you'll have more space than with traditional L-shaped monitor desks. The humanized foot design offers greater comfort and more space than the space occupied by the desk. It has a bevel edge system that allows the wires behind the desk to remain clean and clutter-free. It is strong and sturdy for a dual or even triple monitor setup system.
18. A Long Desk
A Long desk with a strong frame is also a great option for the triple monitor setup. And when it comes to long desks, IKEA is a famous name. Long desks are usually made with a minimalistic design and an easy setup. They are usually fixed in height and don't offer height adjustment. You can either purchase a long desk for a triple monitor with a fixed height standing desk or a normal sitting desk. If you are looking for a cheaper and simpler option, then a long desk is a good choice.
19. Gaming Triple Monitor Desks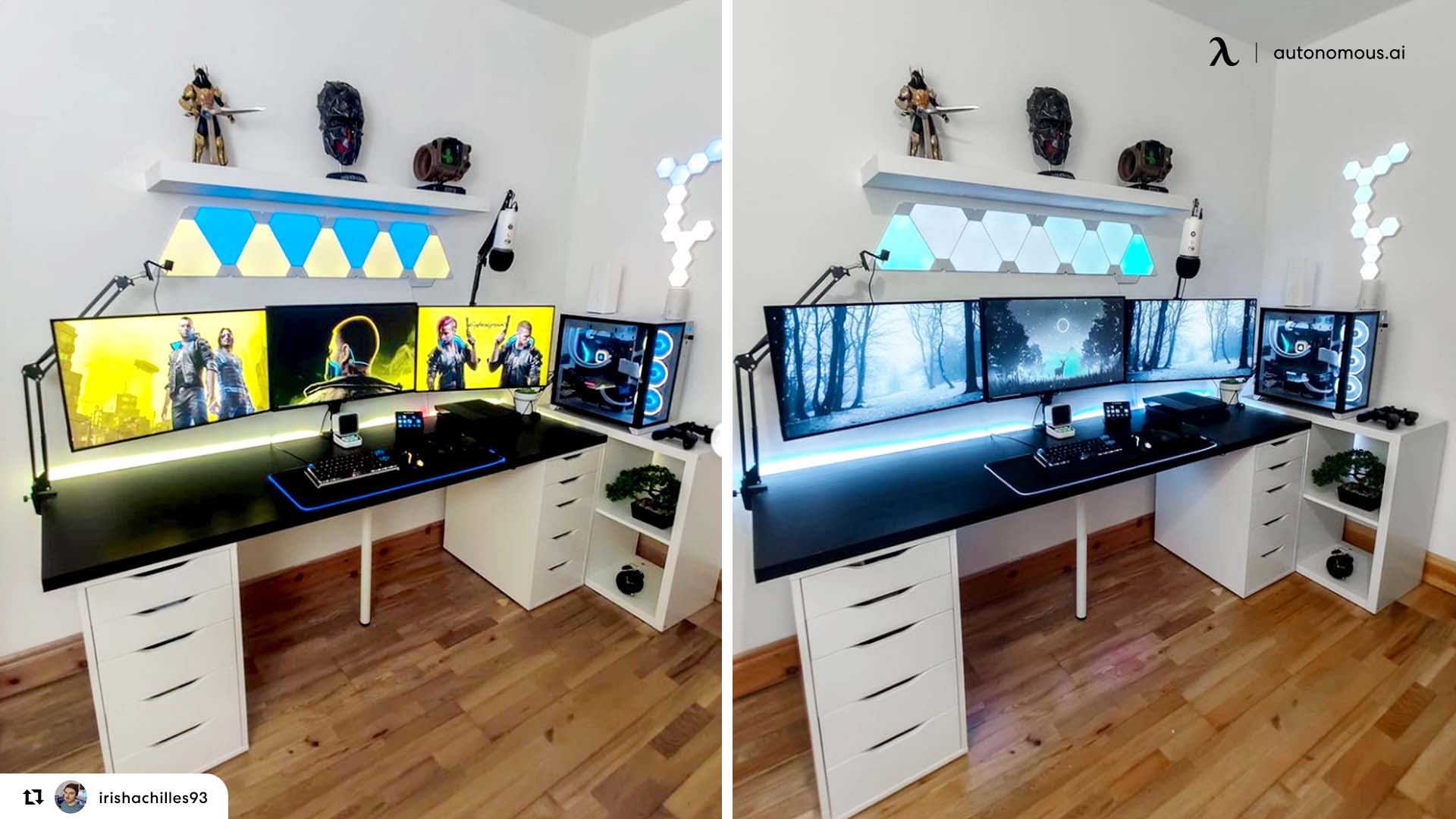 Arozzi's newest gaming desk is attracting gamers who use dual or triple monitor setups all over the world. This desk will provide high level comfort even if you wish to play or plan to work on your PC screens, thanks to a completely renovated design developed by a Swedish expert team.
The arozzi gaming desk is available in various attractive colors that are all cool for a gaming den. It also offers a standard size for normal to extra-large-sized monitors.
20. Techno Glass Corner Triple Monitor Setup
Another one from L-shaped desks, the Techno glass corner desk, has a strong metallic frame with R-shaped legs. The leg's shape and structure add to the strength and durability of the product. The top of this triple monitor desk is made with a strong thick glass which offers durability as well as enhances the aesthetics. It also comes with a pull-out keyboard tray as an additional accessory on this desk. It is the best desk for three monitors. 
How to Choose the Best Desk for 3 Monitors?
Buying a desk for three monitor setup is different from buying a desk for a single monitor. The desk you choose should be able to support the combined weight of three monitors, as well as other desk accessories like the keyboard, mouse, and speakers or cameras, if necessary.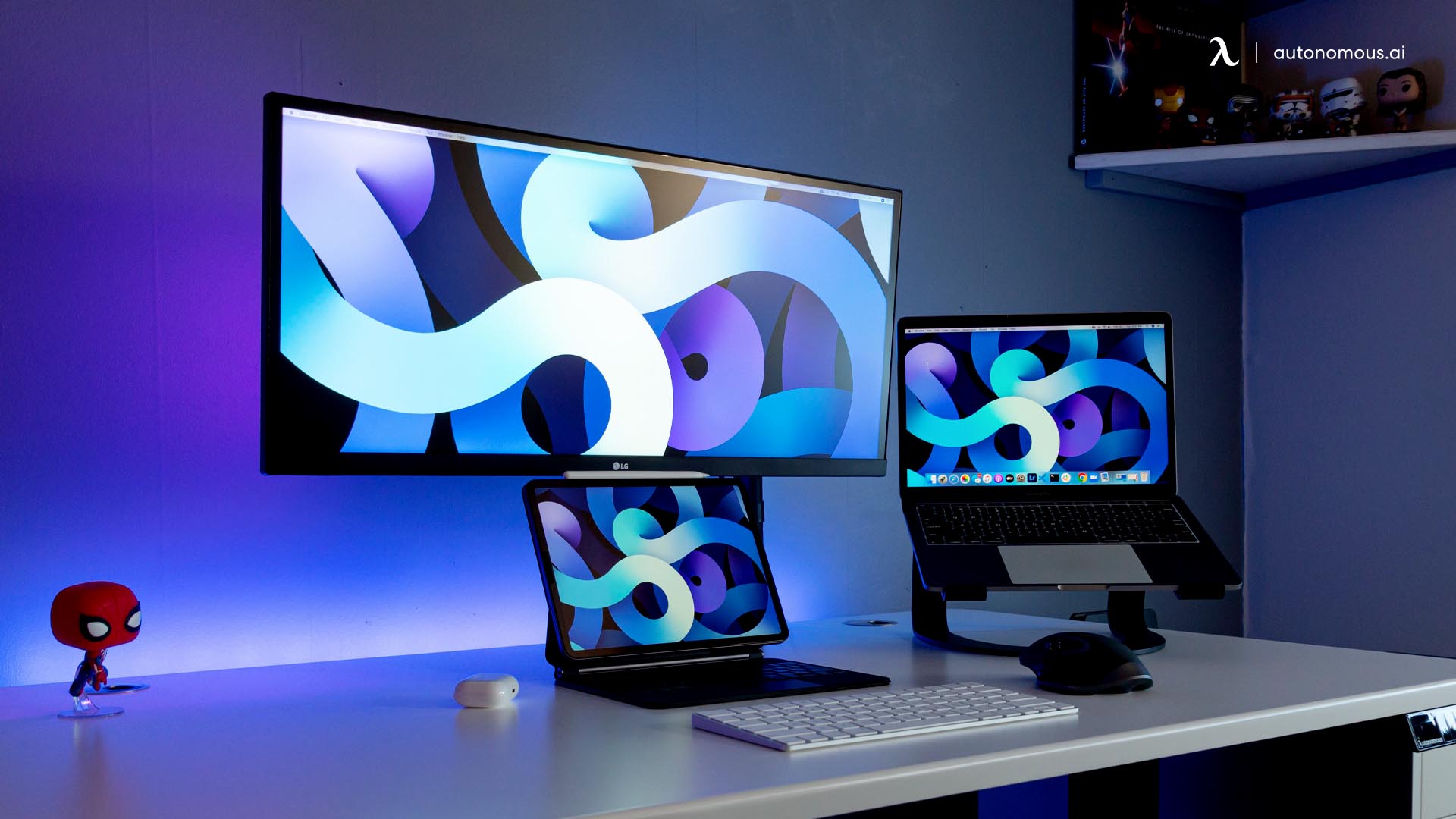 Moreover, if you are looking for a desk to support the three gaming monitors, vibration is also an important consideration. The desks should be strong enough to bear the vibrating load. All of this combined is a substantial amount of weight. As a result, make sure the desk is built solidly from the frame to the tabletop.
Look for thick bars and legs, for example. Also, get a desk with adjustable leg pads to keep you stable on uneven surfaces. Avoid desks with many moving parts because, while they are convenient, they lose their strength and stability over time.
Video ads for product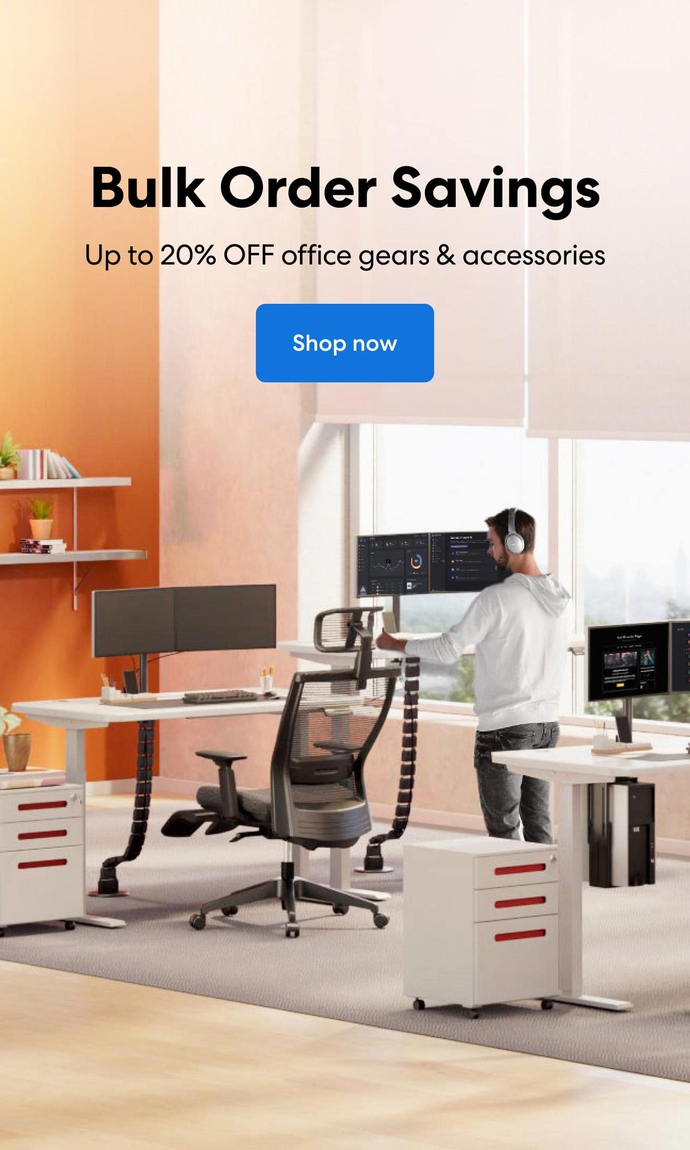 Subcribe newsletter and get $100 OFF.
Receive product updates, special offers, ergo tips, and inspiration form our team.