Gamer rooms are always a topic of discussion and interest for avid gamers who realize the importance of having a proper gaming setup. Gaming setup has several benefits on the performance, fun, and gaming experience you will have. Contrary to common belief, gaming setups are not just about looks and aesthetics; comfort and functionality also play a huge role in improving a gamer's performance.
And even though not all of us have a huge space to create a wonderful gaming room separately, you can build a gaming station in any house room with some planning. The gaming room setup ideas are a hit amongst people who live in compact spaces or who love to have an overall gaming vibe in their home. In this article, we will cover some creative ways to create a PC living room setup that works both for a gaming space and a living space.
Block the Noise
If gaming is not just a mere time pass for you, but you are into gaming as a serious hobby where you spend most of the time deeply engrossed in the game, then you might need a distraction-free zone. Gaming sounds and audio play a huge role in the overall experience and get the most; many people love having elaborate sound systems that help you catch every movement in the game.
In such cases, a soundproof gaming room is a wonderful concept because it will allow you to play peacefully and help other people in the room lead their normal lives. So what if someone has a work call right beside your room? Your soundproof gaming room wouldn't allow a hint of it to disturb them. A soundproof gaming room is also ideal for friends who gather to play battles and tend to shout in fun and all excitement.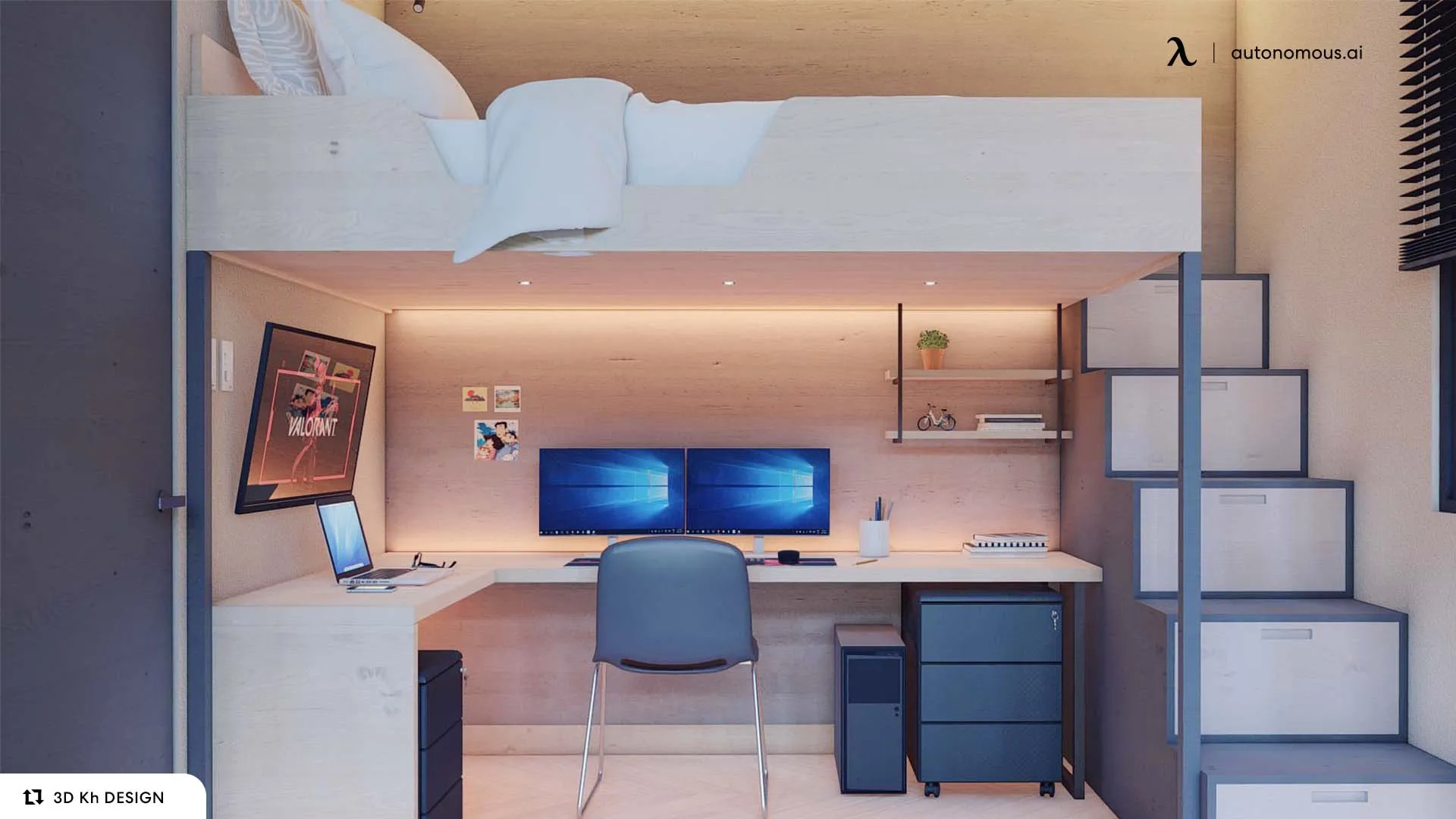 Gaming Setup in Bedroom
Maybe your room is the only space where you can get a private, distraction-free corner. After all, not all of us have huge homes with spare rooms. Fortunately, you can create a cool bedroom gaming setup with just the right layout, design, and gaming setup accessories. You can use a room divider to divide your room into sleeping and gaming spaces. You could also paint a wall differently from the rest to mark your gaming space. Either way, your bedroom space can be a wonderful area to build a private and gaming setup.
Video Games Collection Shelf
Are you a fan of collecting? What better way to display your valuable goods and stones than on shelves in your game room? It's similar to having a large library, except instead of books, you have games. Isn't this the stuff of childhood fantasies? This is a wonderful idea to score two wins with one, as you can decorate your living room with a shelf and prevent clutter by keeping all of your gaming supplies arranged neatly.
Large Screen and Speakers
This is every video gamer's ideal gaming room setup. Having a huge viewing screen and many speakers lets you completely forget about the rest of the world while playing. It provides a completely immersive experience. You will have to spend a few extra dollars to buy everything you need, but it will be well worth it. Moreover, you can also use the big screen and huge speakers to enjoy an in-home theater experience.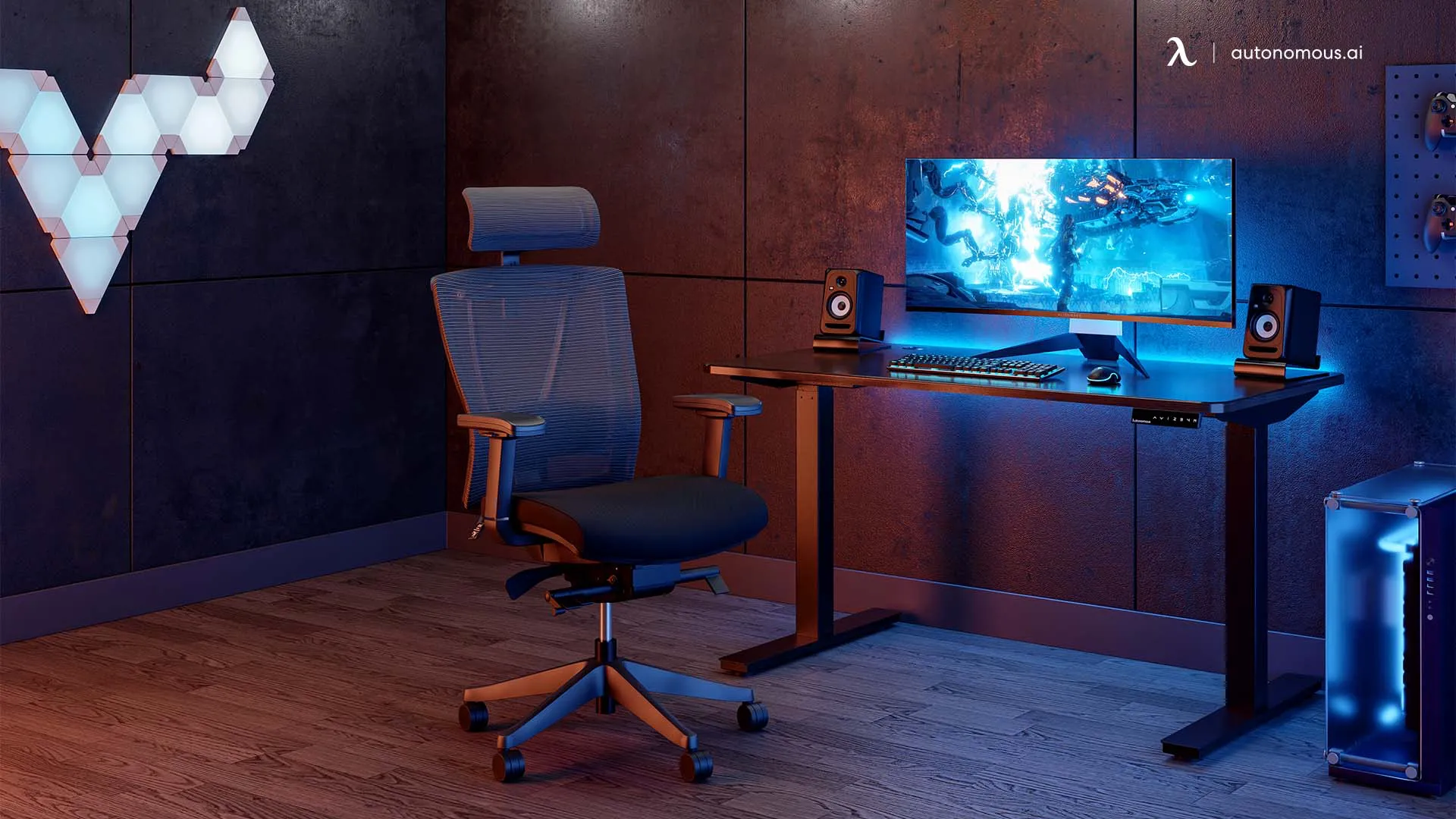 Divide the Living Room Space
Living rooms are blessed with the maximum square footage; hence building a living room PC gaming setup is the most preferred solution for compact homes. After all, there is no central place like a living room where you can place your entire gaming accessories and stuff. To divide a living room into a sitting area and gaming area, there are many things you can try.
You can use a room divider that gives you the right privacy when needed and be folded away when the room needs to be open and spacious. You can also follow some gaming room lighting ideas to define a gaming boundary in your living room. Moreover, one of the best PC living room setup is painting a wall or a corner differently. Further, if you need a corner for a gaming setup in the living room, a corner or L-shaped desk is the best purchase you can make to create your corner.
Get A Gaming Chair
Is that all you need for gaming? Certainly not. But one thing we know for sure is that a gaming chair in a living room can easily provide comfort while gaming, watching TV or even reading. It also makes for a versatile and the best gaming room setup because, with a gaming chair, you can provide an entire gaming theme to your living room.
You don't have to go overboard with the lighting or special gaming effects, but the theme of your gaming chair can give a sense of gamer in the house. Besides, with the various incentives like a gamer purchase program, you can easily find various gaming chairs that fit everyone's taste. It is also a multi-purpose solution, so rather than your gaming corner or gaming furniture being useless for the hours you are not gaming, one can use the chair for some lounge relaxation.
Living Room Gaming Cubicle
When it comes to productive gaming setup ideas, there is an importance of size. For a cubicle design gaming station putting two comfortable reclining chairs in front of the setup can define the whole vibe.
Also for maximum audio experience, connect the monitor's speakers to the wall on both sides. If you want to be close to your PC games, put them next to your seats, so they're easy to access. You can place your gaming PC and entire set up against the wall, which is rarely used, or even face your gaming computer away from the TV, so it isn't a source of distraction for someone who is just relaxing to watch some television in the lounge.
Office Style Gaming Room
For a gaming area, the office style can be a fantastic notion. Use a large office desk to boast gaming PCs on your desk proudly. You can choose amongst the traditional and evergreen colors black, white or brown because these are the most commonly used office desk colors. You can create the gaming theme with some screens, a lighting keyboard, a gaming mouse, and a few gaming accessories to complete the vibe. Place a pair of speakers and a reclining chair to complete the office design. Install the ambient lights on the wall as well.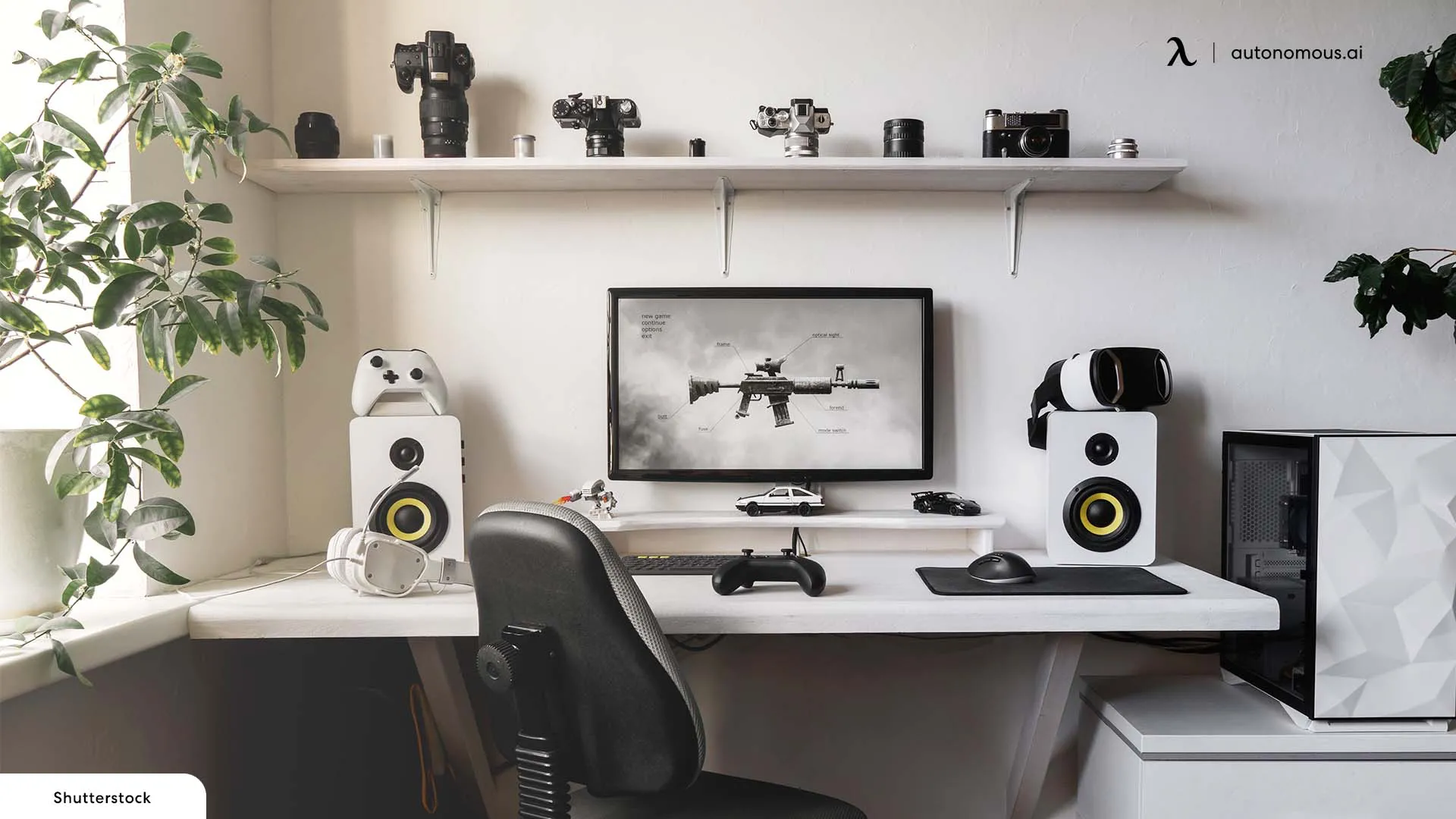 Put Up Some Light Panels
Installing light panels is the best way to add colorful light accents to your gaming room. If you have a small gaming room setup, it may not be possible for you to bring in those light bars as they will create a lot of clutter and take up too much space.
In such cases, gaming lights for walls, like the light panels, are the best alternatives. So, you may think of sticking Nanoleaf panels on your backdrop and arranging these colorful tiles in unique shapes to make them look aesthetic.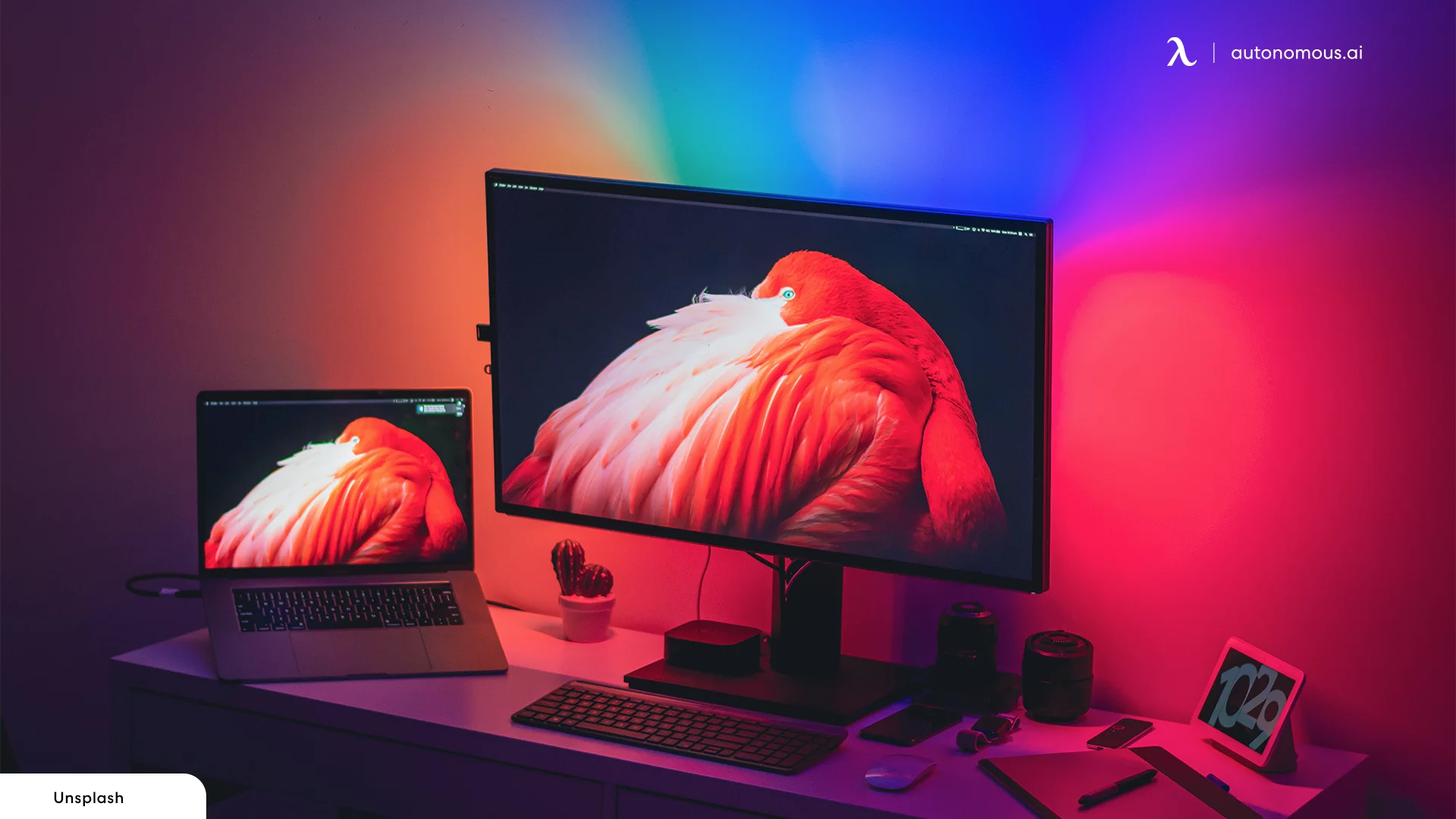 Adopt the Fancy Star Wars Décor
Are you a Star Wars fan? If so, you would love to have a gaming station with a Star Wars theme. You must make a few changes in your gamer room décor to make it look like it is something straight out of some star wars movie.
Painting walls using a dark color and sticking tiny stars on the walls and roof is one of the best gaming setup ideas for people who wish to have such a theme. You may even make some Star Wars posters to get a little artsy. In addition, adding neon lights here and there would be great. 
Stay Minimalistic
Staying minimalistic is probably the best thing you can do while creating a gaming room setup. If you have planned your gaming setup in your living room due to a shortage of space, minimalism is the key to having a clutter-free, aesthetic gaming setup.
You would have heard how less is more when it comes to ensuring you have a minimalistic design while planning a productive PC gaming living room. So, it is better to have as few accessories as possible to have one of those cool gaming rooms.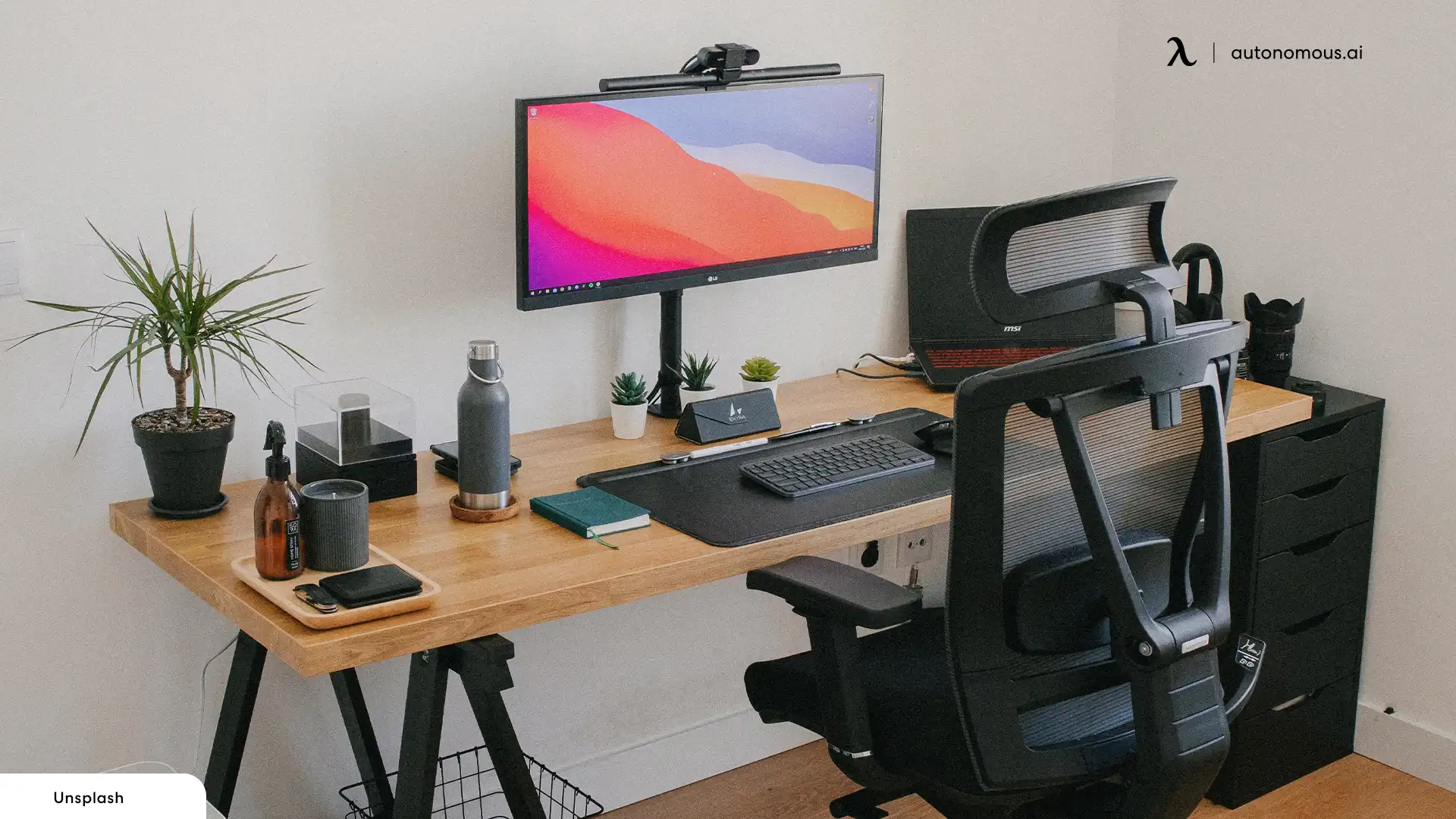 Incorporate More Neutral Colors
People usually have soft colors in their living rooms. If we talk about typical living room furniture, it incorporates neutral colors. So, playing with neutral colors in your PC living room setup for gaming is a great idea. If you are using soft, neutral colors, you must couple them with recessed lighting to make them look more intimate. 
Use Multiple Monitors
Using multiple screens has been one of the best gaming setup ideas over the years. You may do the same to create a pro-level gaming setup. Multiple screens will ensure you have a more immersive gaming experience.
You will be able to keep a check on every detail and play your best game. The best part is that this gaming setup will be ideal for a small space too. Most people prefer going for a dual monitor setup if they are short on space, so you may take some inspiration from such ideas.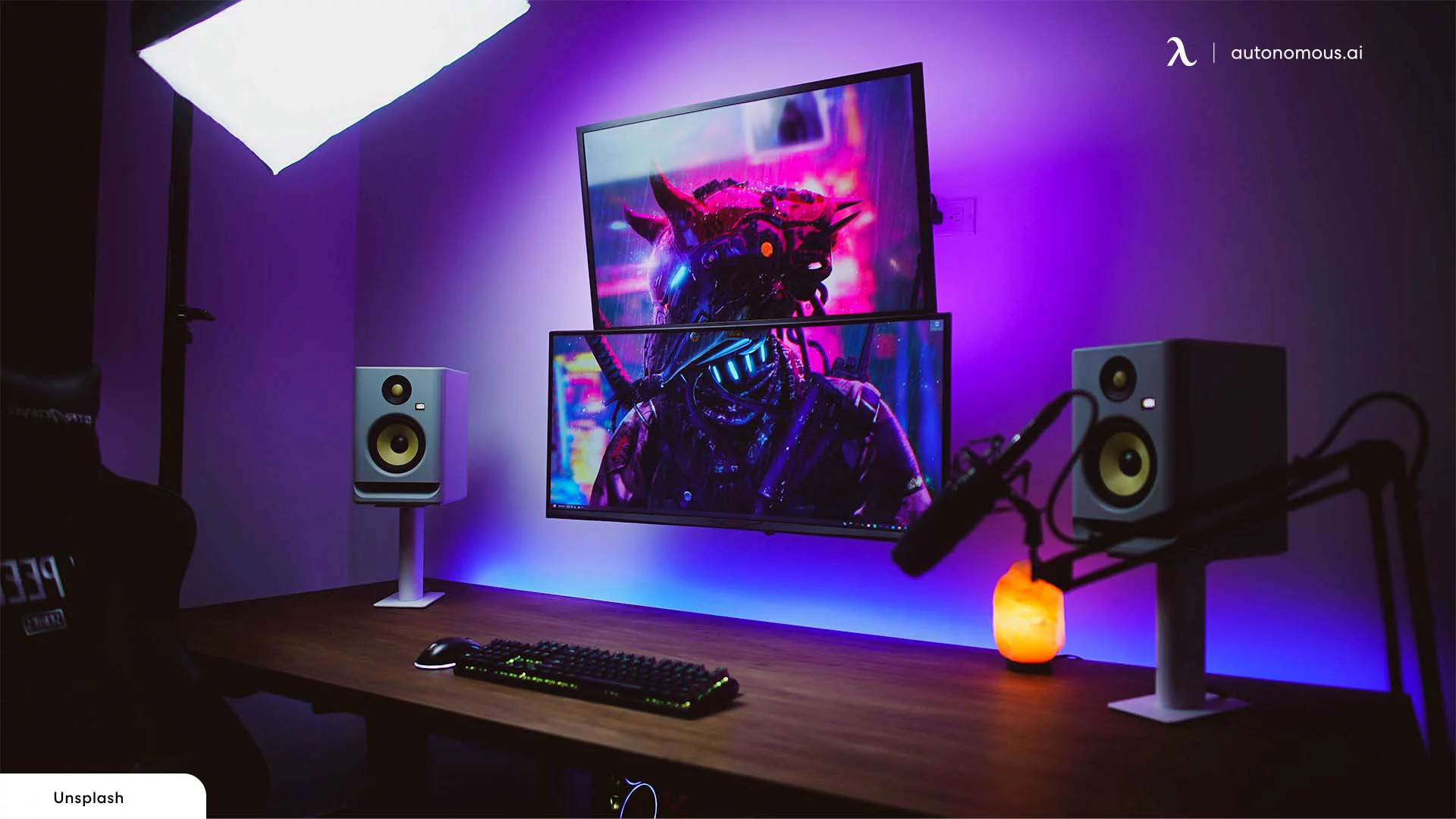 Design a Game Room Inspired By Street Art
If the vibrant colors of street art inspire you, you may think of incorporating them in your PC living room setup in some way. The best way to do this is to use a splash of colors to decorate the walls to make them look like some street graffiti.
You may even think of having bright-colored gaming furniture. Some people like placing some vibrant colored pillows in their gaming room, so you may take some inspiration from them. Using a good amount of bright overhead lights can be a creative way to add more definition to such a gaming room setup. 
Add a Vertical Garden at a Corner
You would have heard how going green is good for you and that having some plants around can help you be more productive in whatever you do. So, you may think of incorporating green in your gaming room as well.
We understand that it is not possible to have a lot of room space for the plantation. That's why we suggest you design a vertical garden that does not take up much floor space. A vertical garden will help you in making your room soundproof as well, so it will be great for gamers. Overall, having some room for natural light will make such a gaming room more magical.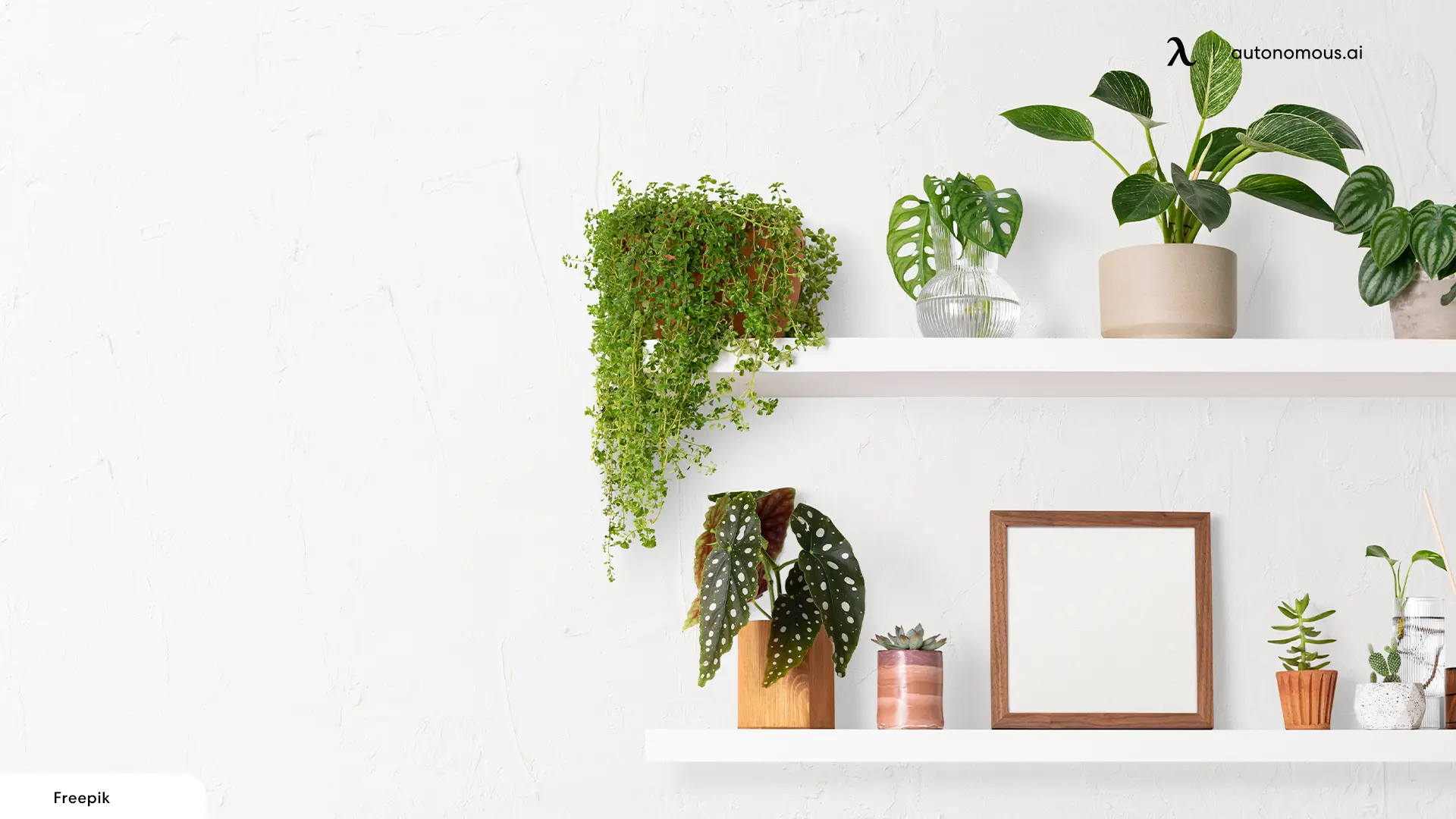 Decorate the Floor with LED Light Strips
One of the most famous PC gaming setup ideas is decorating your gaming room with LED light strips. If you like movies that feature space and sci-fi more, you will love designing your gaming room in a way that it looks like it is straight out of some sci-fi movie. If you wonder how you will do that to your gaming room using LED light strips, it is quite simple.
All you are supposed to do is decorate your gaming room's floor using LED light strips, preferably RGB light strips. You may think of bringing in some dark-colored furniture to enhance the way your gaming station looks. 
Create an Arcade Style Setup
All those gamers who are arcade lovers will love to have a gaming room featuring an arcade style setup. An arcade style setup incorporates a splash of colors, multiple screens, and vibrant racer car seat-styled gaming chairs. You may think of adding these things in your gaming room and using ambient lighting to create an arcade style PC gaming living room.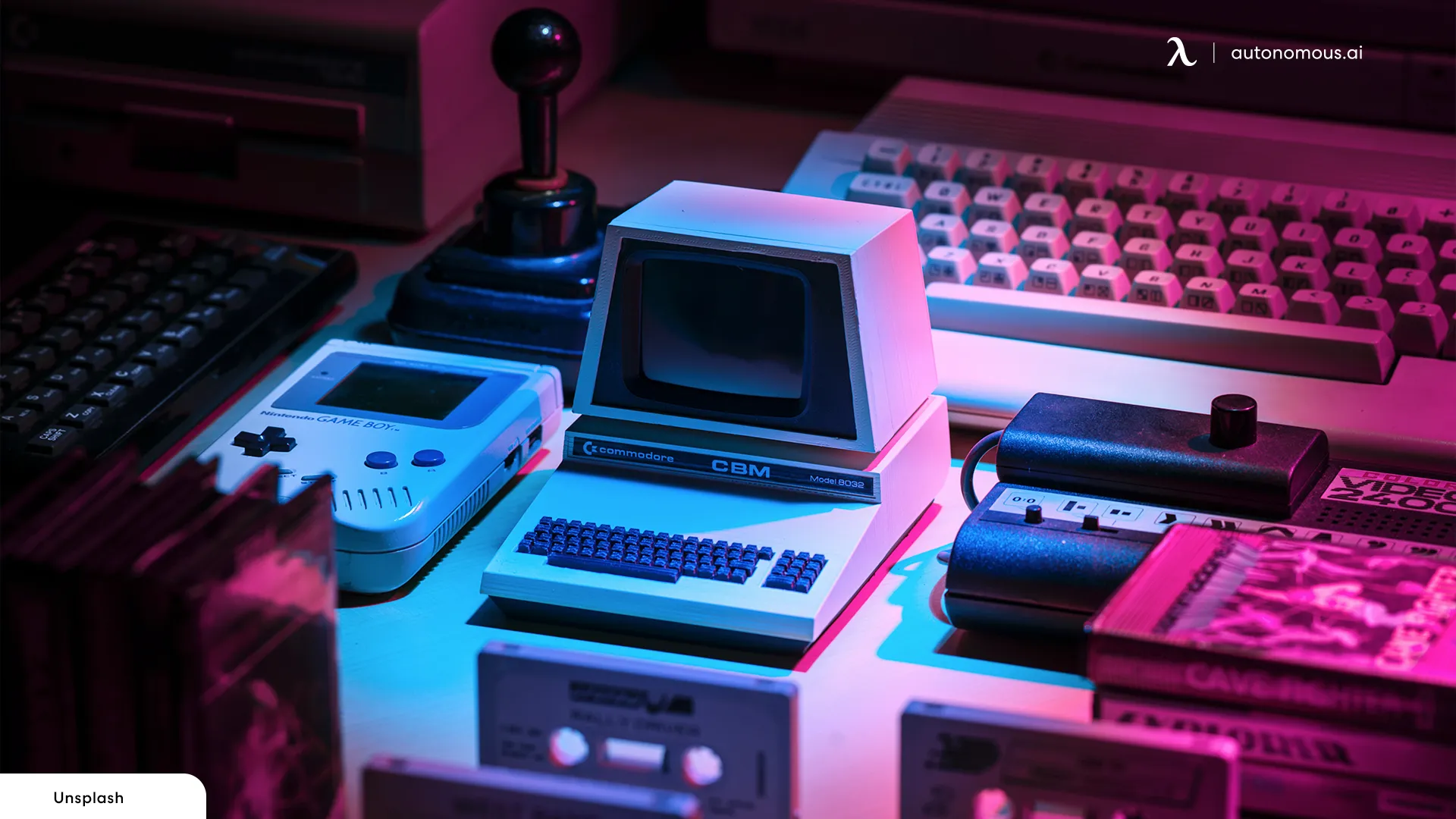 Add Some Shelving Units Around Your Gaming Station
Lastly, if you wonder where and how you will keep your old video game collections and the collectible items of all your favorite games, you may think of creating your gaming library. You will have to put up some shelving units around your gaming monitor and accommodate your collectibles in a unique way there.
Decorating this space with LED lights will add greater definition to such a gaming space and make it look more aesthetic. In this way, you will have your favorite gaming accessories and collectibles within your reach. That's why it is considered one of the best gaming setup ideas.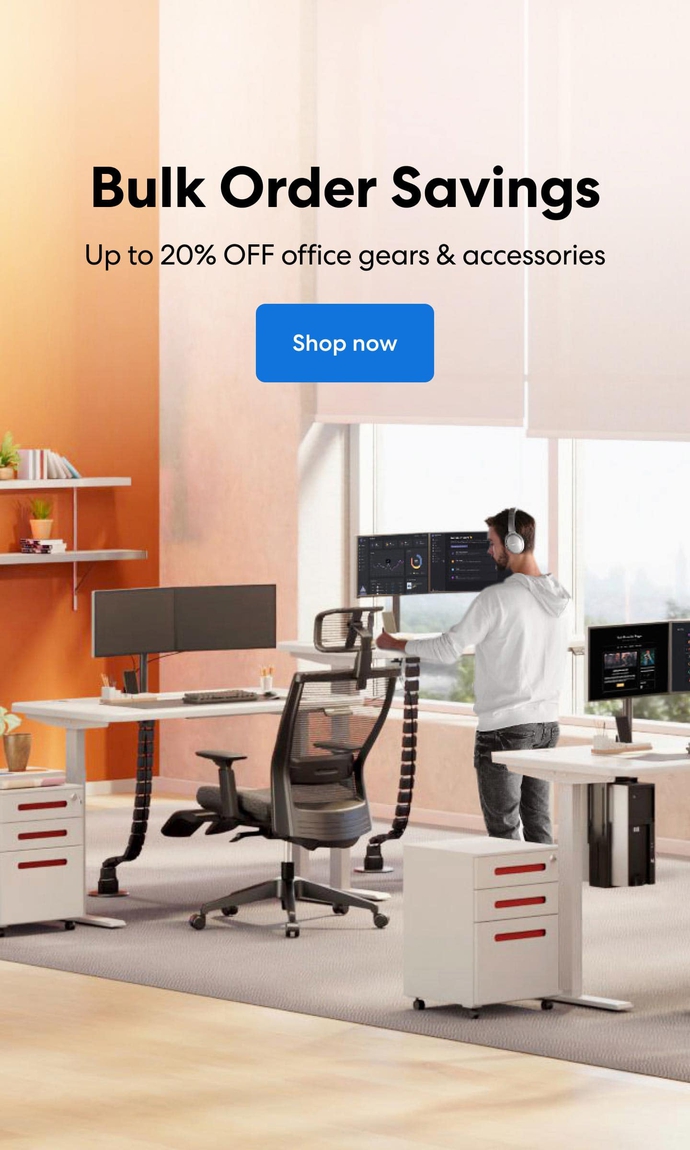 Subcribe newsletter and get $100 OFF.
Receive product updates, special offers, ergo tips, and inspiration form our team.