Latest Updates
Hunting The Best Easter Deals on Home and Office Furniture

Autonomous
|
Apr 2, 2023
762 Views
Easter is just around the corner, and we don't want you to miss out on all the fantastic Easter deals our store has for you. Therefore, we created the following guide of some of the best items from our store that you can get for a fantastic price during this holiday. Keep reading to find out more.
Best Easter Deals on Home and Office Furniture
1. Autonomous SmartDesk Core
Are you tired of feeling uncomfortable and unproductive at your desk? Look no further than the Autonomous SmartDesk Core! This incredible standing desk is the ultimate solution for anyone looking to improve their posture and increase their overall wellbeing while working. With the ability to easily adjust the height of the desk, you can effortlessly switch between sitting and standing positions throughout the day, reducing the negative effects of prolonged sitting and promoting a healthier lifestyle.
Plus, with its sturdy steel frame and sleek design, the Autonomous SmartDesk Core is a stylish addition to any workspace. Say goodbye to discomfort and hello to productivity with the Autonomous SmartDesk Core! And … Easter is the best time to get this desk at a good price!
2. EUREKA ERGONOMIC L60 L-shaped Standing Desk: Keyboard tray
It's time to get this Easter deal! The EUREKA 60" L-shaped Standing Desk is a touchscreen desk. It is very durable and affordable. The installation shouldn't take more than an hour, and once it's done, you'll have a stunning, sturdy desk for all your gaming needs. 
Its control panel can hold up to three height presets between 27.8 and 47.6 inches. 
3. EUREKA L60 L-shaped Standing Desk: Programmable Keypad, Right-handed
The EUREKA L60 L-shaped Standing Desk is way different from the other tables on this list.
Therefore, the simplest way to get a standing desk for yourself is to buy one of these. They come in several sizes, and you can easily move the handle to go from sitting to standing, even though it isn't automatic. 
4. Lamp Depot RGB Corner Lamp: Remote Control
This is a stunningly designed, space-saving desk lamp from Lamp Depot. The Corner Lamp fits wonderfully in all corners of your house. This sleek lamp has integrated soft-white LEDs that will give you hours of personalized lighting. In order to obtain the ideal lighting, you can simply check all its multi-color effects with the intuitive remote control. Its high-end design will make a good impression on your guests without taking over your space, thanks to its high-quality metal finishes and a weighted rubber bottom that ensures a safe installation. 
5. Wistopht Filing Cabinet: Standard
You cannot miss this Easter sale furniture! The Wistopht Filing Cabinet is a straightforward, cutting-edge workplace accessory that offers more than just storage. A great idea is to add a footrest because of its great weight capacity. Use this versatile organizing tool to keep your work environment clean and organized. 
6. FinerCrafts Standing Desk: Curved Top
If you don't have too much money to spend, you can also get fantastic items from our store. With plenty of room for setting up your laptops and other devices, the FinerCrafts Standing Desk is one of your best options. It also helps to have better cable management. 
You can choose from a range of 26.75 to 30.75 inches in height adjustment, which isn't the widest range available on this list but is still comprehensive enough. 
7. WalkingPad Foldable Walking Treadmill C2
With the help of the lightweight, smart, and storage-friendly WalkingPad, you can easily do a fast workout no matter where you are. Don't miss out on an amazing Easter deal on this amazing product! 
When the weather, your mood, or any other factor prevents you from going to the gym, this portable treadmill can help you stay active throughout the day. 
Thanks to our creative folding method, it can fit in small storage spaces. Its scroll wheel makes it portable, so you can take it anywhere you go. 
8. KERDOM FelixKing Ergonomic Chair: Lumbar Support
Spring into the season with Easter deal on KERDOM collection! Thanks to its self-locking reclining mechanism, you can lay down and take a nap in the KERDOM Ergonomic Chair without worrying about it swaying or getting damaged. With its adjustable seat depth ensuring that your knees and feet will rest appropriately, this high-back office chair with a headrest is also ideal for short people. 
9. Wistopht SmartDesk Core: Anti-collision & USB Ports
The Wistopht SmartDesk Core motorized ergonomic standing desk takes pride in its stability. Most standing desks tend to wobble, which can distract most people when working or gaming. On the other hand, this desk is so sturdy that you could hang a hammock underneath it and use it as a bed while you're not working. 
It is available in a wide range of colors and patterns. This is the perfect desk for those who want a sturdy place to work and study because of its amazing features, which include an anti-collision sensor and cutting-edge stability bracing. 
10. The Office Oasis Dual Monitor Stand
Don't let this Easter deal on The Office Oasis' products pass you by! You can set up numerous monitors and put your other items on top of this stand without worrying about it breaking because it can support displays of up to 75 inches. 
Many people tend to hunch when working on their computers, which can result in neck strain, back pain, and bad posture. This ergonomic stand improves all of this by raising your screen to eye level. 
Moreover, you can use the area under this stand to set up a practical printer station, store gaming equipment under a console, or arrange office accessories for your business. 
11. Mount-It! Keyboard Tray: Clamp-On
You can free up desk space by installing your keyboard under your desk. Mount-It's keyboard tray's position can be adjusted by pulling or pushing the plate. This allows you to adopt a neutral stance at your workplace to improve ergonomics. Make the most of Easter sale online on this product and transform your workspace into a smart and productive space that you'll love spending time in.
12. Logicfox Ergonomic Office Chair: Saddle-shaped Mesh Seat
This premium-quality ergonomic office chair has a strong backrest structure and seat cushions. The grid-weaving technique used in the mesh material of the backrest and seat makes it more breathable and skin-friendly. This ergonomic chair offers plenty of support and sturdiness while the user is seated.
The saddle-shaped seat's highly elastic mesh satisfies the ergonomic mesh office chair's needs. This adjustable ergonomic office chair has many features. It is a high-back desk chair with lumbar support and a height-adjustable headrest. 
13. Gravastar Mars Pro Bluetooth Speaker
Upgrade your home decor this Easter with our beautiful and affordable furniture pieces, available for purchase during our Easter sale online. You will get amazing sound produced by this passive bass radiator and two-speaker setup. Also, any game setup you install will benefit from its distinctive post-apocalyptic appeal caused by the handcrafted war-damaged finish. 
The sturdy zinc alloy spherical shape makes it possible for sound to echo clearly inside your home. Furthermore, its stability is ensured by the triangular support structure's shock-absorbing shape. 
14. Aiterminal Ergonomic Tempered Glass Desk: USB Ports
Celebrate the season in style with greatest Easter holiday deals on Aiterminal Ergonomic Tempered Glass Desk! Your gaming sessions won't be interrupted anymore with this beautiful Aiterminal Ergonomic Tempered Glass Desk. This standing desk features USB ports and a big enough surface to hold all your gaming gadgets and accessories. It also has a soft texture that removes all smudges and stains that could stain your gaming setup. 
15. Logicfox Ergonomic Office Chair: Double Lumbar Support
Give your workspace a fresh new look this Easter with our unbeatable Easter discount on Logicfox Ergonomic Office Chair. The adaptable 2D lumbar support is one of the main reasons why the Logicfox Ergonomic Office Chair: Double Lumbar Support is so popular in our store. This is a top-notch design that we refer to as the Lumbar and Back Separation Design. It gives your waist complete support and eases lower back strain. Moreover, it has a range of up to 40° seat tilt and numerous lockable configurations. 
16. Pilot Labs Moorebot Scout: Mobile Robot for Home Monitoring
Don't miss out on the opportunity to transform your home with our Easter sale on this amazing robot. Scout is a mobile AI-powered robot with four Mecanum wheels that allow you to observe, learn about, and explore your surroundings. It is ideal for those that enjoy technology and robots. Moreover, it comes from a free source project called Scout. 
17. EUREKA 60" L-shaped Standing Desk: Programmable Keypad, Left-handed
Make this Easter a time for renewal with our beautiful and affordable Easter sale furniture pieces. This L-shaped standing desk's sturdy, rectangular tabletop is more than enough to support several monitors. This desk also features a handy cable tray to keep things looking neat. 
The adjustable height ranges from 29 to 49 inches and can be altered using the four programmable presets. Moreover, you can share this desk with someone who is a different height from you, as you will only need to press a button to get it to the height you prefer. 
18. WalkingPad Foldable Walk-Run Treadmill R2
The WalkingPad Folding Walk-Run Treadmill R2 can be conveniently folded for storage. It allows you to catch up on your favorite shows or make phone calls while exercising. This is the ideal way to be active without leaving your home or wherever you feel more comfortable. 
This WalkingPad can be folded and stored in less than three seconds because of the innovative space-saving design. The treadmill is designed with anti-slip vertical storage and can fit comfortably beneath your couch or bed. 
19. WalkingPad Double-Fold Walk-Run Treadmill
This is the first time double-fold technology is used on a treadmill, making it a groundbreaking improvement for your home. While not in use, the WalkingPad Treadmill can be folded and stored away. 
Also, this wonderful gadget offers all the features you need. It offers a wide running area, allows you to connect your smartphone, and features an adjustable speed digital wheel display. 
20. Wistopht DIY SmartDesk Frame
Don't miss out on our incredible Easter sale furniture for this product! Clients can choose from various sizes for the Wistopht DIY SmartDesk Frame, making it ideal for all sorts of rooms you may place it in. In addition, you only need to connect its legs before using it. 
Many monitors and gaming setups will fit nicely on this desk due to its high stability and sturdiness. Moreover, a helpful cable management tray is included to help you organize your cords and keep everything clean. 
21. Logicfox Ergonomic Office Chair: Saddle-shaped Sponge Seat
The graphite frame of the Logicfox Sponge Chair is strong and durable, and its plastic components are used to support the chair in its smallest areas. It's a terrific ergonomic choice for your home office because most of its settings can be altered to meet your specific requirements, such as height, weight, and special ergonomic needs. 
22. The Office Oasis Office Chair Wheels: Rollerblade
You'll get all the dynamic support you need in this chair to move and stretch however you like.
This chair offers the necessary ergonomic support thanks to its adjustable height, seat, arms, and lumbar support. It also includes a fresh and sturdy woven mesh back that adapts well to your back and provides proper airflow while sitting. 
23. KERDOM FelixKing Ergonomic Chair: for Wooden Floor
This is another amazing product that you should get on Easter sale season this year. Many of the ergonomic features of this chair allow you to customize the settings to suit your individual physical characteristics. 
Also, it features an ergonomic mesh back and seat cushions that will keep you comfortable, and health experts have approved it as a great ergonomic chair for all office workers and gamers.
24. FENGE 2-tier Standing Desk: Tablet Stand & USB Ports
The FENGE 2-tier dual monitor standing desk will irrevocably change your gaming experience. Forget about worrying about your table lacking toughness or resistance. This table can handle up to 535 pounds, which will help you finally achieve the gaming setup you've always dreamed of. 
Thanks to its excellent motors, you can choose your desired height from its wide range, which goes from 25.5 inches to 51.1 inches. This gaming desk definitely offers the best features and ergonomics. 
25. Lamp Depot Magnetic Levitation Lamp: Floating Moon
You can add a lot of sophistication to your home by using this floating lamp to showcase the beauty of the solar system. This magnetic levitation-powered LED light floats and rotates freely above its base, giving a wonderful look to any room you place it in. 
26. Uncaged Ergonomics Wobble Stool Standing Desk Balance
Shop from the comfort of your own home with our Easter sale online, offering stunning furniture pieces at amazing prices. And… Uncaged Ergonomics Wobble Stool is an awesome piece for your home office. The stool is a fun chair that allows for effortless movement while you're sitting on it. It tilts and moves organically in whichever direction you choose, helping you to be more active and productive at work, home, or any other place you choose. 
27. FENGE Electric Standing Desk: 2-Tier Desktop
This electric standing desk has a strong steel frame, an electric motor, and lifting column connectors made of aerospace-grade materials. 
The adjustable desk can be quickly and easily installed by following the step-by-step instructions provided with the purchase, thanks to the pre-drilled tabletop and letter-coded pieces. Hop on over to our store and take advantage of our Easter deal on FENGE desk!
28. KERDOM Ergonomic Chair: Contoured Seat
Our Easter discount on furniture gives you a great opportunity to renew your home workspace this holiday season. And KERDOM is such an incredible chair that you cannot miss. This reclining chair can support up to 400 pounds, making it the perfect choice for tall and bigger people. You can get the neck and lower back support you need from its memory foam. This ergonomic chair with lumbar support stands out from others on the market because of its headrest, which supports your entire spine and improves your posture.
Bottom Line
Now that you know some of the cool desk accessories, furniture pieces, and gadgets you can get from our store, such as a trendy desk pad, all you have to do is click on any of them and add them to your cart to enjoy your new addition to your house.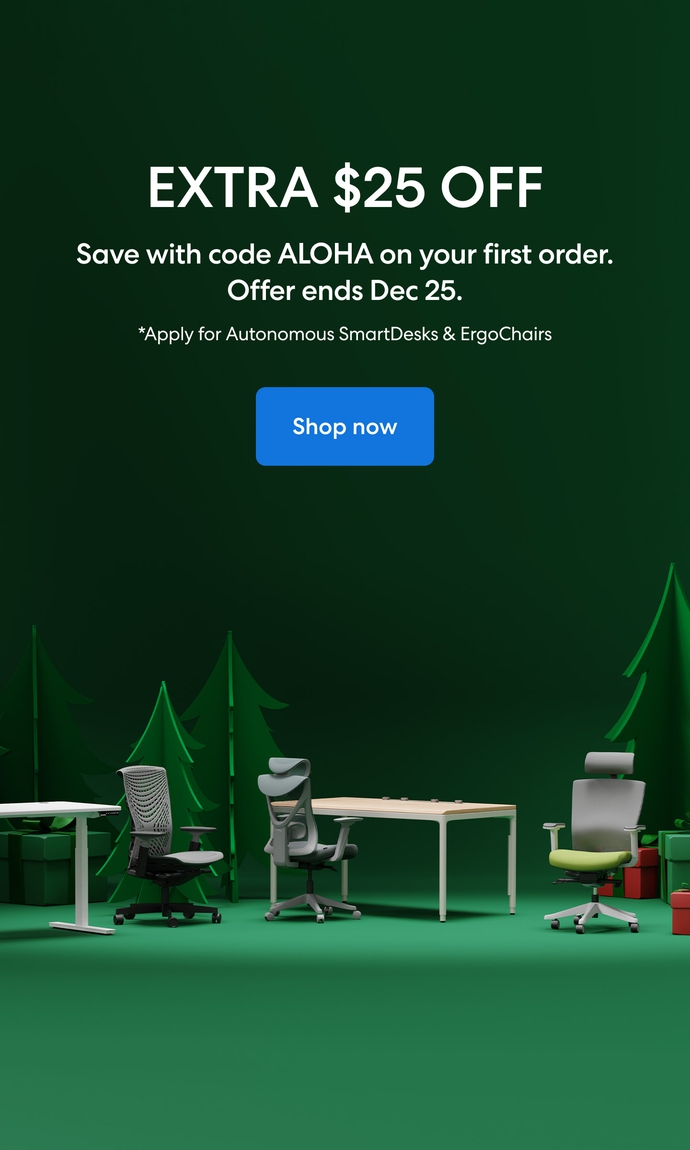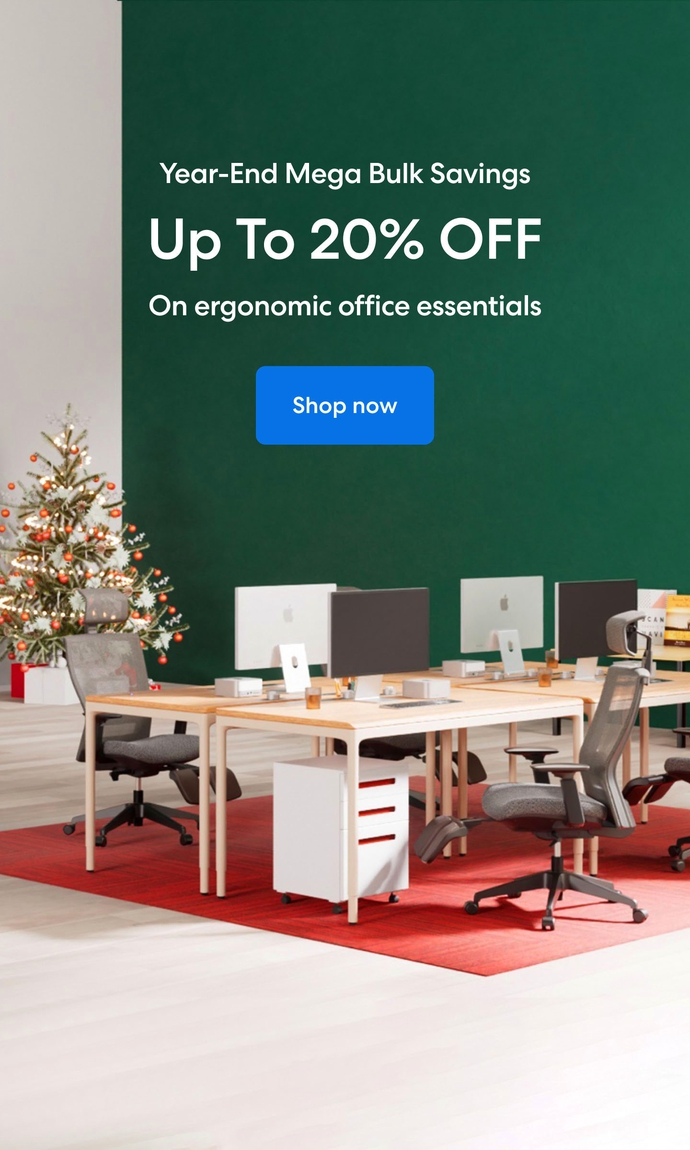 Subcribe newsletter and get $100 OFF.
Receive product updates, special offers, ergo tips, and inspiration form our team.