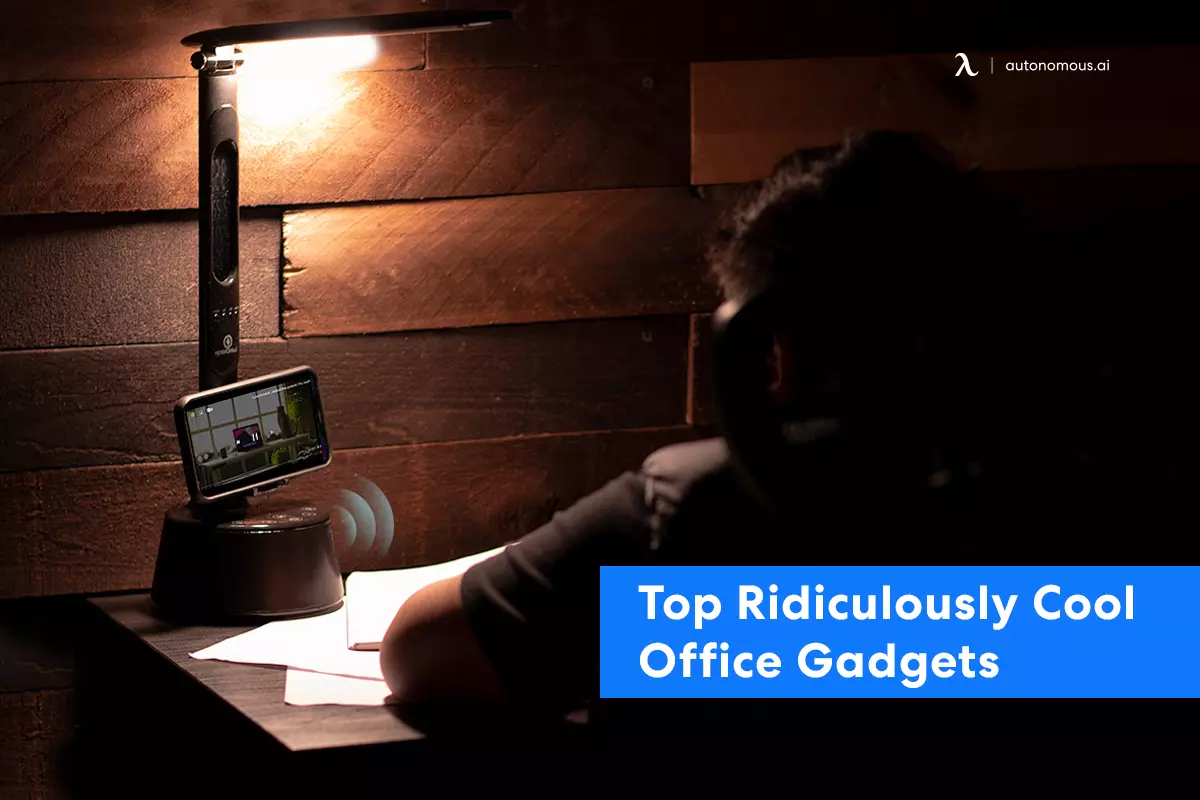 Smart Products
20 Must-have Office Gadgets to Build a Geeky Desk Setup

Autonomous
|
Mar 24, 2023
5,594 Views
If you get the right office gadgets, you'll feel more productive and motivated, and you would get through your to-dos without boredom taking you. 
A geeky setup with smart office gadgets could change your perception each time you sit down in front of the monitor, so buying the best products is a must. However, you need top-notch alternatives to evaluate.
20 Cool and Smart Office Gadgets for Geeks
1. Lumicharge LED Desk Lamp with Smartphone Control
A LED lamp with Bluetooth speaker, a phone charger, and mobile app control features is one of the best office desk gadgets to add to your surroundings. 
Lumicharge's option is affordable, but most importantly, a very convenient alternative to pick because of its functional features and high-quality, long-lasting body. 
With smartphone-control lights, you're able to quickly go through your to-do list without worrying about lighting. You can adjust them with a few taps, and it'll just take some seconds! 
2. Lumicharge LED Lamp with Wireless Charger & Speaker
Everyone needs a fast-charge dock to make sure their iPhone or Android doesn't die on them in the middle of an important meeting. 
However, a LED lamp with a charger is a much better gadget because it's multifunctional. Lumicharge's alternative allows you to lighten up your desk while also helping you keep your devices at 100%. 
You can choose between three different light colors and numerous levels of brightness. Plus, it has a built-in Bluetooth speaker, a calendar display, and a 10W wireless charger! 
3. Gravastar Mars Pro Bluetooth Speaker
If you ask people, they'll say Mars Bluetooth speakers are famous among other office tech gadgets because they look like they're out of a Sci-Fi movie. 
Gravastar's alternative features a zinc alloy frame, a 15-hour battery life, different RGB lights with various modes, and a sensitive touch volume control.
It's one of the best office tech gadgets to get to project high-quality, loud sounds onto your workspace. Blast those speakers while listening to music and going through your to-dos! 
4. Lamp Depot 3D WiFi Holographic Projector: LED Display
Whether you want a LED display to light up your surroundings or just a cool gadget to incorporate into your office, Lamp Depot has the ideal option. 
Even though 3D LED projection is relatively new, Lamp Depot's product is one of the best alternatives to purchase because it's innovative, customizable, and long-lasting. 
You can connect it to WiFi or use a memory card to project different images. Furthermore, you're also able to edit the display, and if you have any issues, a one-year warranty is available for you to contact the brand. 
5. Cloud Nine ErgoTKL Split Mechanical Keyboard
When you're going through different office gadgets, you must remember that you don't need a lot of stuff to get your work done. If you buy the right products, you'll be able to go through your to-dos without much of a hassle. 
However, a high-quality mechanical keyboard is one of the essentials. If you're spending a lot of time in front of your computer and writing long texts, it will protect your wrists and help you get your tasks done faster. 
Cloud Nine's option is affordable and focuses on ergonomics and top-notch features that any office worker will need to boost productivity. Take your office to the next level with this keyboard! 
6. Pixio Monitor PX275C Prime
As was mentioned before, getting the essential office tech gadgets is the most crucial part of putting together a functional workstation. 
A monitor is for office workers what the best small gaming mouse is for gamers, so Pixio's alternative will change your life if you're looking for something functional and long-lasting. 
Pixio's monitor is one of the best accessories to get. You can use it as a second screen to focus on a few tasks at once, rely on its beautiful HD images to get through your to-dos, and more. 
Since it has different customizable features, it's the ideal alternative to incorporate into your office to make it more modern and functional. 
7. Finercrafts Monitor Arm
If you're getting a high-quality screen, you'll probably need a monitor arm to put it at the perfect height. 
Eureka has a top-notch option to get, especially if you're going through different office tech gadgets and want to find the best ones for your workstation. 
With this monitor arm, you'll be able to mount your screen and put it at the height that works for you. It helps you avoid eye strain and neck pain, and it boosts productivity too. 
At the same time, the Finercrafts monitor arm is affordable compared to other office desk gadgets, so you should add it to your list if you're on a budget. 
8. Mount-It! Under Desk CPU Holder
Functionality is key when you're putting together a workstation, and it's the first factor you should keep in mind while going through different office gadgets. 
The alternative by Mount-It! Is definitely a top-notch option in terms of functionality and convenience because it's an under-desk holder for your CPU. 
Although gamers are famous for putting together big computers, you may need a CPU holder if you're into larger machines. 
In other words, not everyone uses a laptop, and if you don't, you'll need the right place to put your computer. Get this holder and solve the issue! 
9. Halo Energy Sword LED Desktop Lamp by Toynk
Lighting can entirely change the way any room looks, and if you have the best office smart gadgets to make your surroundings look better, why not give them a go? 
You don't need to be a tech-savvy person to have cool RGB lights in your workstation. Toynk has an accessible, affordable, and beautiful alternative - a Halo energy sword replica! 
The replica stands 14 inches tall, so it could be the ideal addition to your standing desk if you already have the essentials you need. Toynk's product has quickly gained fame among game lovers who work in office spaces, and it's time for you to get yours! 
10. Odyssey Neo G8 Monitor by Samsung
You can make a splash on your workspace by incorporating the best office tech gadgets, such as a hi-tech desk, lights, etc. In many cases, phone and tablet accessories can also make an appearance! 
Samsung's monitor is not cheap, but for many people, it's worth it. It has a 4K 1000R curved screen, and its exterior is white, so it looks very futuristic. 
As you can see, the Odyssey is not the product you should get if you're on a budget. However, if you don't mind breaking the bank, you'll get top-notch features, including a 240Hz refresh rate. 
11. Razer Stream Controller
Many geeks get office tech gadgets because they want to do other things on the side, such as streaming or just having fun with friends. 
If you're into streaming, Razer's controller will make everything easier. It gives you quick access to different options since it has six analog dials and 12 various switchblade keys to choose from. 
12. NeoNoir Collection Workspace Series by Steelseries
You don't need too many office gadgets to build the perfect geeky setup. On the contrary, you can create the space you want with just a few products, especially when you figure out a way to correctly distribute your budget. 
The NeoNoir collection that Steelseries offers has different office tech gadgets, such as mousepads, headphone speaker plates, and so on. They're all colorful and they give off geeky vibes, so adding them to your workspace will completely change its atmosphere. 
13. Nanoleaf RGB Smart Lighting Panels
Creating a geeky aesthetic is completely possible when you know what office tech gadgets to buy. Overall, lights can go a long way, and Nanoleaf has the ideal ones to add to your workstation! 
When the lights are off, the lighting panels look like black triangles, giving your room a unique look too. Lastly, they're affordable, so incorporating them into your surroundings won't be so hard if you prioritize style. 
14. Kross Studio's Watch Winder
Star Wars fans will have a great time putting together a functional and geeky workstation, and if you get the Watch Winder by Kross Studio, everything can be even easier! 
Darth Vader's star fighter inspired Kross Studio's product, and any Star Wars geek will recognize it immediately. It's one of the best office desk gadgets to incorporate into your surroundings! 
Even though it's not one of the essential computer accessories you'll need to make your office space work, it's a fantastic item to make your desk look better and lift your spirits. 
15. Pro Sweatproof Gaming Mouse by Marsback Zepher
Keeping your hand cool while you're working or gaming could be challenging, especially when you have to spend hours in front of the monitor. 
However, Marsback Zepher has the ideal solution: a sweatproof mouse. It's a high-quality gaming accessory with an integrated fan that will keep your hand cool at all times. 
Sweat can make your grip slip when you're gaming, and it could stain your mouse as well. Nonetheless, that won't happen if you get Marsback Zepher's product! 
Plus, the fan is very quiet, so no matter when you're working or gaming, you won't disturb others. 
16. Destiny x Steelseries Collection
Collections are popular among geeks, particularly if you love games such as Destiny or similar ones. Instead of buying one product only, you can get a few office gadgets that boost your productivity, improve your mood, or make things easier for you. 
Work and gaming could be more immersive experiences with the Destiny x Steelseries collection. Its mousepads have RGB lights, while the headsets will give you clear audio. 
17. Pro HyperSense Gaming Chair by Razer Enki
Building the best workstation or gaming area is all about focusing on the sensations in your body. Ergonomics help you ensure you won't experience tension while other features allow you to guarantee enjoyment. 
The Pro gaming chair is an ideal example of this. It has top-notch ergonomic features, a sturdy build, and a durable frame, which will make your experience much better. However, keep in mind that it's an expensive product, so if you prefer more affordable alternatives, you should pick Autonomous furniture instead. 
18. K60 RGB Pro Set Sail Collection by Corsair
Just because you're an office worker doesn't mean you must have boring surroundings. On the contrary - you can customize them however you want and make your workdays more enjoyable! 
Corsair's collection includes fantastic office smart gadgets to add to your shopping list because all of them have beautiful designs. With these, you can make your desk as quirky as you want! 
With any keyboard you get, you'll obtain high-quality cherry mechanical switches. Therefore, out of all the different office desk gadgets you can buy, these definitely stand out because they combine style and functionality
19. Trio's Portable Dual and Triple Screen Laptop Monitor
Years ago, laptops were so heavy that carrying them around was not an option. However, now that they're much lighter, you can easily put them inside a bag and take them to your favorite coffee shop for a quick work session.
Although it sounds futuristic, Trio takes things to the next level by offering you a portable triple monitor system for your computer. 
It's one of the best office desk gadgets to buy if you want to boost productivity while also enhancing functionality. You don't need three big monitors to be able to multitask anymore - Trio changed the game! 
20. Logitech's MXM 3S Wireless Mouse
The last item on this list is another high-performance mouse you'll want to check out if you care about the health of your wrists and fingers and want to be more productive during long work hours. 
Logitech's wireless mouse has the ideal shape for your hand, but it's unique due to something else: you can work with it on different computers and seamlessly transfer files and text, even between macOS and Windows. 
Final Thoughts
The right office gadgets can change your life because they'll boost productivity and help you feel more motivated. You should start putting your workstation together as soon as you can, so go through all the alternatives and choose your favorite ones!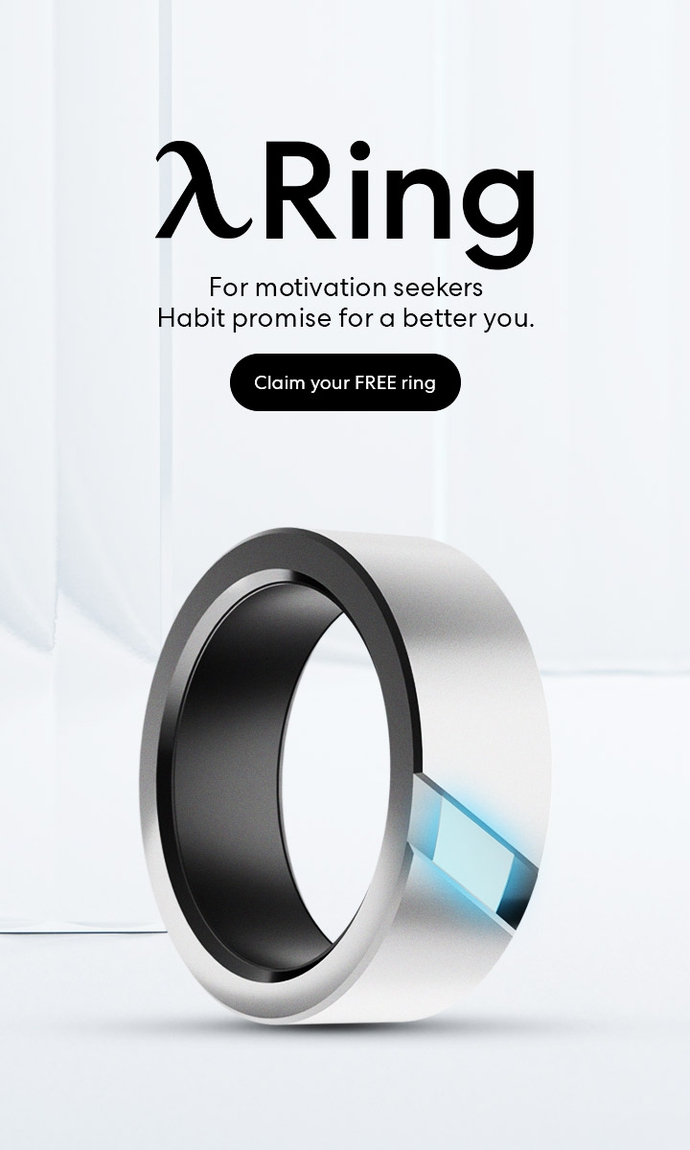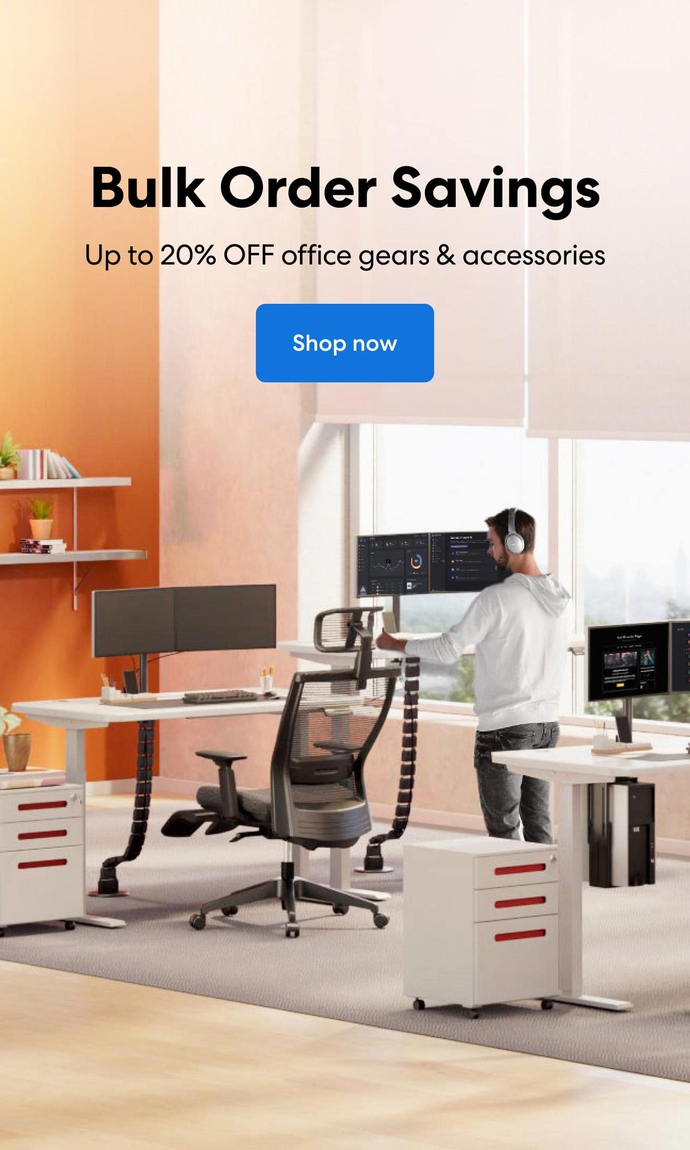 Subcribe newsletter and get $100 OFF.
Receive product updates, special offers, ergo tips, and inspiration form our team.