Smart Products
10 Best Glass L-shaped Computer Desks for Working and Gaming
327 Views
Home offices or studios - not to mention non-home offices - can be transformed with the right glass L-shaped computer desk. As you can fit them into practically any corner of a room, L-shaped desks let you work more comfortably than traditional straight desks but do not take up as much space as straight desks.
Besides being a space-saving option, an L-shaped desk is also the more excellent option for working with multiple monitors, switching between a computer, laptop, and other devices, or getting more space for files, documents, and peripherals. In addition to drawers, cupboards, and shelves, several of the quality L-shaped computer desks have additional storage solutions.
These are in the form of attachments that let you make better use of every nook of space on that particular desk. It is even possible to combine two separate L-shaped desks and create another U-shaped desk altogether and surround yourself with all the things you need to work productively if you need a large glass L-shaped desk with drawers.
1. EUREKA ERGONOMIC 60" L Shape Glass Gaming Desk: Music Sync RGB
This is one of the best seller desks from our Eureka Ergonomic store. Syncing your L-shaped computer desk DIY, lights, and music all in sync is a full spectacle thanks to the combination of Music Sync RGB LED Lighting Effects and Cool Glass Desktop. A new generation of GTG L60 lights-up glass desks from Eureka provides the ultimate gaming, music studio, and home office ambiance. Additionally, it has 27 music sync modes so that you can add synchronized RGB lighting to your gaming experience. There are also static modes, 10-spectrum cycles, and sleep modes. The speed at which the colors change and the light's intensity are all adjustable for a comfortable visual experience.
You can install this standup desk on either the left or right side of your room, depending on the space you have. This 60 in. gaming desk (60"W x 40" 2/8"D x 30"H) will let you set up your gaming monitors, keyboard, and other gaming gear in the way you see fit. Under the glass top L-shaped computer desk, the innovative frame design with a hidden strengthened structure provides even more storage and leg rest space.
Dimension
60"W - 23.6''D - 30"H
Material
Glass
Weight capacity
330 lbs
Feature
27 music sync modes & RGB lights with Bluetooth app control
Dual headset hook, rotatable cupholder, power strip holder, and adhesive cable ties for optimal organization.
Warranty
5 years
2. Techni Mobili L-shaped Glass Top Computer Desk
Designed with a minimalist yet functional aesthetic, the Techni Mobili glass corner desk can be configured to fit your preferences with interchangeable long and short desk segments. Designed with a heavy-duty 8mm tempered safety glass desktop and scratch-resistant powder-coated steel frame, it comes with a heavy-duty 8mm tempered safety glass desktop.
There is even a CPU caddy and a keyboard tray that can be pulled out on the desks. You can make an impression on anyone coming into the office with it. The room is big enough to accommodate additional equipment or set up two monitors! Assembly is easy, and it is ready to use.
Dimension
61.75''L x 45.25''W x 29.5''H
Material
Glass desktop, powder-coated steel legs
Weight capacity
Rectangular desktop panels: 66 lbs
Curved corner panel: 33 lbs
Warranty
5 years
3. Techni Mobili L-shaped Glass Computer Desk
Curved chromed steel frames have a stylish look. An ergonomic keyboard shelf with a safety stop slides out to create a spacious work area. This Techni Mobili L-shaped glass computer desk is flexible and can be configured to meet your needs; both the long and short sides can be interchanged.
There is a 110 lbs weight capacity for each rectangular desktop panel, a 66 lbs weight capacity for each curved corner panel, and a 33 lbs weight capacity for the keyboard tray. It is ready to assemble and easy to assemble. The black tempered safety glass desktop may be interchanged with the right or left side, and the chrome legs are curved to resist scratching.
Dimension
51"L x 51"W x 29"H
Material
Tempered glass top, powder-coated frame and floor glides
Color
Black
Weight capacity
Rectangular desktop panels: 66 lbs
Curved corner panel: 33 lbs
Warranty
5 years
4. Cabot L-shaped Computer Desk from Kathy Ireland
This option is a good choice if you're looking for an executive small L-shaped desk with a stately L shape. Although the desk is pricey, it features a finished back, file drawers, and a fluted glass door storage cabinet, making it an ideal choice for any home office.
A USB hub with four ports is built into the desk for your electronics, and there are two cubby shelves for stashing papers or laptops. A 23-inch wide and 10-finish option is available. There is only one downside: assembling it will take some time.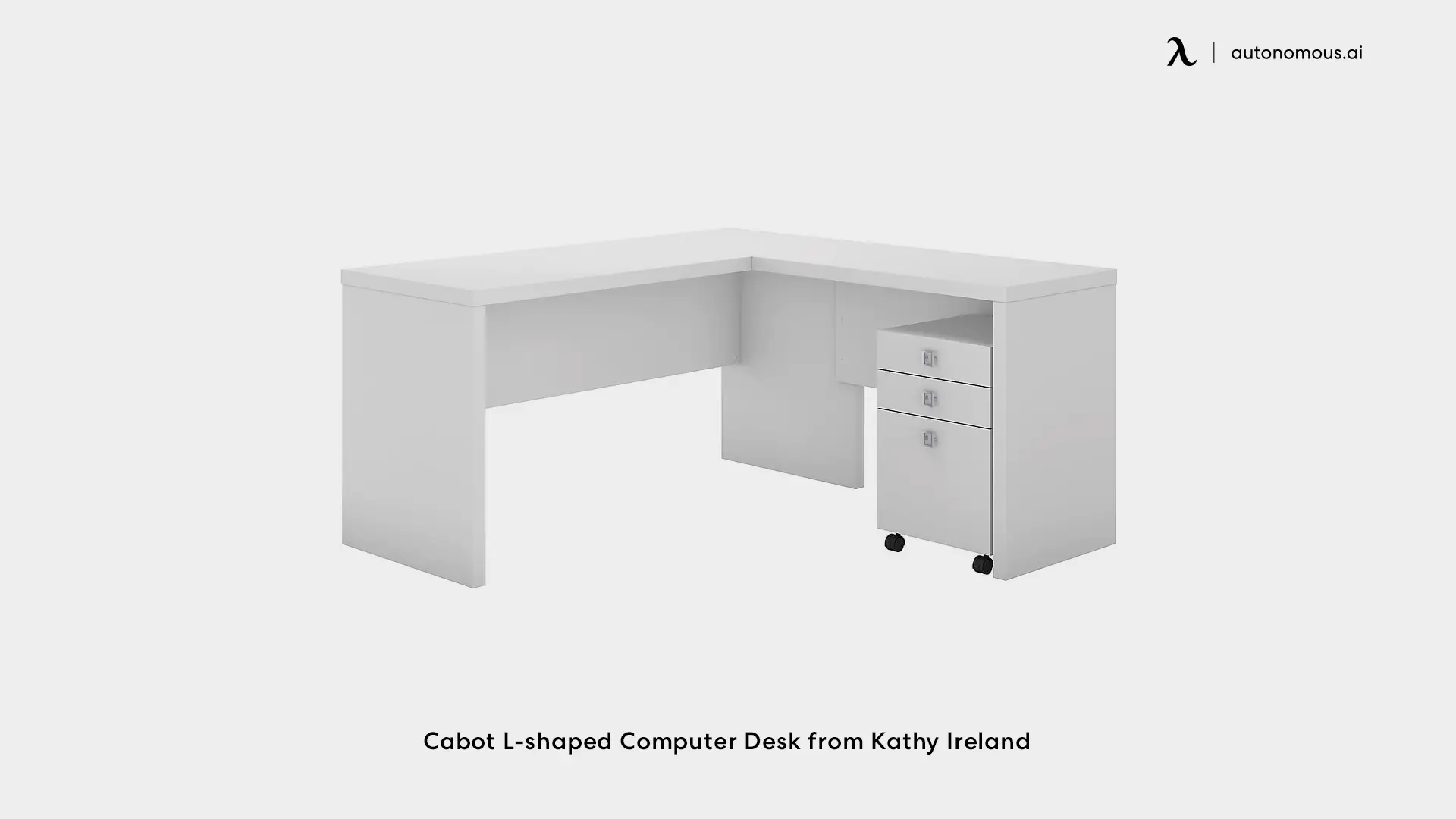 5. Brödan Electric Standing L Desk
A majority of L-shaped PC desks you can find on the market are built in the traditional, sit-down design type. There are a few sit-stand desk designs as well. Increasingly popular are standing desks due to concerns over the adverse effects of sitting for too long. Since most people will not want to stand all day, the fixed L-shaped desks aren't always practical. The Brodan Electric L-shaped desk is one of those rare examples of a height-adjustable L-shaped standup desk that can be seated and stood simultaneously.
Despite its bulk and size, a great build with good ergonomics makes this desk a five-star product. A nice detail like a desktop power port makes life a little easier, and the motor is silent and efficient for adjusting between three preset heights.
6. Sauder Northcott L-shaped Computer Desk
In order to achieve this balance, we must often make trade-offs. The lack of storage space that you get under this desk permits you to sit at any part of it since there is no storage underneath the L-shaped standing desk itself. However, the main advantage of this L-shaped desk is using the available space in the best way - with drawers and other storage options.
It's hard to argue with the balance achieved by Sauder Northcott L-shaped Computer Desk. Because it is slightly smaller than most glass L-shaped computer desks, it makes an excellent computer desk for any home office. Additionally, it has several different drawers, making it convenient to store accessories and documents. A drawer in the lower part of the cabinet is larger for easier accommodation of hanging files of legal size.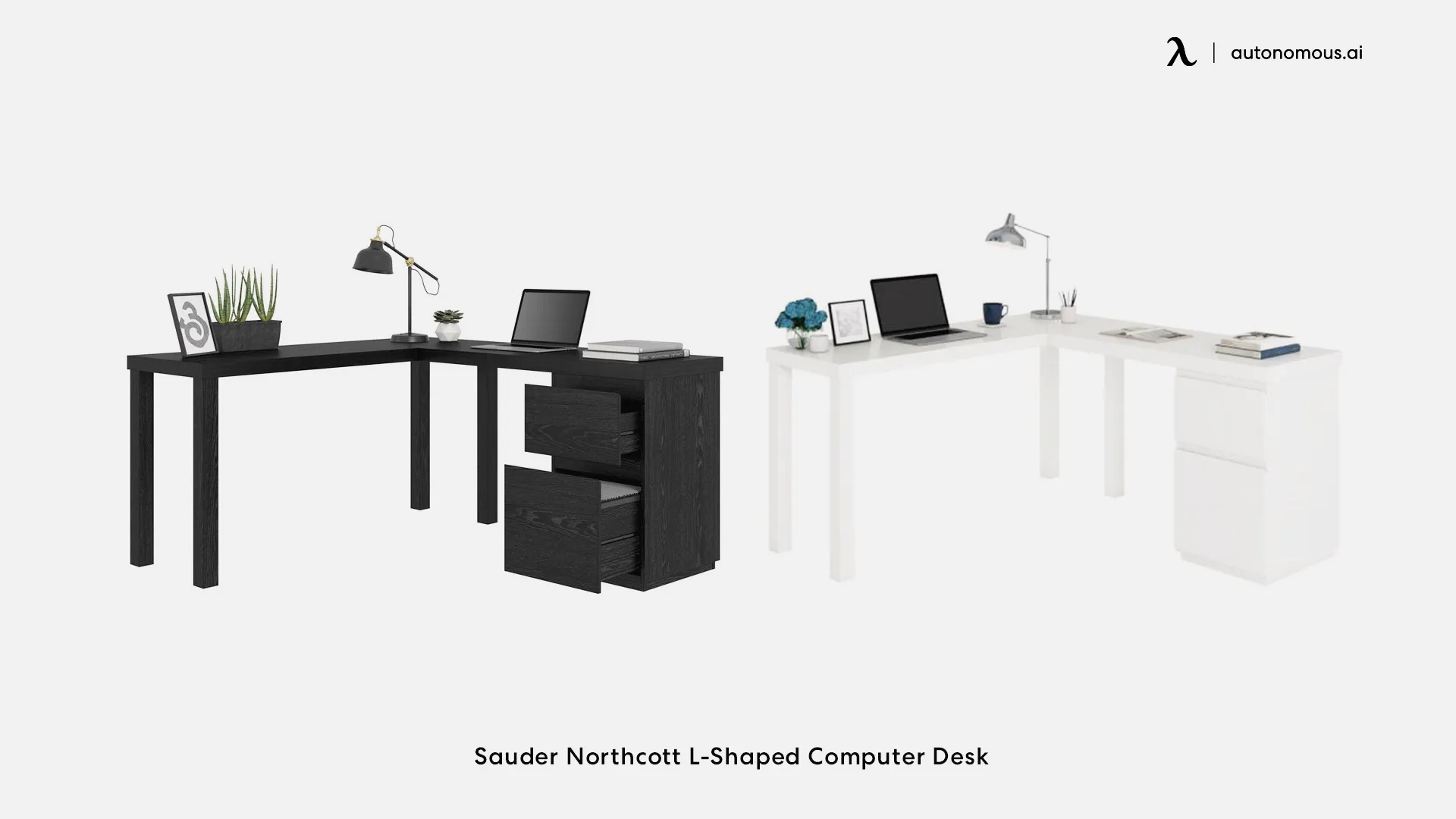 7. Reversible L-shaped Desk from East Urban Home
An L-shaped computer desk with tinted glass sides and a modern aesthetic is sure to send design-savvy shoppers swooning. Reversible allows you to adjust the desk according to your space, and the finished back makes it attractive no matter where it goes. Besides being stylish, the desk is also practical, with plenty of storage space. The cabinet has a computer compartment, two drawers, and a shelf that can be adjusted in height. The Scandi-style look is completed with matte black hardware.
8. Black L-shaped Computer Desk with Drawers from Greenvelly
Strong and durable, our metal L-shaped desk is made of thicker steel frames and reliable mechanical designs. Corner working desks have pads on the legs that keep them stable and non-slip and protect your hardwood floors. Legs stay comfortable for long hours of writing or working at this ergonomic height. A sturdy L-shaped desk with two sides and 56" glass tops provides plenty of space to store your laptop, monitor, and other study and office supplies.
It has a large top drawer that can be used for small daily staff, while the bottom drawer can be used for letters, A4 size file folders, or storing large items. It features a high-strength glass desktop with an 8mm thickness, whose edges have been sanded to give you a nice and smooth feel when you touch it. Transport damage is prevented by a thicker, Sager-reinforced package system and package quality.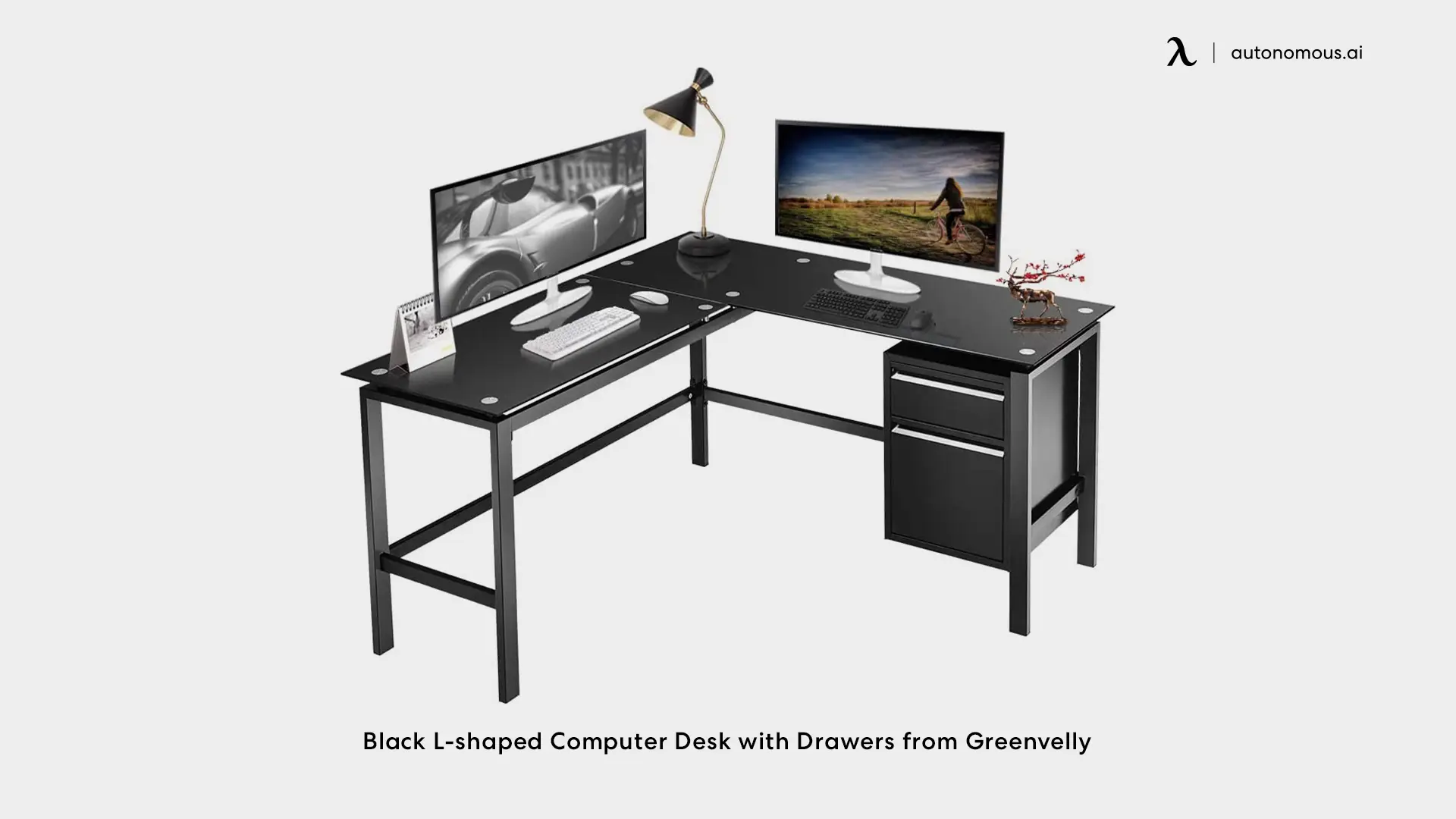 9. Belaire Glass L-shaped Computer Desk from Z-Line Designs
You can improve your workstation aesthetics with a glass-top office desk if you prefer a more traditional look. The worktop of this l-desk from Z-Line is the tempered safety glass that measures 5 millimeters and 6 millimeters. You can place it on either side of the desk based on your preference: the monitor display shelf and keyboard tray can be placed on either side.
This l-desk is more spacious, with a length of 60 inches on one side and with reinforced plates at the welding joints to ensure extra stability. Due to the weight of these materials, setting up the desk when you get it is challenging, but an instruction manual is available online.
10. Ellis Modern L-shaped Home Office Black Corner Desk from Walker Edison
Walker Edison Furniture Company's modern L-shaped corner desk is made of durable steel, strong enough to hold multiple monitors. High-quality construction is also enhanced by its thick, tempered glass. Plus, the desk has a sliding keyboard tray that can be mounted on either side of the desk, which helps save space. With this desk, you get even more room for your computer, desk supplies, and other accessories with this 51-inch long small L-shaped desk.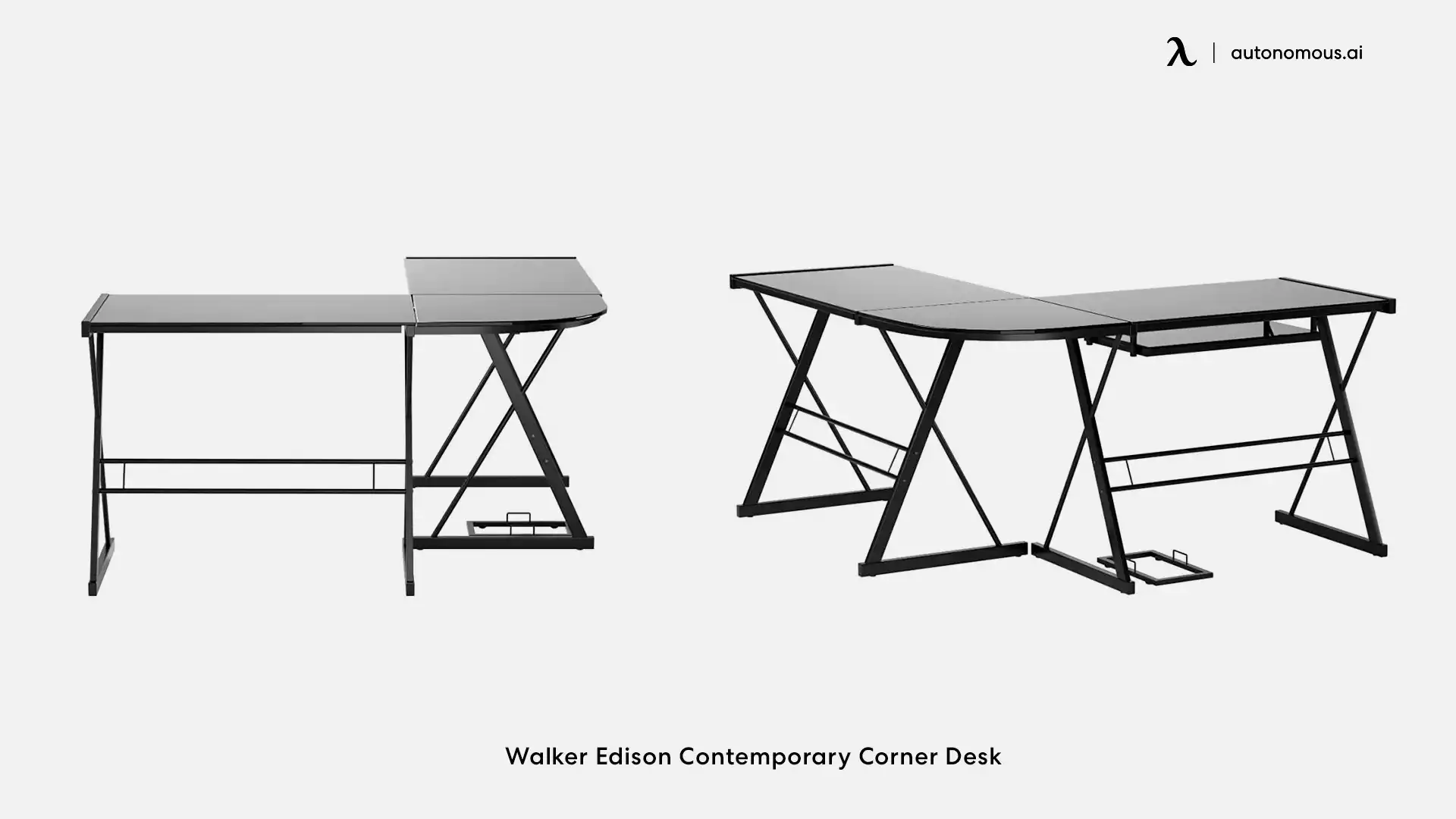 Hey, you have special pricing through your company.
Get exclusive rewards
for your first Autonomous blog subscription.
WRITTEN BYAutonomous
We build office products to help you work smarter.