Smart Products
15 Best Reclining Office Chairs in the UK: Most Comfortable Choices
3,633 Views
The chair you use in your home office should be given plenty of thought considering the time you spend sitting on it, but finding the best office chair in the United Kingdom isn't as easy as you would first think. It's essential to get one that's comfortable enough to use while working or gaming at your desk because it can be the place you spend the most time on while at home, more so if you currently work at home. If you're to take advantage of the situation, getting a reclining office chair in the UK can yield many benefits for your health and boost productivity.
It's too easy to get distracted and stressed while doing your regular desk work, so getting a good-quality office chair is vital to improve your work motivation. Using a reclining office chair lets you take a breather every once in a while. When you stretch and lean on the chair's backrest, you can quickly improve your mood and continue working.
Why Should You Get a Reclining Office Chair?
Most reclining chairs offer plenty of ergonomic features that make them incredibly comfortable while providing some health benefits. The most relevant one is that these chairs tend to support your posture by providing the necessary components by helping you enforce a neutral sitting position.
These reclining ergonomic office chair features can reduce the chances of suffering from many neck and back problems thanks to the inclusion of a headrest and comfortable backrests. A reclining work chair with leg rests is even more effective at helping you as these designs easily support the entire back and give you a place to rest your feet when you're leaning on it.
It's relevant to note that many reclining office chairs can make your work more efficient and productive thanks to these chair's friendly-user features. Pairing these chairs with a height-adjustable desk can improve your energy levels even more by letting you stand and work every once in a while. It can be worthwhile to buy a standing desk along with an excellent reclining desk chair in the UK to improve your work productivity and comfort.
Choosing the Best Reclining Office Chair in the UK
Although there aren't as many reclining office chair choices as there are in the United States, it doesn't mean that the number is low by any means. There still are an incredible amount of chairs with varying design characteristics, so picking out a good reclining desk chair in the UK can be quite challenging.
We searched among many options in the United Kingdom to make a list of the best reclining office chairs you can get. Here are some of the most comfortable reclining chairs we found:
1. Autonomous ErgoChair Pro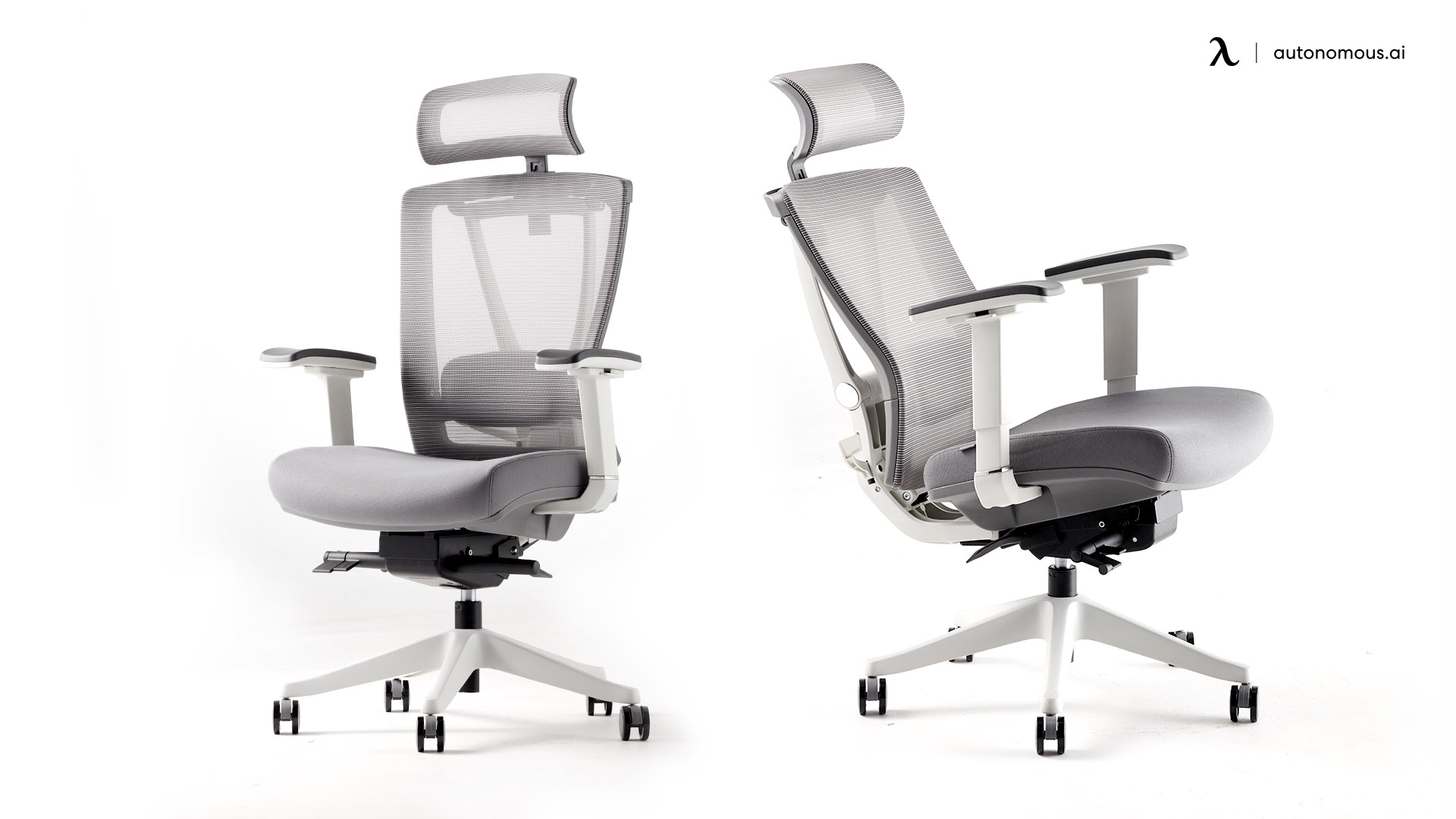 This Autonomous ErgoChair Pro uses the highest quality materials to make the most versatile reclining desk chair in the UK available for sale. It is one of the most popular ergonomic chairs in the UK as its features significantly improve your health and mood on your workdays while guaranteeing comfort and productivity. These entirely customizable characteristics let you easily tailor the chair to your needs, and the foam seats can keep their form over time while being even softer and more supportive than others. The chair backrest can recline up to a 20-degree range with the flip of a switch, letting you comfortably relax when you most need it.
Price

: $399 (£283)
The chair's backrest and seat use breathable mesh fabric materials that allow ventilation.
It uses environmentally friendly materials in its design.
It doesn't have a footrest.
2. Autonomous ErgoChair Recline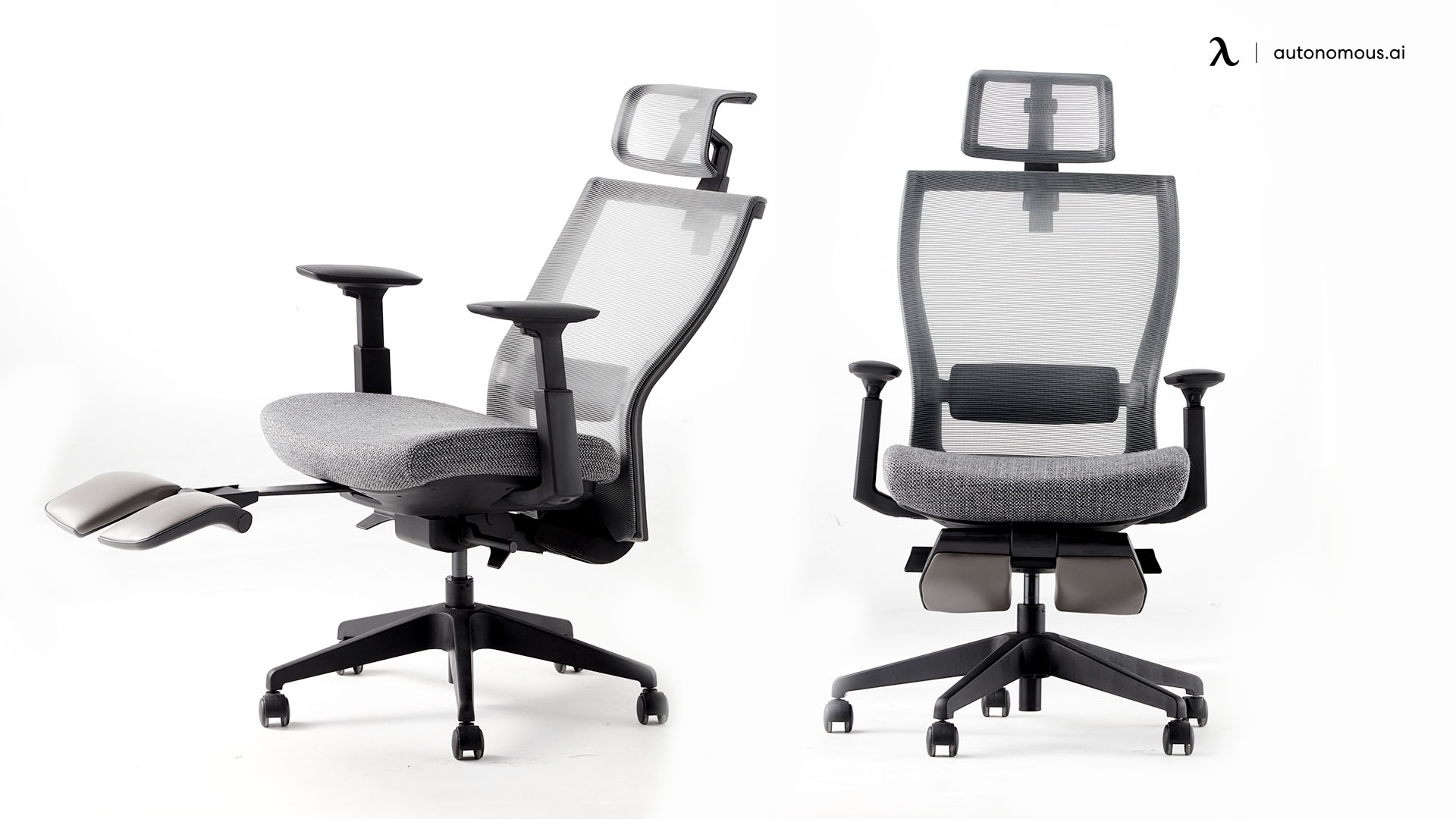 The ErgoChair Recline is one of the best computer ergonomic chairs in the market at a very accessible price. It has a great and simple design with easily reachable controls that let you adjust the chair's many features to your needs. With its reclining backrest and leg rest, you can smoothly do tilt mechanism, tilt the back and relax for a bit on the durable foam seat and mesh fabric backrest that supports and contours your back. It's probably the most customizable reclining office chair in the UK you can get at that price range.
Price

: $239 (£170)
The chair has an auto-balance mechanism that lets you recline smoothly.
It's very cheap considering the number of adjustable features it offers.
The chair can be hard to adjust for small people.
3. Autonomous ErgoChair Pro+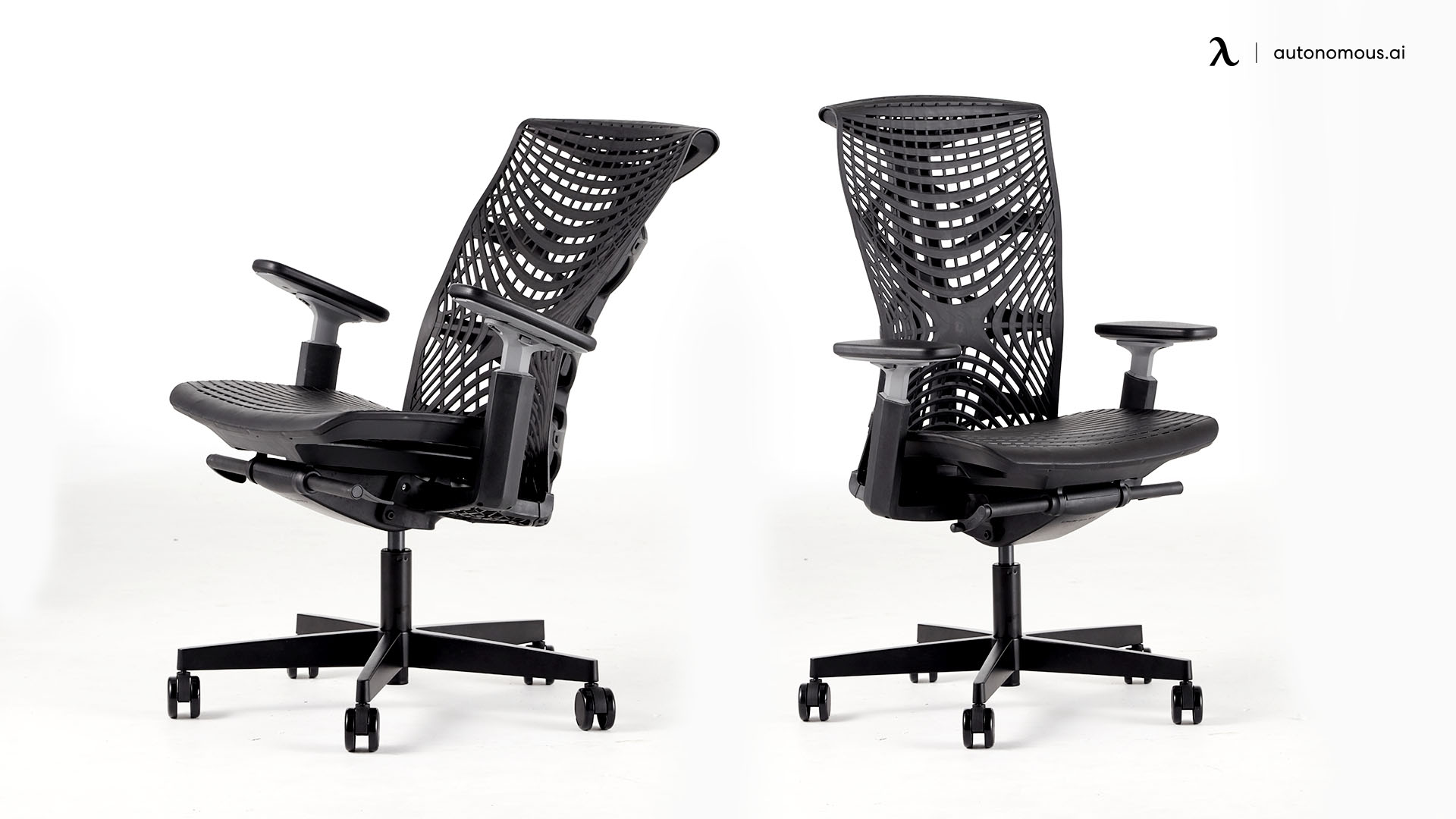 The ErgoChair Pro+ has a unique fishbone design for its backrest that uses an advanced TPE material, providing outstanding support and comfort for your spine. It encourages a sitting posture that improves your well-being while allowing some freedom of movement. This chair has a small reclining range of 25 degrees, but it more than makes up for it with its enormous range of adjustable features. If you need a reclining desk chair in the UK, this one is exceptional.
Price

: $449 (£319)
The chair's thermoplastic elastomer provides excellent back support.
The mesh fabric is very comfortable and keeps you fresh.
The ErgoChair Pro+ doesn't have either a footrest or a headrest.
4. SIHOO Ergonomic Reclining Office Chair
The chair's ergonomic design adopts an S-shape that allows it to adapt to your spine with the help of an adjustable fishbone patch. It has a reclining range of 170 degrees that can be locked when you need to sit or work and an adjustable footrest to improve your comfort even more. The chair has dense sponge-filled seats that give you a great deal of comfort for those long work sessions and a breathable mesh back that allows air to flow through. It's a good reclining office chair in the UK that misses some adjustable features.
Price

: £180
It has excellent lumbar support and an exceptional reclining range.
The chair's seat cushion is very comfortable.
It doesn't have adjustable armrests or seat positions.
5. Humanscale Liberty Task Chair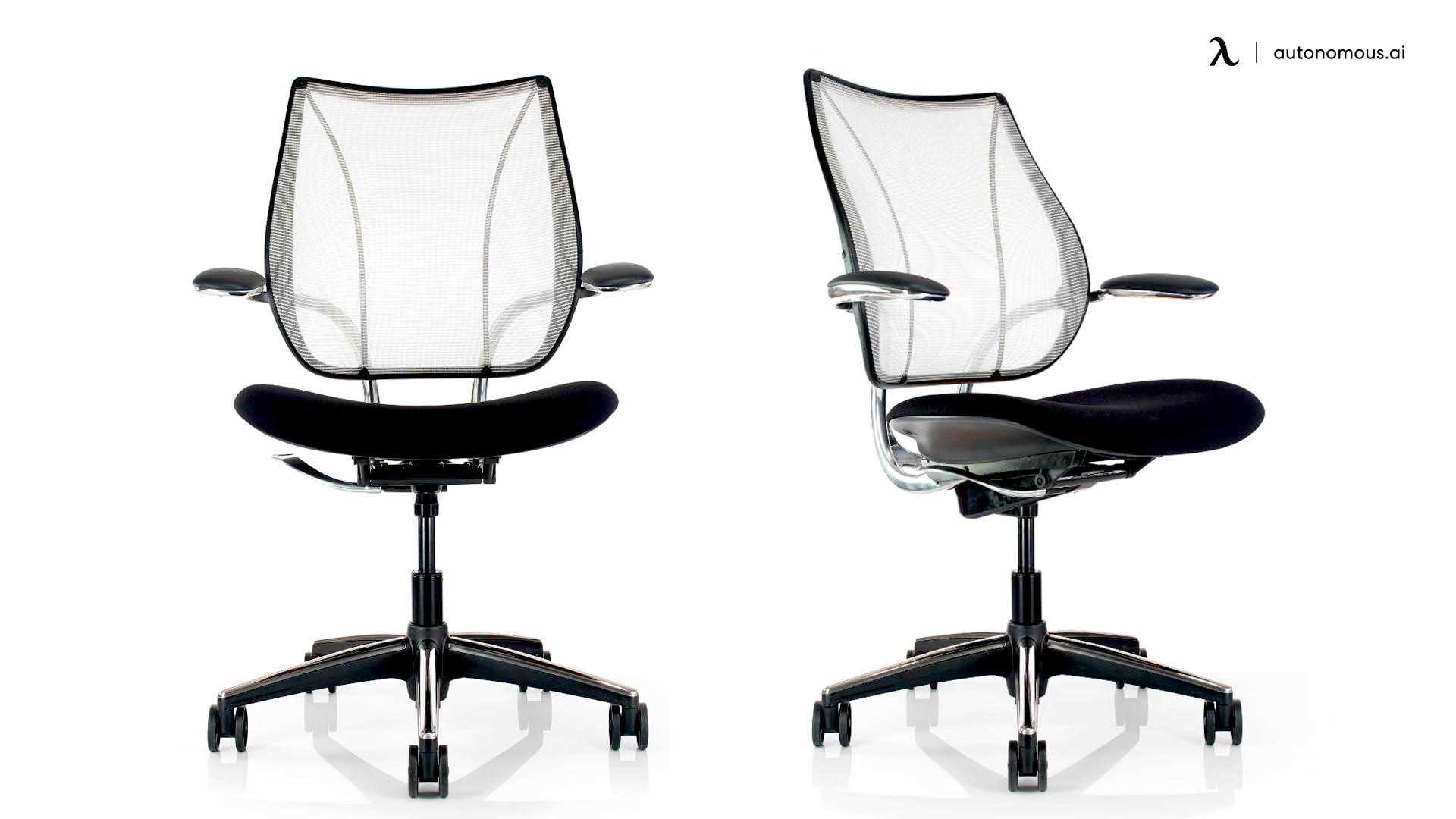 The Liberty Task chair uses a mesh fabric backrest that provides you with a fresh sitting experience. It has a minimalistic aesthetic design that lets it complement any modern office workspace. The chair also gives you excellent support and comfort thanks to its automatic recline mechanism and a three-panel mesh backrest, offering a custom fit for any person who sits throughout the day. With fewer parts than most traditional chairs, the Liberty Task provides more features than any other reclining desk chair in the UK.
Price:

£764
The chair's recline uses an automatic mechanism that considers your weight.
It has a minimalistic and aesthetically pleasing design.
The armrests can't be adjusted.
6. Noblechair HERO Ergonomic Chair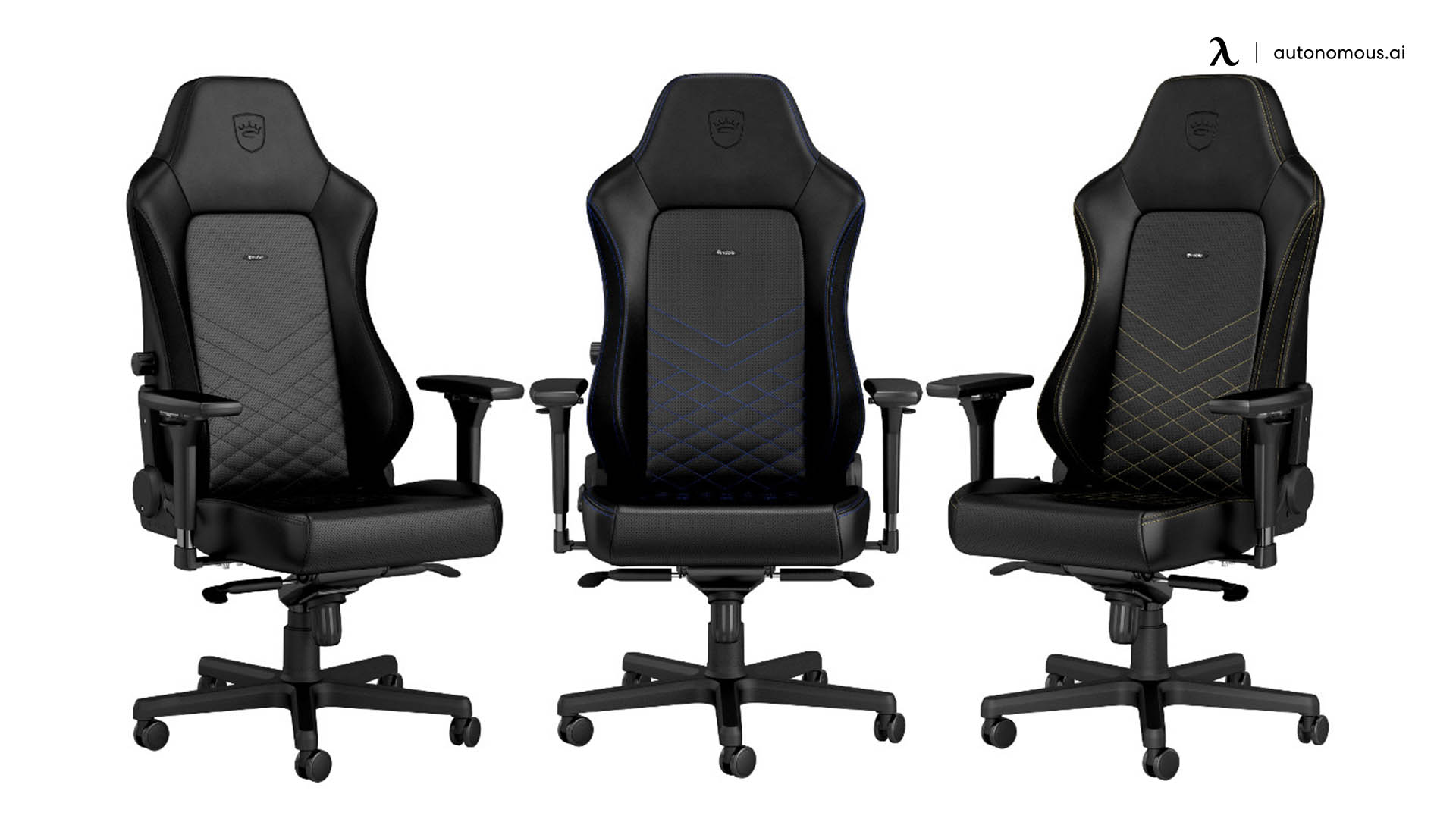 The noblechair HERO series ergonomic chair has a first-class design that offers your office an upscale look. It uses premium materials for its cover while having breathable foam upholstery resulting in an incredibly comfortable chair. If you want a comfy large reclining office chair in the UK, this chair is more than appropriate.
Price: £350
The chair has 4D adjustable armrests and a rocking mechanism.
It has a fully customizable integrated lumbar support.
The chair isn't suitable for small users.
7. IntimaTe WM Heart Reclining Office Chair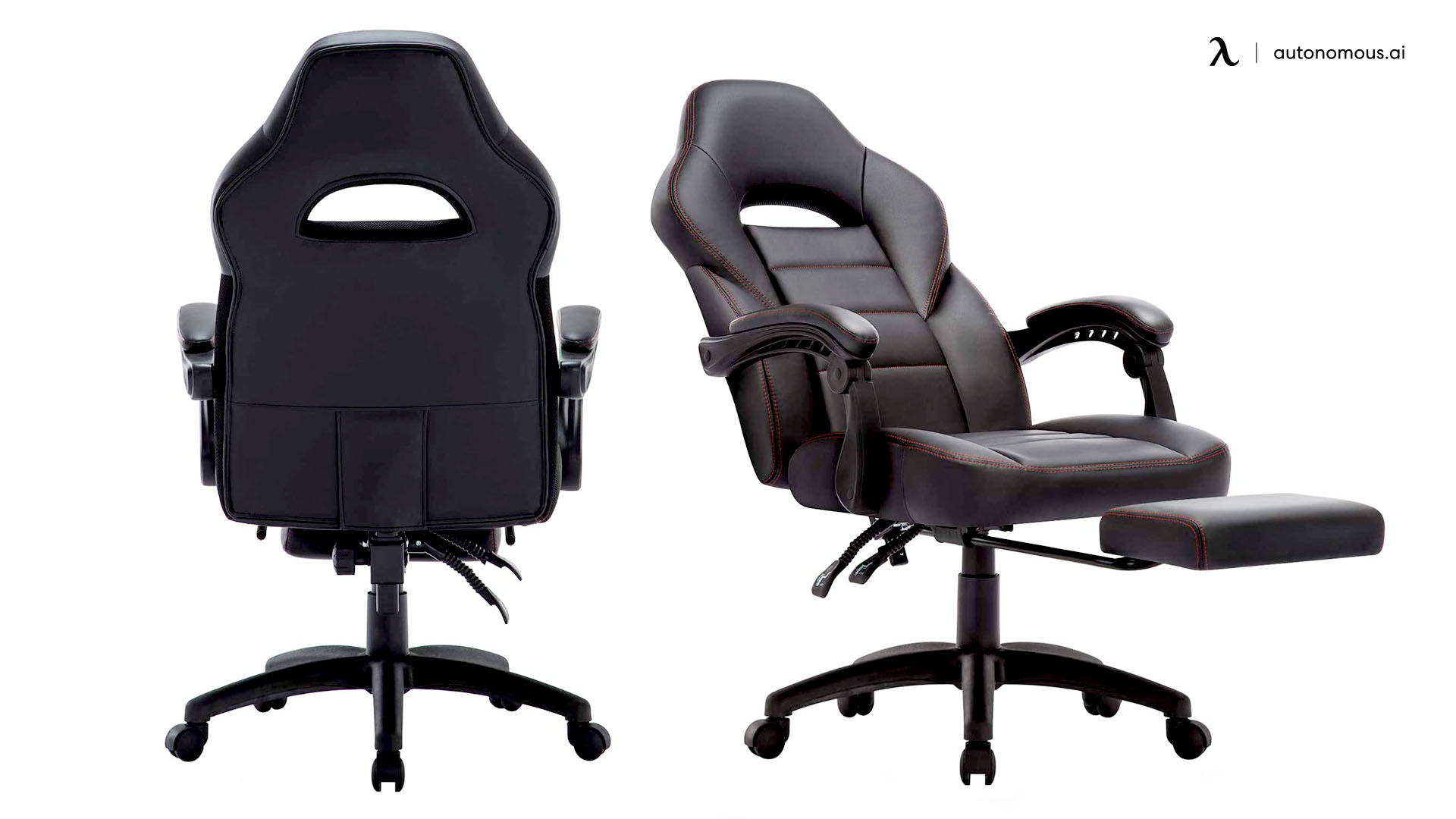 If you want a comfortable reclining office chair with a footrest in the UK that uses superior materials, the IntimaTe WM Heart chair is the one for you. The chair's backrest and seat use premium PU leather and high-density sponge materials resistant to deformation, providing an excellent and comfortable sitting experience for the users. It uses a synchro-tilt mechanism and has a 360 swivel function appropriate for people who work for long periods.
Price

: £115
It's a very comfortable chair with thick materials and a retractable footrest.
You can remove the head pillow and use it while reclining on the chair.
The reclining range is only 15 degrees.
It doesn't have lumbar support.
8. Herman Miller Aeron Office Chair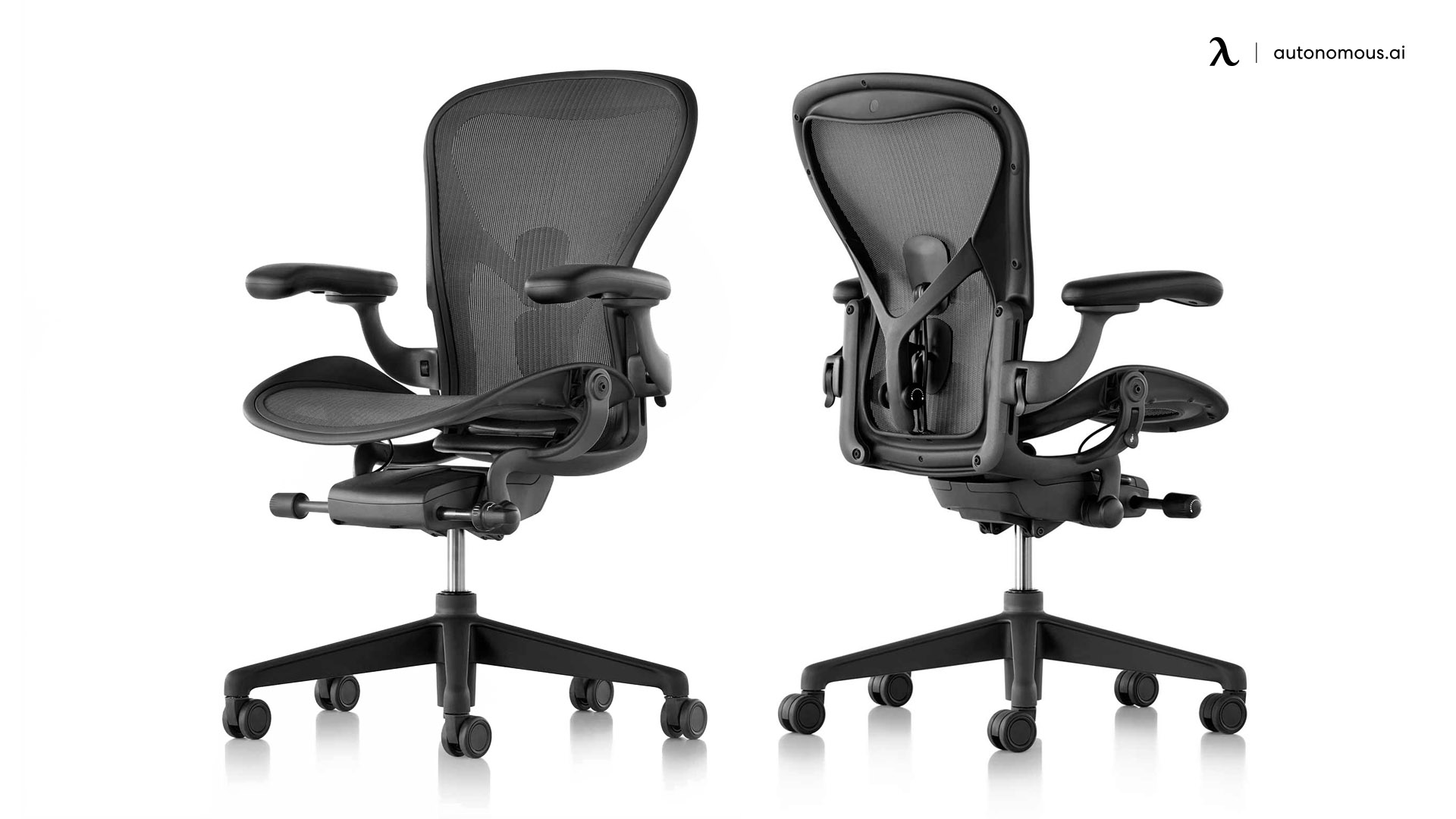 The Aeron office chair may be the best reclining office chair in the UK without a footrest, thanks to its incredible ergonomic design. Every element of this chair helps maintain a proper sitting posture, and the patented spinal support mimics the body's most vital posture: standing.
Price

: £1059
This chair has fully adjustable seat depth and height, arms, and tilt angle.
It has a high height range.
Very costly.
9. Hbada Ergonomic Office Recliner Chair with Footrest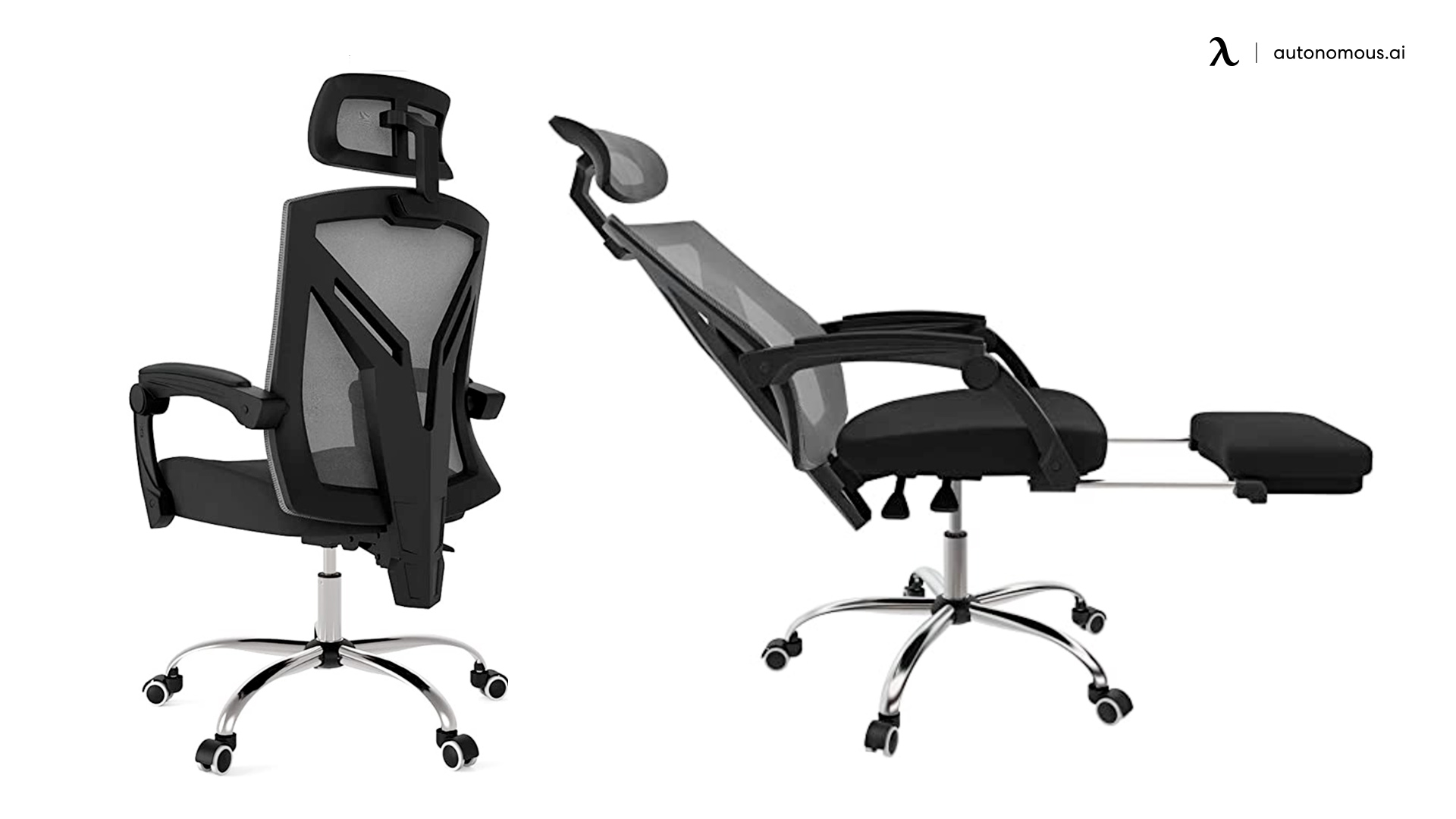 The Hbada Ergonomic Office Recliner Chair has breathable mesh fabric material that allows better airflow, keeping you fresh and comfortable for a long time while you use the chair. It has a remarkable ergonomic recliner that uses a synchro-tilt mechanism that lets it increase the reclining angle up to 65 degrees or the point you find most appropriate. The chair's many ergonomic features, such as the lumbar support, headrest, and armrest, can be adjusted to your proper sitting posture.
Price

: £150
The headrest has an extensive range of adjustability.
It has comfortable PU leather padding on its armrests.
Although you can tilt the backrest up to 65 degrees, it isn't free-flowing as it always locks in a preset position.
10. Hironpal Reclining Ergonomic Chair with Footrest
This chair has a sturdy metal frame and uses high-quality materials such as PU leather for its surface. It's also very comfortable as the headrest and the lumbar use dense sponge cushions that you can remove when you recline your chair to lay down. If you want a reclining desk chair in the UK that lets you lay down entirely, this chair is an excellent pick.
Price

: £131
Its armrests have a great range of adjustability.
The chair has a reclining range of 90 degrees.
The PU leather surface isn't breathable.
11. Cherry Tree Executive Reclining Office Chair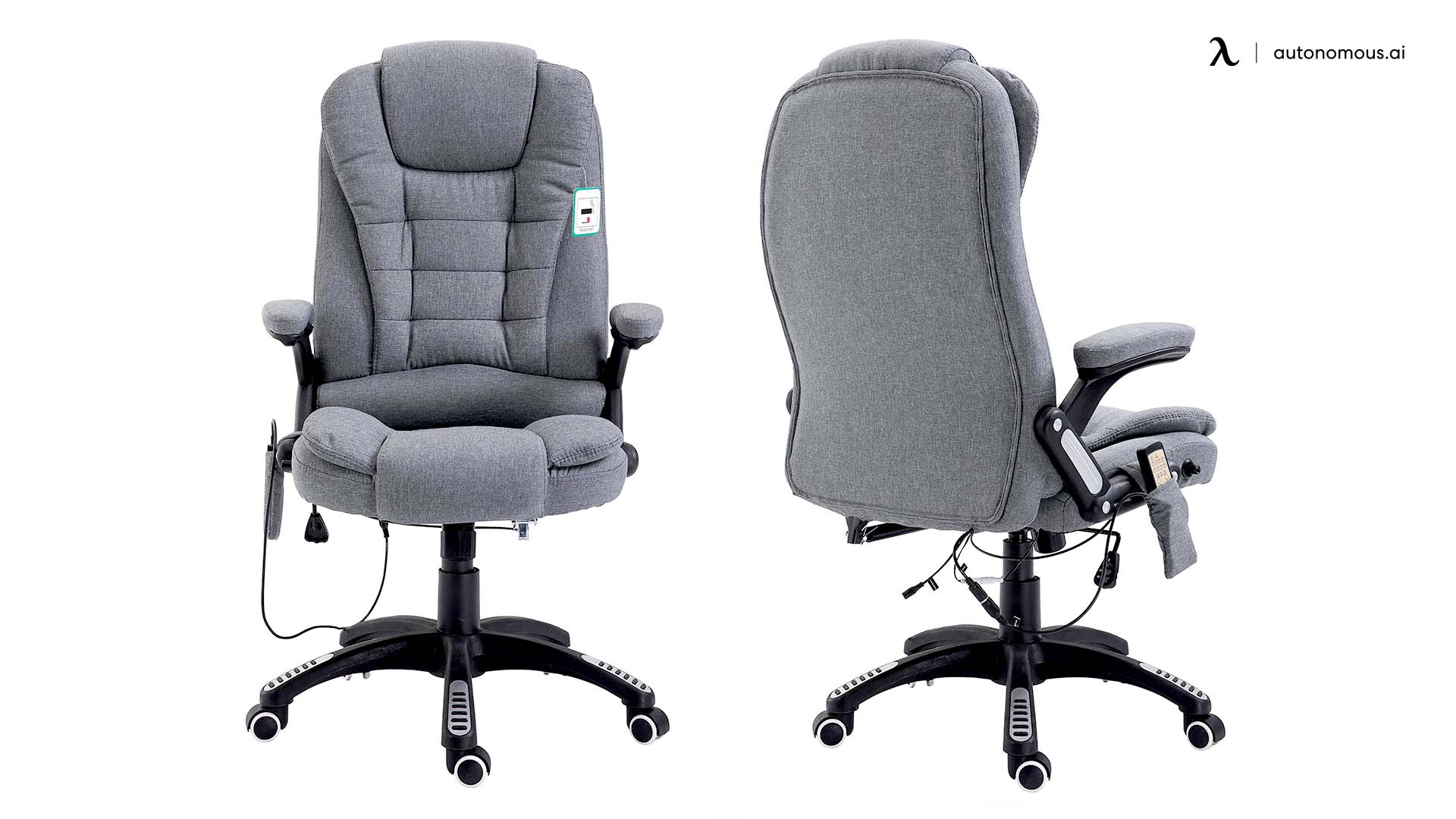 If you want an executive chair that has a luxurious look thanks to its upholstered backrest, then this reclining office chair in the UK is for you. The Cherry Tree office chair uses a comfy fabric with extra padding for its backrest to give you better support for your spine. It has a retractable footrest and a lumbar cushion that you can remove if you want to use it as a headrest when lying down.
Price

: £130
It has a tremendous tilt angle of 80 degrees that you can lock in any position.
The chair uses very comfortable materials.
The footrest is a little unstable.
Its armrests aren't adjustable.
12. Hbada Ergonomic Executive Office Chair with Footrest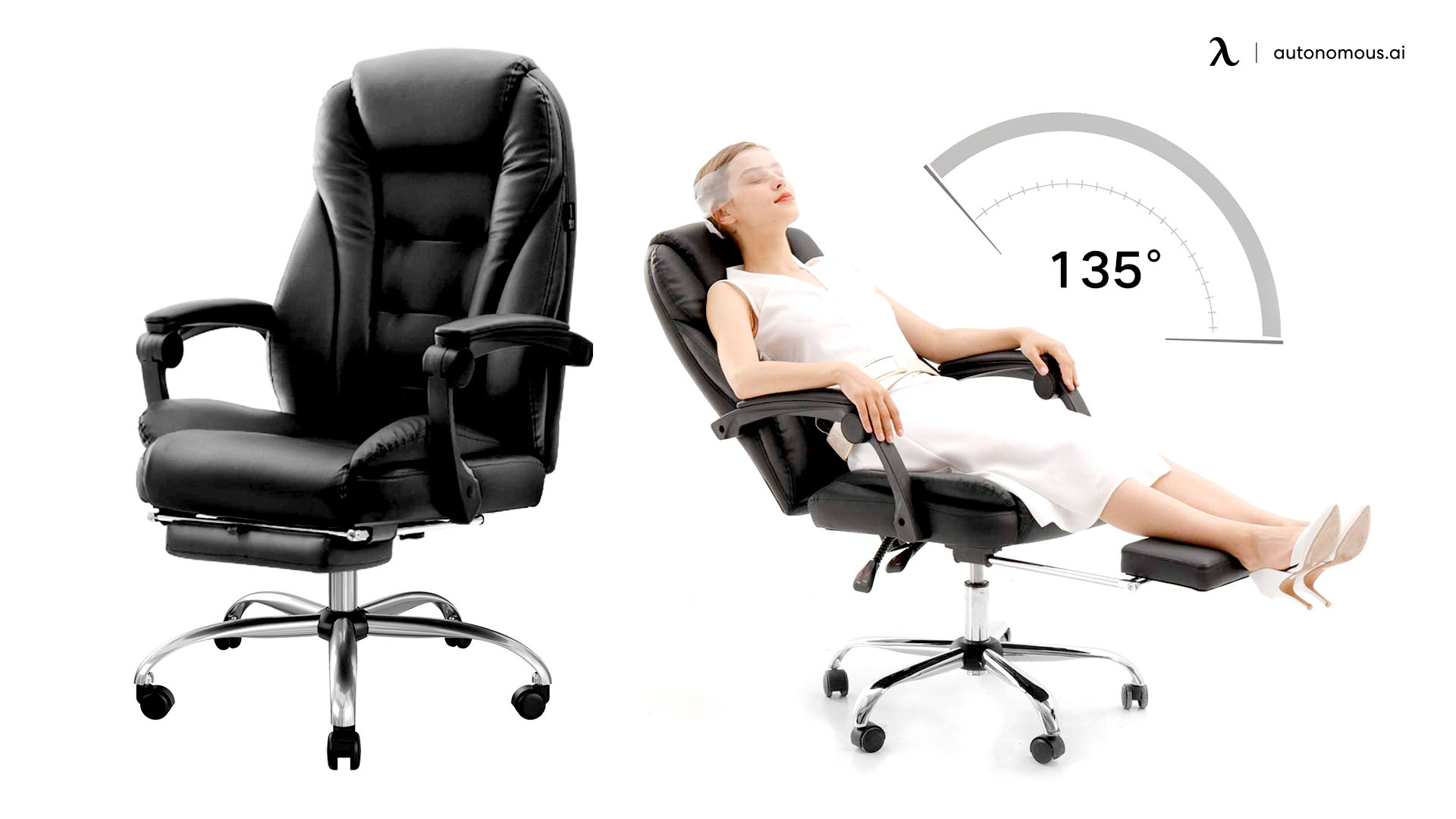 This chair has many similarities with the previously mentioned Hbada ergonomic office recliner chair, but it comes with the added benefit of having an upholstered leather backrest. It's an incredibly comfortable reclining office chair with a footrest in the UK, thanks to its thick cushioned seat and backrest.
Price

: £170
The chair is made with excellent high-quality materials.
It holds up to 330 lbs.
Leather fabric occasionally gets hot because it isn't breathable.
13. Songmics Reclining Office Chair with Footrest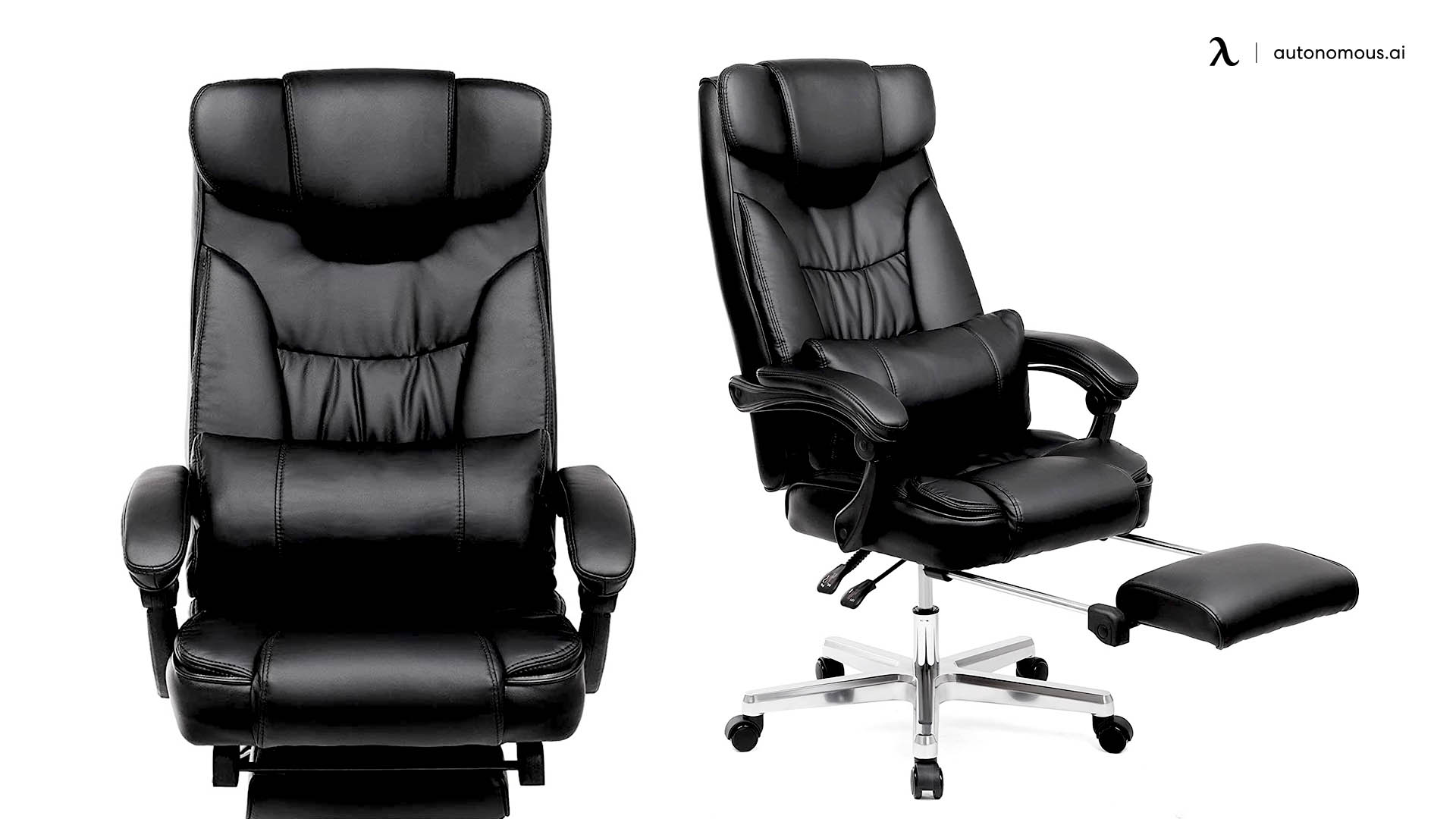 If you want a reclining office chair with a footrest in the UK that sports a design that fits many types of offices; then the SONGMICS office chair is for you. It has an S-shape backrest that contours your body, giving you excellent lumbar support. You can also adjust the headrest when you recline on the chair to rest comfortably.
Price

: £150
Its lumbar and head cushions can be detached.
The chair's seat uses comfortable, high-density foam padding.
It doesn't have adjustable armrests.
14. Mfavour Ergonomic Office Chair
The Mfavour office chair focuses on improving the sitting experience of people who use the chair. It has many adjustable features that are easily controllable, and the backrest uses a mesh fabric that allows plenty of ventilation. The chair's seat utilizes a high-density sponge that enables you to use it for long work sessions.
Price

: £190
This chair has fully adjustable lumbar support, seat height, arms, and tilt angle.
The seat is more comfortable than it looks.
It doesn't have a footrest.
The armrests are a little unstable.
15. FANTASYLAB Ergonomic Reclining Chair with Footrest
This chair is exceptionally comfortable due to the material's quality and the thickness of the cushions. It also implements some innovative features on the lumbar pillow that help relieve your fatigue while seated. The chair has plenty of adjustable features that let you customize it to your needs, so if you need an excellent adaptable reclining office chair in the UK, the FANTASYLAB ergonomic reclining chair Is for you.
Price

: £180
The chair uses comfortable memory foam padding on top of the seat cushion.
Its lumbar cushion is also a USB-powered electric massager.
The leather surface can get a little hot because it restricts airflow.
This chair's seat depth can't be adjusted.
Keep up with Autonomous news
Stay informed, stay inspired with our new blogs.
WRITTEN BYAutonomous
We build office products to help you work smarter.