Is he a workaholic who doesn't leave the work desk until the sun goes down? Or maybe he is having a tough time shifting to the work-from-home dynamics even till now. That's alright we all hate change, and especially when it comes to something as serious as work, there is no compromise on the quality and focus of the work. If the man in your house works hard and doesn't get enough appreciation for it, then you must do something thoughtful to show gratitude.
And what could be better than giving him something that makes his work easier and gives him more time with the family? Sure, this is a long shot, but with our ideas of office desk gifts for him (unique ones), you will find him fresh and happier than before. While he struggles to maintain the work-home balance, your little gestures of home office gift for him could go a long way.
Best Office Gift for Him
Desk gifts for men aren't supposed to be just boring or related to work. It could be something as simple as a mug or a comfortable footrest. Anything that reminds him of you and makes him realize that you value all the hard work he does all day, every day.
1. Desk Lamp
For the late hours, and you don't want him to compromise his vision, a suitable light will be extremely useful. A best LED Desk lamp for his work desk is specifically designed to give a soft light and keep the strain on the eyes minimum. There are many great options for these office desk gifts for him you can choose from in the market, but we have already got some amazing ones for you.
Autonomous Ultra-Wide LED Desk Lamp
An ultra-wide LED desk lamp is something really useful. It has a great design and is very space-friendly. You can easily mount it on one side of the work desk and turn it on. The long neck and the curve give a great angle to the user. There are many other options to adjust the light intensity, hue, and brightness, all with a touch of a button. The ultra-wide LED desk lamp is sufficient to cover your entire desk, so no area of your work desk remains in the dark.
Lepower Metal Desk Lamp
Look no farther than the Lepower Metal Desk Light if you're seeking a low-cost desk lamp that seems more expensive than it is. Its matte finish provides a balance between classic and modern, making it suitable for a wide range of situations. It also has a flexible neck that allows it to cover practically any lighting angle.
Ikea Forsa
Just like many others, Ikea is a complete home store and now for home office setups too. The Forsa lamp is a popular choice since it comes in several colors and is reasonably priced. The Forsa desk light from Ikea is composed of elegant steel with a long, adjustable arm. Its spherical shade is also adjustable, so you should find the precise angle you want.
2. Standing Desk
You must have heard about office ergonomics; after all, it's the talk of the town, and with many types of research pointing towards the importance of comfortable furniture in the workplace, it's about time you make this healthy transition for him. If he has been working on a conventional desk until then, now is the time you buy him a standing desk with adjustable height. So he can improve his posture, get better health, and cut out the negative impacts of sitting. It is one of the most meaningful office desk gifts for him.
SmartDesk Core
SmartDesk Core is one of the top choices in modern work desks. It comes in various choices for the platform color, and you can adjust the height from 29 inches to 48 inches. The smart desk core has more than four programmable settings and is made in a solid steel frame. Dual electric motors for smooth action power the whole system.
SmartDesk Pro
SmartDesk Pro is another great addition to the office ergonomics family. The table has an adjustable height system from 26 to 52 inches, covering more area than the previous option. The desk is made with natural wood and has a classic finish to it. It has a great load capacity for a dual or even triple monitor setup.
3. A Chair
After getting an adjustable desk for him, you might want to invest in a great chair. After all, comfort needs to be the topmost priority in the workplace. An ergonomic chair is a great investment as well as a good office desk gift for him. Though it is no accessory to the work desk, it is a great addition to the proper home office desk setup. 
4. Other Accessories
A workplace is incomplete without desk accessories. The essential desk accessories are not considered an important part of a workplace, but efficiency and productivity substantially increase with them. They also modify a workplace for better and allow the user to have better comfort levels. If you aren't looking for a big expense such as a desk or a chair, some desk accessories are also a great idea as office desk gifts for him.
Mat
The standing desk anti-fatigue mat is a great accessory to keep his feet at ease. While he maintains the posture and develops a strong spine, don't let his feet suffer because of long hours of standing. This product is strong and anti-slip to allow working smoothly for long hours.
Flow Board
This is something unique, and he will get on board with it. The flow board is yet another modern and fun accessory for the workplace. Whether you're sitting or standing, the Flow board can help you produce muscular micro motions.
A flow board, designed for multitaskers, will allow him to work long hours without becoming physically exhausted. This flow board is your go-to if you're seeking a trendy balancing board to add to your weekday routine.
Monitor Arm
The monitor arm helps you save space and allows a tiny desk to work with a huge monitor. A monitor arm is a great accessory for a sitting desk because it raises the desktop to a safe eye level for the user.
Video ads for product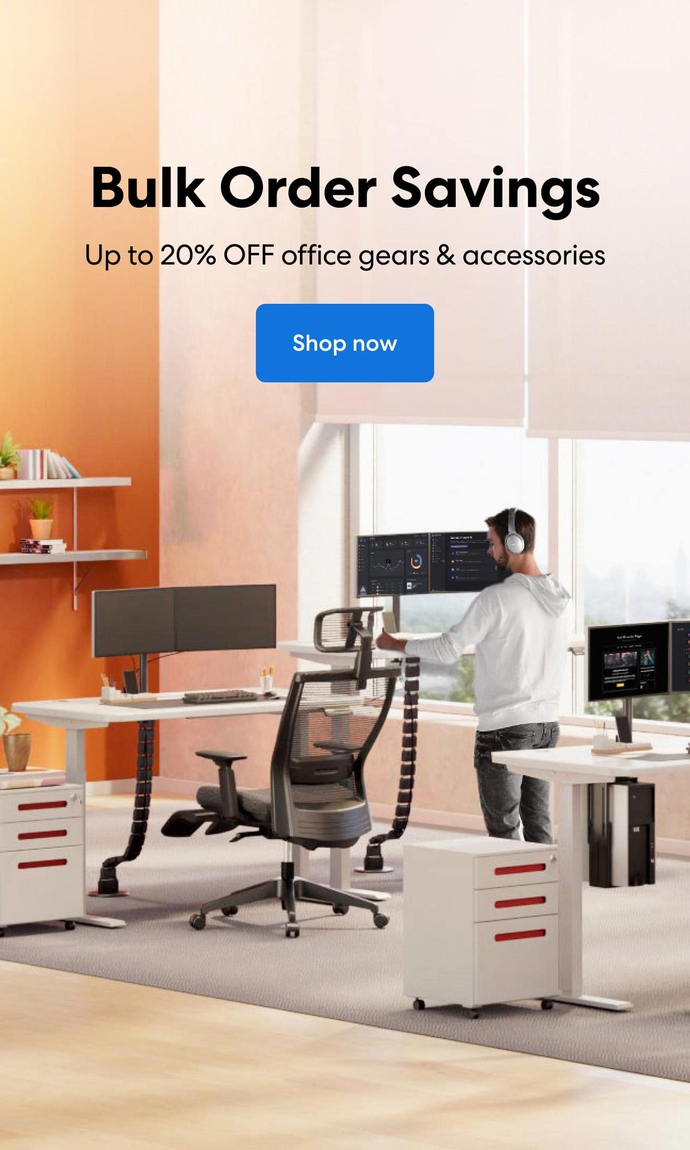 Subcribe newsletter and get $100 OFF.
Receive product updates, special offers, ergo tips, and inspiration form our team.