Working from home has become the new normal in this post-pandemic world in which we reside. You can't change that you need to sit at a desk for eight hours a day, but you make the time spent working more tolerable. 
You can transform your desk space into a more robust work area bound to turn heads by adding various modern desk accessories. In today's article, we discover some of the best modern standing desk accessories for your office and explain how they can transform your workspace into something extraordinary.
50+ Modern Desk Accessories for Your Office
Each artist, designer, maker, and photographer needs a different set of tools and technologies for their work, but we can all agree that adding modern desk accessories to our desks would benefit us all. Boost your creativity or brighten your world with brand new modern office accessories: video conferencing devices, lighting, and podcasting, as well as brand new cameras, standing desk aids, and funky additions.
Every one of us loves his or her desk. These are our little havens of joy where we can immerse ourselves in our creative vocations, doing everything we love. No matter where we work, it doesn't just reflect our sense of style; it tells a story about who we are.
To help you refresh your desk, we've gathered our picks for 2022's best desk accessories. Our team at Autonomous has gifted and tested some of the following modern desk décor recommendations so that we will give you our honest comments along the way.
1. Lexon Wireless Charger
The Lexon wireless charger is the perfect addition to any remote or traditional workplace. It offers wired and wireless charging capabilities plus a unique heat dissipation design. 
What's great about this wireless charger by Lexon is that it's compatible with a vast range of devices, and it has a remarkable 5000 mAh capacity. When you purchase these products from Autonomous, you can expect them to ship out within two business days and receive a one-year warranty. 
2. Magnetic Desk Organizer
Every modern office needs a functional desk organizer that controls clutter in style. This magnetic desk organizer from Autonomous is the perfect solution for storing your stationery and phones safely out of the way.  
The organizer has a high-quality solid bamboo base that sits on top of a rigid, durable plastic set to last you a lifetime. It has a patented magnetic attachment that allows you to customize the style of the unit to fit your taste. 
Adding one of these modern office accessories to the office is one of the best things you can do to free up some desk space. 
3. Airdog X5 Purifier
An Airdog X5 purifier is an excellent way of cleaning your office's air and is much cheaper than other HEPA filter alternatives. The patented TPA technology contains reusable filters and has a filtration process that is far superior to other models on the market. 
It operates at low noise and can conveniently be controlled by an app on your smartphone or mobile device. This cleaner has been certified to kill COVID-19 germs and comes with a one-year warranty for peace of mind.  
4. SmartDesk Tread
Here is another modern desk accessory you should have. The combination of an adjustable standing desk and a treadmill is an excellent way of maintaining movement while working for long hours. This SmartDesk Tread from Autonomous does the job perfectly and comes in at a great price too! 
When you purchase this product, you get a compact portable treadmill that carries up to 265 lbs and fit easily in small places. The standing desk treadmill has an electronic height adjustment between 29 to 48 inches and a large work area for completing your projects. 
Once you purchase this combo, you may be hard-pressed to find something more comfortable and ergonomic. 
5. Oblio Charger by Lexon
The Oblio charger by Lexon is a wireless charger and UV sanitization device perfect for the modern office. It comes in a uniquely shaped tulip design that turns heads and is made from durable ABS plastic. 
An antibacterial UV light is certified to kill all germs on your mobile phone and includes foreign object detection. When you purchase this Art Deco European design rubber finished unit, you receive a one-year warranty and super-fast 10W wireless charging. 
6. Autonomous Monitor Arm
This 360-degree monitor arm supports and securely holds your monitor at any angle for flexibility in the workspace. It is made from premium aluminum alloy, meaning it's rust-resistant and set to last you a lifetime. 
There are single and duo options available, and it has a weight-bearing capacity of 26 lbs per arm. It comes in an easy to assemble kit with a tidy cable management system that can store your wires away effortlessly. The LCD size range is from 18 to 28 inches, and this modern desk set has a 20-inch vertical range for added adjustability. 
7. Autonomous SmartDesk Core
This SmartDesk Core from Autonomous is a must-have accessory for any modern office worker looking to add ergonomics to their workspace. Its height can be adjusted at the press of a button and can easily lift to 270 lbs. 
A minimalistic design with a beveled edge helps avoid wrist or elbow pain when sitting or standing at the desk for long periods. Pairing this modern desk decor with an ErgoChair Core or ErgoChair Pro is an excellent idea as these products complement each other wonderfully. 
8. Satechi Slim Keyboard
These modern desk accessories cannot be missed in your workspace. This product is for people who primarily use Apple devices such as an iMac or MacBook Pro. It can synchronize quickly with up to four compatible devices using its reliable Bluetooth technology.  
9. Harber London Leather Desk Mat
This is one of the modern office accessories today. Including a stylish desk mat on your table is one sure way to boost the aesthetic appeal and keep things neat around the desk. It can help keep your gadget or devices protected from scratches or bumps, plus the extra cushioning makes it comfortable to draw or write on.  
10. Twelve South Compass Pro
This is an adjustable holder for your Android tablet or iPad and is the perfect gift for someone tired of straining their neck. It allows you to place your tablet within arm's reach and can be folded away for easy storage.  
11. WonderCube 8 in 1
The WonderCube is an essential modern desk accessory for office workers dealing with multiple phones or tablets daily. It eliminates a person's need for endless cords or wires for their gadgets by providing an all-in-one solution. 
12. Rule One Multipurpose Tool
When it comes to minimalism, multifunctionality goes hand in hand with it. This modern office supply is a ruler and pen with a convenient lanyard to attach the device to an accessory or chain. 
13. Nemonic Sticky Note Printer
Taking notes by hand is so old school that is why the Nemonic note printer was invented. It moves your idea on paper quickly by consistently printing accurately through thermal printing instead of ink. 
14. The Halifax Multi-Tool
Another multi-tool on the list is the Halifax, which serves as a bottle opener, screwdriver, pry bar, and a dozen other tools or modern office accessories that we need from time to time. 
15. LED Table Lamp
This uniquely shaped lamp is perfect for brightening up your work area with a practical soft light for up to 40,000 hours. It can bring dull office spaces to life and is the ideal gift for someone looking for a solution to eye strain. 
16. MoMA Perpetual Calendar
An excellent and modern office requires the latest and modern desk sets to make sure that things run optimally, and that includes your calendar. This perpetual calendar contains magnetic pieces that are easy to use and add some fun to your date management routine. 
17. Roland Go LIVE Streaming Studio
The Roland Go LIVE streaming studio is compatible with a range of devices, modern desk accessories and operating systems, making it the ideal solution for someone who streams audio or creates Podcasts. It gives the user the ability to add sound effects or even a background song while recording. 
18. Concrete Desk Organizer
This solid concrete desk organizer looks simplistic but has enough nooks and crannies to store all your essential work items. You should consider this modern desk organizer in your working space.
19. Retro Pixel Art Game and Speaker
It's a retro gaming speaker that can be used to blast your favorite tunes on through built-in wireless Bluetooth technology. 
20. MOFT Invisible Laptop Stand
This excellent laptop stand is perfect for someone spending long days writing on their computer. It promotes positive posture and adds a touch of ergonomics to your workday.
21. Ko-Axis Rail Pen
A modern take on the traditional pen is the Ko-Axis, with its sleek design and futuristic appeal. The pen is truly mightier than the sword, and this unit proves that with every stroke of its ballpoint tip. 
22. Multipurpose Desk Knife
This is a sleek modern cutting blade that can come in handy if you require a pair of scissors or need to perform a cutting job that requires precision. 
23. Multi-Angle Wood Desk Lamp
During the day, the light situation in your office may change due to weather conditions outside. With this wooden desk lamp, you can adjust the direction of the light so that you can brighten up any area. 
24. Magnetic Pens
These magnetic pens are perfect for someone who wants to add a modern desk accessory to their workplace. 
25. IRIScan
This book scanner is perfect for someone who researches and reads a lot and wants to convert their book into a digital format. 
26. S Typewriter
This is one of the modern desk accessories every worker wants. It's a qwerty keyboard that can be attached to your tablet or mobile device to give you the feeling that you are writing on a typewriter. 
27. Anker Vertical Ergonomic Mouse
When it comes to ergonomics, your mouse plays a crucial role in the health of your wrists and elbows. This ergonomic modern desk accessory provides extra support for the above regions and gives you a great way to get your work done effortlessly. 
28. Foldable Wireless Keyboard
A foldable wireless keyboard looks stylish and is compatible with a host of different devices plus operating systems. 
29. Adjustable Tablet Holder
The perfect way to hold or store your tablet so that you don't need to strain your neck while using it.  
30. Minimalist Curved LED Lamp
With its excellent shape and minimalistic and modern desk decor, this lamp can brighten up an office or workspace no matter where you place it. 
31. Retro Digital Flip Down Clock
This contemporary design is fused with modern technology to create a clock masterpiece that not only tells the time but certainly draws the attention of visitors to your office. 
32. LED Strip Light for PC or Desk
Adding LEDs to your office can create a vibey feel primarily if you work from home and like neon colors. Spice up your office by adding some of the lights around your monitor or even underneath your desk. 
33. Wireless Ergonomic Split Keyboard
The design of this ergonomic keyboard is meant to support your wrists and elbows while you write your novel, build up your modern desk decor.
34. Under Desk Headset Holder Mount
This modern desk accessory acts as a holder for your headset or watch, plus doubles as a charging unit for your phone or tablet because of its additional USB ports. 
35. Samsung Space Monitor
With its neat and minimalistic appeal, the Samsung Space Monitor is perfect for adding to your desk if you want a high-quality LCD that is set to last a lifetime. 
36. Fast Wireless Charging Station
This wireless charging station lets you access devices or modern office accessories while charging without the hassle of cords. 
37. Atech Multifunction Pen
It's a pen, blade, bottle opener, and prayer all in one. The Atech multifunctional pen is perfect for someone who loves gadgets and writing.
38. Tap Strap – Futuristic Keyboard
This wireless finger keyboard may make you the coolest guy in the office. It can easily connect to your phone or laptop via Bluetooth and does an excellent job concerning keystroke recognition. 
39. Desk Foot Hammock
A foot hammock is a perfect way to support your legs and improve circulation while working for long hours at the desk. 
40. 3D Rocket Lamp
This fun lamp is an excellent addition to any office space and makes a beautiful gift for people who love rockets. 
41. Natico Decision Maker
If you struggle to make decisions, this device can help you do it in a matter of seconds.  
42. Enevu Dimmable LED Cube Light
This soft light cube light is ideal to light up any area, and it can be dimmed down if you wish to create an ambiance. 
43. Retroduck Fast Charging Dock
The Retroduck is a fast-charging dock that looks modern but oozes minimalistic appeal.  
44. FlashForge Finder 3D Printer
It's a mini 3D printer that can be used for various projects, and it comes with an easy-to-understand guide to get you started. 
45. Cyber Clean Paste
Our smartphones and keyboards are the dirtiest surfaces that we come into contact with during our workday. This solution kills all germs and is one of the best options to keep your work environment sanitary. 
46. Westcott Non-Stick Scissors
These are some of the best scissors you are ever going to use, and the fact that they are non-stick makes them even better. 
47. 3D Levitating Skull Lamp
This levitating skull lamp not only looks fantastic but brings a medieval, futuristic feel to your home office. 
48. AirBar Touch Screen Sensor
If you require a touch screen on your laptop, adding this attachment can help you achieve that in only a few steps. 
49. Magnetic Pen
This is one of the best desk accessories in the market. This magnetic pen is perfect for the creative type that enjoys writing or drawing. 
50. DMoose Cable Management Box
People looking for a cable management option must get this management box from DMoose.
51. Filing Cabinet
The modern desk organizer cabinet features three drawers, a lock, and all-steel construction; one of its main features is moving the dividers within the drawers. This modern desk set is not complicated at all. Standing desk accouterment cabinets typically have dimensions within a range of standard dimensions.
Among the colors offered by Autonomous, there is only one neutral white with a grayish hue (which some people interpret as beige, but it's not a "cool white"), with a color accent feature inside the shallow drawer pull.
Red, Green, Gray, and Blue are available as accent colors. Aside from black, there are no other colors available. The product is only available in black. You won't find any other color choices for the filing cabinets, and matching the Autonomous SmartDesk frames or desktops isn't an option with this vendor.
52. Under Desk Computer Mount by Mount-It!
This is one of the modern desk accessories in any workspace. Use this Mount-It! to keep your computer tower in an easy-to-reach location! The CPU tower's adjustable frame allows it to fit a variety of under-desk mounts. Your CPU tower can be mounted conveniently and securely to your wall or under your desk, allowing you to gain better access to your monitors.
You can slide your PC tower forwards and backward with the nylon handle. You can access rear ports thanks to the full swivel feature. It is designed to keep your computer secure when you build a productive desk setup with an anti-theft screw head. It keeps dirt and dust off your computer. It is suitable for computers of all sizes and brands. Its adjustable width is between 3.5 and 8 inches and adjustable height is between 11 and 20 inches.
53. Carpio Ergonomic Wrist Rest by Deltahub
Contoured silicone pads are designed to improve wrist positioning when working or playing. Avoid wrist injuries when using a computer mouse for long periods. Fortunately, Deltahub and medical experts work together to eliminate the main external cause of wrist injuries due to computer use.
As a result, silicone pads on this ergonomic wrist rest offer superior comfort and durability. PTFE feet free the wrist's range of motion while gliding smoothly. It's possible to reduce wrist strain by applying pressure to the thenar and hypothenar regions of the palm. The Carpio is compatible with either right- or left-handed users if you spend hours working on the computer, playing video games late at night, or just browsing the web casually.
54. ErgoFoam Lumbar Support Pillow
We designed our lumbar support pillow to help you sit comfortably upright and provide ergonomic support. Studies have shown that ergonomics can reduce back and neck pain, improve circulation, and reduce fatigue.
The breathable mesh of our cushion keeps you dry and cool, unlike some other cushions that can make you sweat. Your spine's natural curvature is followed by ErgoFoam, which allows you to maintain good posture while sitting.
55. ErgoFoam Adjustable Foot Rest (Mesh)
This is one of the modern desk accessories supporting your health at workplaces. Is your footrest too short, and do you need something a bit taller? You can adjust your footrest by adding or removing inches for maximum comfort. ErgoFoam is the only footrest brand recommended by US-based Chiropractic Doctors. The high-density ErgoFoam footrest provides optimal ergonomic support instead of "pure memory foam" footrests that flatten during use. Make your ErgoFoam rocker by flipping it over and using it as an adjustable footrest.  
56. TaskPad Wireless Charging Desk Pad
This wrist and forearm support glove combines firm padding with a slim depth for an elegant appearance. Don't worry about messy cables when charging your phone. It can hold a charge as long as the power bank is fully charged.
Protect your desk from spills with this water-resistant, scratch-resistant, and stain-proof coaster. In addition to offering a classic leather look, it also provides ample space to keep track of mouse movements.
57. ThermalComfort: Personal Climate Control
Your lumbar curve has 6 levels of temperature control and 3 levels of massage, so you feel relaxed and comfortable wherever you are. Stay warm with a heater that can reach up to 122°F (50°C), or cool down with fans that keep your back ventilated. There are six different temperature settings to choose from on the heated lumbar support.
Massagers that vibrate and have three intensity levels help you relax and improve blood circulation in your lumbar curves. You can automatically set the switch to turn the massager on every 15 minutes. It's ultraportable, lightweight, and battery-operated, making it perfect for a long bus or plane ride or at home or work.
58. RGB Speaker
It emits an enormous sound from its dual speaker system and a passive bass radiator. For the ultimate immersive experience, pair two Mars Pros via TWS. The 6-color RGB lights and the 3-mode psychedelic light show allow you to set your favorite color or set psychedelic transitions to get you in the zone. Zinc alloy spheres use a high-performance, hardwearing material to create a resonant sound environment within your space.  
59. Revbalance Focus Standing Desk Balance Board
You can still stand on your Revbalance Focus Balance Board when wearing heels or shoes because it has a Duragrip Top Deck. You can rock without sound due to the design's rebounding bumpers which prevent scratches from occurring on the floor. This desk also supports a 450-pound weight rating, and the hardwood primarily contributes to its strength.
60. ErgoStool
While standing, ErgoStools are a great way to take a break and have fun. You are encouraged to adjust your posture and move to elevate your mood and focus throughout the day. Moving also helps strengthen your core.
Its ergonomically sloped seat distributes pressure evenly and keeps the blood flowing, while its rounded base keeps your attention sharp and your body limber.
The weighted base provides solid traction on various surfaces as you rock your way to a stronger back and core. A high-pressure spring allows continuous movement of 270 lbs in any direction.
Conclusion
Adding any one of these cool and modern desk accessories to your workspace is the best way to boost productivity and look stylish while doing it. It is time to purchase smart office accessories that encourage creativity and improve your well-being.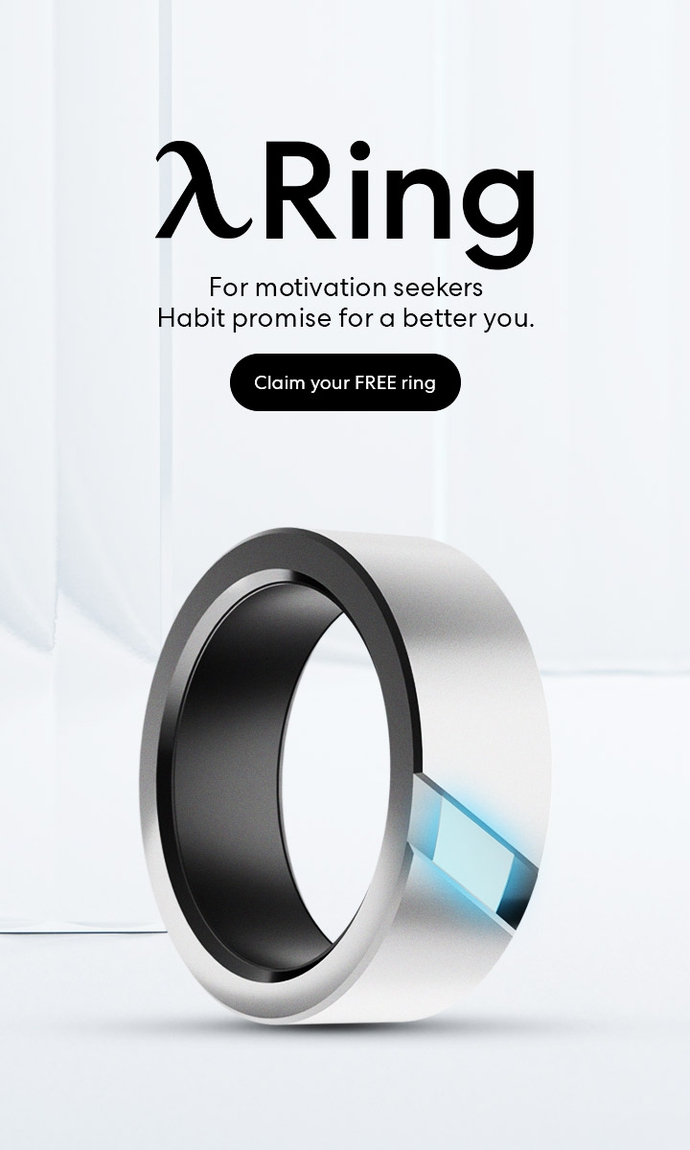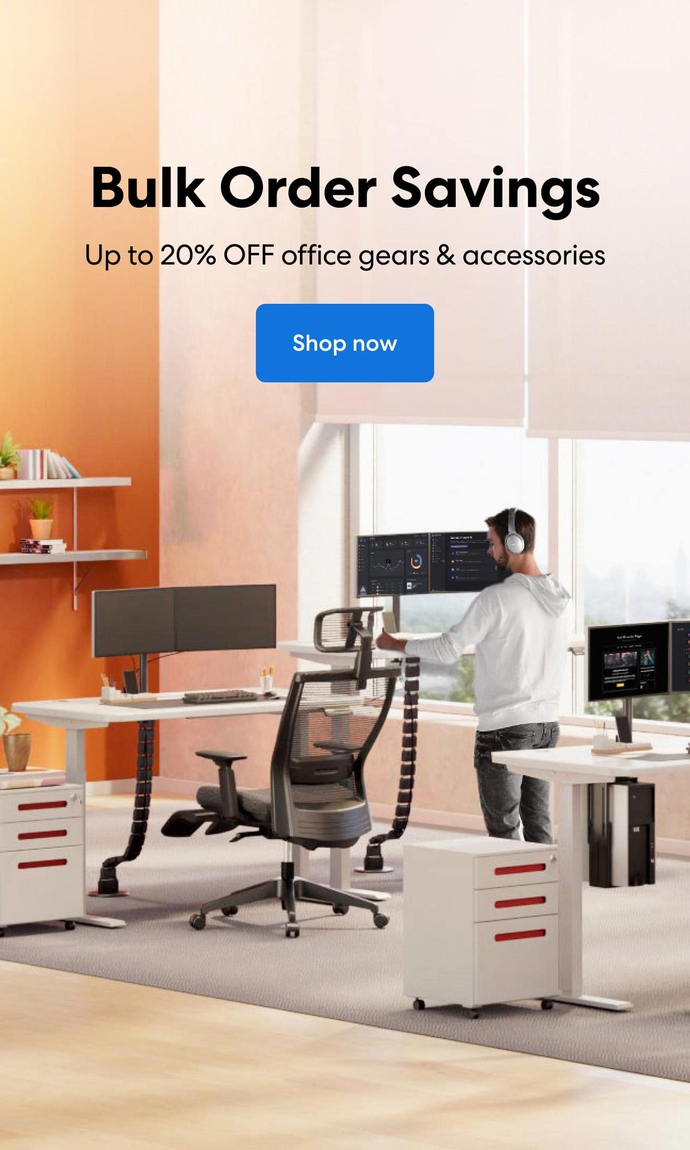 Subcribe newsletter and get $100 OFF.
Receive product updates, special offers, ergo tips, and inspiration form our team.